There is always been an undeclared war between PC and Console gamers. The comparisons, and debates about performance and specs, are seemingly never-ending.
And since the launch of PS5 back in 2020, people have been arguing and testing how good PS5 is if we compare it against top-of-the-line GPUs like the Nvidia RTX series and AMD RX series.
I wouldn't say its apple to apple comparison, but PS5 is no joke when it comes to delivering gaming performance. Offering 120 fps with support for 4K was surprising and yet shocking at the same time back when it was announced.
No doubt why people engage in comparison because if the console is capable of delivering 4K performance at roughly half the price of high-end PCs, then there should be a comparison to further test how PS5 capabilities.
So in this guide, I am going to put PS5 against GPU giants like the RTX series and then discuss how well it fares in front of them, especially at 4K resolution.
What Are The Sony PS5 Specifications?
Even after 2 years of its release, PS5 is still popular and a solid choice among gamers, and why wouldn't it be? It is the most affordable option for any gamer right now who wants to enjoy 4K gaming without having to spend thousands of bucks.
All you need is a monitor and PS5, and you can sit back, relax and play your favorite video games. Before we proceed any further, let's talk about PS5 specifications and what makes it a competitive option among other gaming consoles.
CPU: 8x Zen 2 Cores at 3.5GHz
GPU: 10.28 teraflops with 36 compute units at 2.23GHz
RAM: 16GB GDDR6/256-bit.
Internal Storage: Custom 825GB SSD
Optical Drive: 4K UHD Blu-ray Drive
These are the official specs that PS5 offers in this range which are stunning and impressive. No wonder it can handle 4K gaming, and not to mention you can further increase the storage by adding an external SSD on top of the 825GB it comes with.
With the price tag of 500$-600$, you can't get anything better in this range, especially something that guarantees a 4K resolution gaming experience
Design Architecture
PS5 sports a very stylish and sleek design that complements its tower-style build. Just like the previous-gen PS4, PS5 stands vertical, and by the looks of it, the console may seem huge.
There are, however, two different variants that you can purchase, one is the standard PS5, and the other one is the digital edition that omitted the disk space. You can only choose to download games from the Sony store. The Digital Edition is slightly smaller and slimmer than the original.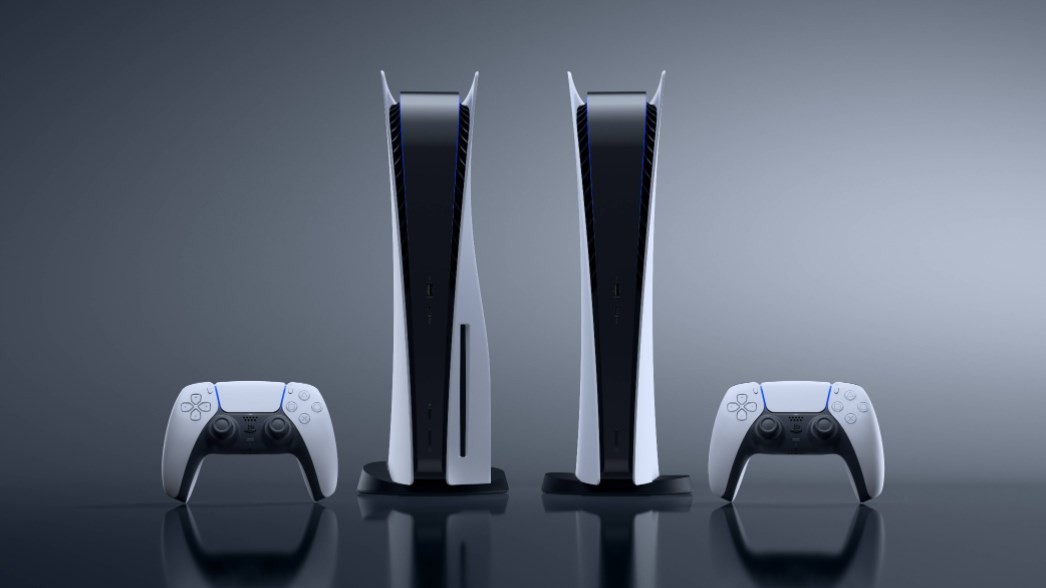 PS5 does provide you an option for a stand-in case you want to put this on a table vertically. The stand is detachable, and you can easily attach it to the bottom by using a small screwdriver.
There is no harm in placing this console horizontally but to be honest, it looks awkward and doesn't suit the towering look the PS5 is built for.
This time Sony made it easy for us poor casual gamers and made it easy to detach the side panel, which also allows us to customize our console if you are not liking the white and black look.
Sony launched official side covers in red and black later, and soon other sellers launched their colors and variant. This design also makes it easy for you to take care of the dust.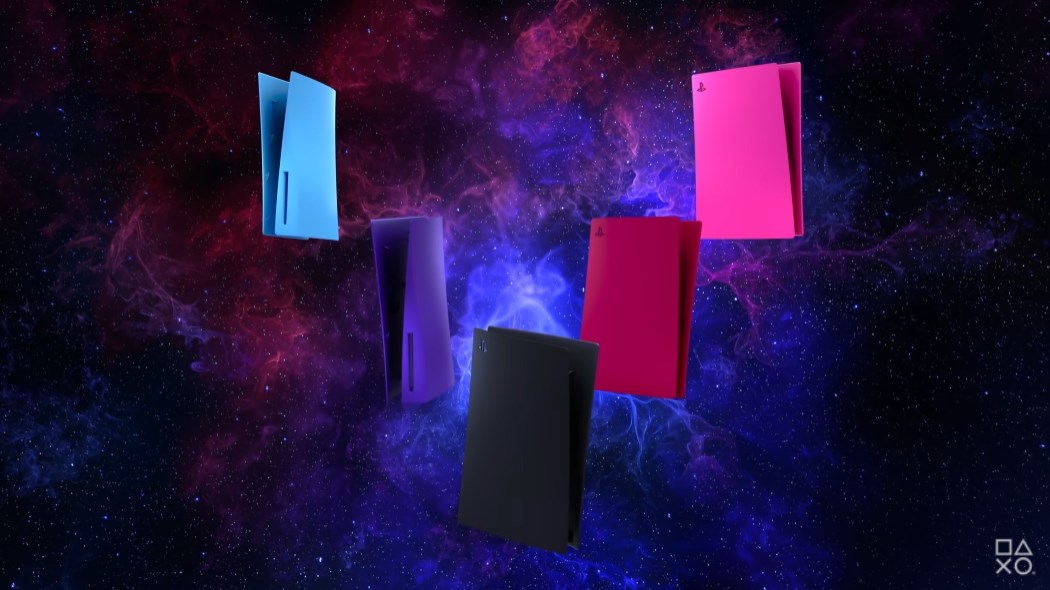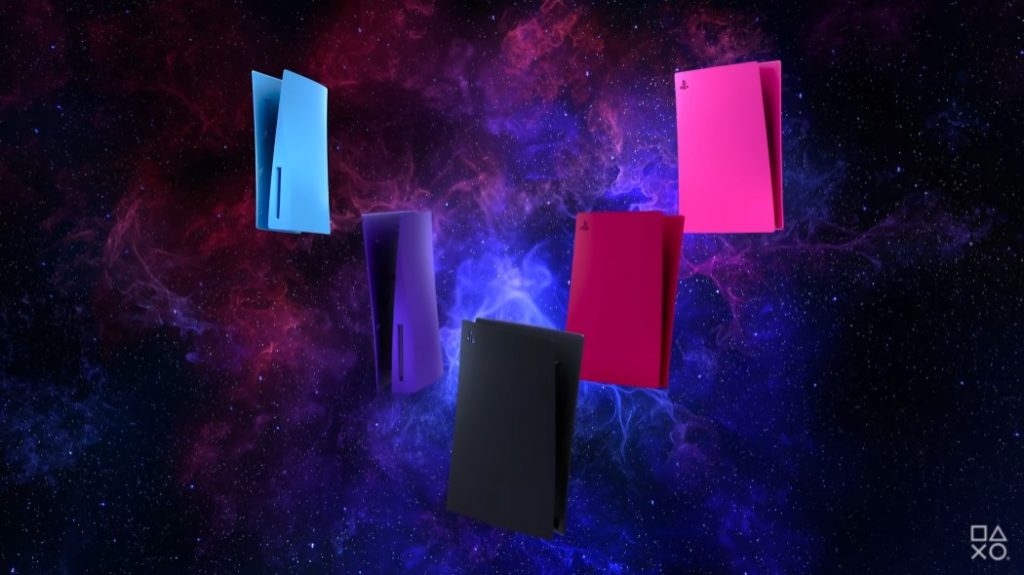 Most people would be scared or hesitant of opening a console by themselves if they are inexperienced, but in this case, it is quite easy and user-friendly. Cleaning dust is a necessary obligation you have to fulfill for at least a month if you want to enjoy a longer lifespan.
Physical Configuration
On to the physical aspects that make Playstation 5 a strong competitor, PS5 features two variants which you can purchase according to your needs. The standard variant consists of an optical drive slot, while the digital variant comes without any space for Blurays.
Since you can play 4K games on PS5. Let's talk about the specifications that allow this to happen. The processing power of PS5 is quite impressive because not only does it come with AMD's latest Zen 2 architecture, the CPU consists of 8 cores with 16 threads.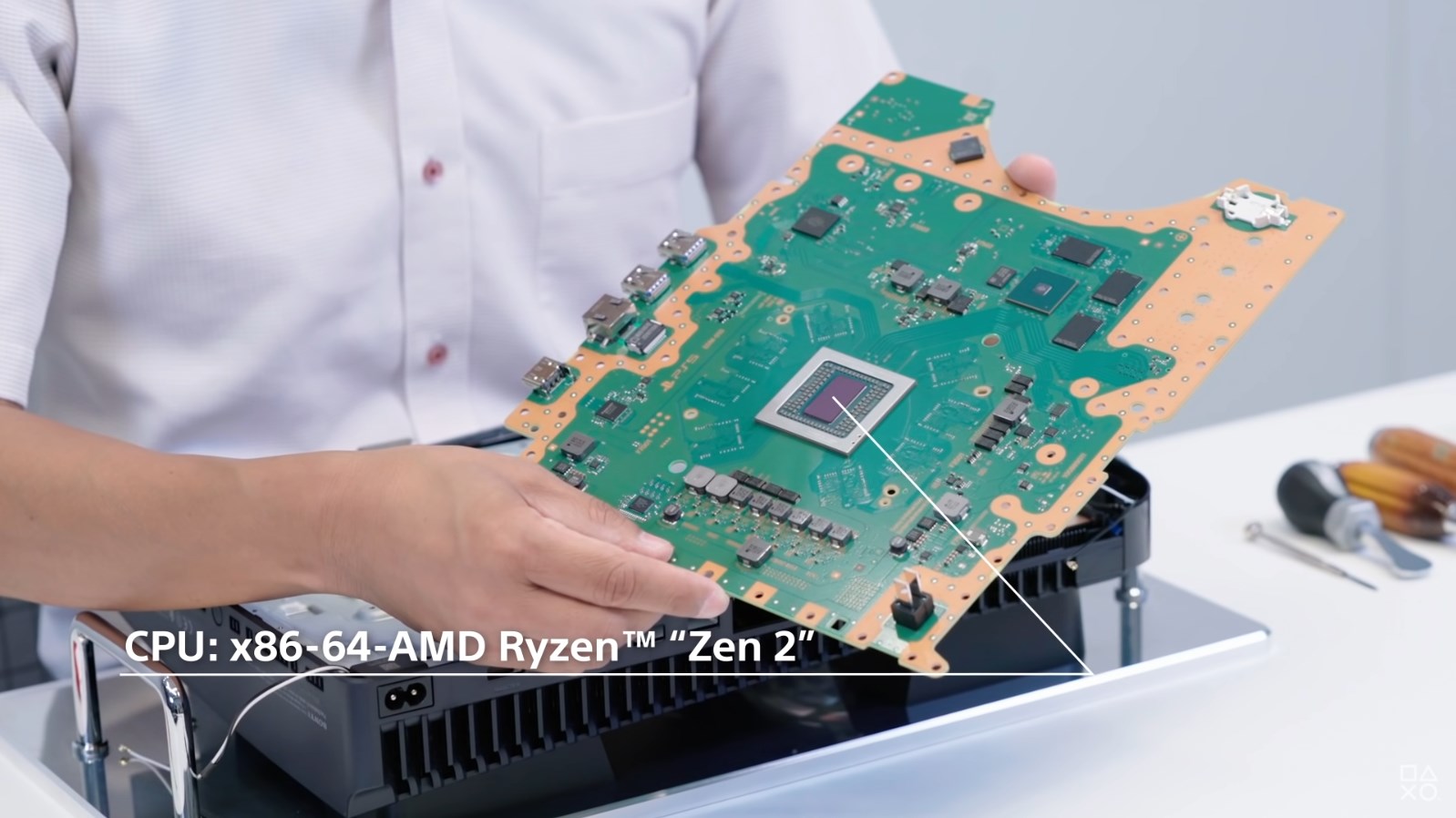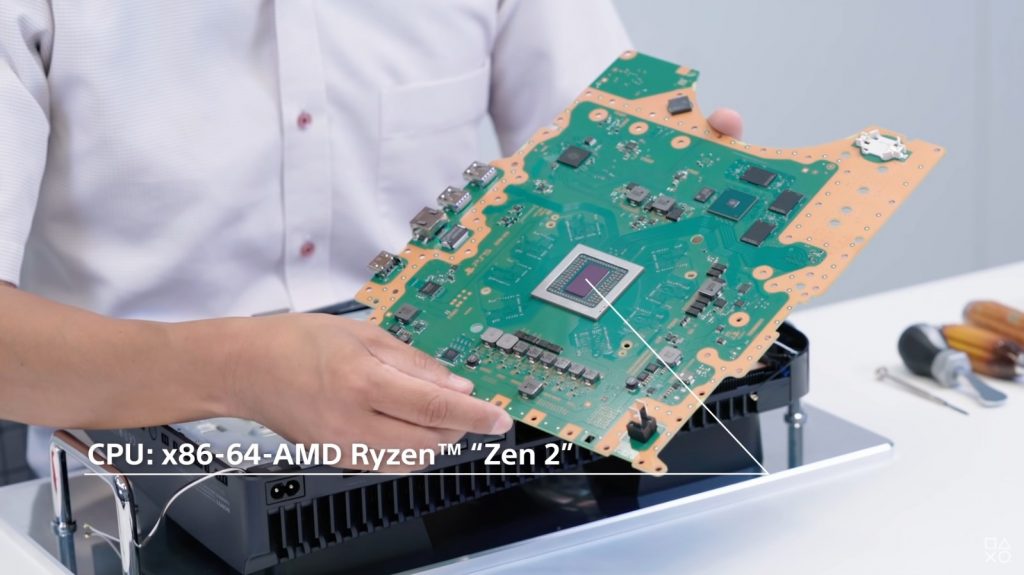 That's like a whole High-end PC config crammed into one space. This is the same CPU Microsoft Xbox series X uses, although here, you are getting a higher base clock speed of 3.5ghz while Xbox is clocking at 3.8ghz.
It also comes with a fair amount of ports with USB type C support right out of the box. This also includes HDMI 2.1 port that allows you to play, stream and watch 4K media, given that you own a Monitor that supports 4K. You can find this in the back along with other ports such as 2 USB type A and an ethernet jack.
Memory Specification
Storage type is also improved upon previous-gen consoles, and now you can upgrade your SSD storage or, should I say, extend it further if you feel the need to. It already comes with a massive 825GB SSD, and I should tell you how fast the loading times were.
SSD makes a difference, and I am glad this is not exclusive to PCs only anymore. Compared to PS4, the difference is highly noticeable when loading your fav games or installing the data on your SSD.
According to Lead Architect Mark Cerny, PS4 can take up to 20 seconds just to load 1GB of data while SSD is capable of processing double the amount of data in just 0.27 seconds.
Now imagine if you are an RPG fan, you can easily enjoy fast travel in-game without waiting a whole minute just to travel from one place to another. You can also play with your PC friends without having to worry about catching up to their high-end PCs.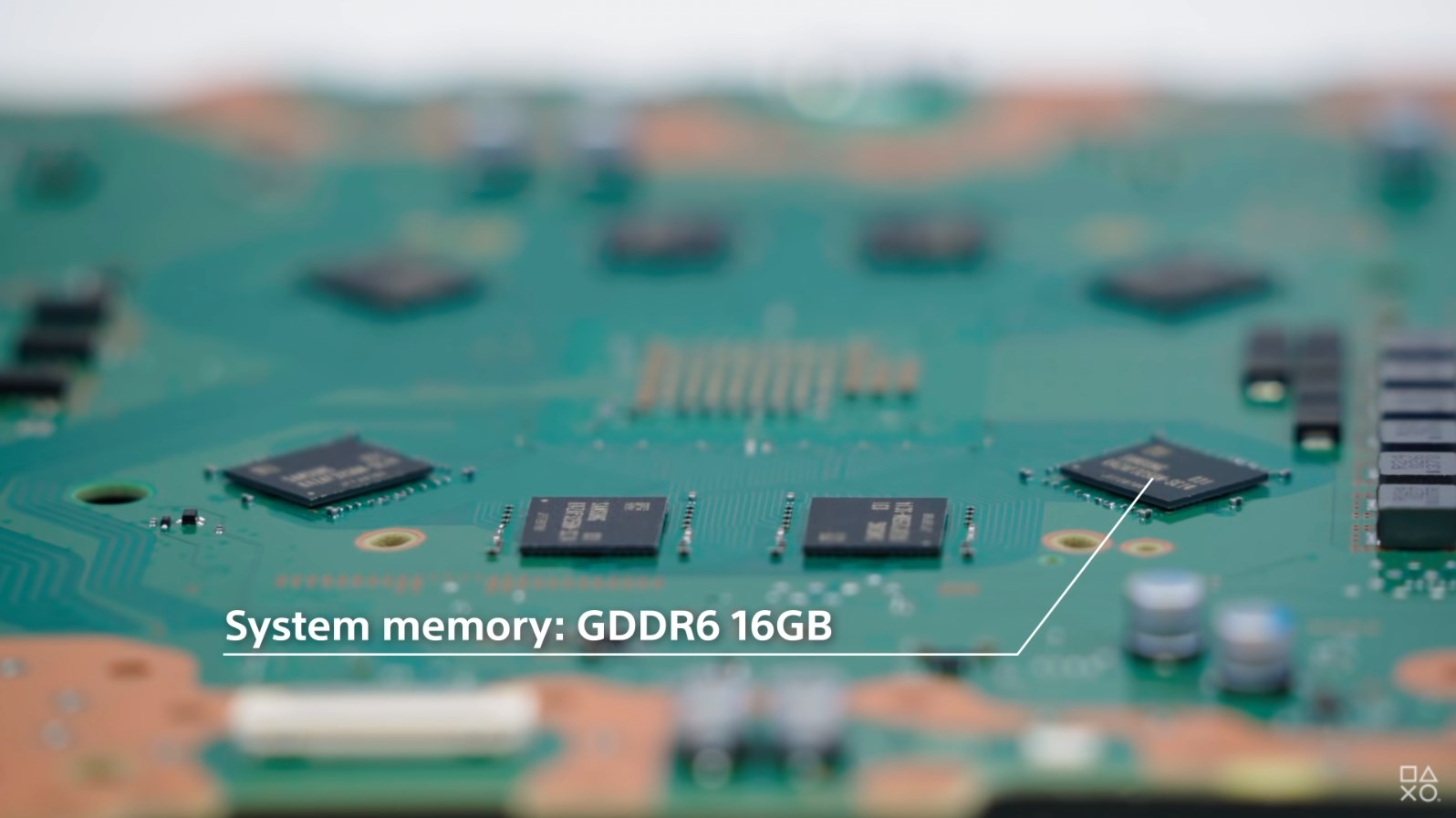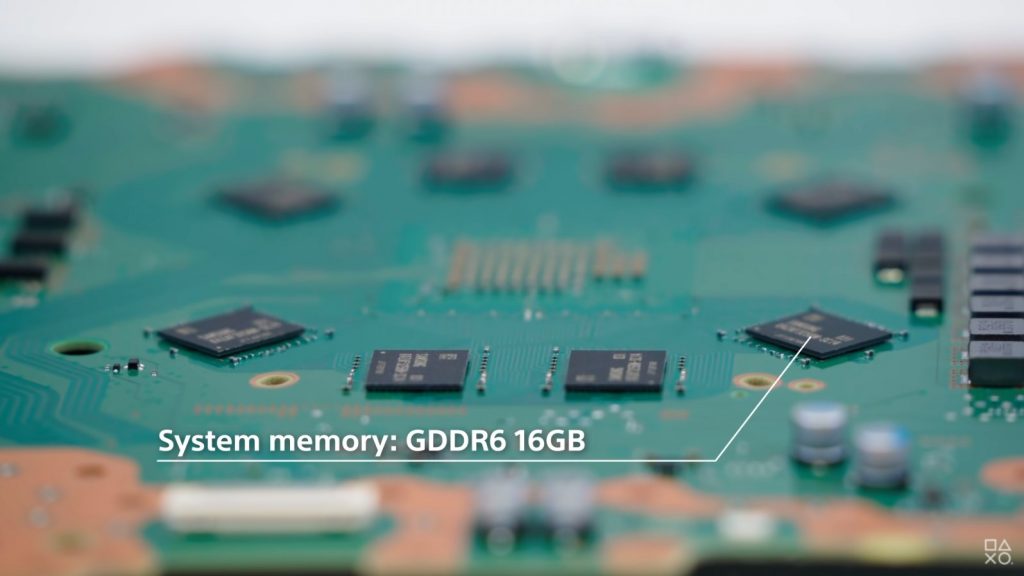 There is one more thing that works in your favor, and that is the 16GB DDR6 ram. Unlike PC, here, 16GB is going to be fully utilized in the game you are playing. PC has a lot of background apps and multiple software working at the same time while you play the game, so 16GB of ram works more efficiently here.
Heat Dissipation Requirements
Consoles are notorious for their bad airflow and heat dissipation. With everything crammed into one box, there is little to no room left for proper airflow.
Unlike PC builds, where you can easily install and customize airflow according to your own choice, there is no room for improvement in consoles, and the best thing you can do is to clean regularly to avoid heating issues.
According to sony, if you are planning on extending your SSD storage, you should install NVMe with a heatsink that will allow better temps from your SSD. you can either buy an NVMe and then attach the heatsink yourself or get yourself an NVMe with a heatsink pre-attached.
Although heating is not a big issue when it comes to PS5, during the run, I didn't notice any abnormal noise coming out of PS5, and thanks to its gigantic size, PS5 has a large fan and airflow vents that allow moderate airflow to pass through.
And better yet, you can easily detach the side panel anytime and let it stay open during your whole gaming session if you are concerned about temperatures, but this could increase the risk of accumulating dust.
If you take care of little requirements like this, you will have no trouble with any heat issues or CPU throttling. Maybe, in the long run, your PS5 lifespan extends. The average temperature is 88 degrees which is high, and I doubt that you will ever touch that temperature mark.
What Is The PlayStation 5 GPU?
Just like the CPU, Playstation 5 incorporates GPU manufactured by AMD, but this isn't something that we have seen before.
It is an exclusive GPU made for consoles based on AMD RDNA 2 Architecture. Considering that PS5 delivers 4K performance, the GPU is quite beefy, and it produces raw 10.3 teraflops with a clock speed that goes up to 2.23GHz.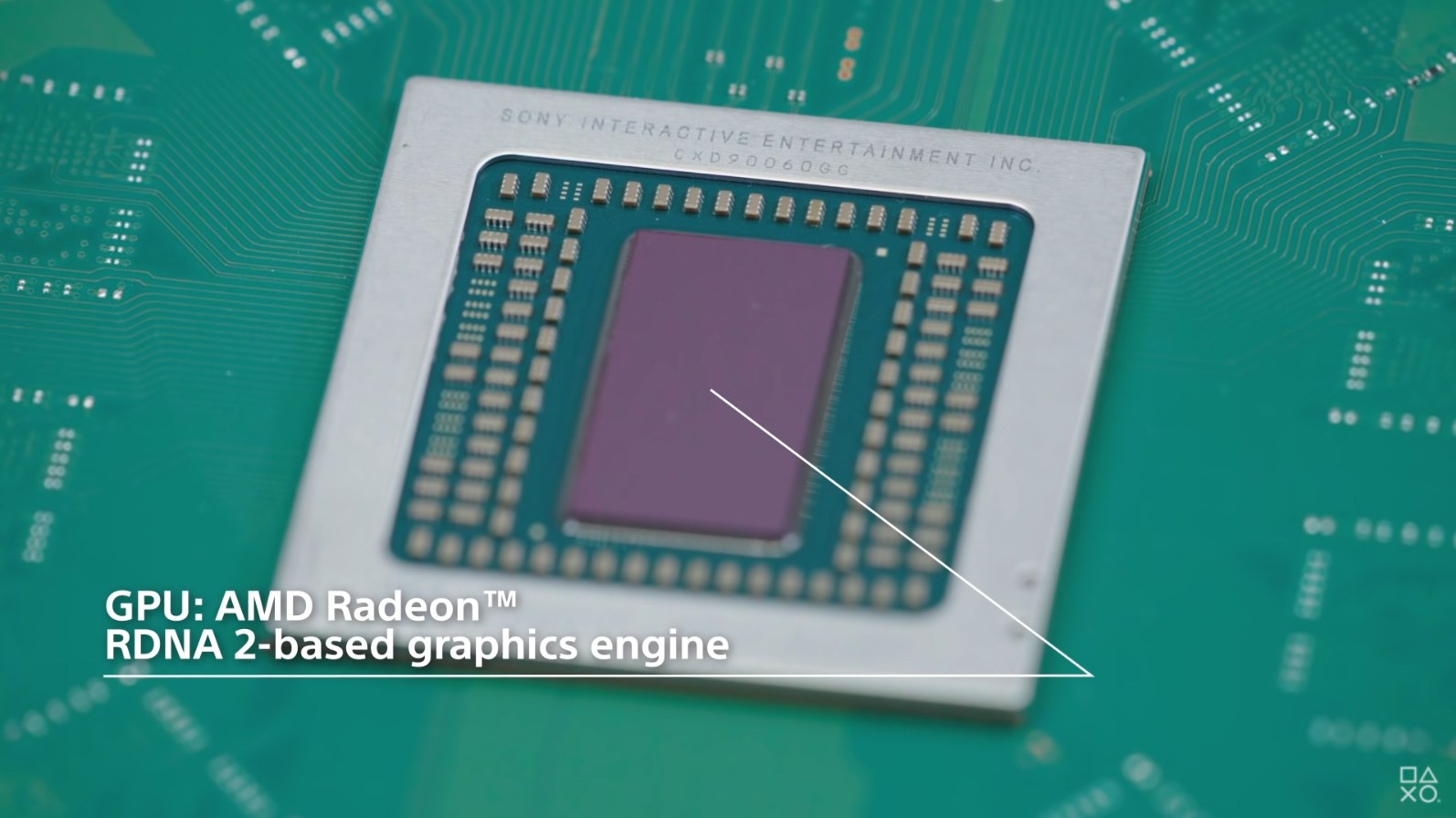 It wouldn't be fair to compare it with previous-gen PlayStation consoles because this is a huge step up, I would say it's a huge leap in performance, not just a step up (i am being cheeky; I am aware of that)
I should also mention that Ps5 supports Raytracing, but this is highly dependable upon the availability of games that supports Raytracing on PS5.
Raytracing, however, affects the fps quite harshly. PS5 is capable of delivering 125 fps, but here when Raytracing is enabled, the FPS drops to 30, which is not ideal, but I can't complain if I look at the price tag.
What Resolution Is PS5?
Just like any other consoles, there is support for 1080p resolution, which is a standard nowadays. However, PS5 does not offer 1440p/2K resolution support. Instead, it jumps from 1080p to 4K resolution. There is no in-between, and it might be a bummer for users that own 2K monitors.
2k monitors are being highly popular these days, but the lack of availability can be a turn-off for most people. If you attempt to play any game on PS5 at 1440p resolution, your 2K monitor will display it as 1080p, and the performance will match 1080p too.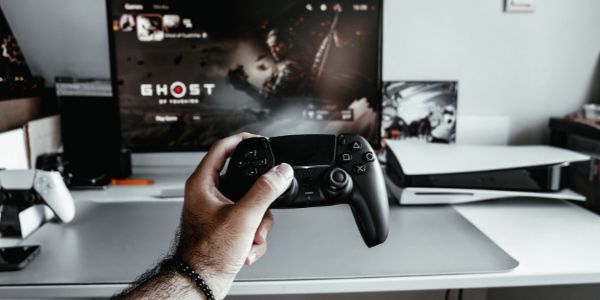 There comes refresh rate that can be viewed as a variable in deciding what monitor to choose. Now, PS5 does offer 120 fps support and 4K display, but these things are separate. You can't choose 120fps at 4K because, let's be honest here, that is impossible even for most high-end thousand bucks PCs.
120 fps will display on 1080p resolution, while 4K resolution will drop your FPS to 60. Most gamers do prefer high fps, especially Esports fanatics like me, so it's a huge deal that we can match PC performance at 1080p resolution.
Of course, a PC can go much higher than 120fps, but you are paying extra for that much difference too. Much more than you will ever pay for PS5
The PS5 Compared To Other Consoles
As I mentioned above, PS5 is a competitive choice for gamers, so the word competitive does imply the existence of other consoles. PS5, no doubt, is a solid choice, and you are getting the all-in-one package, but how well does this fare in front of other consoles?
PlayStation has always faced competition from rival Microsoft since the beginning, and both consoles have their separate fanbase. I won't say that any of those consoles are inferior to PS5 because this is a fair, unbiased comparison, so I leave the judgment to you.
Xbox and Playstation both released their latest products in 2020, and since then, there is been numerous arguments, comparisons, and benchmarks between these consoles. Both are excellent and deliver what people expect from them.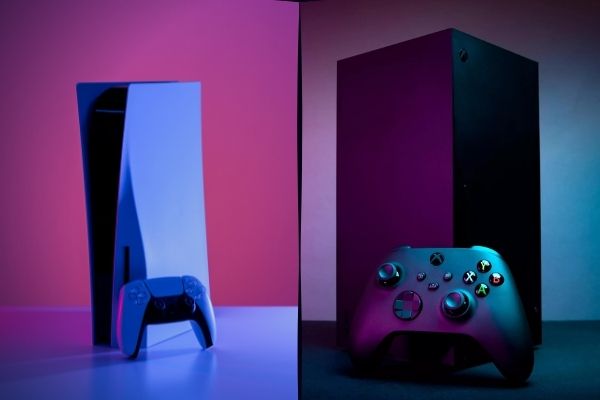 Playstation 5 has the same specs you can find in Xbox series X. Xbox series x include AMD Zen 2 processor, which is the same as PlayStation 5, clocking at 3.8GHz. The graphical processor is also the same as PS5, with Xbox incorporating an RDNA 2 GPU, but here Xbox series X has a slight advantage over PS5 as it provides 13 TFLOPS compared to PS5 10.3 TFLOPS.
Both consoles are identical to the most extent and are capable of delivering amazing performance.
PS5 is a major upgrade if you are looking back at previous consoles. PS4 and PS4 pro seem very underpowered in front of PS5. PS5 includes a massively better CPU and faster SSD, which is the first time we have seen in the Playstation lineup, and the GPU is capable of 4K gaming.
The inclusion of SSD is the major reason you should upgrade to PS5. for PC gamers, this isn't new, but about time PS5 got the upgrade it deserved. It speeds up everything, from loading games to installing by almost 19 times.
What Graphics Card is Equivalent To PS5 (Recommended GPUs)
A few years back, you wouldn't dare compare a console to a high-end PC, but things are going a little different now.
Consoles are making their comeback, and they are promising high performance while staying at the competitive price range. PS5 can easily handle 120 fps which is considered competitive and is actually on par with some modern PC builds.
If you are curious about how PS5 performs in front of graphic cards, don't worry; I will briefly give you an overlook of some of the best GPUs in the market right now. But keep in mind that you need an above-average PC build for these GPUs, which can cost more than PS5
#1- Nvidia GeForce RTX 3080
I am starting with this absolute powerhouse unit. RTX 3080 is widely considered one of the best GPUs in the market right now, and all this credit can be given to the sheer power that this card is capable of delivering.
PS5 internal GPU delivers 10.3 TFlOPS while RTX 3080 alone produces 30 TFLOPs which is almost 3 times more than what PS5 is capable of. Even the bus width is higher than PS5 256 bit. But you have to consider a price factor too.
This card alone costs more than 1200 dollars which is double the price of PS5 you can find on the market. And I am talking about the card itself, don't forget the rest of the PC build that comes along. So it makes sense that you are getting major performance if you are paying that much money.
#2- AMD Radeon RX 6800 XT
AMD RX 6800 XT can be compared to RTX 3080 in terms of performance, so I wouldn't get my hopes high. RX 6800 XT is not as efficient in Ray tracing as its Nvidia rival, but in terms of gaming, it does the job exceptionally well.
PS5 and RX 6800 XT are based on the same RDNA 2 architecture, so here's an interesting little fact. In terms of TFLOPS, RX 6800 XT is still giving twice the amount of TFLOPS that PS5 produces.
PS5 has 36 CUs while RX 6800 XT consists of 72 CUs, so there is no doubt that RX 6800 XT is more efficient at Raytracing than PS5.
The GPU has 16GB of ram, which is considered perfect for gaming, while the PS5 has a shared memory of 16Gb between the system and Graphics Memory, so it utilizes this memory according to your needs. RX 6800 XT is a beast, and it can deliver more than PS5 performance, but it doesn't come with a cheaper price tag.
#3- Nvidia GeForce RTX 3070
This is another product for the RTX series although this card is not as powerful as RTX 3080, it is still a champion when it comes to 1440p gaming, and you can't beat it when it comes to price to performance ratio.
RTX 3070 can easily handle any game at 1080 or 1440p, and even at 4K, this GPU can run most games at 60 fps, not to mention the DLSS 2.0 helps. RTX 3070 generates 20 TFLOPS, almost double the amount of TFLOPS PS5 does, and it comes at a less cheap value than RTX 3080.
RTX 3070 comes with 8GB of VRAM, which is less than what PS5 has but keep in mind that PS5 memory is shared between its system and games. RTX 3070 is a much more affordable choice, and if you don't mind tuning down some settings, this GPU shines. One of the better equivalents of PS5 in terms of gaming
#4- Nvidia GeForce RTX 2060
RTX 2060 belongs to the previous generation of Nvidia GPUs, and in a sense, it is one of the weaker cards I would recommend. Surprisingly, RTX 2060 falls short by little in terms of performance. PS5 performs slightly better with 10.3 TFLOPS against RTX 2060 with 6.5 TFLOPS.
RTX 2060 has a lower VRAM than PS5, which hurts its chances of playing modern AAA games at high settings. Overall, PS5 is a better deal as compared to RTX 2060, but the newer gen RTX 3000 series is in a league of its own, so one thing is clear, PS5 boasts similar performance to as last-gen RTX 2000 series.
#5- Nvidia GeForce RTX 3060
Even though it's considered a budget card in the 3000 series, this GPU packs a hefty punch, and features like DLSS 2.0 and Raytracing are major plus points. For 1080p gaming, this is an amazing choice and with a price tag much cheaper than PS5.
It produces 12 TFLOPS which is slightly higher than PS5. RTX 3060 has a 12GB VRAM which is enough for running games on high-resolution textures, and even if you are considering playing games on 1440p resolution, RTX 3060 will serve you fine.
#6- Nvidia GeForce RTX 2070
If you are keen on playing different games on different resolutions, for example, you want to try a newer title on 1080p, but you are playing a competitive game on 1440p resolution, then this GPU is a good choice.
Even though this GPU belongs to the older gen of the RTX series, its graphical capabilities are worth praising, especially how well this card performs in 1080p resolution. Looking at the TFLOPS count, RTX 2070 generates 9 TFLOPs which is on par with PS5 10.2 TFLOPs. This card can easily outperform PS5 at 1080p because of DLSS 2.0 feature
#7- Nvidia GeForce RTX 2060 Super
This is probably the closest graphic card I could recommend that can match PS5 performance. Despite having less TFLOPS production, RTX 2060 matches PS5 in every title at 1080p resolution, and when I tried to turn on Raytracing, the result were similar, and both GPU/PS5 were showing 30-35 fps.
The only downside is that RTX 2060 supers lack the Vram to compete. 8gigs of VRAM is still an upgrade from RTX 2060, but for future gaming, especially at a higher resolution, this is not sufficient. PS5 will hold on for longer than this card, but it's good to know where your PS5 stands in terms of Graphical performance.
Is PS5 Have RTX?
This is the first time we have seen in any console that Ray tracing was introduced along with support for 4K resolution. PS5 does support Raytracing, but it all depends on the games that can support running 4K resolution.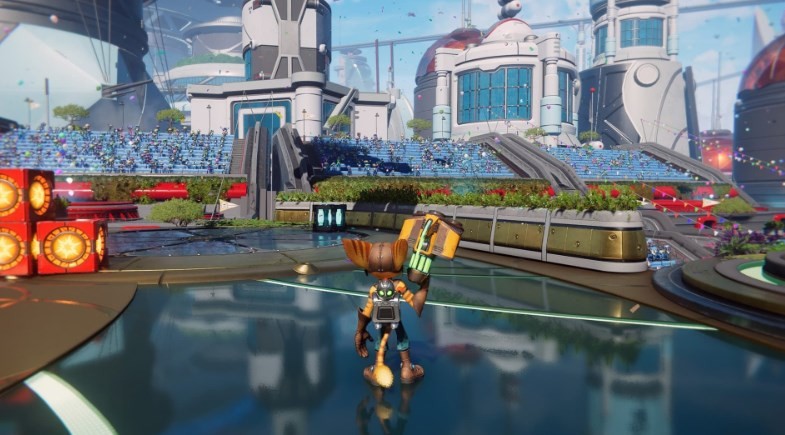 Raytracing was introduced and then improved vastly by Nvidia's RTX series, so it's a fresh breath of air that we are now seeing consoles supporting this feature. Although it's new, if given some time, you may find your new upcoming games supporting Raytracing on PS5.
I have to mention that PS5 is not as efficient in Raytracing as the RTX series. Raytracing hurts the graphical performance by a lot, whereas the RTX series shines in this category.
Maybe in the future, Sony will improve and optimize this feature on PS5, or better yet, we might see a new console with even more powerful specs that can handle Raytracing without sweat
Will The PS5 Be Overclockable?
While PS5 is competing with mid-range PCs, this is something that PS5 is unable to do. There is no possible way in which you can attempt overclocking. Most PCs use third-party software or BIOS to overclock their CPU, Ram, and GPU.
PS5 does not have access to anything like that. Gaming consoles are manufactured as definite pieces of hardware designed just for gaming purposes. The only thing you can overclock is the dual sense controller, which allows you to drop your input lag by a significant amount.
Will The RTX Gaming Laptops Beat The PS5?
If you look from a certain point of view, laptops are consoles that can do much more than gaming. They are portable, and you get your screen where a console needs an external display.
RTX laptops are getting popular nowadays, which is no big surprise. You are getting high-end graphical performance in one place; portability is a big factor that can explain the increasing demands for these laptops.
RTX series graphics cards are already top of the line, and when I compared PS5 with them, the results were as expected. PS5 still has a long way to catch up, and RTX laptops will have no issue beating PS5 in performance.
It is, however, true that laptop GPUs are underclocked variants of their respective original GPUs, but still, they have enough juice to outperform PS5. RTX 2000 series might stay in line with PS5, namely RTX 2060 or 2070.
The newer gen series is a tough nut to crack, so I wouldn't get my hopes high. You can easily opt for an RTX laptop instead of a PS5 if you are looking for high performance, but these laptops are not exactly cheap, and they might cost more than double of PS5 value depending on the graphic card inside
My Final Thoughts On It!
The overall story seems different; you can compare a PS5 graphical capability with a GPU to determine how much you are getting for the price to performance ratio. But it is unfair to put a console against a custom-built PC.
The console comes with manufactured parts that cant be customized, but in the case of a PC, you can cherry-pick your favorite top-of-the-line components and combine them in one case for monstrous performance.
Which outshines PS5 by light-years. You pay more, you get more. PS5 comes roughly around 500-600 bucks, depending on the variant you choose. And so far, I have concluded that PS5 performs around the same as RTX 2060 super or RTX 2070, and for AMD, PS5 is equal to RX 5700 XT.
Which is not bad at all. Let's suppose you have to build a PC around this GPU, and you have to buy all the parts and combine them into a casing. The cost will be much higher than what you would normally pay for PS5, while the performance is neck to neck.
So PS5 is a perfect choice for casual gamers, and the fact that it is so popular shows how many people still prioritize consoles over PCs.
Whether it's a personal preference or budget issues, it is no doubt that you cant build a PC with the similar performance of PS5 at a similar value as PS5.
Frequently Asked Questions (FAQs)