GraphicsReport is supported by its audience. When you buy through links on our site, we may earn an affiliate commission. Learn More
Best RTX 2080 Ti Graphics Cards For High-End Gaming
I hope that you will totally agree with my perspective when I say;
2080 Ti Graphic cards might be outdated considering the new-gen gaming requirements, but it's truly unmatched when we look into their performance.
First of all, these GPUs are divided into separate segments that handled different tasks. The typical graphic processing or restoration is handled exceptionally well, while the functional cores are altered for deep learning, ray tracing, and adjacent anti-aliasing.
Besides, they look exceptionally well on the table, which adds up another reason for getting one of these.
That's why today we will talk about the best RTX 2080 Ti GPUs currently available on the market. We will go through these graphic cards based on performance, price as well as overall stability.
So, after reading it, you can decide which one of them is best suited to your needs and goals. Furthermore, if you stay with me till the end, we will discuss whether the RTX 2080 Ti is still worth getting now or not.
Now without further due, let's get straight into it!
Best RTX 2080 Ti: Quick Look & Chart
image
name
price
SPECS
EVGA RTX 2080 Ti FTW3 Ultra

RAM: 11 GB GDDR 6
Cuda Cores: 4352
Dimensions: 11.89 x 5.48 x 2.75 Inches
Boost Clock: 1755 MHz

ASUS ROG STRIX RTX 2080Ti OC

RAM: 11 GB GDDR 6
Cuda Cores: 4352
Dimensions: 12 x 5.13 x 2.13 Inches
Boost Clock: 1665 MHz

MSI GAMING RTX 2080 Ti

RAM: 11 GB GDDR 6
Cuda Cores: 4352
Dimensions: 12.8 x 5.5 x 2.1 Inches
Boost Clock: 1755 MHz

Gigabyte AORUS RTX 2080 Ti Xtreme

RAM: 11 GB GDDR 6
Cuda Cores: 4352
Dimensions: 11.4 x 5.2 x 2.3 Inches
Boost Clock: 1770 MHz

ZOTAC Gaming RTX 2080 Ti AMP MAXX

RAM: 11 GB GDDR 6
Cuda Cores: 4352
Dimensions: 11.7 x 5.2 x 1.6 Inches
Boost Clock: 1665 MHz

NVIDIA RTX 2080 Ti Founders Edition

RAM: 11 GB GDDR 6
Cuda Cores: 4352
Dimensions: 10.5 x 4.5 x 2.1 Inches
Boost Clock: 1635 MHz
Best Nvidia RTX 2080 Ti Graphics Cards
Before I start the review, it's worth mentioning that I have gone through dozens of customer reviews and tested most of these cards myself before making this guide to you have a better understanding.
Furthermore, whether you choose MSI, Zotac, or any other featured manufacturer on the list, you will archive unprecedented results.
In the end, it just comes down to your budget and mindset. So, these are the top 2080 Ti cards.
#1- EVGA RTX 2080 Ti Ftw3 Ultra
Specs:
Supports 7680 x 4320 resolution with 60HZ refresh rate
Effective GDDR6 VRAM
Bandwidth memory of 616GB/s
Compatible with G-Sync
Equipped with RT-ray tracing
4352 in CUDA cores
Pre-installed metal black plate
LED RGB in the logo format
Featured with VR system
Highlights:
It can easily tackle most AAA titles at 60FPS in 4k.
It is equipped with a powerful yet compatible Precision X1 interference.
Due to advanced HDB fans, it won't have any cooling issues.
RGB settings are fully customizable for added versatility.
It delivers real-time ray tracing, giving you a new experience.
Ideal dimensions for every type of gamer.
Acquires 15% noise reduction due to advanced architecture.
The built-in 2.75 slot cards are ideal for those looking for powerful a GPU in a short space.
Drawbacks:
Due to dozens of high-end features and outstanding performance, it can be a bit costly.
For some users, it can be prone to screen flickering and lacks memory speed.
Starting the list at number one, we have EVGA RTX 2080 Ti FTW3 Ultra, which is easily the high-end value to price GPU in the review.
Unlike previous models, this time, EVGA chose to use two 8-pin power connectors for the card so that you will get every bit of juice from it.
This GPU features excellent connectivity by incorporating display port 1.4, HDMI of 2.0, and a USB Type-C. This way, it will hook up to your device without any complications.
Similarly, it comes with all the bells and whistles that you may expect from a featured device like this.
The EVGA RTX 2080 Ti Ftw3 Ultra has 1755MHz of clock speed, 4350 CUDA cores, and of course, 11GB GDDR6 memory to run even the most solemn titles out there.
Besides, it has RGB capabilities with an RGB header built-in to the design. This GPU comes in 12-inches in length, taking up to three PCI slots, so ensure that your case can give you the desired adjustments.
Speaking of the cooling, you will be amazed at what this beast holds under its belly. It consists of triple HDB fans that are more than capable of delivering maximum frame rates without a decrease in gaming performance.
You will be able to archive not more than 60 degrees, even in the most tiresome gaming sessions.
My Findings:
In the end, if you're looking for a premium 2080 Graphics experience that promises to deliver high-quality performance for extreme gaming, then I highly recommend the EVGA RTX 2080 Ti Ftw3 Ultra.
It doesn't matter whether you play CS GO, Assassins creed Valhalla or even COD Cold War; it will deliver you the highest frame rates possible.
From EVGA's custom PCB to the functional cooling solution, everything is just top-notch and unsurpassed.
Besides, with dozens of positive reviews on multiple platforms on the internet and decent benchmark scores, this thing won't let you down.
#2- ASUS ROG STRIX RTX 2080 Ti
Specs:
It comes with a 323-Bit memory interface
Works on 1665MHz of clock boost
11GB GDDR6 memory (clocked)
Visually pleasing Aura Sync RGB lighting
Supports HDMI 2.0 and Display port 1.4
Compatible with the newest version of DirectX12
7680 x 4320 of maximum display resolution
GeForce RTX 2080 Ti built-in chipset
Triple Odb axial tech fans for extreme cooling
Highlights:
It offers maximized heat sink contact due to the inclusion of aero-space grade Superalloy in its design.
The intuitive RGB light settings are AURA sync enabled, giving increased customization.
Its GPU Turing architecture works effectively on every RTX platform.
For additional support, it comes with multifunctional software like XSplit Gamecaster.
ASUS ROG STRIX is relatively smooth with axial-tech fans that induce dust resistance.
The core temperature is guaranteed to remain all-time low near 55celcius.
An ideal 2.7slot footprint to fit in almost every type of gaming gear.
Drawbacks:
There is a lack of accessibility in controlling the intake fans, but other than that, it's good to go.
Ergonomically it can be a bit sturdier than competitors.
ASUS has always been a go-to brand for most professional gamers and streamers alike, and their quite advanced model, i.e., the ASUS ROG STRIX GeForce RTX 2080 Ti, is no exception.
It features three ASUS axial tech 0db fans at the front, which are quite robust and economically feasible compared to the previous generation.
Besides, they are swifter in design and incorporated by a specific ring around the fan blade's outsides to make it more enclosed.
There are around 12 small RGB LED strips at the backend of the design, fully adjustable through ASUS Aura software. Simultaneously, the official ASUS logo that is, of course, RGB driven is located on the backplate and on each side of the GPU.
With this RTX 2080 Ti, you will be able to get two HDMI ports, one USB Type C port as well as two display ports so that you can tailor your connectivity according to your needs.
And if that's not enough, you will definitely love the 1665 MHz boosted clock speed with micron-based 11GB GDDR6 RAM.
The heatsink is integrated with nickel-plated copper heat pipes (6 in number), while the contacted cold plate is made from ASUS Mac's technology. This attribute gives the GPU a fantastic thermal transfer.
Furthermore, Dual BIOS front architecture makes it one of the quieter models in my review. Its consumption is regulated with dedicated sensors, and the power output is 30 Watt greater than its Nvidia counterpart.
My Findings:
Considering all the hustle, the ASUS ROG Strix RTX 2080 Ti is meant for those who are looking for the absolute best in terms of performance, speed, 4k visuals without considering the value proposition at all.
Besides, with the dual BIOS and MaxContact functionality, it's absolutely a beast when it comes to hardcore gaming.
While incorporating the reinforced framework, GPU tweak 2, 0dB fan system, and DirectX 12 compatibility, it stands out from the crowd.
If you can cover the upfront cost and wants a pro gamer experience, then it's something you need to be worth looking at.
#3- MSI GAMING X Trio 2080 Ti
Specs:
Equipped with advanced G-sync technology
Archives overall core clock speed of 1755MHz
Additionally, it boasts 11GB GDDR6 memory
Incorporated Type-C USB port with DMI 2.0 at 60Hz
300W of ideal power consumption
Can weigh around 1582 g (packaging excluded)
Maximum 7680×4320 in screen resolution
4352 built-in CUDA Cores with Turing architecture
It supports OpenGL v4.5
Highlights:
This GPU supports up to four display monitors at once.
Built-in 8pin 2x PCI connectors for added compatibility.
Unlike previous models, it can last longer with corrosion-free nickel-plated casing.
It's super easy to adjust as it weighs just under 4 pounds with 12.8 x 5.5 x 1.9 inches dimensions.
As the name suggests, it comes pre-overclocked system to increase frame rates.
The 1-click optimization feature with Dragon Centre makes it super effective.
Adaptable with next-gen VR systems.
Supports DirectX12 setup.
Drawbacks
It can be a bit hard to tackle at first due to the limited HDMI 2.0 slot.
Maintaining this graphic card for the long term can be a hustle to some extent.
At number three, we have the MSI GAMING X Trio RTX 2080 Ti. It can easily be one of the top-rated 2080 RTX GPUs in the line-up, possibly due to many reasons.
First of all, this GPU features Nvidia's newest graphic processors renowned in the industry for their performance.
They are quite impressive in terms of their overall cooling mechanism as well as frame rates. With the integration of the 7 Gen twin froze design, you will get decent gameplay visuals without any fluctuation in frame rates.
Additionally, this gaming beast incorporates three 3.0 fans with blades tailored to different construction and rotations. This is why MSI GeForce 2080 Ti attains low noise emission while regulating the processing power.
Like previous Nvidia models, this Graphic card contains a double ball bearing on each fan blade's side, increasing the durability.
Ergonomically speaking, this graphic unit is aesthetically very intuitive. It combines dark Gray color in a metal casing with fully adjustable mystic RGB lighting throughout the frame.
If you want further customization, its MSI Mystic Lighting software is just for you. So, select from thousands of color and effect combinations without any complication.
Besides, the back cover of MSI GAMING X Trio RTX 2080 Ti consists of dual brush finishing, enhancing its charm and making it quite sturdy.
Furthermore, this card provides a powerful 1755MHz clock speed with memory speed relying on 14Gbps, making it a potent video display board on the market.
My Findings:
When this card was first released, it was quickly MSI's best Ti 2080 model in their premium graphic cards line-up, and until today things haven't changed much. It surpasses previous models like lightning Z with a landmark without any doubt.
Generally speaking, it's absolutely worth paying a bit more for a beast of a card like this with better performance, visuals, clock speeds, and cooling mechanics.
For every pro-gamer out there, who wants to amaze the world with their FPS gaming skills, this machine can be your best bet.
Besides being highly functional, it's extra pleasing to look at and get you the aesthetics you always dreamed of.
#4- Gigabyte AORUS RTX 2080 Ti Xtreme
Specs:
Provided with memory clock speeds of 14140 MHz
1770 MHz core clock speed works phenomenally
Reliable 2 x 8-Pin PCI connectors
Equipped with enduring RGB LED setup
Powerful Windforce cooling system that is 3x stacked
Assimilated with 3 DisplayPort 1.4 and an HDMI 2.0b port
It supports both DirectX 12 and OpenGL 4.6
616 GB/s of memory bandwidth
Highlights:
It's the best looking 2080 Ti on the market due to solid ergonomics and packaging.
Provides seven video outputs with stabilized 100mm cooling fans.
It can be used with multiple monitors at once without impacting smooth gameplay.
Highly advanced yet most innovative 2080 Ti cooler.
Reduced noise and turbulent airflow in each gaming session.
Direct heat pipe connection for extra performance.
It is built for VR gaming as well due to its plug-in-play feature and low latency.
It comes equipped with a 4-year warranty on the online registration.
Drawbacks
Irregular rotations in the axial fans can cause some issues. However, it won't impact gameplay that much.
A low fan speeds, the lightning in the RGB logo can fluctuate.
If you tend to love glossy effects in a gaming system, you will love the Gigabyte AORUS. It contains more than 13 RGB lightning effects that are fully adjustable through the fusion software.
You can easily adjust different settings like pulse, tricolor, double flash, and static with just a couple of clicks.
When checking out its construction, we can find that it's around 6cm wide, 29cm long, and weighs just under 2 pounds, giving the card a whole triple-A card vibe.
A top-notch model like the Gigabyte AORUS GeForce offers 1770MHz of core clock speeds, which is around 8x more effective than NVidia's founder edition.
Like most models in the list, this video card has three plastic fans shrouded with aluminum-silver trimmings. In general, the outer tips of under fans are removed.
In contrast, the middle fan is ergonomically clipped, so each of the coherent sides can easily overlap, and the cooling effect over the heat sink is regulated.
Besides, with the incorporation of double ball-bearings and reverse fan rotation, there will be a turbulent airflow within the system, giving you boosted performance.
Contrary to the design, the IO panel of Gigabyte AORUS GeForce RTX 2080 Ti Xtreme provides the user with 3 HDMI 2.0B outputs with three other DisplayPort 1.4 at the lower end.
If that's not enough, then the USB Type-C port with virtual support will be according to your liking.
Speaking about the cooling system, you will avail around seven copper heat pipes directly regulated with the graphic card itself. In contrast, the Windforce cooling process will stabilize your frame rates even in most searing temperatures.
My Findings:
All in all, if you're looking for out-of-the-box visuals in a high-end GPU, then I assure you that the Gigabyte AORUS GeForce RTX 2080 Ti Xtreme won't let you down.
It stands out from the crowd in its RGB department and gives you the visuals you genuinely deserve.
It's a must-have item due to the integration of several display ports, powerful core speeds, advanced AORUS engine, Turing architecture, and real-time ray tracing.
Although, it might not be that much performance-driven like ASUS ROG Strix RTX 2080 Ti. But for 55-60 FPS at 4k, it will more than get the job done.
#5- ZOTAC Gaming RTX 2080 Ti AMP MAXX
Specs:
4352 CUDA Cores
Ray-tracing architecture with DLSS support
11GB memory configuration and 14GB/s of memory speed
Significant 650W of power consumption
Overall boost clock speed at 1665MHz
Highly innovative RGB Led spectra lightning
Extremely potent cooling through Icestorm 2.0
Weighs just under 6lb and incorporates dual-slot
It bears 7680 x 4320 of max screen resolution and works at 60Hz
Highlights:
It provides a single USB Type C port that can be adjusted up to four display, making it an excellent fit for VR setup.
Quality GPU like this feature's metal PCB jacket for extra protection.
The Turing based design provides programmable shading with advanced AI rendering.
For real-time experience, its ray-tracing enabled.
Equipped with a state-of-the-art cooling system that can also play an essential role in noise reduction.
To reduce lag and maximize performance, it extends the power load to 16 phases.
Acquired new and improved RGB Spectra lightning (fully customizable).
Drawbacks
Unlike competitors, the total overclock of the card is reduced to some extent.
It has a higher power consumption, thus prone to many power limits.
Ordinary things can become a bit boring after some time. If you agree with me and looking for a bit of variety in the premium RTX GPU line-up, then ZOTAC RTX 2080 Ti AMP MAXX is a perfect solution for you and your gaming needs.
This video card is mostly similar to Nvidia's founder edition, especially in aesthetics and specification; you won't feel the difference.
So, the integrated 4352 Cuda cores, 11GB of DDR6 VRAM as well as the 1655MHz boost clock speed won't make that much of a deal. However, bear in mind that the performance won't be the same due to the next-gen system.
The IO in ZOTAC RTX 2080 Ti consists of the regular three DisplayPort and an HDMI 2.0 port, and the USB-Type C port, which is common in high-tier graphic processors. The port itself is useful in virtual connection, making it compatible with next-gen VR headsets.
In terms of aesthetics, this video card is quite pleasing to get into any gaming rig. It comes with a dual-fan design in a solid framework for extra durability and compatibility.
There is one RGB element on each side in the form of the ZOTAC gaming logo, making it subtle and significant to see in the RGB-driven market.
These types of cards are 2.5 slots deep and ridiculously longer lengthwise, However, there is no need to worry as they are pretty slim, covering the PCIe slot's width. This way, you can adjust them with your system without any hustle.
My Findings:
Currently, this GPU class can easily overthrow its competitors due to its unmatched performance and overall reliability. It's a must-have arsenal in any gamer's personal space.
It certainly provides quality operations over its counterpart, i.e., the GTX 1080 Ti at 1440p. However, the real aspect where this card truly shines is the 4K resolution.
If you're searching for a vital component for your gaming rig that delivers 60FPS at 4K (even in the highest settings), the ZOTAC RTX 2080 Ti AMP MAXX is the best bet to go.
Besides, it's obtrusive in design and generally quieter even in high load. This adds another reason to get this best RTX 2080 Ti video card.
#6- NVIDIA RTX 2080 Ti Founders Edition
Specs:
Encompasses Nvidia's NVENC Encoder for better visuals
Compatible with OpenGL 4.6, Vulkan API, and DirectX 12 ultimate
4352 Nvidia's powerful CUDA cores at 10 Giga Rays
Equipped with 1635MHz boost clock speed while 1350Mhz base speed
14Gbps of memory speed and 352-bit interference width
It supports Nvidia's DLSS and game ready drivers
The power consumption is regulated at 260W
Strong IO support with USB Type-C for VR experience
Highlights:
One of the GPU pioneers who introduced USB-Type C ports for Next-gen VR headsets.
It includes 3x DP 1.4 ports as well as an HDMI 2.0 port for better connectivity.
Impressive CUDA core processor with 11Gb DDR6 memory for better performance.
It's a Turing based GPU that enables real-time ray tracing in many games.
The incorporation of deep learning super sampling readily increases the performance.
A decent 7680×4320 maximum screen resolution.
With the implementation of the next-gen 12 phase power supply, it delivers boosted clock speeds.
Ergonomically feasible setup, making it more durable.
Drawbacks
Slower clock speed than the competition.
Improper heat regulation with dual axial fan design
With the advent of real-time ray tracing, a few prominent names in this genre, and the NVIDIA GEFORCE RTX 2080 Ti Founders Edition is defiantly one of them.
The first thing highlighted in this premium video display board is, of course, the construction itself. The NVIDIA GEFORCE, RTX 2080 Ti Founders Edition.
Comes with a durable double fan design instead of the typical triple fan and blower-style framework. This will not only make it look sleeker but also lead to low power requirements.
It cleverly incorporates two 13 blade fans and a single vapor chamber running throughout the PCB for added coverage. It even has highly exposed heat fins at each side, unlike the previous categories of triple-A video cards line-up.
Besides the regular guides, you will get a DisplayPort to DVI converter in the packaging, as newer GPUs don't support any analog outputs.
Aesthetically speaking, it looks marvelous with a black segment and the classic RTX logo in the middle. With the full metal body wrapping around the entire RTX 2080 Ti till the backplate, increase its charm.
Moreover, this time Nvidia incorporated a specialized functionality called Envy link with this device to archive much higher transfer speeds and make the 60Hz in 8k SLI possible.
While in terms of overall energy output, you will find the two eight-pin power connectors with RTX cores, making this graphic card a bit power-hungry.
Although when we talk about features like real-time ray tracing and the AI-powered performance boosts, it does make sense.
My Findings:
In my perspective, there are no second thoughts that the NVIDIA GEFORCE RTX 2080 Ti Founders Edition is one of the top-rated RTX 2080 Ti video cards that money can buy right now. It outperforms the previous generation flagship by a decent landmark.
Besides, one thing is for sure that real-time ray tracing is just getting popular day by day. That's why it's best to depend upon the mediocre performance in its RTX department
So, if you're searching for a substantial jump in performance coupled with some high-end features for your gaming rig, then this GPU won't let you down.
Best RTX 2080 Ti Graphics Cards: Everything You Need To Know!
A performance-driven graphic card is an integral component in the lives of streamers, content creators, and gamers.
When we talk about high-end video cards, Nvidia's RTX 3000 series wins the landmark. Due to advanced architecture and incorporated technology, they are indeed a masterpiece.
However, getting the Best RTX 2080 Ti Graphics Cards might not be a bad decision following the GPU crisis everyone is facing right now, but it's not as straightforward as it sounds.
It would be best to go through different aspects like benchmark score, cooling system, aesthetics, number of cores, and ideal size.
To make things simple for you, you need to know everything before getting top-rated Ti 2080 RTX graphic processors.
Benchmarks:
After going through all these graphic processing beasts, I'm sure you might be excited to get your hands on one of them. Although, these cards can deliver uncompromised performance in almost every single title.
But for me, and like millions of others, it would perhaps be a little naïve not to expect brilliant performance on different gaming benchmarks. So, to check whether they are tailored with the asking price, here are some of the gaming benchmarks,
These games were run on an Intel i7 8700k at stock clocks, 32GB of ram running at 3000MHz, and EVGA 850Watt power supply.
In the benchmark, the RTX 2080 Ti scores an average minimum of 62 FPS at full 4K resolution at ultra settings. This is huge as you will be able to thoroughly saturate your monitor with 60FPS at a vast majority of your current gaming library.
Comparing it with 1080 Ti, we can see an average booster frame rate of 71% with a 2080 Ti, which is quite impressive for a released card in 2018. You will absolutely love how well games like Battlefield 1 performed under these settings.
While moving onto 1440p, both 1080Ti and 2080 really stretch their limits, with even one of the most demanding games like Shadow of the Tomb Raider entirely unable the top all these RTX cards.
Furthermore, you will be a bit surprised how these cards perform in the multiplayer genre. Although RTX 2080 Ti is a beast, it was unlikely to provide any real game-changing performance boost under this category.
Finally, we have 1080p, but unless you're running at a 240Hz monitor and care about frame rates above all, I really wouldn't advise you to get one of these cards.
The numbers are insane with around 200 FPS in Fortnite, but even with an Intel i7 8700k, you will be prone to some CPU bottlenecking.
Performance, Cooling & Size
We know that one of the key reasons for choosing a high-end GPU in the first place is the need of acquiring more performance than the cheap counterparts.
Generally speaking, 2080 Ti is meant for gaming at 4K. It will avail you of reliable 65 to 70 FPS without any hurdle. Besides, its RTX feature will give you a whole set of experiences if your gaming library is compatible with tech.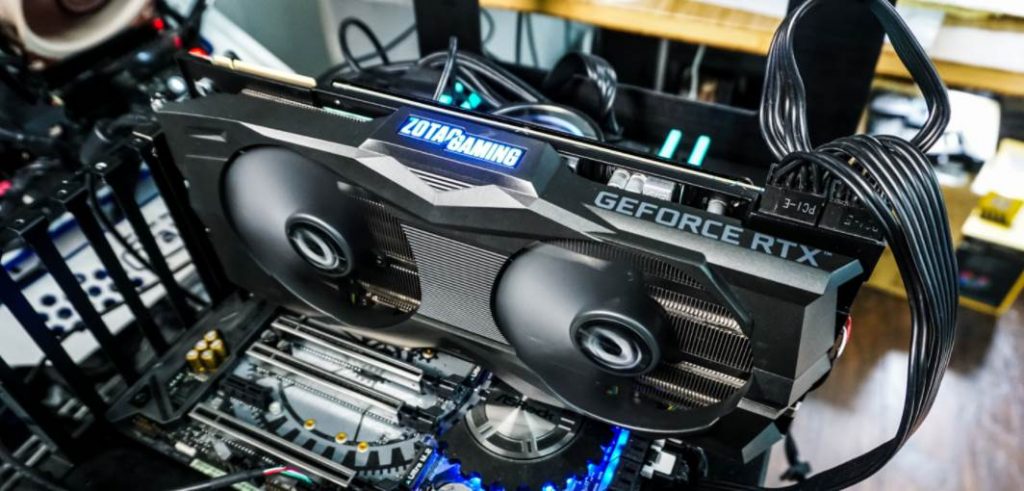 In contrast to that, ZOTAC GeForce RTX 2080 Ti AMP MAXX offers the same set of features but boosted performance (to some extent) due to advanced AI rendering.
Moving to the cooling, both the 2080 and 2080 Ti share the same cooler while ditching the old blower for two 13 blade fans as well as a new vapor chamber.
The integration of this chamber promises better temperature during tense gaming conditions and lower noise levels.
If you're already in a tight spot, then the old style should be a better choice for you. However, Nvidia's new line-up GPU's keep adopting these technologies at the cost of smoother gameplay of many next-gen games.
In short, always cover the performance and cooling aspect while getting a high-end GPU like the 2080 series.
Width & Length
If you're building a gaming rig, you should consider your GPU's overall length and width. Most low-end video cards in the market obstruct the heat sink or are not adjustable with the SSD slot.
They are either more generous in length due to a larger PCB slot or a bit on the shorter side due to thickened backplates.
In either case, it will result in many complications in the long run. So always check the given dimensions of the GPU before making such decisions.
Besides, it is also best to consult the overall weight of the casing itself, as it creates some complications in the long run.
Overclocking
Getting a card that operates on higher clock speeds is always a plus for every gamer. Milking every bit of juice is very useful in games like Cyberpunk.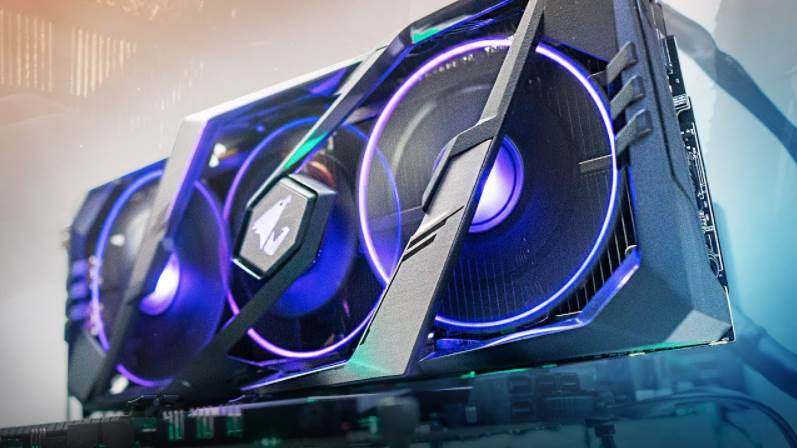 Cards like Gigabyte AORUS RTX 2080 Ti Xtreme attain staggering clock speeds of 1770 MHz. At the same time, we can see GPUs like MSI GAMING GeForce RTX 2080 Ti giving boost clock speeds up to 1755 MHz.
In particular, added perks like these will grant you around 7-10FPS at 4K in even the most demanding AAA titles. Considering already extreme performance, these results aren't that surprising, although they are to be noted.
Design & Aesthetics
As the demand for modern GPUs is increasing day by day, incorporating translucent casing and RGB lightning. If you're a hardcore gamer, you will agree to go for a graphic processing unit that is functional and highly intuitive in design.
Evolving from previous generation GPUs, these RTX cards still have the classic silver color scheme with a solid metal design and precise attention to overall aesthetics.
They will not only tend to come in luxuries kits but are also by far one of the best looking and best feeling Nvidia cards up to date.
On the other hand, if you're a fan of robust construction in a triple fan design, then ZOTAC Gaming GeForce RTX 2080 Ti AMP MAXX is the best choice for you.
No of Ports
While choosing the high-end 2080 card, it's best to consider the total number of ports' availability.
You will be pleased to know that each card comes with an entirely new IO with three DisplayPort 1.4, a single HDMI 2.0 port, and of course, a USB Type-C port.

The implementation of USB C means easier connections to things like VR headsets and high-end computer monitors.
Both the 2080 and 2080Ti also support SLI. There is now an Envy finger located at the top of the card to increase the shared processing capability.
However, there is a slight difference between cards in the RTX 2000 line-up in terms of power as most of the 2080 models use a single eight-pin and six pins while 2080 Ti cards support uses two 8-pin power connectors, for all of that Turing setup.
Is RTX 2080 Ti Worth It?
After going through a bias-free benchmark, like many, you might be wondering, is RTX 2080 Ti still worth buying now?
As you know, there are no second thoughts that the 3000 Ti series outperform RTX 2080 Ti in every department, as it's one of the most significant generation leaps in a long time.
However, as Nvidia's RTX 3000 series isn't quite attainable at the moment, that's why the RTX 2080 Ti series has gone back up a little bit in price.
So, if you can wait a bit and secure yourself from scalpers, then the RTX 2080 is worth it. It will give you an untailored performance boost, unlike the last-gen GPUs on the market.
Besides, you need to realize that people who want to spend that much cash on a single part for their gaming rig aren't that concerned best buck for the bank performance.
And most of them who are going for it are enthusiasts who want to have the block's coolest gaming system, so if you're among those people, then it's worth getting right now.
End of The Line:
So, this was my list of the best 2080 Ti graphic cards out in the market today. If you're still concerned about the price tag, remember that one of the significant reasons these graphic cards are worth the high price is because they have integrated supersampling technology known as DLSS.
This dramatically increases the fidelity of your games through scaling of the image in greater detail. In a nutshell, it will free up your usual compute and shading cores that are usually used for anti-aliasing.
Thus, you will be getting a higher level of frames per second, higher performance while maintaining the quality.
Similarly, these types of GPU are pioneers of a technology coined as ray tracing. If you don't know, it's a new tech that allows for realistic shadows and reflections to be displayed on your in your game in real-time.
The effect itself can be pretty breathtaking and may even make games easier to develop. Nonetheless, it really comes down to your personal preferences when choosing the best 2080 ti GPU.
Frequently Asked Questions (FAQs)