GraphicsReport is supported by its audience. When you buy through links on our site, we may earn an affiliate commission. Learn More
Best Nvidia RTX 2080 Graphics Cards [2022 Guide]

2080 series is one of Nvidia's top-of-the-line RTX cards, which is tailored toward any high-end gamer out there looking for unprecedented performance.
If you are generally into gaming at 4K in your high-refresh rate monitors, then here is another addition to Nvidia's RTX series, which can provide you optimal results.
There are no surprises that the RTX 2080 is designed to drop above the previously renowned 2070. The GPU itself is not revolutionary but an uplift in the previous RTX architecture.
Externally speaking, it's a lot much similar to any out-of-the-box RTX card. It boasts a dual-fan arrangement with a sleek and classical outlook on the front shelf.
On top of that, it still incorporating Turing architecture and the Tu-104 GPU. However, there have been numerous adjustments which in turn, benefit the user during any regular gaming session.
It's also worth noting that due to recent fluctuation, you are going to pay less for the RTX 2080 as compared to its launch price.
Speaking of the general specification, you will get 57 TFLOPs with 8GB GDDR6, running at a boost clock of 1710 MHz. Today, we will be looking at the six best RTX 2080 on the market to shed further light on its performance.
Each has its own set of features, so make sure to follow us till the end. So, let's get into it!
Best RTX 2080 Graphics Cards – A Quick Look!
image
name
price
SPECS
Evga Geforce RTX 2080
XC Ultra Gaming

RAM: 8GB GDDR6
Cuda Cores: 2944
Dimensions: 10.6 x 4.3 x 2.5 Inches
Boost Clock: 1815 MHz

MSI RTX 2080
GAMING X TRIO

RAM: 8GB GDDR6
Cuda Cores: 2944
Dimensions: 12.8 x 5.5 x 2.1 Inches
Boost Clock: 1860 MHz

ASUS GeForce RTX 2080 O8G ROG
STRIX OC Edition

RAM: 8GB GDDR6
Cuda Cores: 2944
Dimensions: 11.8 x 5.1 x 2.1 Inches
Boost Clock: 1890 MHz

ZOTAC Gaming GeForce RTX
2080 AMP Extreme

RAM: 8GB GDDR6
Cuda Cores: 2944
Dimensions: 12.7 x 5.3 x 2.3 Inches
Boost Clock: 1905 MHz

GIGABYTE GeForce RTX
2080 Gaming OC

RAM: 8GB GDDR6
Cuda Cores: 2944
Dimensions: 11.2 x 4.5 x 1.9 Inches
Boost Clock: 1830 MHz

PNY GeForce RTX 2080 8GB
XLR8 Gaming

RAM: 8GB GDDR6
Cuda Cores: 2944
Dimensions: 11.5 x 4.5 x 1.3 Inches
Boost Clock: 1815 MHz
Best RTX 2080 GPUs
Generally speaking, there are dozens of RTX 2080 cards currently on sale, which makes choosing the best as hard as it can get.
To give you ease of mind, I went through tons of user reviews and testing on multiple 2080 graphics cards.
To undoubtedly give you the best and most renowned RTX 2080 models these GPUs will provide you optimal results in the near future.
Whether you're searching for a card with boosted clock speeds or looking for an aesthetically pleasing variant, I got you covered.
Additionally, after the reviews, there is a buying guide, so make sure to go through it to get an idea of their features.
#1- EVGA Geforce RTX 2080 XC Ultra Gaming
Specs:
Out of the box 1815 MegaHertz of boost clock speed, while the reference frequency stands at 1775 MHz
Just like any RTX card, it features 256 Bit of Bus with 448 GB/s of bandwidth
8192MB GDDR6 of overall VRAM, which is more than enough for modern gaming needs
Port selection is ideal with 3 DP, 1 HDMI, and a single Type-C
It consists of a 2.75 slot design in a dual-fan setup for optimal airflow
Based on Turing architecture with EVGA Precision x1 to boost overclocking potential
Small amounts of RGB LEDs over the structure
Highlights:
The addition of a hefty shroud enhances the overall cooling performance of the GPU without relying on extra accessories.
Fully customizable EVGA logo at the backend to give an aesthetically pleasing outlook to the design.
Equipped with the newest edition of EVGA Precision X1 utility for monitoring the card's health as well as performance levels on the go.
Raised heat fins reduce noise emission without tempering cooling performance.
Provides real-time raytracing for all gaming enthusiasts out there.
Supports Vulkan API, Open GL as well as Direct X12 for premium performance in the modern titles.
Added warranty through online purchase.
Drawbacks:
The Evga GeForce Rtx 2080 XC Ultra Gaming has some issues related to power consumption; however, with an ideal setup, you won't face difficulty.
It has some RGB LEDs, although they aren't that much for pure RGB based PCs.
At number one spot, we have the Geforce Rtx 2080 XC Ultra Gaming by EVGA, which is my pick for the overall best RTX 2080 currently on the market.
EVGA has always been known for providing top-rated products for general consumers, and their ULTRA XC edition is no exception.
With the addition of a hefty cooler and other extra features, it can easily outperform most of the GPUs on the list.
It is equipped with a dual-slot design and holds up to 2.7slot space, which means you won't face any trouble installing it in your case.
The cooling design is more significant and integrated with ICx2 based heatsink, which gradually minimizes extra load during your regular gaming session. It doesn't come overclocked, so you have to put some work into it in this regard.
However, once overclocked, it can dynamically increase the performance by maintaining the power consumption. It's an absolute monster of a GPU with 2.36 inches of width.
Most of this bulk is added to the shroud so the card can remain stable at even max loads. The shroud itself is made up of plastic, unlike many high-end cards on my list, but it's not cheap at all.
Inside the packaging, you will also get an adhesive EVGA badge which brings extra charm to the ergonomics. Similarly, there is an HDMI to DVI cable integrated for the convenience of the user.
In the rear panel of Evga GeForce Rtx 2080 XC Ultra Gaming, there are a 3x Displayport, 1 HDMI output, and a single USB-Type C connection for modern-day VR compatibility.
While on the backplate, there are some thermal pads incorporated to dissipate heat from the components effectively.
My Findings:
There is no doubt in its performance, especially when comparing it to any previous-gen GTX cards.
You will get more than double the frame rates with ray tracing enabled in current games and decent visuals in most newer titles, such as Resident Evil Village. It's totally worth the price tag, especially in the current market.
On the aesthetic side of things, it may not be the most pleasant-looking; however, the beast's performance is totally admiring.
While when you compare it in terms of cooling, there isn't a single card as efficient as this in the RTX 2080 lineup.
#2- MSI RTX 2080 GAMING X TRIO
Specs:
It operates under 1937 MHz of memory with a boost clock frequency up to 1845 MHz
Equipped with 256-bit of memory interference with GDDR6 8GB VRAM
This GPU can support a maximum of 4 monitors at once without hindering the resolution
It's a triple fan design card with 12.8 x 5.5 x 1.9 inches dimensions
Multiple RGB setups over the front for high-end gamers
Max power consumption of this beast is stabilized at 250W
You will get Virtual link support which helps play VR titles
Highlights:
Just like any other RTX in the list, you will be able to enjoy gorgeous raytracing visuals with the MSI RTX 2080 GAMING X TRIO.
With the aid of MSI's trademark Torque 2.0 fans, you will get top-rated cooling while achieving decent acoustics.
There are double ball bearing in the fan construction, so you won't need to worry about noise levels and durability.
Its black matte design with incorporated RGB LEDs brings extra charm into any PC case.
You can instantly customize the RGB settings according to your preferences.
There is a gunmetal backplate with a sleek finish that not only looks pleasing but also enhance durability.
Thermal padding between the PCB regulates the airflow.
Drawbacks:
As compared to other RTX 2080 variants like the EVGA XC, their temperature regulation is moderate.
There is a lack of a 6pin connector, which is necessary for proper voltage consumption.
You probably have seen the original RTX 2080 GPU. It's a beast of a GPU with a price tag that is fit for only prime gamers.
However, if we up the ante a bit higher and go for a third-party vendor like MSI, we can get a powerful 2080 GPU known as GAMING X TRIO. From the first glance, it's clear that this card is giant.
It weighs around 3.5 pounds with an overall length of 12.79 inches. Similarly, the GAMING X TRIO has a 3-slot worth of physical height, which means that case compatibility might be an issue for most users.
Although, if you have a decent casing, you won't face any problems. The advantage of all this extra heft is that you get a much better cooling solution for keeping the card fast and quiet.
Nvidia's reference two fan designs work wonders most of the time but make no mistake, the three fans on GAMING X TRIO do a much better job maintaining the thermals, keeping the temperatures below 80 degrees.
Besides that, it holds these temperatures with lower noise levels. While in terms of aesthetics, the MSI RTX 2080 GAMING X TRIO is elegant as it gets.
With the aid of a black matte finish and several RGB headers along the card's length, this video card is an absolute beauty. You will require a decent power supply connected with its 2x 8pin PCI-E Power Connectors to run this monster.
The main difference between this GPU and something like the reference of Founder Edition is in terms of clock frequency.
This RTX video card is available with a boost clock speeds of 1845 MHz. And if you factor in further overclocking, the potential of this card goes way beyond this.
My Findings:
All in all, the MSI RTX 2080 GAMING X TRIO can easily be regarded as one of the best RTX 2080 on which you can get your hands-on.
It's still insanely fast, and it plays games like a monster. You can fire out any title at any resolution and settings, and it won't disappoint you.
Keep in mind that you have to up your game in terms of RAM and processor if you want to get the most out of this video card. The last thing you want to do is bottleneck the system.
No doubt 2080 from NVIDIA is RTX champion, but as excepted, the MSI model is better at any test you can throw at it.
#3- ASUS RTX 2080 ROG STRIX OC
Specs:
It boasts 2944 CUDA cores in Turing architecture with boost speeds as vast as 1890 MegaHertz
Equipped with triple fan construction in 8GB GDDR6 memory size
Compatible with various VR headsets through the addition of USB Type C ports
Auto-Extreme keeps the temperatures excellent and noise minimum
250W of maximum power consumption attached with a single eight and 6-pin power connectors
Its 1937 MHz of memory speed can get you to run any modern title
This is a 2.7-Slot card with PCB raised to 12inches lengthwise
Highlights:
It comes in a triple fan design which is thinner as well as lighter to support the overall cooling needs.
There are multiple RGB illuminations across the length of the card which can be synced with the Asus Aura utility.
The RGB setup can be turned on and off with the push of a button, so you don't have to mess with the software.
At the front end of the GPU, you will get two fan headers so you can run your case fans with ease.
Made for ultimate 4K experience without fluctuations.
The robust axial fan tech supports superb cooling in a quiet fashion.
Integrated with 0dB Technology to give its users feather quiet experience.
Drawbacks:
It covers 2.7 slots lengthwise, so you need to reconsider your case configuration; other than that, it's good to go.
It is not an inexpensive GPU, but for the features that it provides, you can't complain much.
We have the ASUS GeForce RTX 2080 O8G ROG STRIX OC Edition, an overclocked beast with a hefty price tag at the number three spot.
If you're considering the RTX 2080 for the time being, then this is the card you shouldn't overlook at all. Starting straight with the design, it's one of the best aesthetically looking cards in the market.
It's somewhat similar to the original Strix cards but with added flair and subtle improvements. Besides, it supports a beefier cooler to accompany the roughly 250W TDP requirement.
Additionally, it's worth noting that despite having a smaller value than the GTX 1080, NVIDIA recommends a sturdy power supply, so make sure to equip it for optimal performance.
Further physical attributes that you will enjoy in ASUS GeForce RTX 2080 O8G ROG STRIX OC Edition is the full metal backplate and two HDMI, two Display and a single USB Type-C port for virtual support.
It's a bummer that it lacks an additional DisplayPort, unlike the competitors. However, the HDMI outputs are USB 2.0 compatible so that you can run 1440p at a high refresh rate.
While the shroud of the STRIX OC is plastic in line with the LEDs throughout, which can be changed with ASUS Aorus software and a dedicated on/off switch built on top of the card.
There is a large GeForce logo that spans the GPU side, along with smaller LED Logos, which can be illuminated to sync with the remaining color scheme.
Two 8-pin power connectors effectively draw from the saturated PCI slot on the side of this video card. You will also get a BIOS switch which instantly changes to performance mode via the push of a button.
My Findings:
Again, when we look into the price to performance ratio, the ASUS RTX 2080 O8G ROG STRIX OC Edition is absolutely worth it.
It is aesthetically pleasing for a general consumer and can easily match most color schemes without any complication.
On top of that, the backplate is metallic that carries no thermal properties since it lacks thermal padding, but it adds extra charm to the design.
Also, it carries a nickel-plated copper cooling solution, which has been upgraded than the previous-gen design, and as a result, it is slightly thicker, providing you better cooling.
If you're in the market for the best RTX 2080 est RTX 2080, then you can't go wrong choosing it.
#4- ZOTAC GeForce RTX 2080 AMP Extreme
Specs:
The base clock speed of this card resides at 1515 MHz, while the boost frequency goes up to 1905 MHz
14.4Gps memory speed running at the 256-bit bus with 8GB DDR6 VRAM space
It is equipped with a 16+4 power phase that draws around 280W power
Operates under PCI Express 3.0 with ICESTORM 2.0 cooling
You can avail this card SLI-ready for premium support
It supports 650W of power supply for optimal performance
Compatible with almost any modern utilities such as Vulkan API
Highlights:
It shares a full cover backplate which is entirely black and has a ZOTAC logo for added aesthetics.
Its firestorm utility is straightforward to use, which benefits in RGB color customization.
The integration of new architecture enables this GPU to gain unprecedented performance.
You will get a highly functional power boost with this card which not only reduces the voltage fluctuations but also makes it run cooler.
Hundreds of RGB lightning and effect for premium gaming.
This GPU is VR-ready with the addition of USB Type-C support.
Dramatically reduces wear and tear from heat dissipation.
Run at maximum boost speeds.
Drawbacks
Its fan noise levels remain ideal for most of the time; however, under max loads, it can get a bit noisy.
Most of the models have driver related issues, so keep that in mind before buying it.
Another edition of the RTX 2080 series lineup is the GeForce RTX 2080 AMP Extreme, which is currently one of the ZOTAC's highest overclocked models.
Besides that, since it's an Ampere card, you can avail it factory overclocked (both the GPU and Memory), meaning you won't have to spend time and resources bypassing this hurdle.
With that said, the boost clock speed is set at 1905 MHz, while the memory is functional at 1850Mhz. Numbers like these easily make it the fastest RTX 2080 in town.
As far as design goes, ZOTAC has placed white diagonal diffusers on the GPU, which will light up with specific LEDs once you put them into your rig.
Thus, it provides some bright colors that will be highly beneficial for you if you need a full RGB-based PC.
The ZOTAC Gaming GeForce RTX 2080 AMP Extreme is cooled by industry-leading Ice Storm 2.0 technology, which is intact by three 90mm fans, which stands on top of a thick aluminum fin stack.
On top of that, various copper heat pipes run across the construction to minimize temperatures during high-stress conditions.
Similarly, it has a premium diecast jacket which adds further stability and provides reliability to the user.
The fans themselves feature a 0db or known explicitly as fan stop mode, to make your system silent during non-gaming hours. You can also control individual fan speeds if you require extra versatility.
Along the edge of this video card, an official ZOTAC logo is RGB regulated again. The AMP Extreme is powered by dual 8-pin power connectors incorporated with a 16+4 power phase design. As far as connectivity goes, it is similar to the reference model.
My Findings:
In conclusion, the ZOTAC Gaming GeForce RTX 2080 AMP Extreme is easily the prime RTX 2080 that money can buy right now.
As you compare it to the previous-gen AMP GPU, you will find that it's far more adaptable to modern-day standards.
Back in the day, the raytracing visuals were majestic, but the performance hit that it induces downgrade the experience.
However, cards like these are worth gaming with RTX on. In addition to that, you will also get dozens of RGB effects which help it outshine the competition.
If you are into intuitive RGB lightning and are willing to pay big bucks, this GPU won't let you down.
#5- GIGABYTE RTX 2080 Gaming OC
Specs:
Powered by Nvidia's top of the line Turing architecture with 1515 MHz Base clock speed
Its overall clock speed can be boosted up to 1830 MHz in OC while 1815 MHz in gaming mode
256-Bit GDDR6 memory with a USB-C connection for VR related activities
The power consumption of this GPU is stabilized at 225W, with recommended PSU of 650W
Being more than a 2-slot card, it weighs just under 2pounds
Highly efficient cooling with WINDFORCE 3x fans
It boasts 15.5 Gbps memory speed with VRAM space up to 8GB for prime performance
Highlights:
As the name suggest its an OC model, meaning you will get higher boost clock speeds out of the box, which will ultimately enhance performance.
It comes equipped with WINDFORCE cooling fans which intuitively spins in opposite directions to increase the airflow.
The fan blades of this graphic card are passive at idle to increase the overall longevity.
There is a sleek looking backplate to complement the ergonomics of this GPU.
It has six copper heat pipes in total across the board, which have direct contact with the card.
Ideal length helps it to fit right into most cases without the need for accessories.
It has a 4-year warranty included.
Drawbacks
It is not recommended to use liquid metal thermal paste if you want to tune this card as it leads to corrosion.
For those looking to adjust two SLI, they will face complications.
When we talk about prime added board partners, GIGABYTE is another name that standout from the rest.
This particular model from them is a refresh of the previous RTX card, which means that they enabled a few more cores, the clock speed is a bit higher, and the memory is a bit higher.
So, in theory, GIGABYTE GeForce RTX 2080 Gaming OC will provide you better performance for your buck. Right off the start, this is particularly a chunky card, utilizing more than two PCIe slots worth of space.
So, if you are interested in using two GPUs in SLI arrangements, you might be better off with the slightly slower WINDFORCE variant. Speaking of the cooler design, it's a very decent one for the price point.
It's angular and mostly subtle as compared to some alternatives. Besides that, you will absolutely love the monochromatic design, which enables it to fit in almost any color scheme.
At the same time, the backplate is properly complemented with few modular nodes. There is also an RGB logo at the side, which is RGB addressable to give your build decent aesthetics.
Aside from that, nothing flashy at all, which further enhances the restrained look. On the backside, you will find all the standard connections for an RTX 2080, including a USB-C connection that supports the unified Virtual link, which is becoming a norm these days.
The best part about the GIGABYTE GeForce RTX 2080 Gaming OC is the overall fan design incorporated by massive heatsinks and Gigabytes' well-established fan blade design, same across the previous models. This also means that this GPU is remarkably quiet under full load.
My Findings:
If you are currently looking for a rock-solid RTX 2080 performance card, then the GIGABYTE GeForce RTX 2080 Gaming OC should never be underestimated.
Its flexible monotone color scheme wraps around a cooler design that isn't too aggressive and nutty. Still, it is executed superbly, so the fans remain at ideal temperatures at even high stress.
You can even push it to its limits thanks to the adaptation of easy-to-understand manual overclocking. In contrast, the GPU architecture is strong enough to give you decent frames at even 4k resolution.
The RTX 2080 is a decent performer, and this Gigabyte variant is a substantial upgrade to the design.
#6- PNY RTX 2080 8GB XLR8 Gaming
Specs:
Just like any other RTX model, it is powered by Turing architecture
It is equipped with a dual-slot design and measures in at 3inches thick by 11 and a half inches long
This GPU supports 2944 CUDA cores with a base clock of 1515Mhz, which boost up to 1815 MHz
The 8GB of DDR6 memory is rated at 14Gp/s, and the card has a total TDP of 225W
This video card will require one six and an 8-pin power connector like most of the 2080s
Highly compatible with both Windows and Linux 64-bit systems
Supports a wide variety of motherboards
Highlights:
It comes in with a dual-fan design and takes around two-slot space so that you won't have adjustability issues.
Ideal thermal performance since it has a copper base plate that is synced with the heatsink.
The aluminum contact increases the durability of this card on the long-term basis.
Accompanied with 8+2phase VRM to regulate power consumption.
Real-time raytracing enabled with additional functionalities such as programmable shading.
Decent scores in most of the benchmarks, including Time spy.
Robust construction that is accompanied by an official warranty.
Drawbacks
No extra RGB frills, but the card looks decent with the classical touch.
For the GPU costing around this much, there is a lack of backplate.
Last but not least for the best RTX 2080, we have the PNY GeForce RTX 2080 8GB XLR8 Gaming, which is my choice for the most adjustable RTX card.
Like many, you might not have heard this name; however, PNY is still a leading contender in PC-related components.
It features a plastic shroud design, and there are both flat and shiny textures over the construction to make it look pleasing in the long run.
Overall, it has a flawless look into it but keep in mind it is prone to scratches, so try to clean it with caution. Other than that, performance-wise, these issues won't cause you trouble.
Moving on, the cooler itself is robust in nature. They used a copper core coil integrated with aluminum fins stacked over each other to maximize heat dissipation.
This GPU's weight is quite hefty, but you won't run into issues like GPU sag due to the ergonomic stability it provides.
The back of this card lacks a solid backplate, which is a significant downside to it as most of the competitors, such as MSI, have gone with full metallic backplates.
Simultaneously, the rear IO of this card supports the standard 3x Displayport 1.4 and other outputs, as seen in RTX 2080 GPUs.
Additionally, there is a nice-looking GeForce RTX logo and RGB strip light underneath on the top side. There aren't any considerable call-outs to RGB settings nice to have in graphic cards like this.
My Findings:
Wrapping up the review, I can easily say that the PNY GeForce RTX 2080 8GB XLR8 Gaming might not be the best RTX 2080, but it still holds a decent spot among the competition.
It has a classical outlook to it with subtle RGB effects to compliment the design. While for the IO part, it is similar to most of the models in my list.
Best RTX 2080 GPU's Buyer's Guide: Things You Should Know!
There is no doubt each of these 2080 cards can give you unprecedented performance at their respective resolution levels.
However, when we talk about additional functionalities such as clock speeds, cooling, size, or aesthetics, choosing the right one can be a tedious task.
To give you extra ease of mind, here are some of the everyday things you need to take into consideration when buying an RTX 2080.
Additionally, there are some benchmarks to help you in card selection. So, let's take a look at them!
Benchmarks:
Before we take a close benchmark comparison between these GPUs, let's analyze the original RTX 2080 GPU and give it a test against Nvidia's other high-end cards.
These scores will provide you with a clear understanding of the performance of this beast of a GPU and let you decide better in terms of cost per frame.
For the first part of the benchmarks, I will be incorporating Intel's i7-8700K processor, which has been overclocked to 5GHz and 32GB of ram to minimize the bottlenecks. While for the motherboard, I have the ASRock Extreme4.
Starting off the test, we have a system-heavy Shadow of the Tomb Raider. In this game, all the graphic cards are briefed through Full HD.
While in 4K, though, only the 2080Ti reaches above 60FPS, with the 2080 version just slightly below. This clearly represents what Nvidia is aiming for with its RTX cards.
In Far Cry 5, only the Nvidia's 1080 fell behind in 4K, with all the other cards well within 20% of each other. The main reason for this could be because this game is CPU intensive.
But again, only the 2080 and its Ti counterpart are getting more than 50FPS at 4K max settings, giving you a decent experience.
Furthermore, the Ghost Recon Wild Lands is a similar story. The 1080Ti and 2080 are almost imparted, although the 1080 Ti model gives a slight boosted performance at 4K.
In contrast to that, when we look at full HD, we are looking at around a 16% difference between the 2080 and the 2080Ti.
Now let's see how 4 of these 2080 variants perform comparatively in gaming benchmarks. (Note that ram has been reduced to 16GB for better results while the CPU has been changed to Core I9).
Again, running Shadow of the Tomb Raider, we can see that the Ultra XC version of 2080 provides FPS slightly lower than the rest.
This is because all other GPUs are triple fan-based with higher clock speeds. Additionally, there is a very small frame rate difference between the rest.
Airflow, Cooling & Performance
It can be easily said that the RTX 2080 cards have a reasonable price-to-performance ratio. Still, when we consider different aspects such as cooling, the story is a bit different.
This is when the manually adjusted third-party GPUs come into place. Almost each of these cards follows the traditional open-air type of cooling, while the others can be upgraded with looking cooling if you have the budget.
With extra price tag aid, you will get a premium experience, and your GPU will run cooler and quieter.
Additionally, these GPUs generally have a nice backplate with advanced overclocking potential for prime gamers. On top of that, a cooler running card means that they will be more likely to last longer.
Furthermore, when you try to resell them in the upcoming years, they tend to go a bit more than their lower-end variant.
So, which one of the cards do I recommend in this regard? Well, it's non-other than the ASUS GeForce RTX 2080 O8G ROG STRIX OC Edition.
While, performance-wise, as you have previously seen, there isn't much of a difference between each of the graphic cards.
Compatibility & The Size Heading
One of the other essential things that you do need to consider is the overall size and compatibility of the GPU.
Seriously, it is frustrating when your bought card doesn't ideally fit in your casing, or your current motherboard is incompatible with the current version.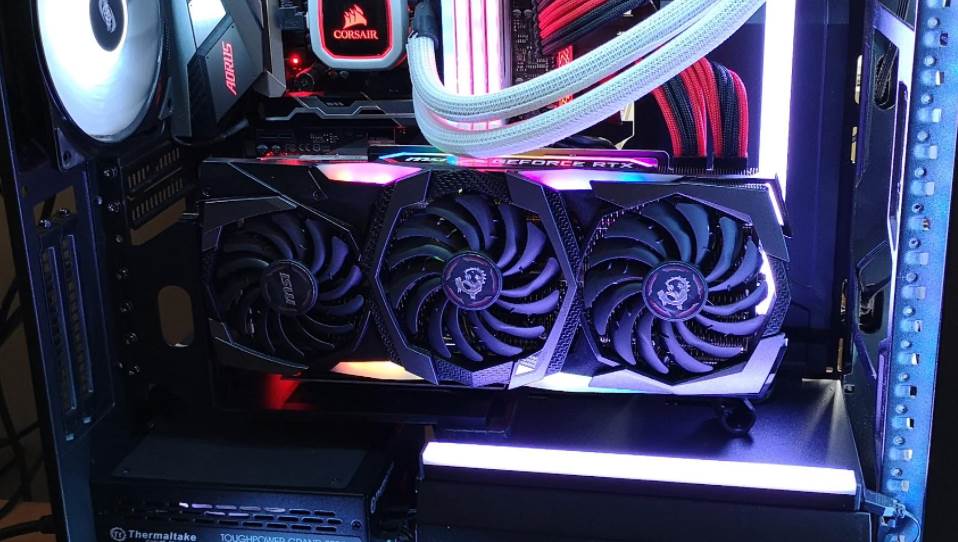 So, always check whether your GPU is a two-slot or a 3-slot card and what is the overall width of its shroud. Cards with heftier shrouds and triple fan design are ideal for someone who is looking for premium cooling.
However, they do tend to create issues like sag and, most of the time doesn't properly fit in your desired casing. Models like Strix cover more than two slots worth of space, so ensure that you don't use a mini ITX case with it.
In comparison, these 2080 models are primarily compatible with motherboards, such as the AsRock 4Core1333-FullHD will do the trick. However, it's better to be safe than sorry!
Power & Design
Just like performance, there isn't much of a difference between power draw among these GPUs. Each of them is based on RTX architecture, so the power consumption should be anywhere between 250W out of the box.
However, if you go for a beefier video card with decent cooling performance due to larger fan blades, make sure to equip a PSU in the 650W zone.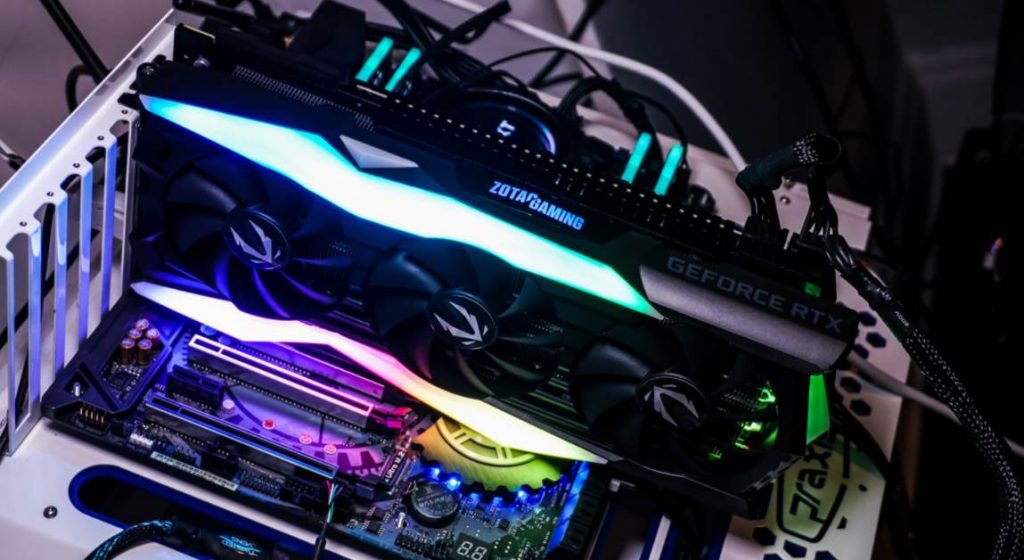 A typical example of a GPU like this is the ZOTAC Gaming GeForce RTX 2080 AMP Extreme which operates under ICESTORM 2.0 with three robust 90mm fans.
Similarly, it's worth noting the power phase of each respective card before you make the purchase. On the other hand, design or aesthetics can be the secondary aspects of GPU buying.
If you don't care much about them, then it's reasonable. However, if you're into the looks of its build, you need to consider this.
Models like ZOTAC Gaming Extreme are more suited toward complete RGB builds. While PNY GeForce RTX 2080 8GB XLR8 Gaming is better suited for classical design.
Do Factory OCs Matter?
For those that are new to PC builds, factory OC means the manufacturers' overclocking potential. If you need convenience and doesn't care much about few FPS increase, you should leave it as optional.
But if you mostly tend to play competitive titles, then the factory OCs are just for you. Sometimes the results they provide can be astonishing, giving you a slight edge over competitors.
With the help of few tweaks, you can make GPUs like the GIGABYTE GeForce RTX 2080 Gaming OC run as fast as competitors.
However, do keep in mind that the extra FPS does come at the cost of excess heat and noise. So, in some cases, the risk is too high. Anyhow, performance-wise, each of these cards won't let you down.
End of The Line:
So, this concludes the review of the best RTX 2080 Cards on the market. If you're still confused with your purchase, then let me help you out.
In most of the comparisons, you can see that 2080 is not far behind its Ti counterpart. If you don't have the extra coin for the 2080Ti, or it's currently not available in stock, then the 2080 model is an excellent option to go with.
The 2080Ti is still a strong card in terms of framerates and is based on high-end resolutions.
You will notice that maxed out at 4K; it does create a few issues for 2080 in some of the most demanding games. But if you are willing to alter the settings a bit, then you are good to go.
In terms of the partner cards of 2080, each of them has unique functionality such as custom PCB, optimized phase design, higher clock speeds, and better cooling solutions.
So, make sure to go for your gaming needs and personal preferences when selecting the best.
Frequently Asked Questions (FAQs)