GraphicsReport is supported by its audience. When you buy through links on our site, we may earn an affiliate commission. Learn More
Best Low-Profile Graphics Cards For Compact PCs In 2022

I hope you will trust me when I say that
Low Profile Graphics Cards are an excellent choice for those with more minor ITX cases or generally for those looking to build a small pc.
Low-profile graphic cards are typically controversial in the tech industry. You can neither be too optimistic about them nor criticize them too much.
As compared to a full-fledge discrete GPU, they lack the premium performance as there isn't proper spacing of transistor available in the construction.
Similarly, thermals are not fully functional as they don't take much of the PCIe slot available.
Although this is great for someone utilizing smaller builds but for high-end gaming needs, temperature regulation can be much of an issue.
This also means that they won't require extra horsepower to run, so you don't need to be conserved about topics related to power output.
Over the years, Low Profile Graphics Cards have got a lot better as competition has drastically increased in the market.
Both AMD and Nvidia are striving toward making small form factor graphics cards with functions other than gaming.
That's why today, we will discuss the 6 Best Low-Profile Graphics Cards that you can avail of in 2022. Each of them comes with its budget range, so make sure to follow us till the end. So, without further due, let's get into reviews!
Best Low-Profile Graphics Cards In The Market – Compare It
image
name
price
SPECS
MSI GTX 1050 TI 4GT
LP Graphic Card

RAM: 4GB GDDR5
Cuda Cores: 768
Dimensions: 7.1 x 2.7 x 1.3 Inches
Boost Clock: 1392 MHz

ZOTAC Gaming GeForce
RTX 2060 6GB

RAM: 6GB GDDR6
Cuda Cores: 1920
Dimensions: 8.3 x 4.7 x 1.6 Inches
Boost Clock: 1680 MHz

MSI Gaming
GeForce GTX 1650

RAM: 4GB GDDR5
Cuda Cores: 896
Dimensions: 6.6 x 4.1 x 1.4 Inches
Boost Clock: 1665 MHz

Gigabyte Geforce
GTX 1050 Ti OC

RAM: 4GB GDDR5
Cuda Cores: 768
Dimensions: 6.5 x 2.7 x 1.4 Inches
Boost Clock: 1442 MHz

ZOTAC Gaming GeForce
GTX 1650 Super

RAM: 4GB GDDR6
Cuda Cores: 1280
Dimensions: 6.2 x 4.5 x 1.3 Inches
Boost Clock: 1725 MHz

ZOTAC GeForce GTX
1070 Mini

RAM: 8GB GDDR6
Cuda Cores: 1920
Dimensions: 8.2 x 4.8 x 1.6 Inches
Boost Clock: 1518 MHz
Best Low-Profile Graphics Cards In The Market
When it comes to the best Low-Profile Graphics Card, there are dozens of options out there. Each of them adopts a specific feature that truly separates it from the rest of the competition. Some of them might have higher clock speeds, while others incorporate greater GPU memory.
To help you ease with the purchase, I came up with the following top-rated products. They are selected based on quality, reliability as well as long-term functionality. This way, no matter which one you pick, you won't be disappointed.
#1- MSI GTX 1050 Ti
Specs:
It incorporates 768 CUDA CORES in Nvidia's GTX GeForce architecture
This GPU is clocked at 1290MHz, with boost clock performance as high as 1392MHz
For output functionality, it features 1 x HDMI, 1 x Dual-link DVI as well as 1 x DisplayPort
7008 MHz Memory frequency which is running with 4GB DDR6 VRAM output
Being a low-profile GPU, it operates under the top of the line PCI-Express 3.0 x16
This MSI variant is compatible with Direct X12 as well as Open GL 4.5
It holds a 128-bit memory interface and requires under 300W power supply to operate
Highlights:
One of the most potent dual-slot low profile Graphic cards that you could get your hands-on.
A wide variety of connectivity options gives you additional peace of mind.
It is budget-oriented, so you can enjoy most of the renowned titles at 1080p without breaking the bank.
It's based on Nvidia's Pascal architecture which is still up and running even in today's standards.
This MSI GPU isn't VR ready; however, it can give you 60Hz at a maximum of 7680×4320 resolution.
You don't need any additional power-hungry PCIe connectors.
It supports MSI's Afterburner for extra overclocking.
Equipped with 4GB DDR5 memory for added performance.
Drawbacks
Sadly, there aren't any additional cooling mechanisms within its construction, so the average temperature and noise levels are high.
It might be cheap but not as budget-friendly as compared to competitors.
Starting the list at the number one spot, we have the MSI GTX 1050 Ti 4GT LP Graphic Card, which is currently my pick for the overall Best Low-Profile Graphics Card on the market.
This GPU can perform very well in most titles, given its a GTX 1050 Ti in such small factor. It's a 2GB card in the GDDR6 system that can fit right into many PC systems due to its compact size.
Besides that, the boosted clock speed is stabilized at 1392MHz, which is more than enough for a low-profile budget card.
One of the significant benefits of this card is that it doesn't require a single 6-pin PCIe power connector. So, if you have an older machine, you don't need to bother yourself with any allocations.
However, keep in mind that you will require an under 300W PSU to operate this machine. Moving on to the output section, it boasts all the similar video outputs that you can see in many high-end 1050Ti models.
This means connectivity is something you don't need to concern yourself with in long-term conditions. You could use this card on a home theatre PC or a 4K TV without any trouble.
It comes equipped with a full-height bracket installed, with an additional low-profile bracket in the casing for extra versatility in small form factor PCs.
As compared to the standard models, it runs a few degrees hotter, and the fans are a bit louder. But as a low-profile GPU, you can't complain much. Speaking about the look and appearance, it's not ultra-flashy.
The whole body is made up of durable plastic complemented by two under 90mm fans with an intuitive MSI logo on the top. In contrast to that, performance-wise, it's a beast.
You will be able to run competitive titles at decent frame rates and fulfill your gaming needs.
My Findings:
Overall, the MSI GTX 1050 TI 4GT LP Graphic Card rightfully deserves a number one spot in the Best Low-Profile Graphics Cards list.
The only thing that separates it from a standard 1050Ti is that it lacks a proper cooling system. So, you could go for a premium option, but if you're a budget consumer, then you are better off with this gadget.
It is a perfect choice for a low-end build or a PC with a weaker power supply. Furthermore, this card is pretty much identical to the AMD RX 460 in terms of performance.
#2- ZOTAC Gaming RTX 2060 6GB
Specs:
The ZOTAC Gaming GeForce RTX 2060 6GB comes in a dual-slot design that fits in 99% of casings
Its base clock is around 1500MHz, which can be drastically boosted to 1680 MHz
192-bit memory bus with approximately 1920 CUDA core processing units
For video outputs, it has 3 x DisplayPort 1.4 as well as a single HDMI 2.0B
This card is equipped with a Quad simultaneous display capable of higher versatility
You will be getting top of the line 6GB GDDR6 memory, which will boost your gaming
Power regulation is stabilized at 160W with 500W recommended power supply
Highlights:
It features a reasonable amount of heatsink as well as a top-rated ICESTORM cooling system.
A fully metallic wraparound backplate makes it a pretty durable and aesthetically pleasing unit in the long run.
The actual temperature of this graphic card under full load remains ideal as compared to most low-profile cards.
The 1680MHz boost clock on this GPU is highly effective out of the box, with some additional room for overclocking.
Your gaming visuals won't fluctuate, thanks to the 6GB DDR6 memory.
It supports Direct X12, Vulkan as well as Open GL 4.6.
Ray tracing and G-SYNC enabled a real-time visual experience.
Easy to accommodate in builds.
Drawbacks
Its 8-pin PCIe connector means you will require a decent 500W power supply to operate this beast.
No RGB headroom, but for the price tag, you can't complain much.
Nowadays, video games are demanding as never seen before, which means you will need high-end hardware to get decent frame rates in them. If that's the case, then you will praise this RTX 2060 model from ZOTAC.
Being a low-profile GPU, it does store some heavy performance upgrades, one of which is the RTX functionality. This also means that this GPU holds a smaller PCB and can fit easily in most of the builds.
We all know how expensive RTX cards can be these days. If you are into premium features such as ray-tracing and are currently on a tighter budget, luckily, this card is your one-stop shop.
It's one of the cheapest RTX models, which can definitely fulfill your performance needs. Furthermore, this ZOTAC GPU holds a decent cooling solution right off the back.
It has a dense fin stack system that is integrated with two intuitive fans. One of the significant drawbacks of this GPU is that the fan blades don't turn off at idle, but other than that, they won't disappoint you.
There are also 3 6mm copper heat pipes with good aluminum backing. Besides that, it comes in 6GB DDR6 memory which is effective for those looking to play the latest and most outstanding titles.
If you're searching for a low-profile card with RGB in it, then you're better off somewhere else. The ZOTAC 2060 doesn't include any RGB LED in Design.
However aesthetics-wise, it's not a bad unit. Its backplate is fully metallic, which is a nice thing to have in a budget card, while the shroud, on the other hand, is made up of plastic.
The IO department is also fully adaptive to the current-gen hardware. You will get a decent amount of video outputs with the ZOTAC Gaming GeForce RTX 2060 6GB.
My Findings:
One thing that I can say right away is that the ZOTAC Gaming GeForce RTX 2060 is, in theory, fast enough than most of the low-profile cards on the list.
By having this card in your build, you're in a good spot in the gaming world that can get you high-end performance without too much strain on your pocket.
It may be a low-profile GPU but keep in mind that it's not one of the smallest on the list. So, you will require a reasonable motherboard and an 8-pin connector to make it functional.
Aside from that, it's an ideal 1080p or even 1440p card that can drastically enhance your gaming experience within no time.
#3- MSI Gaming GTX 1650
Specs:
Based on NVIDIA GeForce GTX chipset with 896 CUDA core Units
This card features a dual-fan Design with PCI Express x16 3.0 interface
1695 MHz boost clock speed in a 128-bit memory bus
Overall power consumption is stabilized at 75W while recommending a 300W power supply
You will avail of 4GB DDR5 video memory with this hardware for decent performance
1x DL-DVI-D port as well as a single HDMI in the IO section
The MSI Gaming GeForce GTX 1650 weighs just under 11ounces and cover up to just 6.7inches
Highlights:
Its top of the line Turing architecture and decent video outputs can deliver 4K as long as your TV display is compatible with it.
As compared to competitors, this video card is 1.4X power-efficient and draws only 75W on average.
This MSI card is fully supported with Geforce Experience that lets you capture or stream your in-game moments without any hustle.
You can enable MSI Afterburner utility if you want to adjust its performance settings.
It's a GTX 16 series card, so you can utilize OC Scanner to gain some extra speed.
Up to 8 GHz of memory frequency for enhanced visuals.
Drawbacks
There aren't many gaps between the fan blades, so you can expect some dust in long-term usage.
It might not be the most pleasing looking unit on the market, but you can't complain much about the functionality.
Having a low-profile card can get you up and running even if you have slim pre-builds. This is the reason why the MSI Gaming GeForce GTX 1650 is still in demand on the GPU market.
Besides being ultra-compact, it comes in OC edition, which means there is a ton of overclocking potential on this mini-beast.
If you need further performance, you can definitely utilize the MSI Afterburner, which is fully supported by this video card.
Aesthetically, it's a decent GPU. You won't be getting premium material on its construction, but that's the price you have to pay for its form factor.
It also features twin cooling fans with a sturdy-looking heatsink on the side. Again, not anything special, but it still makes this card a bit genuine.
Speaking of the cooling, there is a reasonable number of holes within the bracket of this card, which also helps heat dissipation.
The MSI Gaming GeForce GTX 1650 comes pre-installed with a full-sized bracket for the convenience of users.
But you can always incorporate the low-profile one without any complications. It might be small, but don't underestimate its functionality.
It can deliver you optimal levels of frame rates even in the most advanced titles. Additionally, it's based on Nvidia's Turing architecture so that you can expect some decency in the long run.
Yes, it does draw under 75W on average within heavy load for those concerned about the power output. But keep in mind as you overclock it, these numbers can drastically rise.
My Findings:
GTX 1650, when it was first released back in 2019, was famous among gaming fans for being a budget-friendly high-performance card, and things haven't changed much yet, even for the small form-factor MSI Gaming GeForce GTX 1650.
As long as you don't mind lowering the eye candy a bit, you can enjoy upcoming AAA titles on this GTX model.
It's worth mentioning that its cooling solution is mediocre most of the time so that the core temperature can fluctuate depending on your system's stress.
But the best thing about this card is that it remains quiet at even high temperatures. If you choose this for your next build, you don't be disappointed!
#4- Gigabyte GTX 1050 Ti OC
Specs:
It features 640 CUDA CORES processors wrapped around in Nvidia's Pascal architecture
1366 MHz of base clock speed in gaming mode, which can go up to 1506 MHz in OC mode
It shares a single fan design and is compatible with both Open GL 4.5 and Direct X12
You will avail of 4GB DDR5 memory for reasonable display resolutions
The bus interface of this card is ideal with PCI Express 3.0
The memory clock of this GPU regulates at 7008 MHz in a 128-bit system
2x HDMI as well as a single DVI-D and DisplayPort
Highlights:
It's a low-profile card within 167 mm length, so you will be able to adjust it in most lower-end builds.
Gigabyte offers one-click overclocking with their GTX cards, and this GPU is no exception to that.
There are multiple ports with the construction so that you will be granted flexible connectivity.
You can utilize its XTREME Engine Utility to tune your desired performance levels within no time.
Higher voltage efficiency will make your gaming experience smooth as possible.
The integrated Solid-state Capacitors ensure the longevity of this Gigabyte model.
Easy to install and use.
Drawbacks
As a low-profile video card in a single fan design, the cooling solution will be moderate as long as you don't max out overclocking.
As compared to most the competitors, it's quite a bit chunky.
When it comes to producing quality products, Gigabyte has always been everyone's go-to option.
They have been regulating Nvidia's for quite some now, which is why you can't go wrong picking even low-end models like the Gigabyte GeForce GTX 1050 Ti OC.
This intuitive-looking GPU shares Nvidia's pascal design in a single-fan architecture that is angular and fully functional.
There aren't any rounded edges to it like some 750 models, and the overall build quality is ideal for the price point.
Speaking of which, this card was released in the MSRP of 140 dollars, but due to the recent GPU fluctuations, you can avail of it today for just under $200. However, I will advise you to explore the second-hand market if you want added value.
One of the main reasons for its popularity is because this card is power efficient. As it's constructed in Nvidia's renowned Pascal architecture, you will get very decent performance per watt.
Additionally, the Gigabyte GeForce GTX 1050 Ti OC doesn't require any power connectors at all. All you need is a PCIe lane, and you are good to go.
This also means that it will work with pretty much any power supply as far as the specs go; you are getting 4GB DDR5 memory is still relevant in current standards.
This VRAM is very solid for higher resolution gaming; however, I advise you to incorporate it for 1080p only if you want stable performance.
For connectivity, you will be getting an HDMI-2.0b, DisplayPort 1.4, and, lastly, a DVI-D output. This means you will be able to display 4K 60Hz without any complications.
My Findings:
All in all, the Gigabyte GeForce GTX 1050 Ti OC is a prime Low-Profile Graphics Card that offers excellent value for your buck.
Not only you will be able to game on it at 1080p but also watch movies on it at 4K 60Hz. It's the perfect choice for people who are either looking to upgrade their prebuilt pc or lacks the budget to enjoy the latest titles.
The installation itself is pretty straightforward, and you won't need to bother with hefty power connectors as it doesn't support one.
However, keep in mind incorporating a PSU rating of 300W if you need optimal levels of functionality. Also, make sure not to overclock it too much as some customers have reported major troubleshoots.
#5- ZOTAC Gaming GTX 1650 Super
Specs:
We have around 1280 CUDA cores within the New Turing architecture
4GB of ram or video memory, which is GDDR6 for high-end performance
The VRAM in this card is using a 192-Bit memory bus which is clocked at 12 Gbps
The base clock of the ZOTAC 1650 super is within 1500MHz, while the boost clock resides at 1725 MHz
Compatible with dual-link DV and boast optimal power consumption of around 100w
The recommended power supply of the only 350W to save you from spending extra bucks
This card also packs 80 texture units as well as 32 ROPS
Highlights:
Boost clock on this hardware is around 1725MHz.
It is easily adjustable with even the lower-end 300W power supplies on the market.
The ZOTAC Gaming GeForce GTX 1650 Super doesn't generate much heat to cause you problems since it has a TDP of around 100W.
It supports the FIRESTORM software so you can access or adjust its functionality without any complication.
This video adaptor is also compatible with GeForce Experience, so get Nvidia highlights and Game Ready drivers with a single push of a button.
For content creators, it shares Nvidia's studio drivers so they can take advantage of Adobe premiere more effectively.
Solid Design, which is made from prime materials.
Adaptable with most motherboards.
Drawbacks
Unfortunately, there is no backplate with the build, so it's prone to damages in the long run.
You will require a 6-pin power connector to operate it, but it's not much of a deal.
Lack of copper heat pipes in the cooling system.
If you are looking for performance in a compact build, getting the ZOTAC Gaming GeForce GTX 1650 Super is your best bet. It may be tiny but also very powerful.
Besides that, it's a super edition model, so that you can expect decent output in many newer titles as well.
Straight of the back end, it features a twin fan design without any factory OC, and judging by the overall dimensions, it can fit right into many mini-ITX machines.
It's also a reasonably priced, low-profile GPU but not as cheap as most of the models on the list. Unlike its competitors, the ZOTAC Gaming GeForce GTX 1650 Super packs a decent thermal and cooling solution.
You will get a plastic shroud with this model, and the overall color scheme is neutral most of the time, so it should blend in with most of the builds. Sadly, no RGB LEDs here as it's a budget card.
In terms of clocks, it shares a 1530MHz base frequency that can be boosted up to 1725MHz. Out of the box, it doesn't come overclocked so that you can adjust it according to your preferences.
As compared to the original 1660, there are reduced VRAM on this GPU. However, keep in mind that it incorporates GDDR6, so even lacking the capacity, it will do the job for you.
Other integral characteristics include Direct X12 compatibility as well as PCI 3.0 occupation. This is a 2-slot card with some primary IO outputs. You will get a single HDMI, DVI, and a DisplayPort 1.4.
This means you can use it for both 8K and 4K setups. To run this beast, you will need a 350Watt power supply, while the original voltage draw is regulated at 100W.
My Findings:
In conclusion, this 12nm Turing architecture-based card is a strong unit for handling even the modern titles at 1080p max settings.
In most games, you will see it even surpassing the current 1660, making it a great bang for the bunk.
Trust me; you won't be disappointed with your purchase. The only thing that is a bummer in this GPU is that it lacks a backplate.
Overall, it boasts solid ergonomics, so it would've been nice to have that extra protection on the rear end.
#6- ZOTAC GTX 1070 Mini
Specs:
It consists of 1920 CUDA cores with base and boosts clocks residing at 1518 and 1708MHz, respectively
This GTX model shares 8GB DDR5 video memory, which makes it suitable for higher resolutions
500W of recommended power supply with a TDP of just 150W under full load
You will get PCI Express 3.0, which is equipped with a 256-bit memory bus
It requires a single 8-pin power connector to function properly
This ZOTAC 1070 variant comes in a Dual-Slot design and supports SLI HB Bridge
The outputs are regulated at 3 x DisplayPort 1.4, HDMI, and a single DL-DVI port
Highlights:
Just like most of the best low-profile GPUs, it does come with dual fans, but they are slightly larger for better cooling.
It features a minimalist but sturdy-looking design that can be adjusted in any setup.
This ZOTAC mini is equipped with auto-fan technology, so your fans will regulate depending upon the temperatures, thus lowering noise levels.
A powerful cooling solution consisting of a wide array of copper heat pipes and aluminium heat fins
Provides Ultra-gaming experience in most of the current titles with the aid of 8GB VRAM.
Additional warranty included with the online purchase.
Drawbacks
There is limited overclocking since it shares a single 8-pin connector.
Even with a decent amount of cooling, some users complain about its thermal throttling.
Finally, we have the ZOTAC GeForce GTX 1070 Mini, another GTX low-profile card aimed at budget gamers.
So, if you search for a great card that is easy to incorporate in many desktop casings and maintains an ideal power draw, this GPU won't let you down.
It comes in with 200mm length and approximately 150mm width, so you can easily adjust it in a mini-ITX build.
Similarly, unlike previous models from ZOTAC, it features two intuitive fans, each of them is wide enough to increase the airflow leading to better cooling. Specs-wise, it's a genuine unit.
You will get 8GB DDR5 based VRAM which is more than enough for premium gaming. Simultaneously, the boost clocks are also maintained at pretty high to give you an additional jump in performance.
Moving on to temperatures, the ZOTAC GeForce GTX 1070 Mini stands out from the rest, maintaining under 75 degrees at even maximum load.
On top of that, the fan blades remain silent most of the time, giving you extra peace of mind. I dislike having a single 8pin PCIe power connector, so the general overclocking will be limited so as the power draw.
At the exterior section of this GPU, some nice and thick six mm heat pipes are running across the Design. This helps in overall heat dissipation, especially around the video ram section.
Do bear in mind that it also lacks a backplate, so you should be concerned about longevity. Although for standard usage, you won't be bothered.
My Findings:
If you're assuming that any particular hardware that comes in smaller ergonomics could lead to a dip in performance, you will be dead wrong, as the ZOTAC GeForce GTX 1070 Mini is built like a tank.
For those users who want to game on 1080p or even 1440p, this must-have card product.
On top of that, it's beneficial for gamers with small form factors, so you can't go wrong picking this adaptor.
Remember that it stands below the AMP edition variant from ZOTAC, so you shouldn't expect anything out of the box from it. As I said, for general budget-oriented consumers, it will be more than enough.
Best Low-Profile Graphics Card – Buyers Guide
Low-profile cards might not be so similar to your everyday GPUs. They limit most of the advanced features and other fans to make themselves more regulated in small form factor casings.
This is the reason why choosing the Best Low-Profile Graphics Card might not be easy as you think.
Of course, you can rely on your personal preferences in this regard, but if you want the value out of your purchase, you should definitely check out a reliable buyer's guide.
Following is one of it, in which we discussed some integral factors to these compact cards. Furthermore, there are some benchmarks for convenience below.
Related: Best GPUs For Video Editing In 4K – (Lag & Shutter Free)
Benchmarks:
Before we head-on and shed light on critical information of various low-profile factors, let's take a look at practical gaming benchmarks. Benchmarks themselves are a great way to test the raw power of the hardware.
It's also worth mentioning that we will only be comparing 1050 Ti and GTX 1650 as most of the low-profile graphic cards in my list fall under this category.
For these benchmarks, we will be utilizing Intel's i7-8700K, which is clocked at 5GHz in 16GB DDR4 dual channel ram. 1TB Seagate BarraCuda HDD regulates the storage capacity.
While for the system, we have MSI's Z390, which is integrated with CORSAIR's 500W power supply to limit the energy fluctuations. In contrast to that, both of these GPUs are slightly clocked out of the box for optimal results.
Staring the tests with Assassin's Creed Odyssey, we can see both low-profile cards struggling in higher resolutions.
Keep in mind that this Ubisoft title is one of their newest editions to the franchise so that it won't be that much optimized.
However, at lower visuals in the 1080p setup, both video adaptors maintain playable framerates, with the 1650Ti being 30% faster.
Moving onto an Esport title, we have Apex Legends, which is still a decent benchmarking contender. After some gaming rounds, we can see that 1650 beats the older 1050Ti with quite a margin.
At lower resolution, it will give you decent gaming performance without breaking the bank.
Although as we move down the visuals, the 1050Ti is not as bad as it looks. But I will advise you to lower some eye candy further if you want a competitive experience.
In the end, Battlefield was tested in campaign mode to get consistent results as compared to multiplayer format, and as expected, 1650 is ahead of the older 1050Ti.
However, the 1% and 0.1% lows don't give significant dips, which means you can use any of these GPUs in this title and won't be disappointed.
What Is A Low-Profile Graphics Card?
You might've heard about Low-Profile or small form factor graphics cards on many online platforms such as Reddit, but have you ever thought about what they are?
Well, as the name implies, it is compact or smaller than its traditional counterpart, with extra space saved for other hardware components inside your casing.

Generally speaking, they cover a single PCIe slot in your setup and are ideal for users with low-rating power supplies.
They are widely incorporated in workstation builds which many content creators or office users utilize.
Although being small doesn't mean they can't perform well, most of them are acceptable for gaming, even today's standards.
But keep in mind that they will be prone to power limitations and incorporate moderate to poor cooling solutions. So, why are they popular in the market? Well, their central selling point is the price tag.
As compared to standalone cards, you can get them at a low price from the vendors. So, if you're a budget gaming and don't care about the top-of-the-line features and RGB effects, these are things to go for!
Advantages Of Low-Profile Graphics Cards
Low-profile cards come in a variety of shapes and architectures but are they worth the purchase?
The answer is yes; they will provide you with decent graphical performance without costing you a fortune. On top of that, they share other advantages from standalone models as well, some of them include,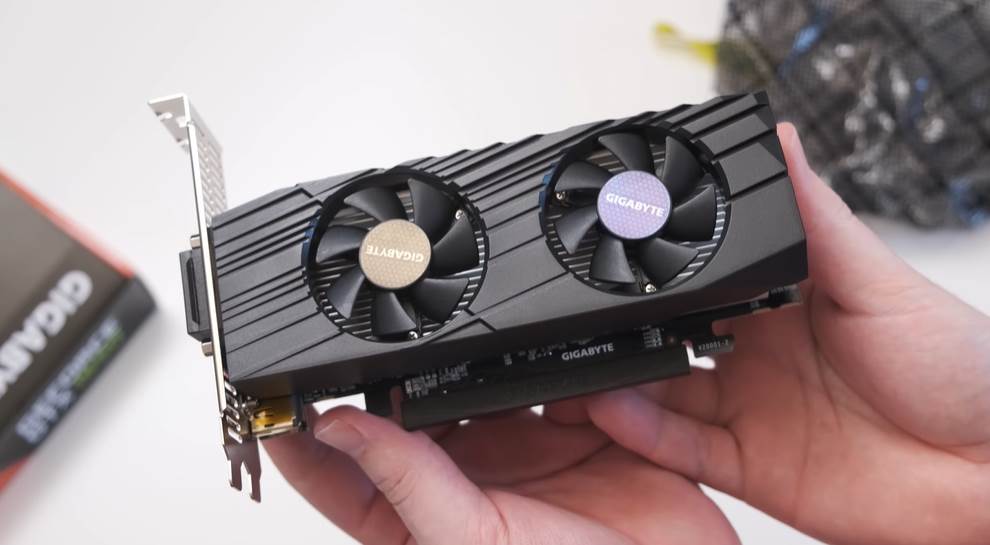 Small Form Factor;
Undoubtedly, low-profile cards come in compact sizes, which makes them ideal for Small Form Factor casings.
If you have an outdated ATX case and lack the particular space to use a high-powered triple-slot card, these GPUs are worth the purchase.
Although, keep in mind that low-profile video adaptors also come in dual-slot Design, so if you have extra space to spare, then go for them.
Less Power Consuming;
A smaller form factor also means that they will boast a lower frequency per watt. Power consumption is a significant issue in most developing countries currently. So, getting these cards is most beneficial.
Like the MSI GTX 1050 TI 4GT LP Graphic Card, some low-profile models don't even require a PCIe power connector so that you can plug them directly without any issue.
Less Noise;
Additionally, their lower power consumption also means that they will remain quiet in their operation.
Most of them share a single fan without any hefty heatsink or cooling solution, so you can incorporate them without worrying about acoustic levels.
Dimensions, Cooling System & Clock speeds
The first and foremost reason why users choose low-profile GPUs is that they come in ideal physical dimensions. Almost each of them is equipped in a single slot design without any top-of-the-line shrouds.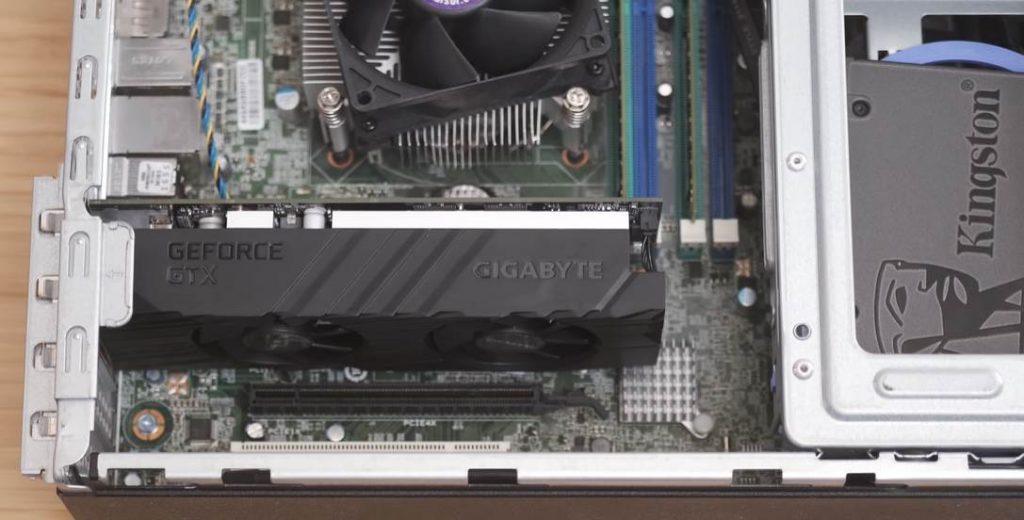 You can insert them in mini-ITX cases without any complication, and they won't let you down performance-wise.
Although the lack of a proper cooling system means that temperature will be significantly higher than regular variants.
That's why I will advise you to go for a model like ZOTAC Gaming GeForce GTX 1650 Super which packs a strong shroud with various copper pipes in a minor architecture.
Additionally, being low-powered models, you might think that the clocking potential on them is limited; however, that's not the case.
Most of the 1050 and 1650Ti mini are clocked almost at the same pace with reference cards.
Suggested reading: Best GTX 1080 Ti GPUs To Buy Even Now In 2022 – (New Models)
Good Design With Enough Modern Ports
Sadly, the majority of low-profile video cards aren't well-equipped when it comes to ergonomics. Models like the GT 710 doesn't give off gamer-friendly vibes because of the budget limitations.
That's why it's best to look for cards that boast modern Design and a durable backplate.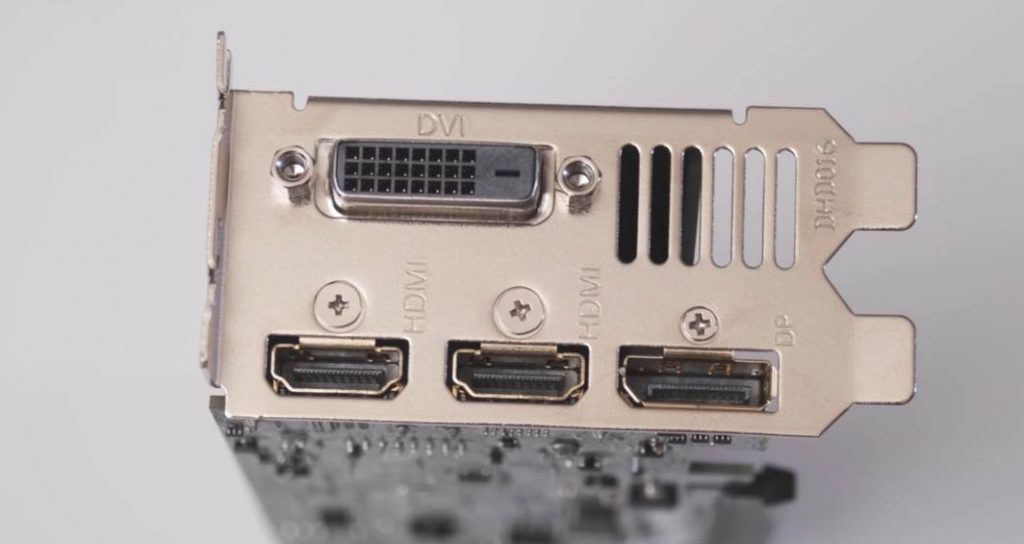 Not everyone is into aesthetics, so you might not be bothered by poor Design. But for some users, solid ergonomics are a game-changer.
Similarly, when it comes to port selection, nothing extra-ordinary or out of the box is in them.
Ideally, you will get a single DVI-D, HDMI, and DisplayPort with the newer models. That's why you should opt for those if you are looking for additional support.
Total Cost
After speaking about different aspects such as Aesthetics, cooling, and performance, the next factor to consider when buying a low-profile card is the price tag.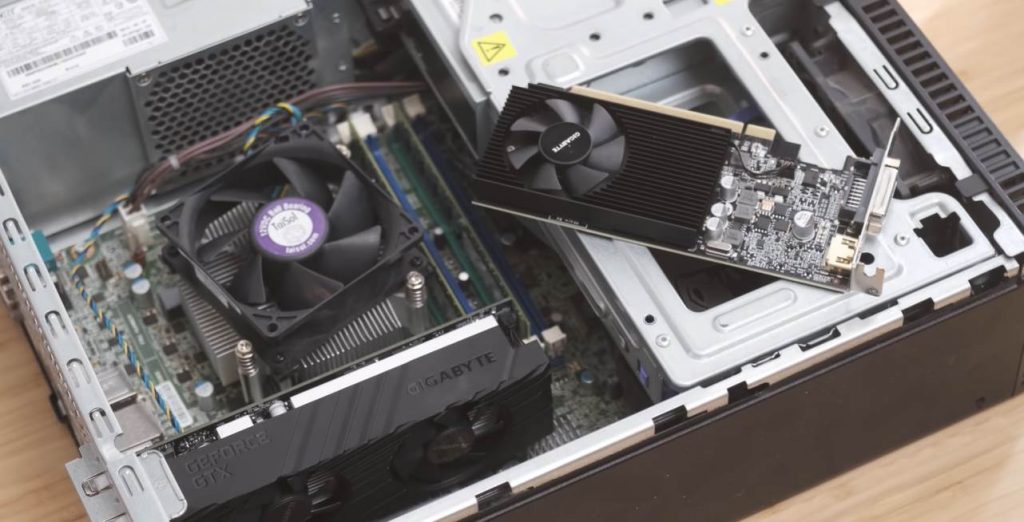 As expected, these GPUs are budget-friendly models that are equipped with almost similar functionality as in the case of their hefty counterparts.
If you are looking for high-end features in them, then you will have to pay extra. The majority of them are available with a $200 price point, so you shouldn't have to worry about the total cost much.
However, I will advise you to venture into the second-hand market if you consider the price to performance ratio.
Recommended reading: Best 1660 Ti Graphics Cards For 1080p Gaming – (2022 Updated)
End of The Line:
All in all, this was my detailed review and guide for the best low-profile cards on the market. If you are still confused or unsure about your purchase, then let me summarize it quickly.
The mini-cards stands directly above their larger counterparts, especially in terms of size or dimension wise.
If you have a full-sized card system that doesn't fit in very well, then getting these video cards is absolutely worth the purchase.
The majority of them come in with a single-pin PCIe power connector, so you won't need to worry about space-related issues. In addition to that, they are ideal budget 1080p cards on which you can game-on without any hustle.
Cards like the ZOTAC GeForce GTX 1070 Mini even has 8GB DDR5 video memory which is more than enough to play the latest titles in decent resolutions and frame rates.
So, choose anyone from the list, and I guarantee you that you won't be disappointed.
Frequently Asked Questions (FAQs)