Nvidia has been keeping up with its legacy of being the manufacturer of the best graphics cards in the world. AMD has been playing catch-up to Nvidia for many years and has been trying its best to keep up with its pace.
The 3090, released in September 2020, had the crown of being the fastest consumer graphics card in the world, a record it maintained for almost two years.
However, as Nvidia received inside news that AMD was planning to dethrone it by releasing the RX 6950 XT, Nvidia set the bar even higher by releasing the 3090 Ti.
Here in this article, today we will be doing a 3090 Ti vs 3090 by comparing them to determine whether the additional $500 is worth spending on it. So without further ado, let us get right into it.
Technical Specifications:
| GPU Name | Nvidia GeForce RTX 3090 Ti | Nvidia GeForce RTX 3090 |
| --- | --- | --- |
| CUDA Cores | 10752 Units | 10496 Units |
| Base Clock | 1560 MHz | 1395 MHz |
| Boost Clock | 1860 MHz | 1695 MHz |
| Video Memory | 24GB GDDR6X | 24GB GDDR6X |
| RT Cores | 84 | 82 |
| Bus Width | 384-bit | 384-bit |
| Architecture | Ampere | Ampere |
| Process Size | 8 nm | 8 nm |
| Power Draw | 450W | 350W |
| Recommended PSU | 850W | 750W |
3090 Ti vs 3090: Gaming Benchmarks (4k Ultra)
Testing Setup
CPU: Core i9-12900K
Motherboard: MSI MPG Z690 Force
RAM: 32Gb DDR5 5200Mhz
CPU Cooler: be quiet! Dark Rock Pro 4
GPU 1: GeForce RTX 3090 Ti 24GB
GPU 2: GeForce RTX 3090 24GB
Storage: 2xSAMSUNG 970 EVO M.2 2280 1TB
Power Supply: CORSAIR RM850i 850W
#1: Dying Light 2
The very first game I tried to compare the performance between these two juggernauts was Dying Light 2. At 4K resolution with all the settings cranked to Ultra, the 3090 Ti gave me 61 frames per second with a 1% low of 54 frames per second. The 0.1% low on the 3090 Ti was 53 frames per second.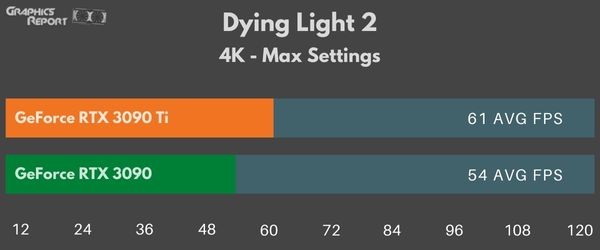 Switching to the 3090, as expected, we see a slight decrease in performance, with the average frame rate now being 54 with a 1% low of 45 frames, while the 0.1% is 44 frames per second. Dying Light 2 is a resource-intensive game while running at 4K, which is evident from the results.
#2: God of War
Moving on to the best dad simulator to come out in the last few years, God of War. The 3090 Ti ran this game at 4K resolution with all the settings on Ultra with a buttery smooth 86 frames per second. The 1% and 0.1% low were 73 and 54 frames per second, respectively.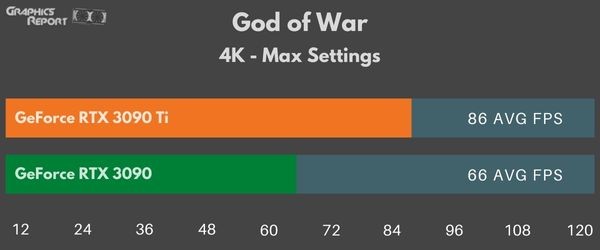 Meanwhile, the 3090 also did not lose much when it comes to performance, as God of War gave me 77 frames per second on average, with a 1% low of 66 frames per second and a 0.1% low of 50.
#3: Red Dead Redemption 2
Arthur Morgan from Red Dead Redemption has been dubbed the best protagonist by many gaming publications, and I could not agree more.
I dove back into this game once more to experience his antics using the 3090 Ti, where I saw an average frame rate of 85 with a 1% low of 64 and a 0.1% low of 56.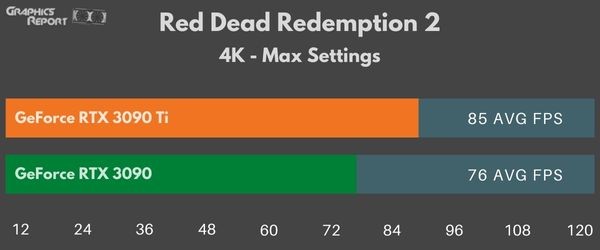 The 3090, as expected, gave me 76 frames per second while moving through the busy areas of Saint-Denis, with a 1% low of 64 and a 0.1% low of 53 frames per second.
#4: Cyberpunk 2077
Cyberpunk 2077, which was released in 2020, was hot garbage when it was released, especially when it comes to optimization; however, Patch 1.05 made a lot of improvements to its performance.
This game, however, still brings PCs to their knees while running at 4K Ultra Settings, as the 3090 Ti could only manage an average frame rate of 47 frames per second with a 1% low of 39 and a 0.1% low of 36.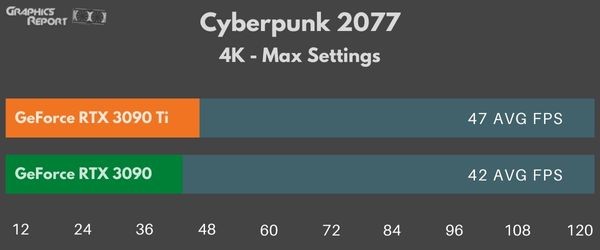 The 3090 also struggled running CyberPunk 2077 with eye-candy cranked to Ultra at 4K as it could only net me an average frame rate of 42 with a 1% low of 34 and a 0.1% low of 31.
#5: Microsoft Flight Simulator
The final game I tested for this article today was Microsoft Flight Simulator. This game extremely resources intensive, yet the 3090 Ti gave me an average frame rate of 63 with a 1% low of 56 and a 0.1% low of 48 frames per second.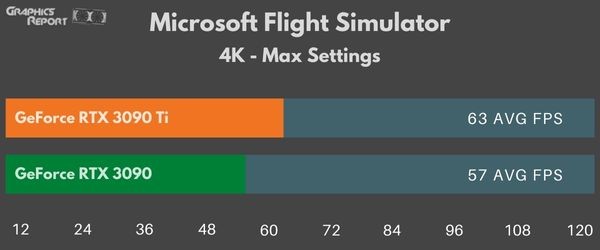 The 3090, as expected, did lose a few frames, with Microsoft Flight Simulator running at an average frame rate of 57 with a 1% low of 50 frames and a 0.1% low of 57.
3090 Ti Vs 3090: Pricing And Availability
Pricing and availability have always been tricky to cover as the chip shortage, and cryptocurrency mining has worsened in the past few years. People have been hard-pressed to get their hands on a graphics card without paying an exorbitant premium over the MSRP.
The 3090 Ti has an MSRP of $1999, while the 3090 sells for $1499. However, you would be lucky if you find them at these rates as both these cards are extremely hard to get one's hands on.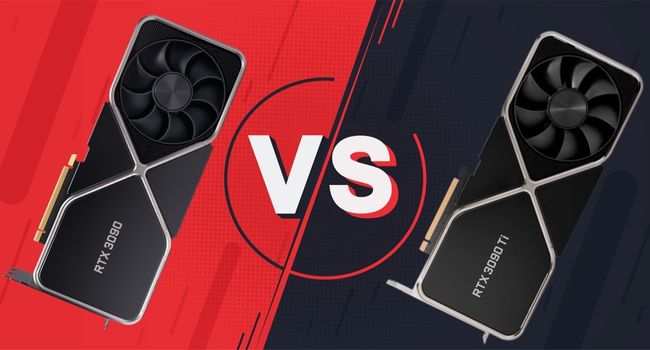 I made a few calls and scoured some sites, and everywhere I looked, I could not get a price of at least a few hundred over the MSRP. I have seen 3090s retailing for 1800 while the 3090 Ti sold at $2200. This is a lot of money if you are only gaming on these cards.
The best course of action would be to either wait it out so that the prices come down or consider the RX 6950XT, which is almost equivalent to the 3090 and a lot cheaper to buy. This, of course, is an opinion of mine, and you should not consider my advice.
3090 Ti Vs 3090: Video Output And Ports
Now let us find out how many monitors you can run simultaneously using these two juggernauts. The 3090 Ti has one HDMI 2.1 port and three DisplayPort 1.4a, which nets you a total of 4 monitors running simultaneously.
Now, if you plan on gaming at 4K using all these 4 monitors, the card will struggle. However, if you get four 1080P monitors and game at a wide angle, you will get buttery smooth performance.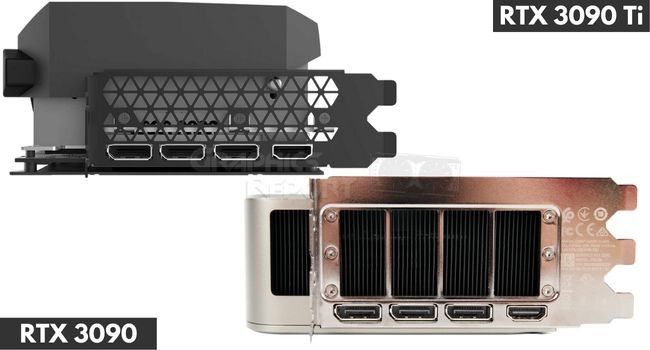 The 3090 also has a solitary HDMI 2.1 port along with the three DisplayPort 1.4a, and my opinion of connecting four 1080P monitors still stands as this will give you the best performance.
4K gaming is overrated, in my humble opinion, and I still prefer to game at 1080P, and this would be the best use case of these powerful yet power-hungry cards.
3090 Ti Vs 3090: Power Consumption
The 3090 Ti and the 3090 are extremely power-hungry cards, and I am sure they will show on your electricity bill once you buy any of them. The heat generated by these cards sometimes lets you ditch your space heater and use your PC as one.
Looking at the numbers, the 3090 Ti has a thermal design power of 450 watts, which is more than any other card I have ever owned. The suggested PSU is 850 Watts, but I got myself 1000 watts because I did not want to risk it with such an expensive card.
The 3090 isn't much better when it comes to power draw, as well as its TDP is 350 watts, and the suggested power supply is 750 watts. Diminishing returns are extremely evident here, as an additional 100 watts of power only nets you an 8 percent increase.
3090 Ti Vs 3090: V-RAM, Core Counts, Clock Rates
The RTX 3090 Ti has 10752 shading units along with 336 Tensor cores and 84 RT Cores. It also gives you a huge frame buffer with a 24 GB GDDR6X memory size with a memory clock of 1313 MHz. The second fastest graphics card in the world (after 4090) has a base clock of 1560 MHz which boosts to 1860MHz while gaming.
The 3090, on the other hand, is not far from its older brother as it sports 10496 shading units with a tensor core count of 328 and 82 RT cores.
There is no change in the amount of memory you get as it also gives you the same GDDR6X variants of 24 GB memory with a memory clock of a slightly slower 1219. The base clock on the 3090 is 1395 MHz with a boost clock of 1695 MHz.
3090 Ti Vs 3090: Features And Overall Rating
The 3090 Ti and the 3090 were dubbed the fastest graphics cards by all PC journals and reviewers when they came out in 2022 and 2020, respectively. The performance it gave was widely praised by everyone, making 4K gaming with Ray Tracing entirely possible.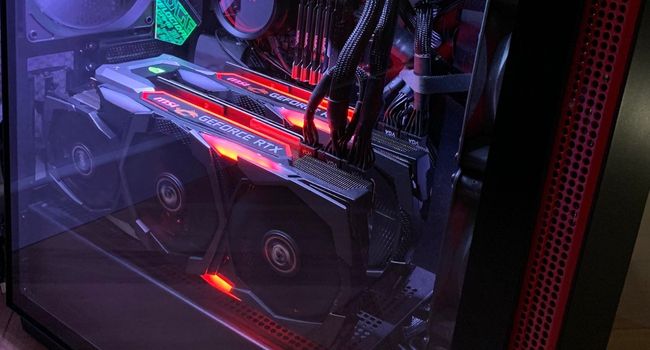 The only critique it received was the huge power requirement and the graphics card's price. This was the first time Nvidia charged so much for their flagship card, and the reviewers made it known in their reviews.
The Ray Tracing performance on both these cards is phenomenal, especially at 1080P. The DLSS 2.0 unveiled with these cards makes intensive games very easy to run on cards, yet another feather in Nvidia's cap regarding these cards.
Is The 3090 Ti Worth It?
I do not think the 3090 Ti is worthwhile in a market where the RX 6950 XT exists, as you only sacrifice 8% performance for a price difference of almost $1000.
Is The 3090 Ti Overkill?
A PC enthusiast would never call any hardware overkill, as I have friends who got 3090 Ti setups and only play Fortnite. I think you are better positioned to answer this question of whether or not the 3090 Ti is Overkill for you.
Is The RTX 3090 Ti Futureproof?
Yes, the RTX 3090 Ti is futureproofing for at least the next decade unless Ray Tracing becomes the norm in newly released games. For rasterization, I think it might be functional till 2030 and beyond at 1080P.
My Final Thoughts On It!
I had a lot of fun playing with these two beasts and comparing them to each other. These cards are undoubtedly the best, and they can be a worthwhile purchase, especially if you are playing games at 4K.
However, like many other colleagues, my biggest qualm with these cards is the power draw and the price. The power draw can be forgiven, but the cost cannot, especially in a world where the red team offers their flagship card at such a competitive price.
I think it would be better to sit on this card and wait for the 4000 series of cards, as those might be more efficient and offer a lot more performance than these cards are currently chugging out.
The 3090 Ti was only an attempt to keep the crown of the fastest card, which it rightfully gas; however, the additional 100-watt TDP is a turn-off for me.
Related context: