Nvidia has been dominating the graphic cards market lately. The reason is their RTX series Graphic cards, especially the ones that favor the use of higher than standard resolutions and Maxed Graphics in-game.
In this case, I am talking about the RTX 3080 which is top of a line graphic card in the RTX lineup. Released quite a while back in 2020, the card is still kicking some serious butt when it comes to raw performance.
Nvidia cashed on their successful launch of 3080 and introduced an improved variant titled RTX 3080 Ti. The Ti stands for "Titanium", don't get me wrong, there is no titanium involved in the process.
It's just a word that indicates that this variant is an improved version of the non-Ti variant. RTX 3080 Ti works and performs better than its younger sibling, but here you are paying more for that extra performance.
You have seen a lot of comparisons of different brands pitting their similar products against each other. This time things are a little different, I am comparing RTX 3080 and RTX 3080 Ti against each other. Same Manufacturer, same series, and same lineup. Let's see who the winner is. Finger crossed.
Nvidia RTX 3080 vs 3080 Ti: Technical Specs
Both GPU titans belong to the same class, so it is safe to assume that there will be a lot of similarities in their specifications, but there is something that gives 3080 Ti a noticeable boost in performance over its non-Ti variant.
Let's start with the Vanilla variant first, and then we can run over RTX 3080 Ti specs details.
| GPU Name | RTX 3080 | RTX 3080 Ti |
| --- | --- | --- |
| Price | Check Price | Check Price |
| Base Clock | 1440 MHz | 1365 MHz |
| Boost Clock | 1710 MHz | 1665 MHz |
| Video Memory | 10GB | 12GB |
| Memory Type | GDDR6X | GDDR6X |
| Memory Bandwidth | 760.3 GB/s | 912.4 GB/s |
| Bus Width | 384-bit / 320-bit | 384-bit |
| GPU Cores | 8960 / 8704 CUDA Cores | 10240 CUDA Cores |
| RT Cores | 68 | 80 |
| Tensor Cores | 272 | 320 |
| Architecture | Ampere | Ampere |
| Process Size | 8 nm | 8 nm |
| ROPs | 96 | 112 |
| Power Draw | 320W | 350W |
| Recommended PSU | 750W | 750W/850W |
| DirectX 12 Support | Yes | Yes |
| Nvidia DLSS | Yes | Yes |
| PCIe Gen 4 | PCIe 4.0 x16 | PCIe 4.0 x16 |
When I heard about the launch of RTX 3080 Ti, I was expecting a small jump in performance overall from the previous variant but looking at this specs table, I am surprised; Nvidia proved me wrong, and the improvement it introduced to the 3080 Ti is a big, big enough to be comparable to 3090.
The cores are increased by almost 18% to a whopping 10240 shaders, this is going to be significant during rendering and high graphical processes.
VRAM is also increased to 12GB DDR6X as compared to 10GB DDR6x of 3080. The 2GB difference doesn't seem so huge on paper, but when it comes to 4K gaming, extra VRAM always helps in the longer run.
RTX 3080 Vs 3080 Ti: Price And Availability
In recent times, graphic cards suffered from terrible price hikes, and even though the intended MSRP from Nvidia was mentioned at the launch, the price never saw any stability, and now these cards are selling at more than they were intended to.
Right now, RTX 3080 is being sold at around $1199, and depending on different variants that may include triple-fan, RGB synced lights, and fancy backplates, the price may slightly vary. The Ti version is (unsurprisingly) expensive, going at $1599 depending on different vendors and variants.
No one can say about the availability of these GPUs in the market, the stock is always out these days. This is due to a silicon shortage that hurts the production of graphic cards. So if you have money saved for these GPUs, I suggest you buy them as soon as you spot one available.
The out-of-control GPU price situation is getting better gradually these days, but you can never know, as the prices get cheaper, the GPUs will be accessible and more affordable for people, so the stock might run out in a matter of time. Go for it before its too late
An interesting read: Nvidia 1660 super vs 1660 Ti in 2023
RTX 3080 vs 3080 Ti: Ports, And API support
RTX series was a big step for Nvidia, and they somehow improved it even further with the release of the 3xxx series lineup. Everything was improved and upgraded from their previous-gen counterparts.
New RT cores, better VRAM, high clock speeds, and the latest high-speed output ports, HDMI 2.1 and DisplayPort 1.4a. Nvidia claims that their new lineup series, especially RTX 3080 and above, can easily handle anything at 4K resolutions.
It all makes sense because, for a better and smoother 4K experience, you need a high port that can process the data at high resolutions.
Nowadays, TVs, Monitors come equipped with HDMI 2.1 ports, so if you want to take full advantage of ultra high res experience, you have to opt for RTX 3xxx series. They are the first GPUs to introduce HDMI 2.1, so there is no other option better for enjoying your lavish 4K experience.
DisplayPort, on the other hand, is responsible for the competitive side of gaming. Esports titles work better when your GPU is producing high framerates.
High fps reduce latency to its minimum, and this helps with accurate gameplay and fast reaction time. DP port 1.4 is easily capable of handling high framerates and fast data connection between your GPU and monitor.
RTX 3080 Ti supports DX12 ultimate API, which is the newest version with support for next-generation games. This improved version includes DXR , VRS, and Mesh shaders for more realistic gameplay.
DX12 ultimate will allow raytracing on real-time frame rate, and it is only possible with the RTX series. The only series that currently supports this game-changing feature
RTX 3080 vs 3080 Ti: Ray Tracing And DLSS Performance
Major selling points of the RTX series are Raytracing and DLSS, which were introduced back at the launch of the 2000 series.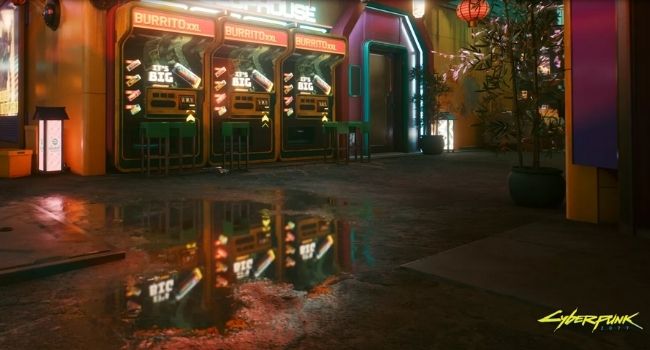 Now fast forward to the present, here we are with RTX 3000 series, all these features were brought back, and not only that, those features were actually enhanced and improved on mainly due to double the amount of RT cores in the 3000 series. There is no fair comparison between these two generations, the power gap is very high.
4K resolution is the intended resolution for these cards, and they completely shine in this range. With nearly every AAA title is delivering 60+ constant fps at max settings.
However, some games were showing some signs of struggling, but here, DLSS 2.0 comes to the rescue. Games like Cyberpunk 2077 or Watchdogs Legion are quite notorious for being unoptimized, and it shows.
But DLSS 2.0 makes this a great experience. Upscaling the image through Ai while your game is running at a lower resolution, this feature maintains the same quality as 4K but with the increment of fps.
Right now, more than 50 games are now supporting DLSS compared to the early days of the RTX 2000 series. The combination of both DLSS and Raytracing is fantastic here, and it helps your GPU in the long run. I cant wait to see what Nvidia has in store for us in the future.
RTX 3080 vs 3080 Ti: Power, Clocks, And Temperatures
We are talking about big performance here, and with great performance comes great power consumption, which is not surprising to me. It makes sense for our cards to be power-hungry if they are giving you the best possible performance.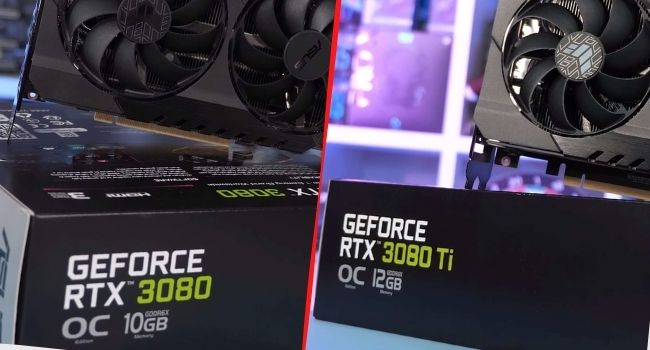 RTX 3080 was already clocking at 320w and 3080 Ti being a bigger brother to 3080, it consumes 350w. That is 30w more, and you should really consider upgrading your PSU for this GPU titan.
Clock speeds determine how fast your card takes to process data, and since I have been singing praises about these high-performance GPUs, it is obvious that the clock speeds here are going to be huge.
3080 clocks in at 1440Mhz with the clock boost of 1710Mhz, 3080 Ti has slightly lower clock speeds at 1365/1665Mhz, but overall, 3080 Ti contains more RT and Tensor cores with hefty computing shaders, so this little difference doesn't make it inferior to 3080.
Since these cards run at high power, you'd expect them to run hot while drawing watts from PSUs, but surprisingly the case is the opposite.
Thanks to the revamped design of these GPUs, they have integrated heatsinks with big fans that keep them cooler than most cards during high load, even at 4K resolution. The downside is, that these GPUs are absolute units, huge and bulky, but they are doing their job well, so I can't complain.
There is quite a headroom for overclocking since these cards run way cooler than expected, so you can utilize overclocking if you have impeccable airflow in your PC casing.
Related read: Top 6 best graphics cards for VRs
Testing Setup:
Enough talking, let's move on to the real deal. The actual benchmarks and testing of these GPUs. Till then, I have told numerous plus points about these cards, so now let's test them and see how closely they perform to what we have seen.
And, of course, being a beast of a card, my setup that I am gonna pair these cards with is also quite beefy. If you are curious about how these cards perform on high-end PC, I will list down the specs below.
CPU: Ryzen 5900X
Motherboard: B550 MSI
RAM: G-Skill 32GB DDR4
Storage: 2TB Seagate Firecuda NVMe
PSU: 850w Corsair Power Supply
RTX 3080 vs 3080 Ti: Gaming Benchmarks
#1- Cyberpunk 2077 (1080p)
Kicking off with cyberpunk for our first benchmark run, this game is pretty notorious for its launch. People were complaining about having huge performance issues and fps loss, and it is true this game is pretty unreliable and unoptimized.
That being said, I wouldn't sweat testing this game on 1080p. I mean, it's the standard resolution nowadays, and for our, GPUs, 1080p is like a breeze.
So after testing this game at high settings without any raytracing, our GPU performed well with only a 10% difference in fps. 3080 Ti was in the lead with 141 fps and not very far behind, 3080 was giving 131 fps. So far, so good
RTX 3080 Ti: 141 fps
RTX 3080: 131 fps
#1.1- Cyberpunk 2077 (1440p)
Now to make things a little interesting for our cards, I tested this game on a higher resolution to see what they are capable of.
At 1440p, fps went down a lot which was something I was not expecting. RTX 3080 Ti was again in the lead, but now it was performing below 100 fps, and so was its younger sibling.
Both cards were neck and neck at this point, with RTX 3080 Ti shelling out 97 fps and 3080 at 90 fps. The difference is yet again not so huge, but things might turn out differently if we go even further beyond this resolution scale
RTX 3080 Ti: 97 fps
RTX 3080: 90 fps
#1.2- Cyberpunk 2077 (4k)
And oh boy, this game really is unoptimized, I was expecting some drop in performance, but this was huge. Both of our cards went below the 60 fps range, which is considered standard nowadays. RTX 3080 Ti was closer to the 60 fps mark, but our little man was struggling to keep up.
The gap between these cards was not huge, but at this point, if you want to experience 60 fps without lowering your graphical settings, you can apply DLSS and maintain fps above 60 without compromising the image quality
RTX 3080 Ti: 50 fps
RTX 3080: 45 fps
#2- Red Dead Redemption 2 (1080p)
The second install of the beloved franchise by Rockstar Studios, this game is perfect for benchmarking with our RTX giants. Open world game with high textures, details shadows, different terrains, and locations. This will really test our GPUs to their limit, and I am down for it.
Now on to the results; I am pleasantly surprised by how good this game performs. Even though it's 1080p, which is quite a low bar for GPUs of this caliber, the game did outperform my expectations.
And I was shocked to see that both our cards were performing the same. No difference at all. RTX 3080 Ti and RTX 3080 were clocking at 166fps highest settings. This is the first time I saw these cards agree and stand on the same ground. No competition at all
RTX 3080 Ti: 166 fps
RTX 3080: 166 fps
#2.1- Red Dead Redemption 2 (1440p)
After cranking up the resolution up a notch, I saw a little but noticeable drop in performance. At 1440p, the cards were producing different fps, but they were still way above the 100 fps range which is a lot.
RTX 3080 Ti dropped from 166 fps 1080p to 153 fps @ 1440p. RTX 3080 dropped from 166 fps 1080p to 145 fps @ 1440p. Slightly dropped for 3080, but 3080 Ti was still standing above 150 fps. Impressive
RTX 3080 Ti: 153 fps
RTX 3080: 145 fps
#2.2- Red Dead Redemption 2 (4k)
Here the story takes a different route, 4K resolution is what these cards are intended for, and I must say I was happy with what I saw even though our younger variant RTX 3080 failed to stay above 100 fps, it was still close at the mid-90s while 3080 Ti was holding its own at 103 fps.
Keep in mind that this is 4K resolution, and the fact that they still managed to deliver a moderate performance is proof of how good and capable these cards are.
RTX 3080 Ti: 103 fps
RTX 3080: 95 fps
#3- Watch Dogs Legion (1080p)
Ubisoft title watch dogs legion was tested with these cards, and the result is as expected on 1080p. Although it could have been better, our cards were shelling out 100 fps, so there isn't really anything to say.
Its above-average performance can be credited to Ubisoft's bad optimization of its titles. Nothing wrong with our cards they are trying their best, and here, the gap is really close with just a 3 fps difference.
RTX 3080 Ti: 105 fps
RTX 3080: 102 fps
#3.1- Watch Dogs Legion (1440p)
At 1440p, the performance drop is noticeable but not huge, and the cards definitely show some leg holding 80+ fps at this resolution scale.
The difference gets bigger here, with 3080 Ti leading the results with 5 fps. Overall the performance drop is almost 20% from 1080p, which is not bad at all.
RTX 3080 Ti: 88 fps
RTX 3080: 83 fps
#3.2- Watch Dogs Legion (4k)
I wasn't expecting anything exceptional at this resolution scale, and after I ran some benchmarks, it turned out I was worried about the right thing.
Performance was severe here, and both cards went below 60 fps, with 3080 experiencing the worst fate going below 50 fps. The game wasn't unplayable at this part, and with DLSS, you can easily manage 60+ fps.
RTX 3080 Ti: 50 fps
RTX 3080: 45 fps
#4- Control (1080p)
Developed by Remedy entertainment, this was released back in 2019, and just like remedy entertainment's other games, Alan Wake, and quantum break, this game suffers from poor optimization.
This game requires high graphical processing power, so if you want to play this game, you may require a beefy setup.
The test results were as expected at this resolution scale, with RTX 3080 Ti producing 190 fps followed by RTX 3080 with 173 fps.
The difference between these cards here is higher than I was expecting, but this benchmark result isn't something you can shrug off. The cards are performing well in this resolution as they should.
RTX 3080 Ti: 190 fps
RTX 3080: 173 fps
#4.1- Control (1440p)
The cards were down by 60 fps here which was quite shocking to me as I was not expecting this much drop just by going from 1080p to 1440p.
The performance drop is honestly a lot more than it should be. 3080 is still lagging behind 3080 Ti with a 12 fps difference.
3080 Ti was producing 124 fps which is almost 70 fps less than 190 fps it was producing @ 1080p. Both cards were above the 100 fps mark without any more drops.
RTX 3080 Ti: 124 fps
RTX 3080: 112 fps
#4.2- Control (4k)
4K resolution tested our GPUs capability even further, and here, I was not disappointed even though the performance loss is half of what these cards produced @ 1440p. RTX 3080 Ti managed to stay above 60 fps, but our little boy 3080 failed at this point with average fps of 55 fps.
Not that far behind 3080 Ti, but considering 3080 Ti was already near the early 60s range, 3080 had to face the inevitable fate. I wasn't disappointed by these results because, in the end, we still have DLSS to save our day.
RTX 3080 Ti: 63 fps
RTX 3080: 55 fps
#5- Assassin's Creed Valhalla (1080p)
Assassin creed Valhalla is another installment by Ubisoft released in late 2020. This game is more optimized on AMD cards, and on top of that, it is a Ubisoft title, so I have to keep my expectations at moderate levels.
This is 1080p, so I shouldn't be worried about this too much, but in higher resolutions, things might turn out different.
So playing this game for a while on 1080p, I saw consistent fps floating above 100 fps range with RTX 3080 Ti giving just 4% boost over 3080. I didn't see any further drops, so I am content with what I saw.
RTX 3080 Ti: 108 fps
RTX 3080: 104 fps
#5.1- Assassin's Creed Valhalla (1440p)
At 1440p, the drop was less than I was expecting it to be. Probably lower than all the games I tested. From going 1080p to 1440p, the game dropped from 100s to 90s.
This RTX 3080 Ti we are talking about. In RTX 3080 cases, the drop was a little severe from 100s to 80s range; still, the cards stood up pretty good, and I had no problem playing the rest of the game at this resolution.
RTX 3080 Ti: 93 fps
RTX 3080: 87 fps
#5.2- Assassin's Creed Valhalla (4k)
Now on to the 4K resolution, both of our cards managed to stay above 60 fps, and the difference between these 2 GPUs was so minimal it was barely noticeable.
There is nothing to complain about at this point when even at 4K resolution, there is no sign of drops below 60 fps, and the gaming experience was never ruined. It was fun playing this game at 4K resolution without having noticeable drops.
RTX 3080 Ti: 63 fps
RTX 3080: 60 fps
3080 vs 3080 Ti: Which Is Best?
Now, after the benchmarks and all the nerdy talk, I can talk about my honest opinions about both RTX 3080 Ti and RTX 3080. To be fair, I am surprised by both during tests and 3080 were really catching up to 3080 Ti.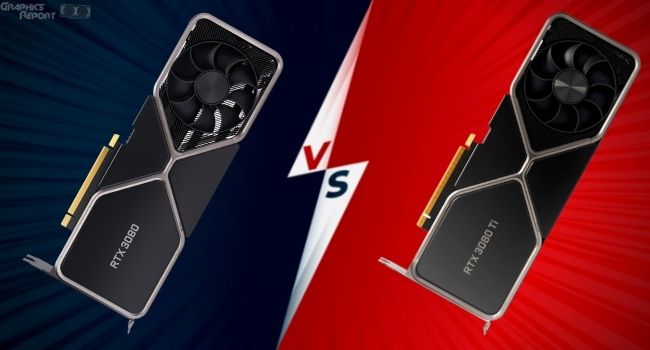 Both cards are capable of handling anything you throw at them. 4K, 2K, 1080p, modern AAA titles, everything ran perfectly, and I couldn't be happier.
My recommendation would be 3080 because of the cheaper price, and the difference between these cards is unnoticeable. 3080 Ti is obviously the winner here, but it comes with a costlier price tag, and that is something you shouldn't ignore.
RTX 3080 held its own ground in front of 3080 Ti. If you are someone who enjoys gaming at 1080p or 1440p resolution, I would highly suggest you go for RTX 3080. There is no point in paying extra for 3080 Ti at this resolution.
Both cards are phenomenal below 4K resolutions, and even at 4K, the difference wasn't significant. 3080 Ti performed better, but it was a given due to its price and better specs. RTX 3080 is a better price to performance ratio GPU that delivers almost the same performance as its Elder variant.
My Final Thoughts On It!
Nvidia really nailed down with the RTX 3000 series. These cards are tough, better, faster, and stronger than any cards in their specific price range. You will never be in a bad spot if you buy any card from this series. RTX 3080 Ti and RTX 3080 are the best cards you can get on the market right now.
However, the availability of these cards is another issue that most gamers are facing nowadays due to pandemics, and if that wasn't enough for us poor gamers, the silicon shortages forced many manufacturers to limit production, which ultimately caused the hike in prices.
So if you are thinking of buying and you are confused between RTX 3080 ti and RTX 3080, my suggestion is to go for any card that is available and cheaper.
Both cards are exceptional, and they deliver huge performance that is yet to rival any card in this price range. Not to mention Nvidia exclusive features like DLSS 2.0 and Raytracing which are major selling points of these cards
Frequently Asked Questions (FAQs)