GraphicsReport is supported by its audience. When you buy through links on our site, we may earn an affiliate commission. Learn More
Best RX 580 GPUs (With Higher Performance & Speeds)

AMD based architecture is still top of the line, especially in the GPU market, which can still be used to play games at high frame rates without any hustle
AMD is renowned for making quality CPUs and GPUs without surpassing that budget-friendly threshold, and their older models like RX 580 are no exception.
This card was firstly released back in 2017 and was retailed under $200. It is based upon 14nm GCN 4th Gen architecture, with performance almost similar to Nvidia's 1060 super.
Furthermore, it boasts more compute units, more significant stream processors, and higher clock speeds than its 5500XT counterpart.
These GPUs also come in both 4 and 8 GB of GDDR5 VRAM to give the user a bit of versatility. You will also be able to get higher TDP from previous AMD graphic cards, a plus.
Being an older card doesn't mean that this beast can't run newer titles at higher settings. It's still a smart 1080p graphics card that promises performance without getting too much of a pocket burden.
That's why today I will be talking about the seven best RX 580 graphic cards so that you can choose better and game phenomenal!
So, let's get straight into it!
Best AMD RX 580 Graphics Cards – Detailed Chart
image
name
price
SPECS
XFX Radeon RX 580
GTS XXX Edition

RAM: 8GB GDDR5
Stream Processors: 2304
Dimensions: 10.6 x 4.8 x 1.5 Inches
Boost Clock: 1386 MHz

ASUS ROG Strix Radeon RX 580

RAM: 4GB GDDR5
Stream Processors: 2304
Dimensions: 9.5 x 5 x 1.4 Inches
Boost Clock: 1380 MHz

Sapphire Radeon Pulse RX 580

RAM: 8GB GDDR5
Stream Processors: 2304
Dimensions: 9 x 4.9 x 1.5
Boost Clock: 1366 MHz

MSI RX 580 ARMOR 8G OC

RAM: 8GB GDDR5
Stream Processors: 2304
Dimensions: 10.5 x 4.9 x 1.4 Inches
Boost Clock: 1366 MHz

MSI Graphic Cards RX 580 Gaming X 8G

RAM: 8GB GDDR5
Stream Processors: 2304
Dimensions: 10.8 x 5.5 x 1.6 Inches
Boost Clock: 1393 MHz

Gigabyte Radeon RX 580

RAM: 8GB GDDR5
Stream Processors: 2304
Dimensions: 9.1 x 4.5 x 1.4 Inches
Boost Clock: 1355 MHz

PowerColor Red Devil Radeon RX 580

RAM: 8GB GDDR5
Stream Processors: 2304
Dimensions: 10 x 6.1 x 1.8 Inches
Boost Clock: 1380 MHz
Best RX 580 GPUs 2022
Before we start discussing individual GPUs, it's best to note that these cards come in various performance and architectural settings.
They may be blower style, dual or triple fan-based models, moderate to advanced overclocking, and of course 4 and 8GB of VRAM.
But whatever card you choose, they are bound to deliver an unprecedented experience as well as advanced visual effects, they are not outdated and can make you stand out from other professional gamers.
#1- XFX RX 580 GTS XXX Edition
Specs:
Dual slot based graphic card with highly functional dual fans
It supports 3 DP, 1HDMI, and a single DVI port
The base clock speed of 1366MHz, which can be clocked to 1386MHz
Incorporates the original PCIe 3.0 X16 interference
8GB VRAM that is memory clocked at 8.1GHz
Minimal power consumption of around 500W
Well optimized with dual BIOS
VR ready settings are available
Highlights:
Operates under AMD's 14nm technology that can cope up with advance display cores.
Incorporates a double fan cooling system that dissipates heats without burdening the overall system.
Its configured for better memory optimization through dual BIOS.
Intuitive yet straightforward aesthetics without that flashy RGB lighting and effects.
Metal backplates introduced to increase the overall durability in the long run
One of the highest factory clock speeds in the AMD Radeon RX 580 lineup.
An additional three-year warranty is an added benefit.
Drawbacks:
Its cooling system is of mediocre level but not effective in regulating high temperatures.
Lack of RGB LEDs is a significant downside for some people.
At number one, we have the XFX Radeon RX 580 GTS XXX Edition, which is my pick for the overall best RX 580. XFX might not be that popular among third-party vendors compared to traditional players like MSI or ASUS.
However, that doesn't mean they cannot surprise gamers. It boasts a casual theme on the covering to make it look pleasing to some extent.
While the black mesh at the back end and the metallic plate makes it relatively stable, the XFX Radeon RX 580 is a dual-slot card with 1386MHz of overclocking profile.
4GB/8GB GDDR5 VRAM and supports almost all the AMD technologies like Radeon Chill and Liquid VR. On top of that, XFX came with a new setup with this best RX 580 8GB GPU, recalled as Dual Bios.
The basic one can be effective in tackling most of the general tasks and 1080p gaming, while the other one can be used for advanced purposes such as crypto mining.
So, if you're into these types of stuff, it's a must-have product. Just like any other top-of-the-line Nvidia's GPUs, it has a sleek black metal plate, while at the top, there is the XFX official logo.
Unfortunately, it's not RGB equipped, which is a downside of this card, other than it's good to go. From the front side, this GPU looks unique.
There is a specific shroud covering by which the 15 pin PCI connector is attached. In contrast to that, you will also get a genuine heatsink and great multimedia cores for a performance boost.
My Findings:
All in all, the XFX Radeon RX 580 GTS XXX Edition is cheaper in price and visuals and unique based on overall performance.
Furthermore, I have compared it to one of the prime models like GTX 1060 and 1060 super, I got almost the same FPS and benchmark results.
Although it might not be aesthetically pleasing at first glance and requires more power consumption than you're everyday GPU, if you factor in these things, getting it even now is definitely worth it.
The best part is that it may still be available in stock so that you can get into premium gaming on the go!
#2- ASUS ROG Strix RX 580 (Dual-Fan OC Edition)

Specs:
Works under additional software like GPU Tweak II to monitor performance
Double the amount of display ports and a single DL-DVI-D connection
1257GHz base clock speed that can be boosted up to 1380MHz
Max spectrum RGB effects with Aura Sync technology
Based on copper surface cooling with Max Contact support
It's a 2.5 slot-based card with decent cooling and aesthetics
256 Bit memory bandwidth in 5GB GDDR5 VRAM
Highlights:
As compared to outdated graphic cards, it maintains decent temperatures even in stressful conditions.
It's quiet and robust when it comes to performance due to the integration of advanced copper-based fan-sink.
Ergonomically suitable to adjust in any gaming rig till date.
Comes in an effective factory overclock for gaming additional FPS.
Triple fan structure can compete with even advanced Nvidia's cards.
Extra software incorporation like XSplit Gamecaster and GPU Tweak II.
If you are constantly annoyed with the poor ventilation and mediocre cooling effect that most of the high-end GPUs have, you will love this little monster.
The ASUS ROG Strix Radeon RX 580 is my choice for the best cooling RX 580 8GB in the market. The main reason for its top-notch cooling is its bulkiness.
The ASUS ROG Strix Radeon RX 580 is an upgrade to the previous RX 480 model with slightly higher power output and clock speeds.
This card is equipped with a dual-fan design with aero-grade components at the backend. Moving to the IO, you will get two HDMI 2.0 sockets that, of course, offer low latency connectivity with any VR headset.
On top of that, there is a single DVI connection and two display ports to make it a versatile unit.
With this device, you will also get an aesthetically pleasing backplate with the official ASUS logo at the side that is RGB supported, giving it a premium vibe.
Similarly, different RGB LEDs at the top of this card are illuminated according to your desired preferences.
In contrast to that, an 8-pin power connector is to be regulated with the attached power supply. It's an overall good-looking GPU that you will be pleased to have in your setup.
My Findings:
In conclusion, if you're looking to run games at higher resolution without any temperature drops or noise issues, then getting this is better as it gets.
Performance-wise, it also behaves similar to Nvidia's GTX 1060, but most of the time, it acts as a counterpart to the RX 480. In fact, in most benchmark and game tests, you won't feel the difference between them.
With that said, if you already own an RX 480, then I would not recommend you the ASUS ROG Strix Radeon RX 580 as you won't get that much of a performance boost.
But other than that, it's a must-have graphics card in any collection.
#3- Sapphire Pulse RX 580
Specs:
Delivers powerful high frame gaming with Polaris architecture.
Smart quick connect design for added visuals
Supports 2 HDMI ports, two display ports, and a single DVI-D port
1411 MHz of boost clock speed, while base clocked at 1257 MHz
Equipped with both OpenGL 4.5 and Vulkan® API
It's a dual-slot card that is integrated with 2304 stream processors
8000 MHz of bandwidth memory with 8GB GDDR5
Operates in a maximum of five display outputs
Highlights:
Two new Trix modes incorporated that are well suited that limits the power output, delivering immersive gaming.
Visually simplistic design to cater to any individual's need.
Dual fan setup complements the overall theme of this card.
Fast-paced boost clock speed to deliver a top-notch gaming experience.
This GPU remains stable at even 70 degrees thanks to the advanced cooling solution and copper heat piping.
8GB GDDR5 ram is useful in newer AAA titles like Cyberpunk 2077, which is not fully optimized yet.
Works under 4th Gen GCN Architecture and supports almost all AMD's game-built software.
Drawbacks:
Its fans get defective after sometimes, however not a big of a deal if you take proper care in the maintenance.
Power consumption is not ideal for the price, but its cooling system can tackle this defect.
Another high-end model on the list is the Sapphire Radeon Pulse RX 580. Sapphire has been known for regulating AMD cards for a while, and the Plus RX 580 is one of their performance-driven products.
Design-wise, it may be more likely a simplistic GPU, nothing fancy. It features a dimpled plastic black matte that covers the original body.
You will be able to see that the Sapphire Radeon Pulse RX 580 is more covered up on the front side.
The shroud extensively covers each corner, and the official Saphire logo is located at the back end, which unfortunately lacks illumination.
I love the backplate design of Sapphire Plus. It has an intuitive multi-color look all over, increasing its style. There is only a single eight-pin power connector located in Plus RX 580, so don't expect anything out of the box.
While in terms of IO, it supports dual display ports, 2 HDMI ports, and a DVI-D slot. This interference is well supported with modern VR systems and bound to provide extreme virtual experience.
Additionally, its equipped with a Dual-X cooling system that can tackle extreme temperatures with caution. On top of that, it incorporates four heat pipes that are around 6mm in thickness to give you peace of mind.
If that's not to your liking, you will definitely praise the black diamond chokes, which guarantees 10% more cooling without any complication.
My Findings:
This top-rated RX 580 8GB stands out from the crowd regarding prime features and a classic backplate.
It effectively maintains the core temperatures while at the same time reducing the overall noise emission through advanced cooling fans.
Besides, it's a thicker card with a larger heat sink and copper-based heat pipes, so you will get more out of your games.
And when it comes to overclocking, these cards work wonders. They are tuned to deliver robust frame rates without hurdling the maximum power output.
Whether you want to go for newer titles like Hitman 3 or Resident Evil Village, this machine won't let you down.
#4- MSI VGA Graphic Cards RX 580 Gaming X 8G
Specs:
8GB GDDR5
Supports up to 5 display ports at a time due to prime architecture
Acquires AMD Radeon's 2304 GPU core units
Boost/Base Clock: 1393 MHz (OC Mode), 1380 MHz (Gaming Mode), 1340 MHz (Silent Mode)
185 W of total power consumption as compared to competitors
Item Dimensions: 10.9 x 5.5 x 1.7 inches
Compatible with Direct X12
Highlights:
Enhanced visuals with vivid colors through AMD's HDR compatibility.
Equipped with both gaming and silent modes to tailor with any gamer's need.
Around 10% to 20% performance boost as compared to its predecessors.
Built-in advanced AMD architecture to tackle heavy titles even at 4K.
Extremely quiet under stress conditions due to dual RX fans.
Mid-range GPU that is budget-friendly and can work wonders even on OS platform.
Easy to use and straightforward installation guide pre-packaged.
VR Ready setup for all virtual gaming enthusiasts.
Drawbacks
No significant improvement than previous AMD's lineup, especially the RX 480 series.
Mediocre design and lack of RGB customization.
Nowadays, graphic card manufacturers shift their attention to making their GPUs as sleek as possible. While it may enhance the overall visuals but has a side effect in terms of heat ventilation.
If you agree with me, then you will definably love the MSI RX 580 8G. With that said, before we head on to its perks, make sure that your motherboard has a reinforced PCI slot 3. Otherwise, you're in deep waters.
It is provided with MSI's Twin Frozen cooling system, with fans effectively attached to the backplate. It comes in 2.2 pounds in weight and 10.9 lengthwise, making it one of the bulkier AMD Radeon RX 580 graphic cards.
However, the added bulk means more cooling and eventually enhanced durability. Most of the benchmarks show that this card remains stable at near 70 degrees, even in the high load.
This is why you won't need to worry about any additional cost associated with cooing. On top of that, it's equipped with a standard IO. You will get two HDMI, two displays, and a single DVI port.
These display outputs are handy even in terms of modern standards. However, one thing to keep in mind is that it has two 8 pin power connectors to need more than 500W of power output.
According to most gamers, this is a major setback, but it's good to go if you can manage the additional cost.
If you are one of those gamers who like to play their titles over multiple screens at once, you will be glad to know that it has AMD Eyefinity technology.
Through this, you will be able to synchronize multiple screens at once, at the touch of a button.
My Findings:
So overall, team red once again stand on top with this masterpiece. In particular, this GPU has affirmed its position in the budget mid-range graphic cards.
When we factor in the price to performance ratio, this card is truly unmatched. However, it may require more power output due to its robust setup.
Compared to its popular competitor, i.e., the Nvidia's 1060 and even with the RX 480, there is not much of a performance boost.
So, if you already have these types of GPUs in your rig, it may not be suitable to buy MSI RX 580 8G.
But if you have a low-end graphic card and want to try out AMD's Polaris 10 architecture, it's definitely worth getting this!
#5- MSI RX 580 ARMOR 8G OC
Specs:
2304 cores of Stream processors are provided for over the top gaming
Configured with 256 GB/s of memory bandwidth in Polaris architecture
1 x 8-Pin power connector that draws a maximum of 500 W power output
It's a dual-slot card that integrates Open Fansink cooling system
Supports multiple AMD Radeon APIs
Endorses up to 1366 GHz boost clock speed
Fully functional through 4 and 8Gb setups
Highlights:
Highly effective card for all casual gamers looking for mid-range performance.
It comes in a decent size and weight for instant installation in any PC setup.
Acoustically stable thanks to All Solid Capacitors that operates under aluminium construction.
Pre-built with AMD FreeSync technology to synchronize refresh rate for smooth gameplay.
Highly compatible at 144hz monitor and 60 fps in almost all currently available games (high settings).
Moderate display ports to get adjusted with the VR driven world.
Thermally intuitive with decent color schemes.
Quite durable and robust.
Drawbacks:
As advertised, it doesn't work exceptionally well under 4K conditions at 30Hz.
The absence of metallic backplate is a downfall, though can't expect much as it's a mid-range GPU.
Nowadays, the GPU market is a bit crowded. A significant reason for this is the current pandemic, resulting in manufacturing fluctuation throughout the world.
If you're a gamer, then the best bang for buck option is through mid-range models, especially in the second-hand market. If that's the case, then the MSI RX 580 ARMOR 8G OC is your one-stop-shop.
AMD's Polaris lineup is nothing short of a spectacle, and this card is living proof of the statement. It's a Polaris 20 graphic processor based on AMD's GC 4.0 14nm architecture.
Compared to the RX 570, it has all 2304 unlocked, giving your gaming rig unprecedented speeds.
The MSI RX 580 ARMOR 8G OC also holds one of the leading texture mapping units to remain stable in the long run. Along with max turbo speeds, it's equipped with faster memory speeds that go up to 8 Gb/s.
Like many other best RX 580 graphic cards in my list, it is available in both 4 and 8 Gigabyte VRAM options in GDDR5 format.
Based on the design, it may look a bit off-color at first glance. The two moderate MSI fans are large enough to cover most of the ergonomics.
Similarly, the heat sink is visible, giving it an empty outlook. However, on the bright side, the plastic on the cover is smooth and clean so that you will get some aesthetics.
Unlike RX 570, it can run almost all games at 1080p without any complications. Thus, it's a powerful GPU that you need to consider when getting the best RX 580.
My Findings:
In the end, I would say that this graphic processor is a fantastic budget-friendly gaming machine that will provide you with decent performance, even at max settings.
It performs well under the radar with more advanced models like the GTX 1060 and its super variant. However, the real value with the MSI RX 580 ARMOR 8G OC comes in the second-hand market.
#6- Gigabyte Radeon RX 580
Specs:
Recommended 500W of power usage, connected with 1 PCI 8-pin
OC mode operates at 1355 MHz, while the regular gaming mode at 1340 MHz
PCIe 3.0 X16 interference that is effective with 2304 Stream processors
8GB built-in ram with 8000 MHz of memory clock speed
Overall memory bandwidth is regulated at 256 GB/s
It's a 2-slot card Dual fan setup for added quality
232mm in length and weighs under 2 pounds
Highlights:
Well balanced card with a lot of penitential at the back end due to minimal footprint and maximum performance.
Clear black matte surface that is textured with orange theme lining.
Customizable color options through the incorporation of RGB fusion technology.
Double 90mm fan design that is well supported with the WINDFORCE cooling system.
High-quality copper-based composite pipes that maximize ventilation, keeping the temperature steadier.
Durable yet intuitive backplate that tunes its primary selling point.
Thousands of positive reviews across multiple users.
Minimize noise emission without contradicting FPS.
Drawbacks:
Greater power draw as compared to the previous RX 480 models but its not as significant as Sapphire Radeon Pulse RX 580.
The built-quality doesn't give the premium vibe that most of Nvidia's GPUs provide.
At the number 6 spot, we have the Gigabyte Radeon RX 580, which is another bang for the buck GPU.
Straight off from specs, it's specific to 8GB with GDDR5 memory and a core clock of around 1340MHz in gaming mode, while 1355MHz at overclocking mode. It comes in 232mm lengthwise and weighs just under 2 pounds, so it's not a large card.
Monitoring the respective IO, we can easily conclude that it's a dual-slot card. As for inputs, you will receive a single HDMI and DVI port as well as three display units.
The Gigabyte Radeon RX 580 also supports a max resolution of 7680 x 4320 @ 60 Hz, which is adjacent to most of the newer cards nowadays.
If you want a bit of versatility, you can always use the Aorus software engine to tailor the modes between silent, OC, gaming and customize your settings through the profile option.
Unlike most graphic cards in the list, the Gigabyte RX 580 gives full-back to its user in the RGB department. You can customize the custom-built LED colors according to your desired setup.
The dual-slot fan design to the highly visual RGB LEDs and even the backplate of this card is the top of the class. You will praise the aesthetically pleasing Gigabyte logo that can easily match most rig schemes.
It may not be adequately functional with metal casing as most of the material is cheap plastic-based, but considering the price point, you can't disagree much.
The cooling solution of Gigabyte is renowned in the GPU industry, and this card is no exception. You will get constant 70-degree temperature regulation even at higher load.
My Findings:
For those guys who push the card's graphical limits and play their games at absolute max settings in 4K display, the Gigabyte Radeon RX 580 will give decent output.
But if you ask me, I recommend using this graphic card in the right balance between high and mid settings.
This way, it won't burden the system and, at the same time, will provide you buttery smooth visuals.
It may also not be a beast of a mid-range 1080p RX 580 series, but it's still one of the best choices that any gamer could avail of right now.
If you can get a top-notch card like this today near retail price, it will surely be a blessing. Seriously, it doesn't get better than that!
#7- PowerColor Red Devil RX 580
Specs:
Accessible with both six pins and an 8-pin connector for added power
Supports 4096 x 2160 of maximum display resolution
Archives boost clock speed of 1380 MHz at absolute max load
3 x DisplayPort and a single DVI and HDMI port for general connectivity
Bear both Direct X12 and FREESYNC 2 for the ease of user
Multi-color RGB settings that are fully customizable
It comes to VR ready and compatible with HDCP
Highlights:
It's a triple-slot card with dual fan design, giving it an edge over competitors
Full RGB settings with custom Devil logo and red and black theme making it visually pleasing.
Dual BIOS functionality to save you extra cash in the long run.
Boost clocked at 1380 MHz and consisted top of the line VRM components to enhance performance further.
Comes with MuteFan Technology to remain silent while keeping the temperatures at a bare minimum.
Its backplate is tough enough to prevent PCB bends.
Highly affordable as compared to competitors.
Available with multiple AMD Radeon software.
Drawbacks
It's quite heavy considering the bulky shroud, although that's the central selling point in its overall durability.
The incorporation of a tri-slot cooler makes it a bit odd in the current GPU market.
Finally, next in the review, I present you the PowerColor Red Devil Radeon RX 580. It is one of those cards, which are truly built like a tank.
From the visual aspect, you can see that it permeates the classic red and black theme, giving it a solid feel.
There are two appealing fans at the front, which have two ball bearings attached from inside to make this GPU last longer.
According to Nvidia, these fan archives are 20% more efficient than your traditional fans, to give you an extra boost.
Moving to the rear end of this GPU, there are tons of aluminum heat fins and additional power connectors.
The card itself is quite shrouded, while underneath is heat pipes attached with the heat fans to help dissipate all the heat.
Additionally, on the very top end of this GPU, there is a BIOS switch integrated. This feature is useful, especially if you burn out your current BIOS during overclocking.
You can always switch to the other one without spending heaps of cash. And if you're into aesthetics, you will be glad to know that it has a specific RGB button, giving you the ease of mind.
Here is to understand that it comes with single 8 and 6 pin power connectors, so you will be required a minimum of 600W of AMD's recommended battery to get more out of this beast. Nothing special at the IO section, you will get the regular RX 580 ports.
In contrast to that, at the backside, you will be able to analyze the official Red Devil logo on the contrary metal plate, which is tough and rigid to withstand even extreme conditions.
My Findings:
Overall, the PowerColor Red Devil Radeon RX 580 is the best RX 580 on the market. It performs better than the previous RX 480 and even beats the high-end GPUs like Nvidia's 1060 in most of the benchmarks.
However, the primary concern by most gamers out there is probably the power consumption.
As it is regulated by both an 8 pins and a 6 pin PCI power connector, you can aspect the minimum battery requirement of 500W and above to run this beast.
But if you can somehow indulge with this issue; I don't see any reason for not getting it today.
It's got all the bells and whistles you can expect from a mid-range card and even has a promising boost in the durability department, making it last longer.
Buying The Best RX 580 Graphics Card
These were my brief reviews on the top-rated RX 580 GPUs from my experience and users reviews. If you're still confused about getting the best RX 580, you don't need to overburden yourself as I got you covered.
This Buying guide is tailored toward those gamers who generally lack experience in the GPU market.
I have tried to provide you with a general overview of different RX 580 aspects such as type of VRAM, overall size, performance, cooling, and much more. So, in the end, you can choose better and game phenomenally.
Benchmarks: How Does The RX 580 Perform In Games?
There is no hidden assumption that the best way to test any graphic card's strength is on-spot benchmarking. With that being said, let's jump straight into some benchmark tests to analyze Rx 580 GPU in real-time.
It is worth noting that the benchmarks have been conducted by incorporating Ryzen 1800X running at stock speeds. Also, we have 16GB of DDR4 memory running at 3000 MHz in a dual-channel design.
And of course, the graphic processor you will see is the original AMD Radeon RX 580, at base clock speed.
Starting first, we have one of the graphic-hungry titles, i.e., Metro Exodus, which runs on a normal pre-set with Direct X12 and on 1080p resolution.
From the charts, it's clear that the RX 580 standout from the crowd here, with an average framerate of 64, easily smashing the regular 60FPS mark.
Although there aren't any vast gains over more advanced GPUs like GTX 970, it will be alright for the price.
The next game on this list is Borderlands 3, in which the RX 580 8GB card truly shines. Now in the obvious FPS category, there isn't much of a performance boost over the competitors.
This card shows its potential in the 1% range, mostly the 0.1% lows. There was no stuttering at all, and the performance was smooth, even the card is three years old.
And in Red Dead Redemption 2, the RX 580 again strengthens its lead across all the categories. We can see an average framerate of almost 56 in the benchmark.
While around 47 on one percent low and 44 percent on 0.1% low. So, even with the lowest percent of frames here, we can see that the RX 580 beating the average FPS of RX 470 and GTX 970.
4GB Or 8GB VRAM? The Two Variants!
We all know that the AMD Radeon RX 580 comes in both 4GB and 8GB variants. But the real question remains, which one of these forms is suitable than the other for a general consumer?
Well, for all the gamers out there who are willing to game on 1080p at max to mid-range settings, the 4GB variant of popular RX 580 cards won't let you down.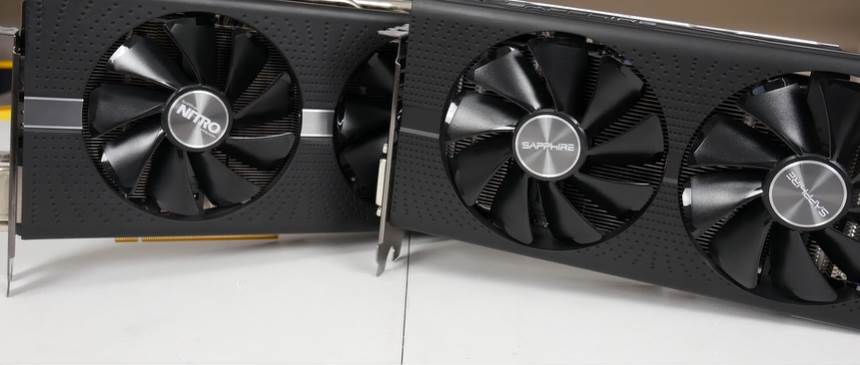 But for the users who want to try out 1440p or even 4K, I would recommend them to go for 8GB GDDR5 AMD 580.
However, one thing to keep in mind is that most upcoming games will gradually rely on the extra VRAM space. So, it's always best to invest in the long term and get the one that supports 8GB memory bandwidth.
Besides, there isn't much of a price difference between these two variants, giving you an added opportunity.
Width And Length
While choosing the best RX 580, it's ideal to consider the GPU's overall width. In general, the width of a card is more dependant on the number of PCI slots.
In the 580 series, some cards are associated with a single 8-pin power connector, while the others with both eight and 6pin.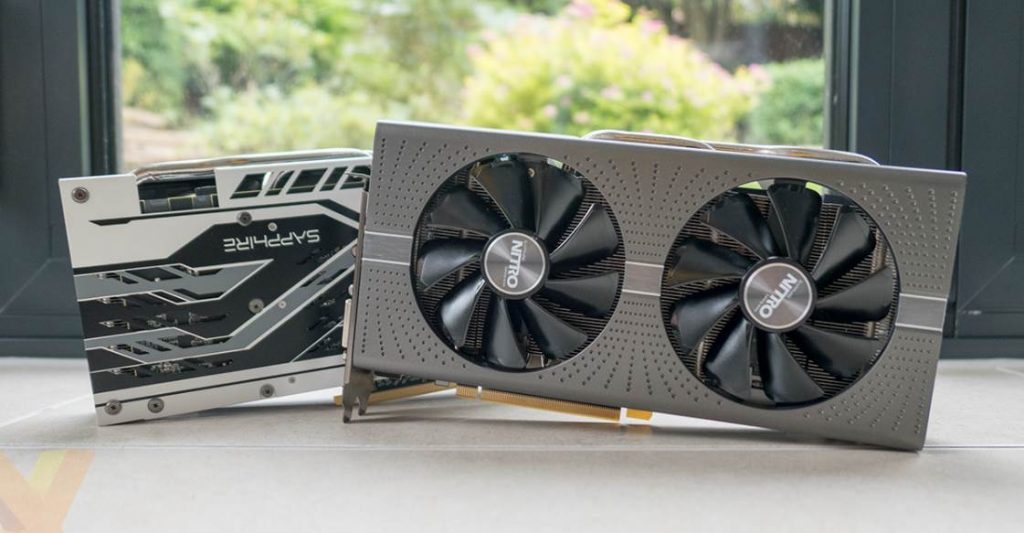 They will tend to require more power output than the single 8-pin one and increase the overall width.
Similarly, depending upon the machine you're installing the card into, you definitely want to consider the length.
One of the significant benefits of blower-style cards is that they easily fit into smaller machines due to the ideal length.
They are shorter and not extra thick so that you won't face any complications at all. Cards like Gigabyte AURUS RX 580 are bulkier and longer as compared to graphic cards like Gaming X. So, make sure if your machine can fit them or not.
Overclocking Results
I know that for all the professional gamers out there, overclocking results do matter. However, they will be surprised to know that the slowest RX 580 graphic processor is the reference card at 1340MHz.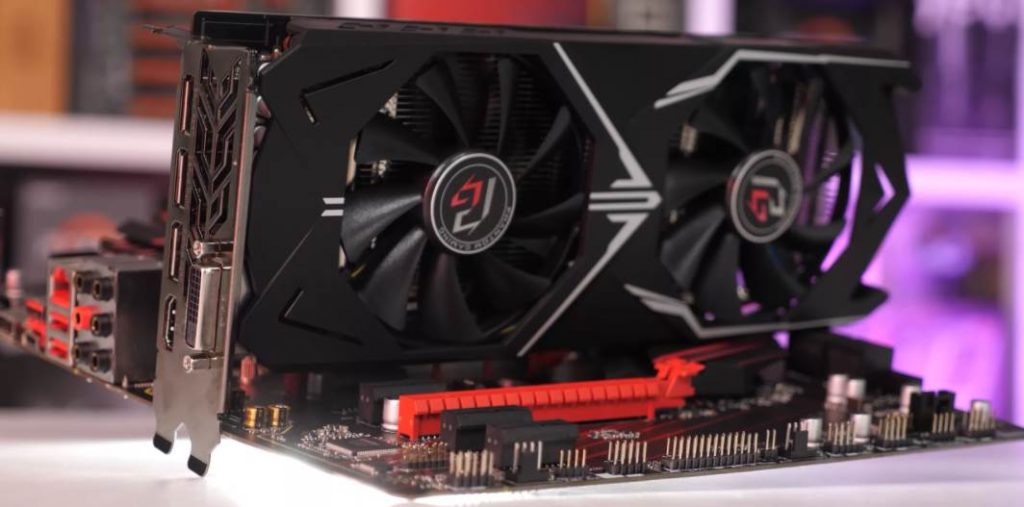 In contrast to that, one of the fastest cards like Sapphire Nitro plus, lands at 1430MHz.
It may sound like a lot of processing difference, but in reality, it isn't. In general, there is around a 6-8% difference in clock speeds between the base reference card and other factory overclocked cards.
It will make around 4-8 FPS boost during gameplay, which to be frank, isn't that big of a deal. So, my advice is spending too much based on overclocking results is genuinely overkill.
However, if you consider other factors like overall aesthetics or temperature regulation, choosing between these 580 makes sense.
Performance & Cooling
The type of cooling you will be getting on these cards depends upon their overall size. The larger cards with bulky coolers will provide a more significant cooling effect than the smaller cards with reduced fan size.
This is the central selling point between cards like MSI RX 580 ARMOR 8G OC and the Gaming X.
They are based on the same chipset and almost the same clock speeds. However, their cooling system is quite distinct. The cooling fans on the Gaming X can turn slower to move out the air volume than the Armor OC cards.
On top of that, it has a larger heat sink and weights more, making it easy to dissipate heat. In the end, it comes down to the value of the money and your preferences.
If you can spend a couple of dollars more on bulkier cards like Strix RX 580, then you will get a few degrees more cooling, a couple of decibels less noise, and sometimes a slightly higher clock speed.
The same goes for the overall performance. From the performance point of view, it doesn't make much of a difference.
There is a marginal difference in performance between the base reference cards and even the fastest factory 580 cards in the market.
End of The Line:
All in all, based on hours of research, I can rightfully conclude that the AMD Radeon 580 is the best of the best mid-range card for gamers as well as crypto miners out there. It's more power-driven than Nvidia's GTX 970.
It can efficiently run modern triple-A titles at 1080p max settings without any complication. Plus, it gives you a significant performance boost from the previously popular RX 470.
Additionally, if you get this from a used market today, it's worth it, as it's still based on old architecture, for which you don't want to pay well.
So, try to regularly bid on an auction or go for daily deals, whichever suits you. Lastly, I would say that whichever card you buy from the list won't let you down in the long run.
However, cards like XFX Radeon GTS XXX Edition will avail you extra clock speeds, while others like PowerColor Red Devil are renowned for their cooling.
So, try to factor in your gaming preferences and personal goals before making a purchase.
Frequently Asked Questions (FAQs)