GraphicsReport is supported by its audience. When you buy through links on our site, we may earn an affiliate commission. Learn More
6 Best RX 590 Graphic Cards To Opt For In 2023

In today's crowded GPU marketplace, it's ideal to rely on Polaris-based cards like RX 590, which provides absolute bang for the buck.
Over the last couple of months, there has been a massive hype for cards like the RTX 3060, AMD's Big Navi, and even the 3080 Ti.
And while these GPUs will provide you extraordinary performance, the big problem with those is that either they aren't in stock or they cost a considerable chunk of money.
That's why most gamers are searching for graphic cards in the budget category that have just aged well.
If you are one of these gamers, you will be thrilled to know about an undisputed warrior, the AMD's RX 590. It's a refresh of the original RX 480. Although each generation, AMD gets a bit better with processing power, which is no exception.
It rocks the same 36 compute units with 2304 stream processors, resulting in a boost in clock speeds of 1469MHz in the base model.
At almost similar clock speeds, we would be looking at a dead-heat, but the fact that the 590 can run at significantly higher clocks makes it a much more appealing option for budget gamers.
So, let's dive deep into the Best RX 590 Graphic cards that you can easily buy. It's also worth noting that there will be RX 590 benchmarks and additional information at the end, so if you want deep insight, make sure to check them out!
Best AMD Radeon RX 590 GPUs – Detailed Table
image
name
price
 SPECS
Sapphire Radeon
Nitro+ RX 590 

RAM: 8GB GDRR5
Stream Processors: 2304
Dimensions: 10.2 x 5.3 x 1.6 Inches
Boost Clock: 1560 MHz

XFX RX Radeon Rx
590 Fatboy

RAM: 8GB GDRR5
Stream Processors: 2304
Dimensions: 10.6 x 4.8 x 2.1 Inches
Boost Clock: 1580 MHz

Gigabyte Radeon
Rx 590 Gaming 

RAM: 8GB GDRR5
Stream Processors: 2304
Dimensions: 9.1 x 4.5 x 1.4 Inches
Boost Clock: 1560 MHz

 ASUS ROG Strix
Radeon Rx 590

RAM: 8GB GDRR5
Stream Processors: 2304
Dimensions: 11.7 x 5.2 x 2 Inches
Boost Clock: 1565 MHz

 PowerColor Red Devil AMD
Radeon RX590

RAM: 8GB GDRR5
Stream Processors: 2304
Dimensions: 10 x 6.1 x 2.2 Inches
Boost Clock: 1576 MHz

MSI Gaming Radeon
Rx 590 

RAM: 8GB GDRR5
Stream Processors: 2304
Dimensions: 10.9 x 5.6 x 1.5 Inches
Boost Clock: 1565 MHz
Best RX 590 GPUs
There might be dozens of RX 590 Cards readily available in the market. Each has a set of perks and drawbacks that make them suitable for a different group of gaming enthusiasts.
Companies like Sapphire and MSI are putting out factory overclocked versions of the RX 590 that offer boosted gaming FPS along with lower temps and reduced noise. So, let's see if their claims really hold some truth.
#1- Sapphire Radeon Nitro+ RX 590
Specifications
Boost Clock: 1560 MHz
Stream Processors: 2304 units
Video Memory: 8GB GDDR5
Power Draw: 175W
Recommended PSU: 500W to 550W
Power Connectors: 1x 8-pin + 1x 6-pin
Ports: 1x DVI-D / 2x HDMI 2.0b / 2x DisplayPort 1.4
Dimensions: 10.2 x 5.3 x 1.6 Inches
Highlights:
It comes factory overclocked in terms of both memory interference as well as processing speed which will give you the ease of mind.
Highly compact ergonomics in a dual-slot design will make sure that it fits instantly in most mini ITX cases.
Equipped with a clean shroud, along with an intuitive color pattern that can gradually increase overall aesthetics.
Both Direct X12 and Vulkan API support makes it a renowned model.
Fully functional with Polaris architecture which features FinFET 12 process technology for extreme gaming.
Compatible with Free Sync technology for reducing overall stutter and screen tearing.
Tons of VR ready features.
New Tri-XX for optimizing power output.
Drawbacks:
At idle condition, its fan runs fine; however, during complete load, the noise levels are a bit high.
At the number one spot, we have the Sapphire Radeon Nitro+ RX 590, which is my pick for the overall best RX 590 on the market.
Its design might not be somewhat gamer type like the Red Devil RX 590, but the blueish aqua shroud is still unique. The GPU construction is made from plastic rather than premium metal but in the given price tag; you can't complain much.
The fans and the official Sapphire logo light up a complementary shade of blue, although only the logo is RGB enabled. Additionally, Sapphire kept this design to two slots when many board partners, including ASUS, are bulging out to three is a nice touch.
This means that you can fit it into various systems, including the mini ITX builds, which many of its competitors can't. There is a total of 4 copper pipes hiding beneath the shroud, which keeps the idle temps regulated while the fans aren't spinning.
Also, in full loads, most consumers complain that the overall temperatures rise drastically. In practical terms, it won't be quiet as any high-end Nvidia cards, but other than that, it's good to go.
You can also tweak the fan settings and apply them to overclock if you are still concerned about that. Speaking of which, it offers stock boost clocks of 1560MHz, which means a unique offset.
Overall, the build quality and additional perks that this GPU provides won't let you down in the long run. It's truly a fantastic card.
My Findings:
To be honest, Sapphire Radeon Nitro+ is still the best RX 590 in the market. The performance levels are fine for a mid-range 1080p GPU, and the aesthetics are somewhat pleasing.
It's recommended to incorporate your build with the identical Aqua blue color scheme for better visuals. You will be pretty pleased with what this card is capable of in terms of FPS.
Most of the current titles, especially the single-player ones, will be managed impressively, and the thermal levels are kept regulated for smooth performance.
#2- XFX RX 590 Fatboy
Specifications
Boost Clock: 1580 MHz
Stream Processors: 2304 units
Video Memory: 8GB GDDR5
Power Draw: 175W
Recommended PSU: 550W
Power Connectors: 1x 8-pin + 1x 6-pin
Ports: 1x DVI-D / 1x HDMI 2.0b / 3x DisplayPort 1.4
Dimensions: 10.63 x 4.88 x 2.09 Inches
Highlights:
The red and dark accents on Rx 590 Fatboy, along with an intuitive XFX Logo at the backend, makes it quite pleasing.
Equipped with unique features such as AMD FreeSync 2, HDR as well as VR Ready setup, which makes it stand out from the crowd.
It uses two top of the line 100mm cooling fans with multiple heat pipes incorporated in the cooling solution.
Compatible with Zero DB Fan System that regulates the noise levels without hindering performance,
It supports Dual BIOS mechanics for optimal flow of computing.
The state of the art HDR technology provides highly diverse cinematics during gameplay.
Available with XFX overclocking utility that is easy to set up and use.
Drawbacks:
Lack of RGB on ergonomics makes it a bit odd-looking card, but it will fit nicely in most builds without any issues.
It's not a two-slot card and a bit bulkier, so you will have to consult with the extra adjustability.
There has been a re-branding going on in the Polaris architecture by AMD for quite some time, and the XFX RX Radeon Rx 590 Fatboy is no exception to that.
Like the reference model, this card comes with 14nm FinFET based technology that works wonders for reducing power consumption and increasing overall efficiency.
Similarly, the GPU overclock is not changed in this model, delivering almost similar results to the RX 580. This time XFX has gone with a two-fan design instead of the bulkier three-fan, but you will get similar cooling.
The XFX RX Radeon Rx 590 Fatboy is a custom-cooled card that can run smoothly, unlike the original model.
At the same time, the backplate is incorporated with dull aluminum, which is premium in nature but lacks any contact with the board.
It is also worth noting that the heat won't be trapped beneath the shroud, thanks to implementing ventilation holes throughout the surface.
It's a decent 1080p card so that it will be just fine with a medium to high preset under this resolution. However, keep in mind it's not made for 4K, so the entire game will be unplayable if you go with it.
The main reason it's at number second spot in the list is its faster reference clock speeds. You can easily overclock it above the 1600MHz landmark, which is impressive for the price tag.
On top of that, you can always use the AMD Wattman tool if you need further versatility. Whenever you visit your next brick-and-mortar store or shop online, make sure to go for Fat boy!
My Findings:
In conclusion, the XFX RX Radeon Rx 590 Fatboy, aside from the compelling name, is a worth pick in the budget range.
It supports an ideal level of 1080p gaming at 60Hz and is around 10% faster than the previous-gen 580.
Although even with exceptional clock speeds, it may still fall behind the Sapphire Nitro+, the difference is in margins, and it's not that loud even at higher loads.
In general, there is a balance between the thermal and acoustic levels in XFX RX Radeon Rx 590.
So, if you find it in the sale even today, I would recommend picking it up. It will last you for the next year or so if you can tweak the settings a bit.
#3- Gigabyte RX 590 Gaming (rev. 1.0)
Specifications
Boost Clock: 1560 MHz
Stream Processors: 2304
Video Memory: 8GB GDDR5 units
Power Draw: 160W
Recommended PSU: 500W
Power Connectors: 1x 8-pin
Ports: 1x DVI-D / 1x HDMI 2.0b / 3x DisplayPort 1.4
Dimensions: 9.1 x 4.5 x 1.4 Inches
Highlights:
Integrated with top of the line WINDFORCE 2x cooling system that keeps the overall system stable.
Dual clock speeds, including the OC at 1560 MHz and Gaming mode at 1545 MHz, provide flexibility to all type of users.
Powered by 3D fan setup with intuitive LED patterns which monitors both idle and load temperatures.
The backplate of the Gigabyte Radeon Rx 590 Gaming is fully metallic, which provides protection and makes it a sleek looking unit.
Various Composite Heat-pipes at each side increases the cooling capacity of this device.
Performance-wise, it's mostly identical to the previous-gen RX 580 Gaming model from Gigabyte.
Made for compact cases.
Drawbacks:
Its design carefully consults various RGB lightings; however, the card itself is not that pleasing to look.
Reduced clock speeds as compared to competitors.
If you're searching for the perfect bang for the buck GPU to support your gaming need, I highly recommend you the Gigabyte Radeon Rx 590 Gaming.
You can play almost every AAA title under this beast as long as you go for the 1080p settings. Straight off aesthetic-wise, it gives a decent Gaming vibe.
You will love the light orange accents running parallel throughout the body. Another thing to like about its design is that if you do have LED lighting in your system, it will effectively match the visuals due to incorporating several RGB on the side.
Of course, they are fully customizable with the aid of the RGB FUSION 2.0 utility.
We all know how crucial to have an ideal temperature during gaming is, as you want to minimize the effects of thermal throttling.
If that's the case, you will definitely love the Composite Heat-pipes known for their thermal conductivity. You won't have that many issues with temperatures and noise levels when enabling this card in your setup.
Although it won't be tranquil during the entire stress as a gamer, if you use solid headphones, then you are good to go.
On top of that, you will get a durable backplate that looks pleasing and increases the overall longevity of this beast.
It's also important to note that it is associated with a single 8-pin PCIe connector, so the PSU rating should be around 450W for optimal performance.
My Findings:
Wrapping up, I can say that the Gigabyte Radeon Rx 590 Gaming is the Best RX 590 in terms of price tag and overall stability.
It can quickly max out games like CSGO, Fortnight, Rocket League, and even Apex Legends without breaking a sweat. If you want to get the most performance hands-down, then this GPU is your one-stop shop.
But if aesthetics is something that you're considerate about, then I can say there are other options widely available.
Also, it slightly lacks behind in the clock speeds compared to XFX models, but if you take into account the actual frame rates, you won't see much of a difference.
#4- ASUS ROG Strix RX 590
Specifications
Boost Clock: 1565 MHz
Stream Processors: 2304 units
Video Memory: 8GB GDDR5
Power Draw: 200W-299W
Recommended PSU: 600W
Power Connectors: 1x 8-pin
Ports: 1x DVI-D / 2x HDMI 2.0b / 2x DisplayPort 1.4
Dimensions: 11.7 x 5.2 x 2 Inches
Highlights:
Get an endless spectrum of colors through the inclusion of ASUS Aura Sync software that is supported with this card.
Provides double thermal contact with the copper pipes with the aid of MaxContact technology.
Utilities like Fan Connect II and GPU Tweak II provides instant monitoring of clocks and thermals without any complication.
Minimal component degrading with state-of-the-art aerospace-grade Super Alloy.
Significantly reduces thermal strain on the system through high-end Auto-Extreme Technology.
Induces graphical performance in a budget range as long as the resolution is kept under 1080p.
This card remains stable in the cooling department as it consists triple fan design with a heavy shroud.
Drawbacks:
Being a triple-fan card, you might face some issues in incorporating in your case, so keep that in mind before buying it.
Performance levels are primarily similar to GTX 1660 counterpart.
ASUS has been renowned in the industry for providing top-rated gaming equipment, and the ROG Strix Radeon RX 590 is a showcase to this statement.
At first glance, it's a massive-looking card with a significant chunk of cooling at the backend. It has integrated a dense fin array in a triple fan design.
The fans themselves are easily removable, so you won't have issues replacing them soon.
While on the back of this graphic card, you will see an exceptionally pleasing backplate with the official ASUS logo that is, of course, RGB compatible.
In contrast to that, you will find that only six screws are holding the coolers near the VRM, which is helpful to have if you want easy access to inside components.
There is a metal plate that stretches along with the PCB, which will help in the GPU sag, which is screwed into the PCIe bracket for easy maintenance.
Additionally, it makes thermal contact with the inside components, which helps with the overall cooling. You will get two PWM fan headers at the front, so you can use that whenever you require proper cable management.
In the energy department, you will get a single 8-pin power connector to drive this beast. It's also worth mentioning that aerospace-grade Super Alloy Power II components are incorporated in its construction, which supports this card's durability.
Being a triple-slot card, it weighs approximately 3.5 pounds which is quite heavy for a budget card.
My Findings:
The Strix version of the RX 590 stands out from the crowd due to its overly built cooling mechanics and ideal ergonomics.
Besides, if you want lower temps, you can always crank the fans up with the official ASUS utility's help. It's based on the Polaris architecture, which holds well, even in 2023. While design-wise, it's built like a tank.
The sturdy metallic construction gives it a premium vibe, while Superalloy components greatly enhance the longevity. Trust me; when it comes to 1080p 60FPS gaming, there is no better option available.
#5- PowerColor Red Devil AMD RX 590
Specifications
Boost Clock: 1576 MHz
Stream Processors: 2304 units
Video Memory: 8GB GDDR5
Power Draw: 180W
Recommended PSU: 600W
Power Connectors: 1x 8-pin + 1x 6-pin
Ports: 1x DVI-D / 1x HDMI 2.0b / 3x DisplayPort 1.4
Dimensions: 10 x 6.1 x 2.2 Inches
Highlights:
It supports various technologies such as Direct X12 and Vulkan API, giving you the extra ease of mind.
It features Radeon Chill functionality which regulates your FPS that in terms save you power draw and lower the temperatures.
Additionally, you will get FreeSync 2 support with this machine that will enhance your visuals as well as gameplay.
It has a BIOS switch from which you can manually control the motion of fans and the overclocking potential.
With the aid of an LED switch, you can instantly incorporate the RGB of the official RedDevil logo at the side.
At the back end, you will get a pretty looking backplate.
The aesthetics go well for those incorporating a red color theme in their build.
Drawbacks:
Most users complain about the coil whine issue in this particular model, so when it's under load, it produces an obnoxious sound.
The thermal won't wholly resolve higher temperatures during extreme load.
Another variant of the original RX 590 is the PowerColor Red Devil AMD Radeon RX590. Taking a look at the ergonomics, you will love the aggressive styling that PowerColor has put on to this beast.
It's a beefy GPU which almost takes up about two or two and a half PCIe slots. Besides that, it got a dense heatsink that indeed stands out from the rest of the cards reviewed in the line-up.
As usual, revising the specs of previous-gen Polaris-based PowerColor, it features 2304 stream processors, paired with 8GB VRAM on a 256bit bus.
Furthermore, out of the box, the card runs 1576MHz overclock thanks to the Dual BIOS option that comes equipped with the setup.
The PowerColor Red Devil AMD Radeon RX 590 has a single HDMI and a DVI port, flanked by 3xDisplayPort connectors.
It also comes in with higher factory overclocks, so that's a plus in my book. If you already have the RX 480 variant of this card, it's not worth the upgrade as the performance boost is only around 4-5%.
But if you have a card lower than this, then it's good to go. Being a bulky card, most users will face difficulty in adjusting it in their build.
However, the reality is that it's a small card that weighs around 2.2 pounds in 2.24 x 10.04 x 6.18 inches of out-of-the-box dimensions, so you won't have any trouble fitting it into tight spaces.
Additionally, it rocks the newer generation of FinFEt 14 to lead to better performance per watt. It's a bit more power-efficient than the RX 480.
My Findings:
From the benchmarks and other tests, it's clear that the PowerColor Red Devil AMD Radeon RX 590 is the finest RX 590 for 1080p gaming on the market.
On top of that, just like many other mid-range GPUs, it's a decent contender for 2K gaming without any complications.
Given the current market prices, I would recommend getting this card, especially for folks who want the best of 1080p gaming while keeping the wallets happy.
The PowerColor Red Devil AMD Radeon RX 590 has proven to be an excellent GPU for noise levels. Performance is undoubtedly incredible, but when it comes to additional perks like Silent BIOS, it has no competition.
#6- MSI Gaming RX 590
Specifications
Boost Clock: 1565 MHz
Stream Processors: 2304 units
Video Memory: 8GB GDDR5
Power Draw: 220W
Recommended PSU: 600W
Power Connectors: 2x 8-pin
Ports: 2x DisplayPort / 2x HDMI / 1xDL-DVI-D
Dimensions: 10.9 x 5.6 x 1.5 Inches
Highlights:
Equipped with AMD's liquid VR technology which is rare to see in a mid-tier GPUs.
The dual-slot design that this card has will get you a solid stance in the gaming world.
Highly compact and can fit in almost any case without any additional accessories.
It contains top-notch coolers that work wonders in ambient temperatures.
Compatible with motherboards that incorporate PCI-Express 3.0 x16 slots.
Ideal power draw which helps to stabilize the temperatures even during max load.
It boasts AMD crossfire technology with Open GL 4.5 to give you the ultimate gaming experience.
Drawbacks:
Based on the Polaris design, its cooling is ideal for the price tag, although the heatsinks are a bit wacky.
It's common to face driver related issues in this card, which has a mini impact on performance.
Finally, we have the RX 590 Armor Edition from MSI, known for its dollar per value in the gaming community.
Moving on to its aesthetics and design, there isn't much to say. The dark shading truly matches the silver offset near the edges of this machine, giving it a pleasant look.
It will be more visually pleasing in the white casing; however, if you are the type of gamer who goes with color neutrality, you won't face any issues.
Speaking of which, it measures 10.9 inches lengthwise, 5.6inches widthwise, while height is balanced at 1.6inches. On top of that, it weighs under 3 pounds which is ideal for a 1080p 60FPS gaming card.
Just like any other onboard partner, MSI has retained some quality features in this GPU, which ultimately gives users extra versatility.
It supports both Vulkan API and Direct X 12 for smoother gameplay for newer or upcoming games. Similarly, FreeSync 2 adjust color contrast according to your preferences, giving you crystal clear visuals.
The MSI Gaming Radeon RX 590 boasts two top-of-line Torx fans 2.0 that are known for keeping the system cool while at the same time driving less power and reduces acoustics.
Besides, the advanced airflow will be pretty capable in terms of cooling performance. The main reason it's ideal to go with an AMD card ct that most of them are VR Ready.
So, if you're into virtual gaming, then this card won't let you down.
My Findings:
All in all, it can be easily said that the MSI Gaming Radeon RX 590 is one of the Best RX 590 that you can get your hands on.
Although keep in mind that you should pair it will take a decent CPU like any latest Core i5 variant to get the most out of its processing power.
Anything lower than that can bottleneck the performance, which is not ideal in competitive titles.
In contrast to that, it's wise to properly check the heatsink after buying this card as most of the customers have complained about its faulty performance. Other than that, getting it even in the second-hand market is worth it!
Buyer's Guide Section: Things To Consider
Getting a graphic card is one thing while choosing the best is another thing. The current GPU market is saturated today, which means selecting the ideal one for your needs is not an easy task. That's why viewing a Buyer's Guide should be a necessary evil.
Here is a detailed Buying guide to compensate for your needs, which will definitely help you choose the best.
Whether you're looking for a graphic card in the budget range or want premium cooling or overclocking potential, I got you covered!
More AMD Radeon cards:
Best AMD RX 5700 XT Graphics Cards In 2023 – (Reliable Options)
Best RX 580 Graphics Cards In 2023 – (Budget Gaming GPUs)
Benchmarks:
The first thing is, first, let's check out how the reference RX 590 performs in regards to the actual gaming benchmark.
For these tests, I will be incorporating Core i7 8700K that is clocked around 4.5GHz with 32GB Corsair Vengeance memory in DDR4 setup.
On top of that, for Drive space, I will be using a 2TB Seagate BarraCuda HDD with a 256MB Cache rate, which will be more than enough to represent these cards' highest potential.
Starting off the benchmarks, we have one of the graphical heavier titles, which is none other than BFV. Here we can see that RX 590 variant was 5-7% faster than the previous-gen 580.
At 1080p with ultra-settings, it won't completely give you 100+FPS like the GTX 1080. But these frame rates are more than enough for an ideal gaming session.
While moving on to 1440p, this card is full of surprises. Both the average 1 and 0.1% and the average framerates are considerate enough for a genuine experience over this resolution.
The RX 590 beats the 1060 variant from Nvidia by a margin, giving itself a solid stance.
The second game on the benchmark is the Assassin's Creed Odyssey, in which the Nvidia Cards easily outperform the AMD's one due to poor optimization.
Both the RX 590 and 580 performs similarly, with only a marginal difference in the FPS at the backend.
While the RTX 2060 is the winner, it comes with an extra case, and it's not usually supported for budget-friendly gamers; thus, I won't recommend it.
In the 1440p department, the RX 590 stands up at 39FPS, while its strongest competitor, i.e., scores 40FPS with 1% residing at 31FPS.
There is no doubt that it is entirely playable, but if you want smoother visuals at this resolution, I will recommend you tweak the settings a bit.
AMD Radeon RX 590 Performance
Performance-wise, there is no doubt that the RX 590 cards stand out from others in the mid-range budget category.
It will destroy most of the tests you throw at it under 1080p resolution and can easily avail your 60+FPS no questions asked.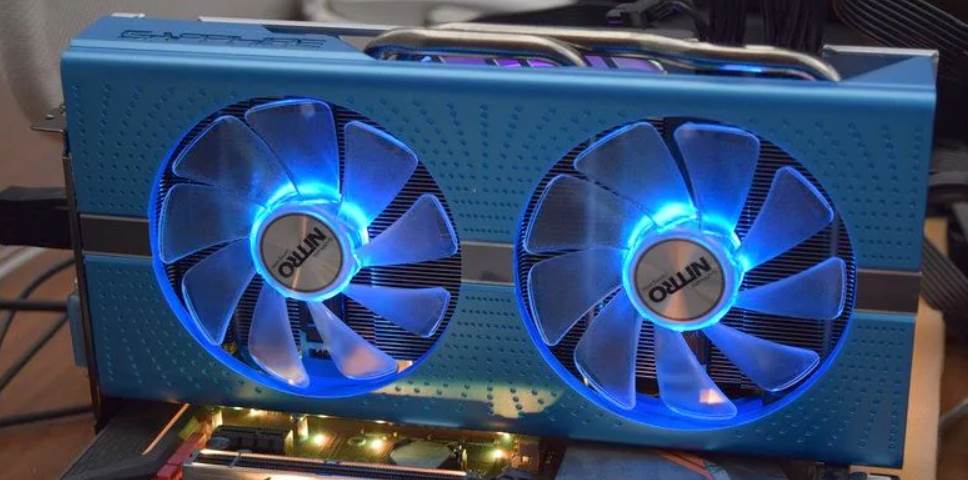 While looking at different RX 590 variants from added board partners, you will find that the performance is almost the same. There is even such slight variance between their clock speeds that one can easily be fooled.
Typically, there is only a 3-5FPS difference in most demanding titles between them, so you can't say which one of them is best when it comes to gaming.
So, if performance is just about the push, the differentiating factors should be noise, cooling, and aesthetics. As aesthetics is subjective for most gamers, you are better off with how well they perform in cooling.
Cooling & Temperatures
One of the integral components of a high-performance graphics card is the type of cooling system it adopts. It can either dramatically reduce the stress on the system or make it unstable, resulting in temporary crashing.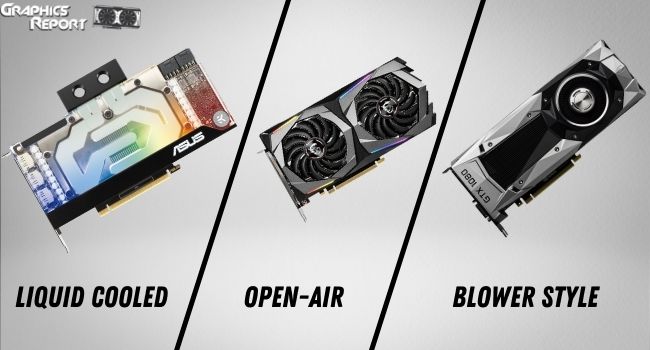 There is generally 3 type of these systems in a card: open-air, blower-style, or water cooling. Each of them comes in different architectures of cards.
When we talk specifically about RX 590, it has blower-style cooling, while further variants incorporate non-blower or open-air systems.
However, they will differentiate on the type of heatsink and internal construction. For example, it is found that GPUs such as the Nitro+ runs around 10 degrees cooler as compared to others due to intuitive heatsink.
Budget & Overall Look of The card
No matter which GPU you pick and which one you prefer, it ultimately comes down to the overall budget.
If the graphics card can offer you more while costing you less, then it's an absolute win-win situation for the consumer.
We will advise you to explore the second-hand market if you want to get more out of it. In contrast to that, the overall aesthetics of the GPU is a subjective choice for gamers.
Some users don't care much about the ergonomics and design and most likely rely on the performance when buying a card.
On the other hand, others want color neutrality of total RGB effects on their gear. But keep in mind that those cards will most likely cost you extra.
End of The Line:
As you can see from the benchmarks and overall performance test, this highly reasonable graphic card is still worth it.
Its top-of-the-line Polaris architecture holds well in modern games, delivering you consistent FPS without tailoring the settings. There are dozens of other 1080p 60 frame-per-second graphic cards in the market, like GTX 1050.
But what makes this card unique is the bonus features like Direct X12 support which lets you run newer titles.
The only thing lacking in this machine is the power draw which finds most users annoying, especially the crypto miners.
It can fluctuate in the middle of processes during extreme load. So, make sure to use it in the dedicated settings to get the most out of your bucks.
Also, make sure to invest in 1080p high refresh rate gaming monitors if you want a premium display on this GPU beast.
Frequently Asked Questions (FAQs)