I cannot believe I am saying this after so long but now is the best time to get your hands on a GPU. Why is that, you ask? Ethereum, one of the reasons miners swooped all those GPUs from store shelves, changed its mechanism from "Proof of Work" to "Proof of Stake" as of September 2022.
I know many of you are curious about what I mean by that, but this article is not appropriate for such an explanation; in short, Ethereum can no longer be mined by a GPU which is great news if you are a gamer looking for your next GPU.
So to make your hunt for your next graphics card easier, I write many comparisons between cards, and the comparison today I am going to do is between the 6700 XT vs 2070 Super.
Both cards were released at the $470 and $499 price tags, respectively. So how do they hold up today in 2023, and is it worth buying either of them? Let us find out.
Technical Specifications
| GPU Name | GeForce RTX 2070 Super | Radeon RX 6700 XT |
| --- | --- | --- |
| GPU Cores | 2560 Units | 2560 Units |
| Base Clock | 1605 MHz | 2321 MHz |
| Boost Clock | 1770 MHz | 2581 MHz |
| Video Memory | 8GB GDDR6 | 12GB GDDR6 |
| Memory Bandwidth | 448.0 GB/s | 384.0 GB/s |
| Bus Width | 256-bit | 192-bit |
| RT Cores | 40 | 40 |
| Architecture | Turing | RDNA 2.0 |
| Process Size | 12 nm | 7 nm |
| TMUS | 160 | 160 |
| ROPS | 64 | 64 |
| Power Draw | 215W | 230W |
| Recommended PSU | 550W | 550W |
6700 XT vs 2070 Super: Gaming Benchmarks (1440p Ultra)
The 6700 XT and the 2070 Super are both suited to 1440p gaming, so I will test some games at that resolution with all the setting sliders cranked to Ultra.
Related comparisons:
Testing Setup
CPU: AMD Ryzen 9 5900X
GPU #1: ASUS Dual AMD Radeon RX 6700 XT
GPU #2: Nvidia GeForce RTX 2070 Super FE
RAM: 2x16GB DDR4 3600MHz G.Skill Trident Z Series
Storage: Samsung 970 EVO Plus SSD 1TB – M.2 NVMe
#1: Assassin's Creed Valhalla
The first game on my list today is Assassin's Creed Valhalla, which has disappointed many traditional Assassins Creed Fans. But what has not disappointed me today is the performance of both cards, which gave me great results while benchmarking this game.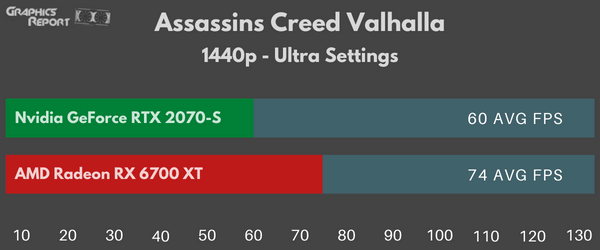 The RTX 2070 Super hit 60 frames per second at 1440p Ultra with a sub thirty 1% low of 26. I will say that the 1% low figures are not indicative of the card's power but the shoddy optimization of the game for PC.
AMD's offering, the powerful 6700 XT, managed to pull its own by producing 74 frames per second with a 1% low of 36 frames per second, making this card a winner in this comparison.
#2: Red Dead Redemption 2
Next is everyone's favorite Cowboy simulator, Red Dead Redemption 2, which many publications have dubbed the best game of the last decade.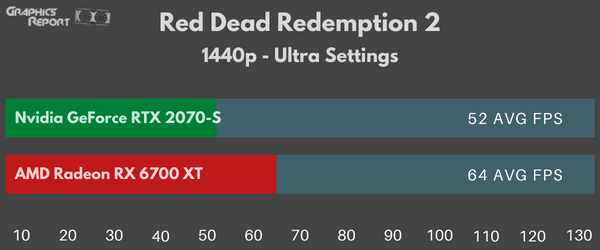 Playing through Arthur's adventures and him "lollygagging" through Saint-Denis, the RTX 2070 Super ran the game at 52 frames per second with a 1% low of 25 frames per second.
The 6700 XT, on the other hand, was only 10% faster, with it managing to go over 60 frames with an average frame rate of 64 with the same disappointing 1% low of 34 frames.
Red Dead Redemption 2 is a great title and deserves to be played at 60 frames a second, so if I lower the setting slider to high instead of Ultra, I can easily get that smooth gameplay.
#3: Cyberpunk 2077
Cyberpunk 2077 recently had its 1.6 updates, adding a ton of content to the game. The game was also optimized more in this update, and many bugs which had many people banging their heads were fixed.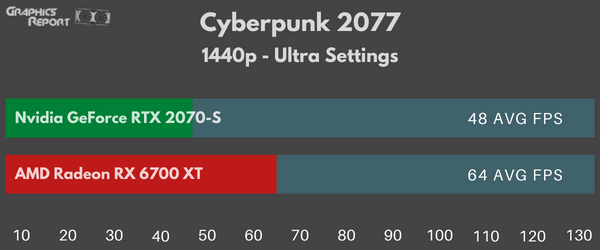 Testing this game with the latest update installed, the 2070 Super lagged behind my 60 fps goal as it could only manage to be played at 48 frames per second with a 1% low of 22.
I think this game would be better suited to play on this card at a lower resolution or chipping away at some eye candy by lowering the in-game settings.
The 6700 XT, on the other hand, hit the 60 frames per second goal with no problems and exceeded it with an average frame rate of 64. The 1% low observed here was 30 frames per second.
#4: Call of Duty Modern Warfare
The next game on my list is one of my favorites, Call of Duty: Modern Warfare. Both these cards played this game at very good frame rates when jumping directly into an online match.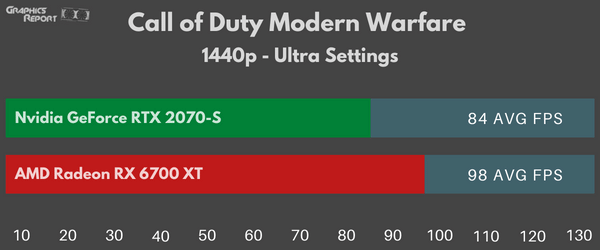 The RTX 2070 Super managed to play this game at 84 frames per second with a 1% low of 38 frames per second.
On the other hand, the Radeon RX 6700 XT again became the superior card in this comparison by averaging a frame rate of 98 frames per second with a 1% low of 52, which is an impressive result.
#5: Doom Eternal
Doom Eternal was surprisingly a cakewalk for both of these cards as both of these cards managed to average at triple-digit frame rates, which made killing demons more satisfying.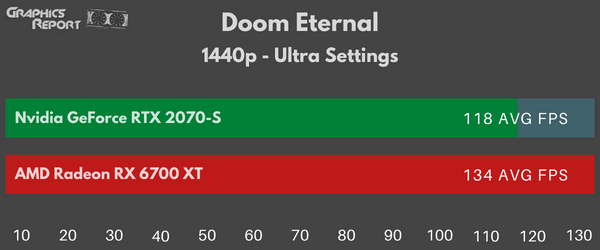 The RTX 2070 Super averaged this high octane game at 118 frames per second with a 1% low of 61 frames per second at 1440P ultra settings.
The RX 6700 XT, on the other hand, managed to average 134 frames per second with a 1% low of 74 frames at identical settings.
6700 XT vs 2070 Super: Memory And Clock Speeds
This section of the article compares the video memory of the cards and the clock speeds of the GPUs. The RTX 2070 Super ships with 8 gigabytes of GDDR6 video memory, which runs on a 256-bit bus with a memory bandwidth of 448 GB/s. The video memory has a memory clock of 1750 MHz.
The RTX 2070 has a base clock speed of 1605 MHz which boosts up to 1770 MHz while performing intensive tasks.
The AMD Radeon RX 6700 XT has a memory buffer of 12 GB GDDR6, which runs on a 192 Bit bus. The memory bandwidth of this card is 384 GB/s with a memory clock of 2000 MHz.
The 6700 XT has a base clock speed of 2321 MHz which boosts to 2424 MHz while gaming, but when performing especially intensive tasks, it increases to 2581 MHz.
6700 XT vs 2070 Super: Pricing And Availability
As you may have noticed from my excitement in the above paragraphs, miners are now scrambling to rid themselves of their operations which consist of hundreds of thousands of GPUs. This makes it a great time to get a great deal on a new or an older GPU.
The RTX 2070 and the RX 6700 XT were released at over $450. But as the happy times roll around, these cards can be had for around $350 if you are willing to risk it a little and buy a 2nd hand GPU. There will be a lot of mining cards, so do your due diligence before making a purchase.
6700 XT vs 2070 Super: GPU Architecture, Power, And Efficiency
The Radeon 6700 XT has the RDNA 2.0 GPU architecture, which is the latest from AMD. This card is built on a 7nm process size. The card has a TDP of 230 Watts, whereas the GPU suggested by AMD is 550 Watts.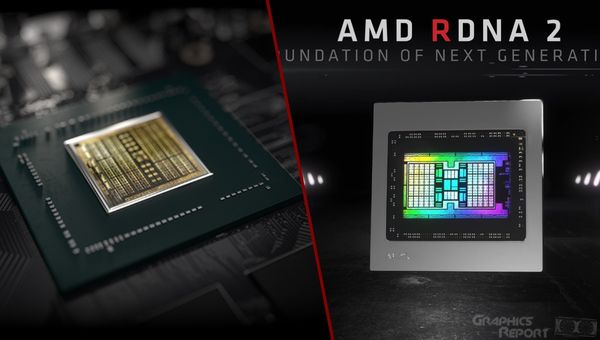 The RTX 2070 is based on the Turing architecture, built on a 12 nm process size. Even though it has a bigger die size, it has a TDP of 215 watts, making it a little less power-hungry than its competitor. Nvidia also suggests a 550 watts PSU for this card to run properly.
6700 XT vs 2070 Super: Ray Tracing Performance
The next thing we will compare between these cards is the Ray Tracing performance. Being a fan of traditional rasterization, I do not think Ray Tracing today can do much for gaming as we do not have the hardware in the consumer sector right now to enjoy it properly. But, discussing it is essential to incentivize hardware manufacturers to improve it.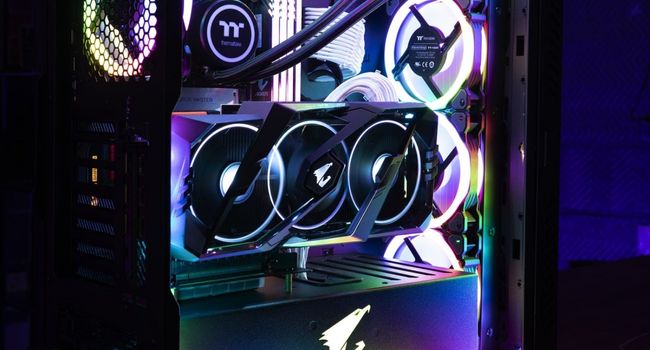 I tested Metro Exodus on both of these cards at 1080P, which is a resolution suited to both these cards if we turn RTX on. Both of these cards were well within the margin of error, with Ray Tracing on with the 2070 super cranking out 54 frames per second and the 6700 XT averaging around 58 frames per second.
I also played a few other games; most returned a sub-60 frames per second result. This makes me conclude this section by saying that Ray tracing is possible here, but you lose more than what you gain, so I would relegate "RTX on" to mere screenshots of the games you are going to play and stick to rasterization for better frame rates and visuals.
6700 XT vs 2070 Super: Features And Video Outputs, Ports
The RTX 2070 Super has many features, with its main selling point being the ability to do ray tracing. You also get Nvidia GeForce Experience which is a great tool, mainly if you record a ton of gameplay. It supports Direct X 12 Ultimate, OpenGL 4.6, OpenCL 3.0, Vulkan 1.3, CUDA 7.5, and Shader Model 6.6.
The 2070 Super has a solitary HDMI 2.0 with three DisplayPort 1.4a and a USB Type C port. This makes it so that you can connect five monitors to it.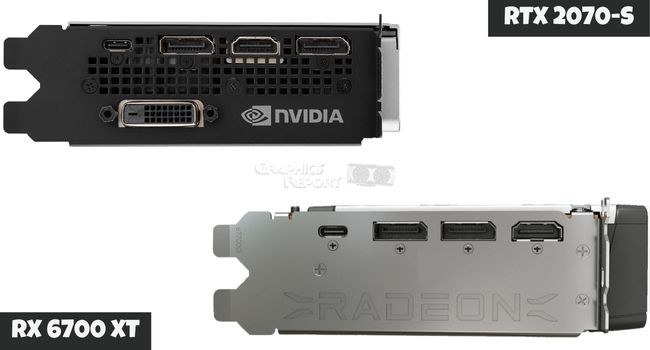 The 6700 XT is also a Ray Tracing card with its share of features. It supports Direct X 12 Ultimate, OpenGL 4.6, OpenCL 2.1, Vulkan 1.3, and Shader Model 6.5. This card lets you connect four monitors to it as it has one HDMI 2.1 port and three DisplayPort 1.4a.
Top 3 Reasons To Consider Radeon RX 6700 XT
A more powerful card than the competition.
It has better Ray Tracing performance.
AMD cards get better with newer drivers.
Top 3 Reasons To Consider GeForce RTX 2070 Super
Nvidia driver support is the best in the world.
An extensive list of features is available to streamers.
More efficient when it comes to power consumption.
My Final Thoughts On It!
This wraps up my discussion about comparing the RTX 2070 Super and the 6700 XT. AMD has beaten the competition in almost every aspect while keeping the price lower at MSRP.
So, if you are comparing these cards, I would say that the 6700 Xt is the clear winner, primarily if you game at 1440P.
The 2070 Super, however, should not be thoroughly discredited. Nvidia has a better track record of supporting their cards for many years, making me somewhat brand loyal.
The Nvidia Geforce Experience has undoubtedly been one of the best tools for streamers which could sway many to go for the 2070 Super.