Over the last few years, the gaming industry has gone through a lot of changes. Many new technologies have been introduced by GPU manufacturers to enhance the gaming experience without having to burden yourself financially to upgrade your GPU.
Among such technologies, AMD's FidelityFX Super Resolution (FSR) and Nvidia's Deep Learning Super Sampling (DLSS) are quickly becoming must-have features in the latest PC games.
These two features help graphics cards render images at lower resolutions so that GPU performance can be enhanced. But you may ask, which one of these two is the best and why?
In today's blog, I will answer this question. I will be comparing both programs to give you an insight into how each one of these performs and which one is better at rendering images and getting the best results out of the GPU.
So stay with me till the end to find out which one of these two is best.
What Is AMD FidelityFX Super Resolution (FSR)?
FidelityFX Super Resolution (FSR) is an AMD-developed upscaling technology that is one of the simplest ways of improving frame rates in supported games. When you enable this feature, you won't have to choose between fast frame rates and high-resolution graphics.
Unlike Nvidia DLSS, FSR works with both Radeon and GeForce graphics cards, including older models such as the GTX 10 and 16 series that Nvidia has ignored.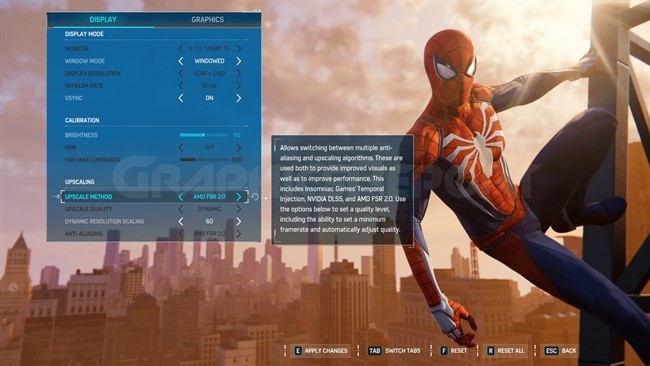 AMD FidelityFX Super Resolution debuted in June 2021 and has since made its way into a number of the most popular PC games.
FidelityFX Super Resolution is available in the options menus of AAA games such as Far Cry 6, God of War, and Resident Evil Village, as well as independently owned titles.
Although the FSR hasn't received many updates and hasn't been refined much since its release, unlike its competitor, nothing is stopping you from turning it on if you want to enhance the performance of your gaming PC.
What Is Nvidia DLSS?
Nvidia's DLSS technology was first introduced in February 2019. It uses hardware Tensor cores in Nvidia RTX cards to elevate your graphics while also providing artificial intelligence and neural network integration.
Using Nvidia's miracles, a game can be rendered at a lower resolution and then brought to a higher resolution, such as 1440p or 4K, effectively increasing your frames per second (FPS) while the game looks nearly as good, if not better.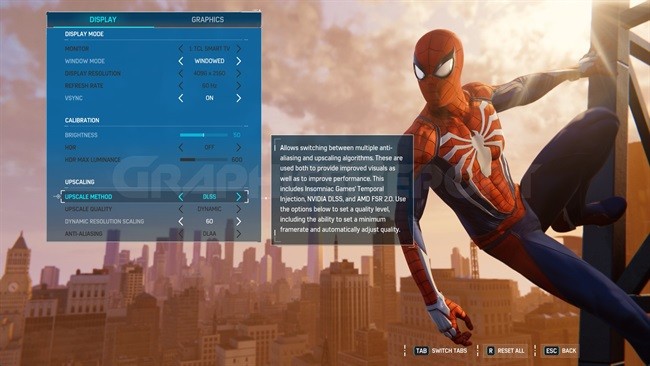 DLSS is frequently thought to be fairly accurate, producing upscaled graphics that are so good that a person would probably be unable to tell the difference between them and native-resolution images at first glance. And it's all because of Nvidia's technology.
But it all depends on newer Nvidia technology—for example, tensor cores are only found in RTX cards. And therein lies DLSS's Achilles heel: It is only available in the RTX 20 and RTX 30 series of graphics cards.
AMD FSR vs NVIDIA DLSS: Game Support
DLSS appears in far more games than FSR. We counted around 180 titles that support DLSS at the time of publication, but the number is growing every month. FSR is available in approximately over 100 games, with the list growing month by month.
Aside from raw numbers, DLSS is available in many more popular games than FSR, for example, Rainbow Six Siege and Fortnite. Large AAA games with ray tracing typically favor DLSS as well, with the RTX branding incorporating both ray tracing and DLSS.
FSR lacks figures, but AMD is making inroads. Many titles now support both DLSS and FSR, rather than just one or the other. God of War, Marvel's Guardians of the Galaxy, and Cyberpunk 2077 are recent examples. Older games, such as Marvel's Avengers, have also received FSR and DLSS support via patches.
AMD FSR vs NVIDIA DLSS: Visual Quality
Of course, the visual quality is the most important aspect for any technology to demonstrate that it is working rather than going in the opposite direction.
The purpose of DLSS and FSR is definitely to improve video quality, but if not used properly, these technological solutions can result in severely damaged visual quality, which you should be aware of.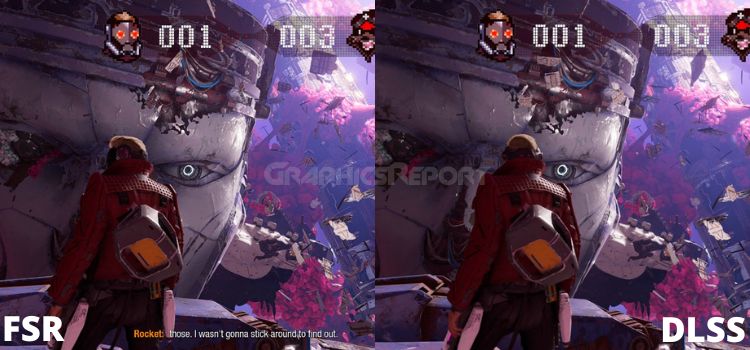 During my time working with both of these technologies, I discovered that in terms of visual quality, they are very similar, with the DLSS being slightly better and clearer in terms of overall visual quality.
However, when the settings are increased to their maximum, the difference becomes clear, and you realize how far these technologies still have to go. Rest assured that you can easily and quickly adjust these settings.
Again, the visual impact will only deteriorate if you decide to tweak these settings to their utmost, which should be sufficient in most cases.
AMD FSR vs NVIDIA DLSS: Compatibility
One of the most significant distinctions between FSR and DLSS is compatibility. Because DLSS is an RTX feature, it can only be found on RTX 20- and 30-series graphics cards. FSR, on the other hand, works with AMD and Nvidia GPUs because it does not require dedicated Tensor cores.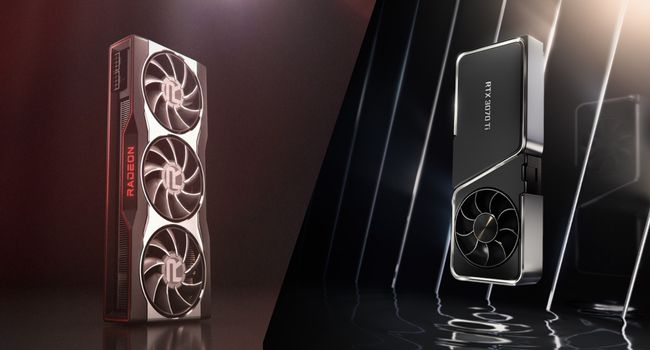 FSR is recommended by AMD, but it should work on most graphics cards, including integrated GPUs in many cases. FSR is also available on Xbox Series X, and because it does not require specific hardware, it can also be played on platforms such as PlayStation 5.
FSR is free for developers and is built with open-source code. For a time, DLSS was kept behind Nvidia's fortified walls. However, increasing pressure from FSR compelled Team Green to follow suit.
AMD FSR vs NVIDIA DLSS: Ray-Tracing Results
In terms of performance, AMD FSR Quality outperforms NVIDIA DLSS Quality. Of course, this is to be expected, given that FSR Quality renders at a lower resolution than DLSS Quality.
We have both good and bad news. The bad news is that ray tracing can occasionally produce unexpected results. The lighting was messed up in some cases.


This is most likely due to the short distance that some games' rays travel. Unfortunately, this can lead to some inconsistencies in the visuals.
In most cases, Ray Tracing can significantly improve game visuals. These visual enhancements are immediately noticeable.
Some scenes could benefit from a next-gen upgrade over their rasterized counterparts. The visual improvements are so dramatic that the rasterized version appears to be running at "Medium/Low" settings. However, PC gamers will undoubtedly require an NVIDIA RTX GPU.
AMD FSR vs NVIDIA DLSS: The Performance
Alright, time to answer the big question. Which one has the better performance? Being someone who regularly uses both of these tools, I believe I have enough authority to comment on this.
I recently used AMD's FSR in Deathloop, and I had no problems with the game. The same can be said for Far Cry 6; both games ran flawlessly on high settings and looked stunning. The performance is there, and not much visual degradation was experienced in different settings.
Moving on to Nvidia DLSS, I've been using it since I got my hands on the RTX 2080 Ti and then the RTX 3090, and I'm impressed with how it performs.
Sure, the fact that Nvidia has decided to keep it first-party means that you may encounter some issues, but overall performance should be satisfactory.
Fortunately, both technologies perform admirably overall, and except for Nvidia's finicky support, I never encountered any performance issues.
NVIDIA DLSS vs AMD FSR: Gaming Benchmarks
Now that we are done discussing all the technicalities of both DLSS and FSR, it's about time we jump in on a comparison of how both of these technologies perform in games. Because, let's be honest, we don't care about the technicalities as long as they make our gameplay better.
The testing PC we're gonna be using.
Intel Core i9-10900K
Corsair H150i Pro RGB
MSI MEG Z490 Ace
Corsair 64GB DDR4-3600 (2x 32GB)
XPG SX8200 Pro 4TB
Windows 10 Pro (21H1)
God of War
Without a doubt, God of War was one of the most anticipated titles on the PC, and the game received critical acclaim when it was released earlier this year.
Both AMD and Nvidia offer a quality mode, so you can expect similar results. With that said, testing the game at 1440p reveals a difference between DLSS and FSR, but it is not significant enough to cause concern for most players.
Deathloop
Deathloop was promoted by AMD, but with an update, it added DLSS and increased the 120 fps cap to 240 fps – both of which we appreciate. Because DLSS ultra-performance mode isn't supported, there are fewer scaling options to choose from at this time.
For the RTX 3060, FSR ultra quality improved performance by 47%, quality mode by 80%, balanced by 111% (the same as DLSS performance mode), and FSR performance mode by 153%.
Back 4 Blood
Starting with the RTX 2060, DLSS improved performance by less than 50%, even in ultra-performance mode, whereas FSR improved framerates by more than 90% in performance mode.
Each higher DLSS upscaling factor improved performance by about 10%, with a slightly larger improvement when switching from performance to ultra-performance mode. On the RTX 2060, each level of upscaling improved performance by close to 20% for FSR.
Marvel's Avengers
The Avengers of Marvel. It has some oddities that stand out immediately with DLSS, specifically that the balanced and quality modes perform nearly identically—in fact, the quality mode performed slightly better. Except for that one oddity, everything makes sense.
This time, the scaling between AMD and Nvidia GPUs was much closer, with the biggest difference being only 3% — the RTX 3060 ran 59% faster with FSR quality mode vs. native, while the RX 6700 XT improved by 57%, for example.
Cyberpunk 2077
Cyberpunk 2077 is one of the most contentious games of the modern era, and not all of it is positive. The good news is that Nvidia is actively supporting the game and improving its overall performance by adding new features, making improvements, and optimizing it across the board.
With that out of the way, Cyberpunk 2077 delivers around 66 frames per second on 1440p using FSR Quality and 64 frames per second using DLSS Quality. This just goes to show how well the AMD FSR works in this environment.
Which Is the Better Technology? AMD FSR Or Nvidia DLSS?
I've used these technologies extensively and realized that having both of these technologies in a game is better than having just one because you get to choose between something good and something not so good.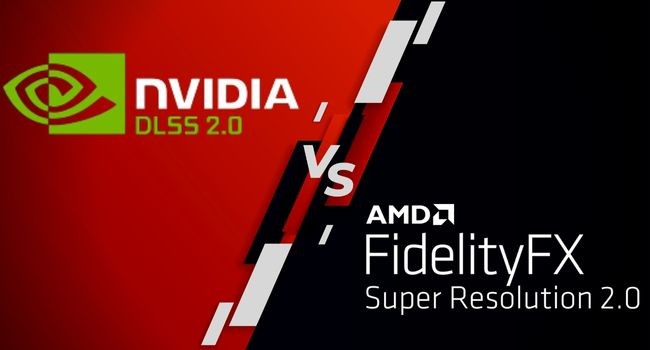 In almost every case, both AMD FSR and Nvidia DLSS are equally good. Sure, AMD has the potential to outperform Nvidia, but Nvidia does not hold back. The results are more similar than you might think, which is why I love these technologies in the first place.
Now that we've completed the comparison, it should be clear that what you're looking at is suitable for almost everyone, and honestly, I've realized that there's nothing wrong with preferring one technology over the other.
My Final Thoughts On It!
There is a lot of buzz surrounding AMD FSR and Nvidia DLSS, and the best part is that, after a long wait, we finally have two technologies that are excellent in terms of performance.
My overall experience has been fantastic, and I have no complaints about either of these technologies. Just make sure you know which technology you want to use, and you'll be good to go with no problems.
Frequently Asked Questions (FAQs)