GraphicsReport is supported by its audience. When you buy through links on our site, we may earn an affiliate commission. Learn More
Best AMD RX 5700 XT Graphics Cards (Reviewed)

AMD has made significant improvements in the tech world with their latest and greatest lineup of 5700XT chips, which gives solid competition to team green.
Things become heated up back in 2019 when AMD announced their new and improved Ryzen processors with 5700/5700XT cards, and then on the following week, Nvidia launched their RTX Super edition GPUs.
These competitive cards were targeted toward mid-range gamers, while the 5700XT with extra compute units were specifically prioritized against the RTX 2070.
This GPU is based upon a 7nm RDNA architecture, and unlike the previous-gen GCN chips, it boasts PCI Express 4.0 that is incorporated by the standard GDD6 memory.
According to AMD, the extra compute unit that this GPU shares will give an edge over its predecessor due to the added performance gains, especially in unoptimized titles.
In addition to the hardware, the 5700XT boasts a couple of new features as well, which makes it stand out from the rest, one of which is the high-end display compression.
If you're into a card's multi-media capabilities, this feature will allow you to stream 8K 60FPS without any chroma subsampling. While, when it comes to performance, these cards are beasts.
To give you a further overview, today, I will be discussing the 6 Best AMD 5700 XT that you should buy in 2023. So, let's get into it!
Best AMD Radeon RX 5700 XT GPU's – Comparison Table
image
name
price
SPECS
XFX RX 5700 Xt
Thicc III Ultra 

RAM: 8GB GDDR6
Stream Processors: 2560
Dimensions: 12.4 x 5.1 x 2.2 Inches
Boost Clock: 2025 MHz

ASUS ROG Strix AMD
Radeon RX 5700XT

RAM: 8GB GDDR6
Stream Processors: 2560
Dimensions: 12 x 5.1 x 2.1 Inches
Boost Clock: 2025 MHz

Gigabyte Radeon Rx
5700 Xt Gaming OC 

RAM: 8GB GDDR6
Stream Processors: 2560
Dimensions: 11 x 4.5 x 1.9 Inches
Boost Clock: 1905 MHz

PowerColor Red Devil AMD
Radeon RX 5700 XT 

RAM: 8GB GDDR6
Stream Processors: 2560
Dimensions: 11.8 x 5.1 x 2.0 Inches
Boost Clock: 2010 MHz

MSI Gaming Radeon
Rx 5700 Xt 

RAM: 8GB GDDR6
Stream Processors: 2560
Dimensions: 11.6 x 5.5 x 2.2 Inches
Boost Clock: 1980 MHz

Sapphire Radeon
NITRO+ RX 5700 XT 

RAM: 8GB GDDR6
Stream Processors: 2560
Dimensions: 12 x 5.3 x 1.9 Inches
Boost Clock: 2035 MHz
Best 5700 XT
Before we start the reviews, it's worth mentioning that this list is condensed with the overall best RX 5700XT GPUs. So, no matter which one you choose, you won't be disappointed.
Although, keep in mind that they do differ in certain aspects such as aesthetics, dimensions, thermals/cooling performance, and overclocking potential.
If you want a detailed analysis of these considerations, then make sure to check out my guide located at the end. Similarly, there are some FAQs below which will give you added peace of mind.
So, let's check the best of the best 5700XTs.
#1- XFX RX 5700 XT Thicc III Ultra
Specifications
Boost Clock: 2025 MHz
Stream Processors: 2560 Units
Video Memory: 8GB GDDR6
Power Draw: 200W
Recommended PSU: 600W
Power Connectors: 2x 8-pin
Ports: 1x HDMI 2.0b / 3x DisplayPort 1.4
Dimensions: 12.4 x 5.16 x 2.24 Inches
Highlights:
Powerful heatsink with a superbly designed internal memory to enhance the cooling capabilities.
It's one of the coolest and most stable RX 5700XT on the market, with a solid shroud and a wide range of copper heat pipes.
Seamless yet ergonomically feasible shroud design makes it a proper card on the market.
Full metallic backplate.
Made to operate on both 1440p and 4K setups while still supporting the architecture for 8K resolutions.
It gives you VR Ready experience thanks to the wide range of PCI outputs.
XFX provides a limited 3-year warranty with this card to further ease your buying decision.
Drawbacks
The power consumption of this GPU will be at an all-time high so that you will require a solid 600W of PSU.
Lack of raytracing functionality is a downside of this XFX card, but other than that, it's well worth it.
Starting off our list at the number one spot, we have the RX 5700 Xt Thicc III Ultra by XFX. It is also the pick for the overall Best 5700 XT that you should get in 2023.
The main reason for this is due to the fact that it features the ultimate price to performance capabilities that you won't get among other 3rd party variants.
Similarly, the incorporation of additional features and premium design makes it ideal for mid-range gaming.
The RX 5700 Xt Thicc III Ultra shares a boost clock of a staggering 2025MHz, which separates it from the competition.
Not to mention that it incorporates dynamic cooling that is paired with the triple fan design to keep the temperatures low even in intense gaming sessions.
The main problem that previous-gen RX 5700 models share is that they were a bit noisy right of the backend.
But now, thanks to the implementation of 0Db technology, the RX 5700XT, particularly this model from XFX, runs quietly and efficiently.
Similarly, this functionality lowers the overall RPMs when you're not using the card, which in turn gives you more raw power for long-term performance.
Aesthetic-wise, this card looks absolutely phenomenal. With its simplistic yet intuitive design, you will be implementing it into any type of build.
While for those of you who are skeptical about those RGB effects will be glad to know that the Thicc III Ultra lacks RGB LEDs and headers.
This means that now, you can maintain the classic look of your rig without any hurdle. In addition to the PCIe power connection, there is an embedded Dual BIOS switch, which helps tweak the performance setup on the go.
Speaking of power output, this card contains two 8-pin power connectors, making sure to incorporate at least a 600W power supply to make this beast fully operational.
My Findings:
AMD's Navi-based cards were always the favorites among gaming enthusiasts, and this particular model from XFX is no exception to that. As the name suggests, its main potential lies in the cooling department.
With the aid of a bulky yet effective shroud and added copper heat pipes throughout the design, it can dramatically lower the temperatures even when you run it under boost clock frequency.
It also carries a triple fan configuration which promises to give even better results. At the same time, the zero Db feature is just a cherry on top.
So, if you're in the market for the Best 5700 XT, I will definitely recommend getting XFX 5700XT Thicc III Ultra.
#2- ASUS ROG Strix RX 5700 XT Overclocked
Specifications
Boost Clock: 2035 MHz
Stream Processors: 2560 Units
Video Memory: 8GB GDDR6
Power Draw: 300W+
Recommended PSU: 650W
Power Connectors: 2x 8-pin
Ports: 1x HDMI 2.0b / 3x DisplayPort 1.4
Dimensions: 12 x 5.1 x 2.1 Inch
Highlights:
As given in the name, it comes overclocked out of the box.
Made from aerospace-grade Super Alloy Power II components for the convenience of users.
Compatible with up to 6 monitors at once for all those gaming enthusiasts.
Asus Aura Sync software lets you customize the fan speeds as well as manage RGB headers without any issue.
It boasts a Dual BIOS switch that lets you tailor between BIOS ROMs in case of overclocking fluctuations.
With the help of its ASUS FanConnect II, you will be able to incorporate multiple fan headers without any accessory.
It features AMD's patented Anti-Lag functionality, which is quite helpful for competitive eSport players.
Drawbacks
The chip itself is extensively overclocked; however, when it comes to memory overclocking, it falls behind.
As compared to competitors, this card is a bit overpriced.
AMD's seven nm-based RX 5700XT graphical chipsets have a high demand in the current market because it is targeted for the 1440p sweet spot.
If you're a gamer and prioritize quality over the price tag, then the ASUS ROG Strix Overclocked is an RX 5700XT card that won't let you down in the long run.
Unlike the reference models, which share blower-style cooling, this beast of a GPU is functional on a more robust cooling solution, which is one reason for its demand.
The Strix series has always been renowned in the industry and became a go-to choice for top-end to enthusiast-level gamers.
They have all the latest and most remarkable technologies which will get you up and running within no time.
At the top of the card, you will see that ASUS has incorporated their top-of-the-line 3X Axial tech fans with an outside barrier ring that helps in heat dissipation.
Keep in mind that this is undoubtedly not a compact card as it covers more than 2.6 PCI slot surfaces and has some bulky heat fins near the rear end. So, if you have a mini ITX case, then you are better off with the lower-end variants.
However, the extra area on the heat sink gives out better thermal performance. One of the features that I personally like about this GPU is that it comes equipped with Max Contact Technology, which aids in improving thermal transfer.
While, design-wise, it's not that bad either. You will get ample RGB effects at the near edges of the surface, which are, of course, adjustable with ASUS's top-of-the-line utility.
Similarly, the black matt finish in the construction makes it a premium-looking unit in any build. The ASUS ROG Strix 5700XT Overclocked even has an intuitive backplate that further improves the longevity of the design.
Additionally, the PCB of this card is sandwiched between the metal backplate and the metallic frame, which means you won't get any kind of annoying flex with the purchase. It will be rigid as it gets.
My Findings:
In conclusion, the ASUS ROG Strix OC is probably one of the Best 5700 XT that covers all the bells and whistles that are useful to help you start your gaming journey.
From looks to performance, it's an all-in-one unit. The ROG Strix design may not be new anymore, but why change something that already works wonders.
It is large enough to look impressive but not too big enough to cause you adjustability-related problems.
In addition to that, a neutral color scheme and a lot of RGB headers make it easy to match with most of the builds.
Other prime features include a physical switch to change the performance levels and two extra fan headers within the packaging.
#3- Gigabyte RX 5700 XT Gaming OC
Specifications
Boost Clock: 1905 MHz
Stream Processors: 2560 Units
Video Memory: 8GB GDDR6
Power Draw: 200W
Recommended PSU: 600W
Power Connectors: 1x 8-pin, 1x 6-pin
Ports: 3x DisplayPort 1.4 / 1x HDMI 2.0b
Dimensions: 11 x 4.5 x 1.9 Inches
Highlights:
Equipped with three 80mm fans with unique blade designs that are known for their longevity.
The copper heat pipes are in direct contact with the GPU that is covered by an additional metal plate for enhanced cooling.
Its alternate fan blade technology significantly suppresses airflow.
Compatible with RGB Fusion 2.0.
Its back-fin stacks carry a coal plate for cooling VRM and power delivery system.
It's currently an affordable RX 5700XT on the market.
Overall, it's a calm and quiet card.
Drawbacks
Just like the ASUS ROG Strix, it's a bulky GPU covering most of the length of PCB, so not suitable for mini ITX casing.
The RGB selection is limited, which is kind of a bumper for premium hardware like this.
When it comes to providing high-quality hardware, Gigabyte doesn't play around. Their products are ergonomically built with added thermal patterns, which you won't simply find anywhere else.
The best part about it is that most of their models are reasonably priced, which acts as a cherry on top for any gamer. The Gigabyte Radeon Rx 5700 Xt Gaming OC is another 3rd party GPU that is better than the reference model in every functionality.
Being part of the WINDFORCE cooling series, the Gigabyte Radeon Rx 5700 Xt Gaming OC boasts a much more realistic design seen in most current-gen RTX cards.
As expected, the top shroud of this GPU is color neutral, so you will be able to incorporate it in most of the builds. Its build quality is average with plastic, nothing out of the box, but for the price tag, it's reasonable.
Although, if you want to tweak the aesthetic a bit, you can utilize the RGB LED located at the side of the official Gigabyte logo.
You will see that it has a large metal backplate with a simple yet sleek black matte finish moving onto the rear side.
There are two PCIe power connectors at the exact location, just like the reference design, which you will be used to power this beast.
This also means that the power consumption of this model will be retained at 200W, which might not be ideal for budget gamers, but it is behind that ASUS Strix variant.
You will find your typical video ports (3xDP and 1xHDMI). Underneath the shroud surface, Gigabyte's renowned WINDFORCE cooling design is separated by a bulky heatsink and connected with a couple of copper heat pipes.
Unlike the Nvidia cards, the fins stack of this Gigabyte model will be evenly distributed, allowing more significant contact with the chip surface for better thermal transfer.
My Findings:
All in all, when we talk about price, performance, and looks, Gigabyte covers all the aspects of a premium card without making any complications for a mid-range gamer.
If you like playing your games at 1440p under max settings and on a decent display output, I will recommend that you go with the Gigabyte Radeon Rx 5700 Xt Gaming OC.
You will also be more than happy to know that it delivers exceptionally well in the cooling department.
The GPU temperature is maintained between 70 degrees even at max load, which is great for a competing card with the RTX series.
The only complaint most users have with this graphics card is the limited RGB effects, but if you don't care about these kinds of stuff, then the Gaming OC should be a must-have unit in your gaming arsenal.
#4- PowerColor Red Devil RX 5700 XT
Specifications
Boost Clock: 2010 MHz
Stream Processors: 2560 Units
Video Memory: 8GB GDDR6
Power Draw: 300W+
Recommended PSU: 700W
Power Connectors: 2x 8-pin
Ports: 3x DisplayPort 1.4 / 1x HDMI 2.0b
Dimensions: 11.8 x 5.1 x 2.0 Inches
Highlights:
Its two-step BIOS switch allows you to toggle between silence and performance mode within few seconds.
The VRM now takes ten power phases which are going to allow more clean and stable power output across the board.
Solid yet simple metallic backplate makes it reasonable.
The heatsink in this GPU is quite bulky and extends across the PCB, which aids in thermal performance.
IO ports in the design are illuminated to give you added comfort.
You will get additional ventilation on the backside since its design has several cut-outs.
Decent overclocking performance right of the box.
Drawbacks
Make sure you have enough clearance in your casing as it is more than 2slot GPU.
The position of the power connector of this card might be odd at first glance for most gamers.
PowerColor may be late to the party, but they certainly aren't the least in showcasing their new and improved Navi-based GPUs.
This particular model is one of their premium edition cards which is quite suited for any high-end gamer.
Whether you're looking for a solid card for your new build or looking to upgrade your previous-gen GTX hardware, the PowerColor Red Devil AMD Radeon RX 5700 XT is your one-stop-shop.
The overall body of this card has that aggressive gamer-centric look to it, while the side-end has a clean finish that is complemented by the official PowerColor logo.
I like that it is not overly obnoxious like most of the RX 5700XTs and contains a solid feel to it. Sadly, the actual shroud is made up of plastic, but it is relatively rugged and hardly fluctuates at all.
It is one of the most well-built models out there since its design is incorporated with durable metal. If you want quality and are looking to pay extra bucks, this is your all-in-one option.
The Red Devil RX 5700 XT uses a triple fan design, just like most of the graphics cards on the list. They share 90mm in dimensions and are much quieter than the single blower style one in the reference model.
They are also a bit glossy rather than overall matte construction, but you shouldn't notice it that much once you install them in your rig.
PowerColor did right with their hardware because they incorporated several RGB LEDs, which can be customized to your liking without any hefty procedures.
Due to the added size, the heat sink on this card is absolutely massive. It looks exceptionally well on paper, but it also got a bit of density on the rear-end, which most users won't find suitable.
My Findings:
So, this was the general walk-around of the card. my findings suggest that PowerColor did the right job in maintaining the card, especially the hardware parts.
The PowerColor Red Devil AMD Radeon RX 5700 XT looks nice and feels premium as they used prime materials in the construction.
Additionally, the VRM and PCB section upgrades make it a role model for every other Custom design.
It receives a significant boost in cooling thanks to these changes and can definitely get you the desired results without any complications.
While in terms of actual frame rates, it may not be a whole faster than the reference design, but you can't complain much due to the other benefits.
#5- MSI Gaming X RX 5700 XT
Specifications
Boost Clock: 1980 MHz
Stream Processors: 2560 Units
Video Memory: 8GB GDDR6
Power Draw: 225W
Recommended PSU: 750W
Power Connectors: 2x 8-pin
Ports: 3x DisplayPort v1.4 / 1x HDMI 2.0b
Dimensions: 11.6 x 5.5 x 2.2 Inches
Highlights:
Within the design, the aluminum baseplate makes contact with the video memory so that the thermal solution will get a bit of a boost.
As a Gaming X variant, it has a reasonably moderate fan design and heatsink.
TORX FAN 3.0 fan support for providing steadier airflow throughout the usage.
Compatible with RGB Mystic Light utility so you can customize the LED illumination according to your liking.
Increased in clock frequency through Afterburner Overclocking software.
A reasonable amount of thermal padding makes it relatively stable in the long term.
Drawbacks
Lengthwise, it's a bit taller than the reference design, so you will face some complications if you have a mini ITX case.
As compared to many 5700XT models, the power consumption is a bit on the higher end at 220W.
MSI's Gaming series has always been a leading driver for modern-day gaming, and so has this particular model, which doesn't hold the bars when it comes to delivering quality frame rates in any title.
It is designed explicitly for 1440p enthusiasts; however, you can use it for 4K as well as long as you're sensible in reducing the eye candy a bit. The main reason why it is included in my list is because of its compactness.
It is easily one of the most compact yet efficient RX 5700XT models in this guide. Aesthetically speaking, it can be recalled as the best looking of the bunch.
Most competitors complement the aggressive gamer-centric look in their hardware; however, that's not the case with the MSI Gaming Radeon Rx 5700 Xt.
It is built in a sleek design which will definitely compliment your build as long as you go for color neutrality.
Just as the reference design, the shroud is plastic, but some aluminum trimming over the ergonomics to complement the built.
At the front of the GPU, you will get 2X 100mm fans that assist in regulating the temperature with its suitable heatsink. There are a wide array of fin stacks along the length of the PCB, which aids in venting the air toward the rear side.
If you're wondering, yes, it does come with RGB illuminations. However, don't expect anything extraordinary as they are limited to maintain a clean outlook.
At the same time, the backplate is resided with a complete aluminum finishing to give the overall design a nice touch and add a bit of strength.
For the user's convenience, MSI has gone with two 8-pin connectors in this design which maintains the power consumption at 225W.
It might be a compact-looking unit, but don't get overthrown by the looks. The overall assortment is quite beefed up, so make sure you have the necessary room to make it operational in your build.
My Findings:
Overall, the MSI Gaming Radeon Rx 5700 Xt sits among the top in the 5700XT lineup, which can easily be seen in its performance.
On average, you will get around a 5% boost with this beast of a GPU compared to the reference variant.
Even in less optimized titles such as Cyberpunk 2077, you will receive a considerable amount of boost in framerates.
The only thing I miss within any 5700XT is the raytracing functionality, but other than that, they are good to go. Design-wise it's a sleek piece of hardware in which RGB is kept at a bare minimum.
Its thermal solution won't be high-end like the Red Devil AMD Radeon RX 5700 XT, but it's certainly not bad for the budget.
#6- Sapphire NITRO+ RX 5700 XT
Specifications
Boost Clock: 2035 MHz
Stream Processors: 2560 Units
Video Memory: 8GB GDDR6
Power Draw: Around 285W
Recommended PSU: 700W+
Power Connectors: 2x 8-pin
Ports: 2x HDMI 2.0b / 2x DisplayPort 1.4
Dimensions: 12 x 5.3 x 1.9 Inches
Highlights:
Added functionalities such as VRM cooling and robust PCB makes it stand out from the rest.
An intuitive full metal backplate ensure you get the premium experience out of this card.
Adjustable Dual BIOS switch allows you easy access to performance and quiet mode.
It allows you to downscale the resolution so you can get additional performance.
This card can display 4K@120Hz without any issue.
Amicable with Sapphire's TRI-XX utility so you can further customize your settings and monitor performance.
Up to 2010 Mhz Boost clock to make your frames go wild!.
Drawbacks
You will need to spend a bit more on Sapphire NITRO+ due to its top of the line ergonomics and efficiency.
It can be pretty unstable due to drivers related issues.
Finally, we have the Sapphire Radeon NITRO+ RX 5700 XT as my pick for the best bang for buck 5700XT in 2023. It's another higher-end card from Sapphire that is not only aesthetically pleasing but also performance-driven hardware.
Features AMD's new RDNA architecture in 7nm design and maintains a boost clock of up to 2010MHz, similar to XFX RX 5700 Xt Thicc III Ultra.
However, unlike the reference card, there are specific changes in its outputs. So, this time you will be getting 2xDisplayPort and 2xHDMI instead of 3x DP and 1x HDMI.
This functionality makes it a VR-friendly card, so if you're into that type of tech, you're better off with Sapphire NITRO+. For power output, it requires a 650W supply to be incorporated with two 8-pin connectors, which are reasonable for a triple-fan GPU.
The fan design features a new and improved Tri-X cooling system that works effectively to stabilize the core temperatures.
The fans themselves are built out of a dual ball bearing design that incorporates both clock and anti-clock rotation for better airflow.
Furthermore, its fan control technology makes sure that your card remains silent all time during high load.
Those of you who like to play with the hardware themselves will be glad to know that it features QuickConnect Fan technology meaning you can now upgrade or replace the fan head whenever the need desires.
If you want further specifications, you can use Sapphire ARGB fan heads, but it's not recommended unless you are curious about complete RGB builds.
Sapphire NITRO + also has the pride of integrating tons of RGB throughout the design. Now you can adjust it in any build without compromising much on aesthetics.
Additionally, you will get a three-pin header at the base of the card, which is quite helpful in syncing up your Motherboard.
My Findings:
If you want to play your favorite gaming titles at either 1440p and 4K and don't want to spend a lot of money on RTX 3000 series, I highly recommend you to get the Sapphire Radeon NITRO+ RX 5700 XT.
It got all the perks that you expect from a high-end card without any downscale in ergonomics.
In addition to that, its Tri-X cooler is superb and will get you the desired temps as you immerse yourself in intense gaming sessions.
Although some users complain about its driver-related issues, if you could set up these complications right of the back end, then the Sapphire Radeon NITRO+ is ready to go in any build.
How To Pick The Right RX 5700 XT For Your Needs: Buyer's Guide
Buying any new piece of hardware is not an easy chore, but things become a lot complicated when it comes to graphic cards.
There are multiple things any buyer needs to consider, such as overall dimensions, looks, cooling, clock speeds, and port selection.
And if you leave out a single or two aspects from the listings, you won't get the absolute best out of your buck.
To give you that peace of mind, I have come up with the following buyer's guide in which I have analyzed 5700 XT in terms of different aspects. So, in the end, you will be able to choose your RX 5700 XT without any confusion.
Related: Best RX 580 Graphics Cards In 2023 – (Budget Gaming GPUs)
Benchmarks: RX 5700 XT Performance In Video Games
Before we head straight onto GPU necessities, let's take a look at how RX 5700XT cards perform in real-time benchmark tests. As at the end of the day, only the firsthand gaming performance of a GPU truly matters.
Also, keep in mind that there isn't much difference in terms of FPS among the 5700XT lineup as they built upon the same hardware.
Of course, you will see a 5-6 FPS difference at maximum, but you will hardly notice it once it's operational in your rig.
We will be using Intel's Core i9 9900K CPU that has been clocked at 5GHz for ideal results for these benchmarking tests.
While for the ram, we will be utilizing 16GB DDR4 Corsair Vengeance memory with 1TB Seagate Hard Disk. All the drivers of these respectable cards have been updated to the latest versions to limit any fluctuations.
Starting at number one, we have Assassins Creed Odyssey, running at 1080p at high settings, and as you could see, the reference RX 5700XT is beating the RTX 2070 with minimal frames.
The margin may not be huge, but it is better to consider these cards a bit lower. Also, the 1% lows are relatively stable, meaning the new RDNA architectures work wonders even in unoptimized games such as this.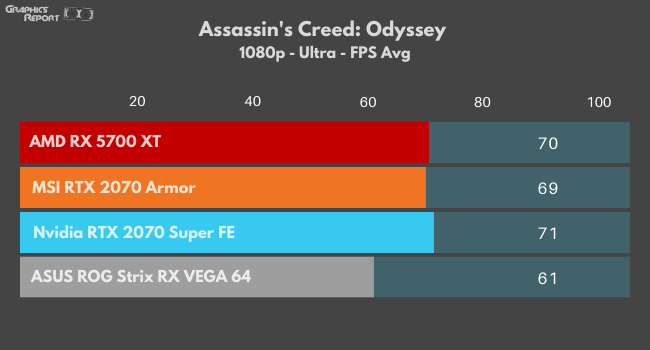 At 1440p, the results are again almost similar, with Nvidia's RTX 2070 Founder's edition model framing at 58 as compared to the 5700XT's 57FPS.
Vega 64 may be performing a bit less, but that was expected from a previous-gen GPU. Although, the game is still widely playable at 49FPS.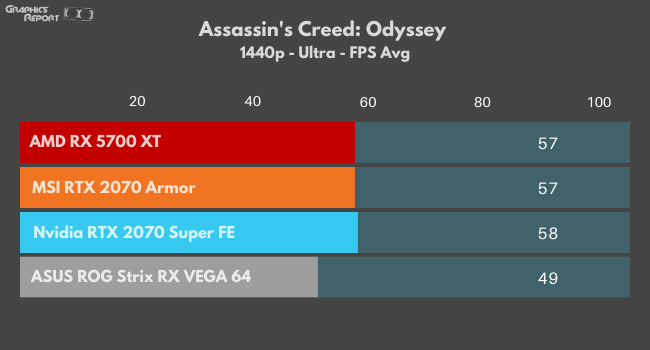 Moving onto our next game, we have Tome Clancy's Division 2, and as you could see in these types of games, the RTX 2070 is still ahead, but on average, AMD's reference card takes the win.
That's when the Nvidia's Superseries comes into play. These GPUs don't show a substantial jump in performance, but they are just enough to edge out the 5700XT.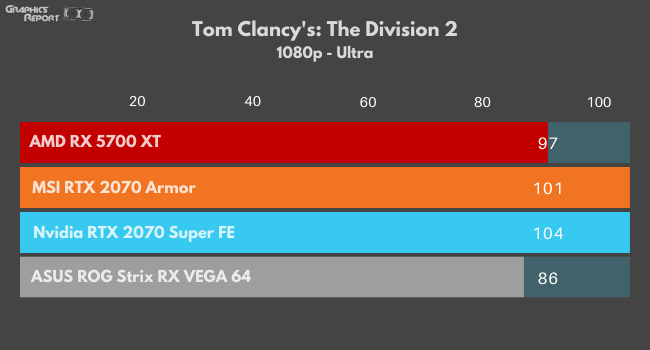 RGB Lighting, Design & Looks
Not everyone is a fan of aesthetics when choosing their tech; however, as we talk about gamers, the story is quite complicated.
Many high-end gaming enthusiasts want their build RGB-centric with multiple lighting effects that can be easily customized.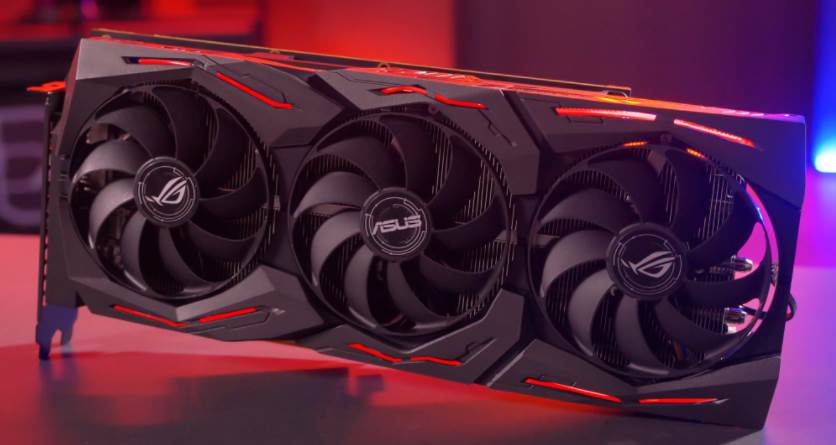 This gives their rig a premium or glossy outlook as they feel immersed in their high-resolution gameplay.
If you are that type of person, then the Sapphire Radeon NITRO+ RX 5700 XT should be a better option for you.
In contrast to that, for those who want a clean yet elegantly built design, the MSI Gaming Radeon Rx 5700 Xt is a better option.
It's a dual-slot card with metallic finishing throughout the design to look pleasing and make the overall body durable.
Related: Best RTX 2070 Super Graphics Cards – (The Ultimate Guide)
Clock Speeds, Overclocking & Cooling Mechanisms
Clock speeds are basically the number of oscillations per second that your chipset makes while operating.
Generally speaking, a GPU with a 4GHz clock is considered reasonable, but in high-end cards such as the 5700XT, you should definitely expect much more.
Average stress tests from multiple sources showed that cards such as the XFX Xt Thicc III Ultra and MSI Gaming XT showed better clock frequency than competitors.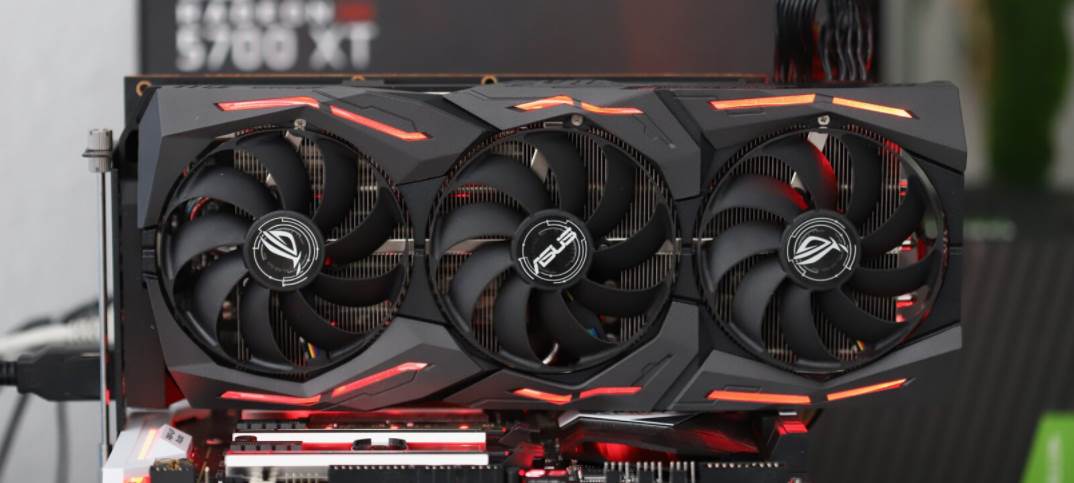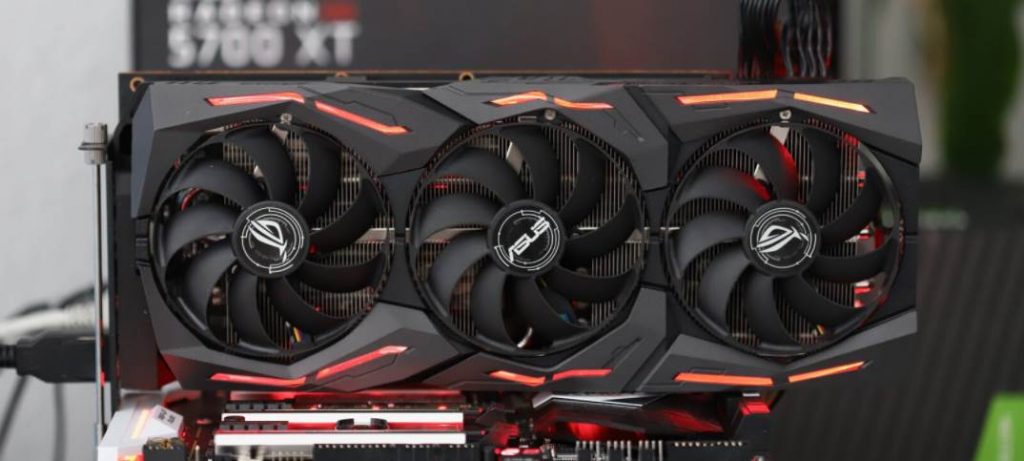 Oddly enough, the ASUS ROG Strix Model shows boosted clock speeds in quiet mode instead of performance mode, although the difference will be meager, and you can incorporate any setup in your gaming.
Practically speaking, the cards with the fastest clock speeds will result in 2-5% performance gains. Also, when it comes to raw performance that this can vary from sample to sample, so there is a high chance that your GPU might act differently under full load.
And even if it does perform 2-5% better than the rest, it's actually impossible to notice in real life. Additionally, keep in mind that the added clock speeds come at the cost of power draw.
So, GPUs such as MSI Gaming Radeon Rx 5700 Xt and ASUS Strix will receive higher power targets.
In contrast to that, cooling performance might depend on multiple factors. However, the most common one resides in shroud capability, quality of the heatsink, and overall fan design.
Related: Best GPUs For Ryzen 5 2600 Processors In 2023 – (Updated)
Modern Ports & Form Factor
When choosing a graphic card, one of the most common things often overlooked is the number and type of corresponding outputs.
You need to make sure that your GPU has the latest ports incorporated on them if you want exceptional performance. Ideally, reference RX 5700XT models are equipped with 3x DisplayPorts and a single HDMI.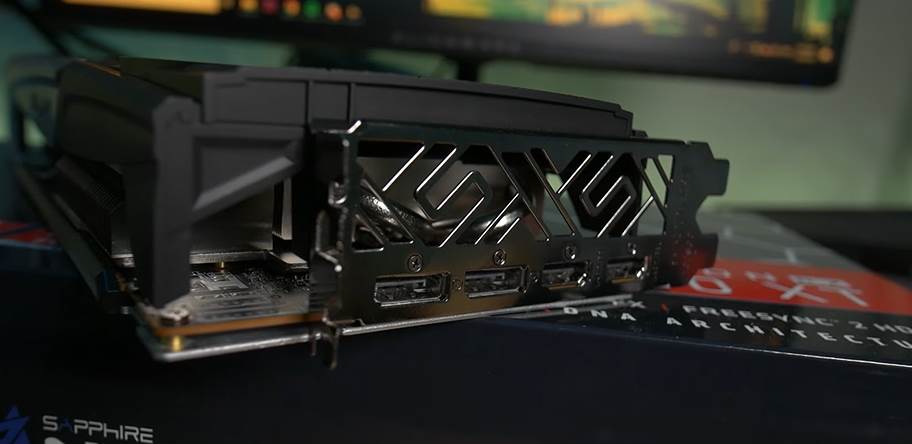 A display connection is quite helpful if you're going to use intuitive technologies such as G-sync or AMD's Freesync.
This will overall enhance your gaming experience and greatly minimize the stutter if your corresponding game supports it.
Similarly, HDMI output is one of the most renowned ports seen in newer setups. They are beneficial when it comes to regulating video or audio signals.
Also, even if you go with the third-party GPUs, you will see similar ports except for the Sapphire Nitro Plus, which has an additional HDMI for VR connectivity.
Similarly, a build's form factor and the card's overall dimensions should be considered when by the best 5700XT.
Most of the 5700XT models cover 3-slots of the PCB, so if you have something like a mini-ITX case, you should be better off with an RTX card.
Compatibility With Your PC Components
No matter which GPU you pick from the list, it all boils down to the overall compatibility of your other PC components at the end of the day.
As discussed before, RX 5700XT cards are based on AMD's new-gen RDNA architecture, so make sure that your system components aren't outdated.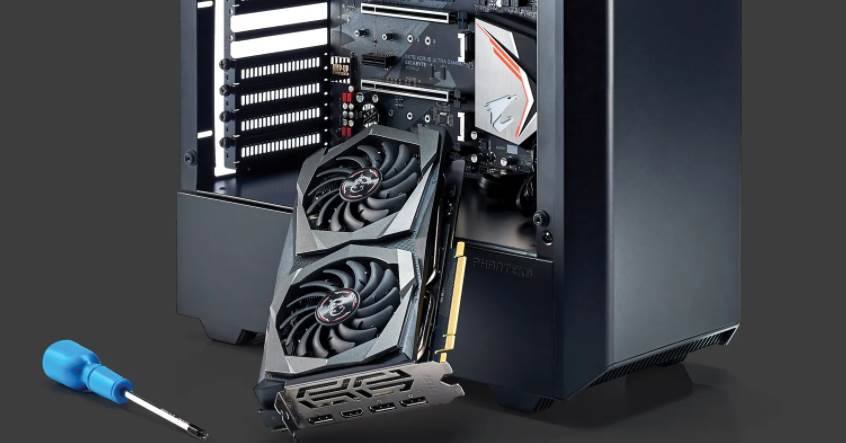 When it comes to compatibility, the number one often underestimated hardware is the type of Motherboard.
This is why I will advise you to pick something like ASRock B450M PRO4 or Asus ROG Strix X570-E Gaming if you plan on getting any of these 3rd party 5700XT cards.
Also, make sure not to go for motherboards like ASUS PRIME B450M-A AM4 M-ATX.
They are fully compatible with this hardware, but you will face adjustability-related issues. Another vital component is the power supply.
Anything like 650-700W will do just fine, although make sure to check the particular specification before making any decision.
Budget & Brand
Lastly, you need to make sure that you possess the specific budget for the preferred card. This can be a bit tricky nowadays, considering the market fluctuations.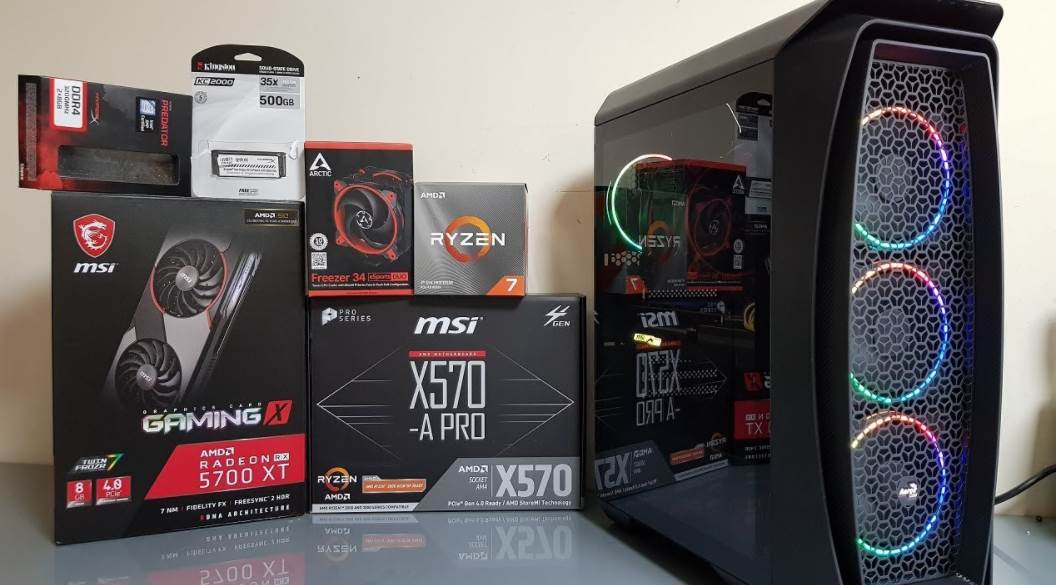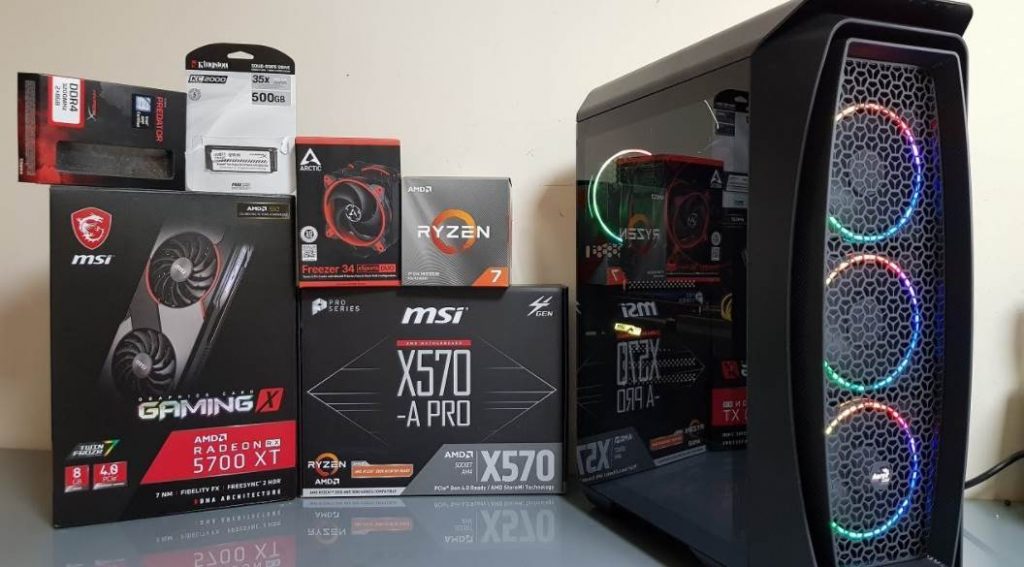 However, you may find a decent deal on your purchase if you remain consistent. If that's not the case, try to explore the second-hand market, which will further ease your decision.
3rd party GPUs are priced a bit higher than the reference models; however, given the added functionality, they are absolutely worth it.
Similarly, brands such as ASUS are a bit premium as compared to something like XFX. So, if you want the additional quality, you might have to buy extra as well.
End of The Line:
These were my picks for the Best 5700 XT on the market that you should definitely get in 2023. If you're still not sure, then let me summarize my views quickly.
When comparing thermal and noise levels, the first thing you should notice is that they all do exceptionally well and are much better than the reference cards.
Most of them run much more relaxed and even incorporate additional cooling for VRAM and memory as well.
The main thing here to notice is that the difference between them is relatively small.
MSI's larger dual fan GPU performs somewhat similar to Gigabyte's bulkier Gaming OC that comes in a triple fan design, but it uses a bit more power for that meager performance increase.
So, all in all, there is a good or bad card here; ultimately, it comes down to your personal preferences when buying these cards.
Although, no matter which one you pick, it will be pretty fast, noticeably quiet, and get you the desired gaming results.
Frequently Asked Questions (FAQs)