GraphicsReport is supported by its audience. When you buy through links on our site, we may earn an affiliate commission. Learn More
Best GPUs For Ryzen 7 2700X To Shop In 2023

Ryzen 7 2700x is still the best bang for buck AMD high-tier desktop GPU that can fulfill your gaming needs without any question asked!
So, do you want to play any game at 1080p, most of the titles at 1440p, or do you want to live stream on twitch, edit 4K videos, or even run system-intensive programs such as blender?
Then the Ryzen 7 2700x is your one-stop-shop. This CPU is a solid all-rounder with few compromises.
It won't result in the fastest build in the gaming world, but it will lead to a solid form that won't be outdated in the years to come.
When it comes to playing games at significant frame rates at both 1080p and 1440p, an excellent CPU to GPU combo is crucial. Especially GPU is often left out in most of the builds, which results in many complications.
It's worth mentioning that using the fastest GPU in the market removes much of the system being bottleneck, allowing the CPU's full power to shine.
That's why today we will talk about some of the Best GPU For Ryzen 7 2700x that you can go for. Whether you currently own a budget or want optimal performance, I have the pick suitable for you.
So, let's start the reviews!
Best GPU For AMD Ryzen 7 2700x – Comparison Table
image
name
price
SPECS
ASUS ROG Strix AMD Radeon RX 5700 XT

V-RAM: 8GB GDDR6
Stream Processors: 2560
Dimensions: 12 x 5.1 x 2.1 Inch
Boost Clock: 2035 MHz

ASUS ROG STRIX
GeForce RTX 2080 Ti

V-RAM: 11GB GDDR6
Cuda Cores: 4352
Dimensions: 12 x 5.1 x 2.1 Inch
Boost Clock: 1665 MHz

Gigabyte GeForce RTX 2070 Super 

V-RAM: 8GB GDDR6
Cuda Cores: 2560
Dimensions: 11.2 x 5.6 x 1.9 Inch
Boost Clock: 1815 MHz

MSI Gaming X Radeon RX 5700 XT

V-RAM: 8GB GDDR6
Stream Processors: 2560
Dimensions: 11.6 x 5.5 x 2.2 Inch
Boost Clock: 1980 MHz

EVGA GeForce RTX 2070
Super KO Gaming 

V-RAM: 8GB GDDR6
Cuda Cores: 2560
Dimensions: 10.6 x 4.3 x 1.9 Inch
Boost Clock: 1770 MHz

ZOTAC GAMING GeForce RTX
2060 SUPER MINI 

V-RAM: 8GB GDDR6
Cuda Cores: 2176
Dimensions: 8.3 x 4.7 x 1.6 Inch
Boost Clock: 1650 MHz
Best GPU For AMD Ryzen 7 2700x Processors
Trust me, getting a prime GPU for the price is not an easy job. There is a shortage of manufactured chips as well as the unavailability of their stocks.
That's why I went through dozens of renowned platforms like Newegg and Amazon and read reviews of firsthand consumers in creating this list.
So, no matter which one you pick for your preferences, you won't be disappointed.
Although keep in mind that most of these cards are added board partners such as MSI, so you will see differences in things like cooling performance. Other than that, you are good to go.
#1- ASUS ROG Strix AMD RX 5700 XT OC
Specifications
Boost Clock: 2035 MHz (OC Mode)
Stream Processors: 2560
Video Memory: 8GB GDDR6
PCIe Version: 4.0
Recommended PSU: 600W
Power Draw: 300W to 350W
Power Connectors: 2x 8-pin
Ports: 3x DP 1.4 / 1x HDMI 2.0b
Dimensions: 12 x 5.1 x 2.1 Inch
Highlights:
Equipped with a 2.7slot design with triple fans running under axial tech for effectively regulating the temperatures.
Built with the aid of solid state capacitors and supper alloy component to enhance the longevity significantly.
Control and monitor the GPU settings like thermals according to your will with the incorporation of GPU Tweak II.
It keeps the noise levels at the bare minimum with the integration of 0dB Technology.
Aura Sync software lets you customize the RGB settings according to your preferences.
The GPU boost clock is managed at 2035 MHz which is more than enough for a mid to high range card.
Its PCI Express 4.0 complaint with a decent set of ports.
This GPU is direct X12 ready.
Drawbacks
Its struggles a bit at 4K max settings, so you have to tweak the settings a bit for an optimal experience.
There is little to no effort in the overall packaging for this device.
Staring the list at the first spot, we have the ASUS ROG Strix AMD Radeon RX 5700 XT, my pick for overall Best GPU For Ryzen 7 2700x.
This is an upgraded version of the original RX 5700 XT by Asus with a reliable custom design, advanced cooler, and overclocking potential.
It is available with MaxContact technology, incorporated with triple axial tech fans and a massive heatsink.
Similarly, it is equipped with some other advanced features, which make it stand out from the rest, including a Dual BIOS switch, Fan connects 2, and an intuitive AURUS utility for customizing the built-in RGB LEDs.
Keep in mind that it may not be the cheapest RX 5700 XT on the market, but the performance and durability it delivers won't let you down in the long run.
Aesthetically speaking, there is some subtle alteration in the original Strix models. The overall black construction with some RGB headroom running parallelly gives it a decent outlook.
You will have a black shroud that is plastic while externally but still match up with the design and hardware setup. You can also take advantage of the AURA Sync software to make it look more pleasing.
Additionally, there is a button at the backside of the card to enable or disable the RGB setup to give your build a classical vibe.
The ASUS ROG Strix AMD Radeon RX 5700 XT is a massive card over 300mm lengthwise, and the width and height stand at 120mm and 52mm, respectively.
It comes factory overclocked, so the range of its potential majorly relies on power limit and overall cooling.
My Findings:
So, the ASUS ROG Strix AMD Radeon RX 5700 XT is undoubtedly the best GPU for Ryzen processors.
It supports quality setups like Direct X12 and OpenGL 4.6, but it also has a BIOS switch next to the LED button, which allows you to switch between quiet and performance mode without a hassle.
Those of you worried about its larger design will find that it occupies two spaces on the casing and three slots on the motherboard. This means that it's ideal for a triple-fan card like that.
It's still renowned in the industry, and I highly recommend getting it for your gaming goals this year.
#2- ASUS ROG STRIX RTX 2080 Ti OC
Specifications
Boost Clock: 1665 MHz (OC Mode)
CUDA Cores: 4352
Video Memory: 11GB GDDR6
PCIe Version: 3.0
Recommended PSU: 650W
Power Draw: 300W to 350W
Power Connectors: 2x 8-pin
Ports: 2x DP 1.4 / 2x HDMI 2.0b / 1x USB Type-C
Dimensions: 12 x 5.13 x 2.13 Inch
Highlights:
It comes in a 2.7slot wide design with auto-extreme and MaxContact cooling technology for keeping the temps low as possible.
Just like the previous model, you will get a dual BIOS mode for added versatility.
This beast of a GPU supports water cooling, which is only available in some premium cards.
It supports all the cool RTX features such as raytracing for the top of the line gaming.
It is fully functional for 4K resolution as long as you have the desired display.
Capable of RGB synchronization thanks to the Aura Sync utility by ASUS.
Made for newer generation titles with the aid of DirectX 12 and Vulkan support.
Drawbacks
The addition of extra bulk can make your system a bit unstable; however, it compensates for the additional cooling.
If you praised the previously reviewed card about the RX 5700 XT version, then you will love this one as well. Both of them feature an almost similar design and ergonomics with variations in the original line-up.
With this 2080Ti series, Asus has taken a step further in the performance department. You will still have the silver-colored metal back, which is now painted black as well.
While the diecast, which is supposed to hold the card together, looks a bit sleek. Moving onto the fans, they are pretty similar with slight edges around the corners, making the cooling a bit efficient and giving it a next-gen vibe.
Another thing to note is that it is compatible with many motherboards, making it future-proof, unlike the previous Strix card.
Being a larger GPU helps to look more impressive, especially when you have a larger case for making your card shine aesthetically.
Ensure that you don't have a minor ITX case as it may pose adjustability-related issues. Additionally, it's about 2cm taller than the standard card means you need a bit of space as far as your build goes.
The cooling solution of the 2080Ti model is similar to the previous-gen. It's just that on the Ti version, the overall cooling is slightly offset.
If you give a closer look at the ASUS ROG Strix AMD Radeon RX 5700 XT, you will find that it has two fan connectors that you can use to regulate them inside the casing.
It's worth mentioning that it's a more extensive card because of its triple fan design but because of the integration of a custom PCB. This is done in order to add different phases to memory.
My Findings:
All in all, if you're in the market for the Best GPU For Ryzen 7 2700x, then you can't go wrong by getting the ASUS ROG STRIX GeForce RTX 2080 Ti.
In contrast to that, it is a ROG card; it has tons of room for RGB lightning. RGB is on the backplate; there is an RGB logo on the front side, so it's hard to miss once you implement it in your next build.
Moving on to the performance point of view, this graphic card is a beast. It demolishes both 1080p and 1440p benchmarks at max settings without any kind of bottleneck.
At the same time, the RTX functionality goes a long way when you use it for 4K.
#3- Gigabyte RTX 2070 Super
Specifications
Boost Clock: 1815 MHz
CUDA Cores: 2560
Video Memory: 8 GB GDDR6
PCIe Version: 3.0
Recommended PSU: 650W
Power Draw: 300W to 350W
Power Connectors: 1x 8-pin + 1x 6-pin
Ports: 3x DP 1.4 / 1x HDMI 2.0b / 1x USB Type-C
Dimensions: 11.2 x 4.5 x 1.9 Inches
Highlights:
The triple-fan design is known for its high-end turbulent airflow for maximizing the cooling potential.
It provides its user a regulative RGB Fusion 2.0 software with more than 15M color synchronization.
The 8+2 power phase design in this Gigabyte GPU will stabilize the power output and prevent any thermal issues.
Just like the more advanced 2080 model, there is a ton of overclocking potential under its belt.
A nice looking backplate further increase its charm across the board.
7680×4320 of display resolution under 60Hz are more than enough for premium gaming.
Several video outputs, including the Type-C port, make it VR Ready.
Performance-wise, it's worth the price.
Drawbacks
The official RGB utility in Gigabyte devices is not well optimized and can take some time to utilize.
Limited RGB effects in this RTX 2070 Super is not ideal for modern-day standards; however, it still looks pleasant.
The RTX 2070 Super is another of Nvidia's top-of-the-line cards with a decent potential for raytracing. This GPU, in particular, is featured by Gigabyte, which is another prime card for the price you pay for.
Like the reference model, it comes equipped with TU-104 architecture with 2560 CUDA cores, an upgrade from the original 2304.
Similarly, it gives the user 53 RTX-OFFs and 8GB GDDR6 memory along with a 256-bit memory bus. With these kinds of specs, it's ready to perform in any modern game without any complication.
Also, you will get single 8 and 6 pin connectors with it, so the overall power draw is high. That's why it is recommended that you cover the PSU rating of 650W.
The card has three DisplayPort, a single HDMI, and a virtual connection for all VR enthusiasts out there. There is a sturdy aluminum heatsink on it, which will be a bit bigger than the previous-gen Gigabyte card.
Keep in mind that the GPU itself is two slots with copper pipes divided across six sections to enhance the overall cooling.
The three installed fans in the design are less than 90mm, with the middle one can rotate in the opposite direction for extra heat dissipation.
It won't stand out from the rest in terms of build quality, although it's not that bad. While the shroud is made from cheap plastic, the backplate is smooth and completely metallic for longevity.
If you want further customization, you can use the Gigabytes synchronization utility to control the RGB headers. It won't be all flashy so try not to hope for a complete RGB build.
My Findings:
From different benchmarks and other tests, it's quite clear that this 2070 model easily outperforms the more advanced RTX 2080 model, especially when we talk about the 1080p and 1440p resolutions.
While at 4K setup, this card will run just fine, giving you a decent gaming experience in the long run.
If you could get your hands on one of these, then I would recommend that you never should back out from the purchase.
Additionally, even if you could opt for this graphics card in the second-hand market, you won't be disappointed.
#4- MSI Gaming X Radeon RX 5700 XT
Specifications
Boost Clock: 1980 MHz
Stream Processors: 2560
Video Memory: 8GB GDDR6
PCIe Version: 4.0
Recommended PSU: 750W
Power Draw: 225W to 300W
Power Connectors: 2x 8-pin
Ports: 3x DP 1.4 / 1x HDMI 2.0b
Dimensions: 11.6 x 2.2 x 5.5 Inches
Highlights:
A minimal and tasteful implementation of RGB lightings on this GPU makes it more pleasing and retains the modern design.
The overall ergonomics are more premium thanks to the brushed metal plate at the backend.
The reinforced PCB and the beefy cooler add to the overall thickness of this RX 5700 Xt Gaming X.
MSI's TWIN FROZR design works wonders with the 3x TORX fans.
This card stays pretty much dead silent due to the regulative fan rotation.
The curved diamond-shaped fins greatly help in the heat dispersion.
Generous thermal pads are covering the memory and PVM modules.
Drawbacks
Except for the backplate, most of the parts of this card are made from plastic; however, the build quality doesn't look cheap.
As we know that even though AMD can't keep up in the ultra-high-end GPU market, they do kind of stand out in the low to mid-tier card market, and the RX 5700 Xt is a clear example of this statement.
This particular model is refurnished by non-other than MSI, making it a beast of a GPU. It's basically a 7nm chip, which is built on AMD's Navi architecture.
You will get 2560 Stream processors, along with 8GB of DDR6 based VRAM, and using the latest PCIe 4 standard.
The reference design of this GPU has a base clock frequency of 1605MHz and boost speeds of 1905MHz.
On the other hand, this particular card offers an impressive out-of-the-box overclock of 1730MHz, which is more than enough to give you a decent gaming experience.
The MSI Gaming X Radeon RX 5700 Xt also ships with dual 8xpin connectors rather than previously 8 and 6 pin connectors, which should give it a bit more overclocking potential.
Besides an enhanced overclocking headroom, this adaptor also offers a few other nifty upgrades. MSI stepped up their game when it comes to aesthetics in this GPU.
It replaces the gamer outlook with a classical and sleeker upgrade in ergonomics due to the new silver and grey color scheme and retaining a bit of original design, especially the red accents on the front side.
In contrast to that, there are a few RGB LEDs on the card's side, giving it an additional charm in any build.
Similarly, the included backplate is full metallic, so you won't need to worry about its longevity. In contrast, the ZERO FROZR technology enhances cooling while retaining noise levels.
My Findings:
The MSI Gaming Radeon RX 5700 Xt Gaming X is clearly quite a beast at Esports titles and most single players focused games at both 1080p and 1440p resolutions.
This ideal GPU For Ryzen 7 2700x also runs surprisingly cool even in intense gaming sessions.
Besides, it regulates these ideal temperatures without imposing too much noise, which is excellent for a mid-range RX 5700 Xt.
Most users complained about coil wining issues in this model; however, if you monitor the performance levels without putting too much stress on it, you will be more than satisfactory.
So, is it worth upgrading your card to this model? Absolutely!
#5- EVGA RTX 2070 Super KO Gaming
Specifications
Boost Clock: 1770 MHz
CUDA Cores: 2560
Video Memory: 8GB GDDR6
PCIe Version: 3.0
Recommended PSU: 650W
Power Draw: 280W to 350W
Power Connectors: 1x 6-pin + 1x 8-pin
Ports: 3x DP 1.4 / 1x HDMI 2.0b
Dimensions: 10.6 x 4.3 x 1.9 Inches
Highlights:
Built-in Precision X1 utility allows you to optimize and accurately monitor your performance with added ease.
It's quite a beefy card at an affordable price tag.
Equipped with top of the line turing architecture with raytracing functionality for supreme gaming.
It's a dual fan GPU with decent aesthetics that can be incorporated in most of the builds.
Made specifically for low acoustic setups without any kind of fluctuations in the performance.
Ideal performer for both 1440p and 4K gamers as long as you have a decent refresh rate monitor.
Its an affordable option from EVGA.
Drawbacks
There is a lack of RGB LEDs, so you won't be able to customize it according to your build; however, being a small card with a black color scheme, it can be integrated into most setups.
No metallic backplate makes it some cheap model.
Nvidia's RTX series is currently renowned in the industry for providing an extreme gaming experience to its users, and the 2070 model is no exception to it.
Currently speaking, the EVGA GeForce RTX 2070 Super KO Gaming is another high-end card that is quite suitable for processors like Ryzen 7.
Together they can run almost any current title with definitely playable framerates at decent resolutions.
Unlike the previous versions by EVGA, this one is a KO model, one of their mid-tier design capable of top-notch performance.
Surprisingly, it is equipped with a dual-slot construction induced with full hydro bearings to increase the visuals and durability.
Sadly, it lacks a metal backplate, a significant downside for a high-end model like this, but since it imposes other prime features, you can't complain much.
There are some ridges over the fan blades of EVGA GeForce RTX 2070 Super KO Gaming which ultimately helps with the laminar airflow for better cooling and makes the overall card run a bit quieter.
Just like its other RTX brothers, it has multiple monitors support for extra ease of mind. If you have an older DVI, this GPU won't let you down. Of course, the video outputs come with an HDMI port and a couple of display ports.
This also means that you can do dual G-sync without any additional accessories. You should get this card because it supports both 1440p and 4K gaming, so if you have a high refresh rate monitor, you are good to go.
Another thing to notice is that it's an 8GB card, not a 6GB one, so it is future-proof to some extent.
My Findings:
All in all, the EVGA GeForce RTX 2070 Super KO Gaming is an exceptional card for Ryzen 7 2700x CPUs.
It boasts decent idle temperatures with minimal noise emissions, and under max loads, it remains a smooth performer.
Additionally, the card itself is phenomenal. It doesn't integrate those flashy RGBs; however, the look and design are top-notch.
And most importantly, it performs the way it's intended to be. Of course, it's not a perfect card and contains some limitations.
But for the price point, it's the ideal contender for 4K gaming, without any doubt. Even being a bulkier card, if you could mount it vertically, you won't face any issues regarding adjusting it.
#6- ZOTAC GAMING RTX 2060 SUPER MINI
Specifications
Boost Clock: 1650 MHz
CUDA Cores: 2176
Video Memory: 8GB GDDR6
PCIe Version: 3.0
Recommended PSU: 550W
Power Draw: 175W
Power Connectors: 1x 8-pin
Ports: 3x DP1.4 / 1x HDMI 2.0
Dimensions: 8.3 x 4.7 x 1.61 Inches
Highlights:
Instantly monitor hardware status and other functionalities through the ease of ZOTAC's Firestorm utility.
This card contains a full metallic backplate which looks pleasing and enhances durability.
Bulky heat fins and regulative copper heat pipes throughout the construction make it a solid performer during high temperature.
The dual-slot ergonomics only takes 8.2 inches lengthwise.
Being an RTX model, Its real-time raytracing for a genuine gaming experience.
It's compatible with both 64-bit Windows and Linux based operating systems and supports features such as Direct X12 and Vulkan API.
For further enhancing cooling while keeping the acoustics low, it utilizes ICE Storm 2.0.
Drawbacks
In non-gaming sessions, it can lead to high temperatures, which is not ideal for an RTX card.
There is a bit of coil whine issue, which makes gaming a bit hard, but as long you use headphones, you won't face any issue.
Finally, we have the ZOTAC GAMING GeForce RTX 2060 SUPER MINI, which, as the name suggests, is known for its compact nature.
So, I rightfully bring you another RTX card that won't be as prime as any 2070 or 2080 model but has decent raytracing and DLSS potential at an affordable price.
Also, keep in mind that this particular model comes in different designs with slight variations in the boost clock frequency.
It features boost clock speeds of 1650 MHz, 8GB of VRAM, 14GB/s memory speed, and a 256-bit memory interface. The main difference between this variant and the Founder Edition one is since it looks a bit pleasant.
You will see two intuitive fans that have been completely redesigned on the front of the card, so all the fins produce much airflow as possible.
This GPU is also very simplistic in aesthetics. Nothing outlandish about it, and it can fit in almost any case with small footprint aid.
As far as the ZOTAC GAMING GeForce's length goes, its 10.55 inches, the width, and height stand at 1.5 and 4.45 inches, respectively. Besides, it's a dual-slot card, so that you can adjust it without complication.
It incorporates a single 8xpin power connector which is the same as the Founder's Edition. The only difference is that it draws around 170W of power.
It is also recommended that you use a 500W of power supply for optimal performance. There is a precise ZOTAC nomenclature on the GPU's top, which lights up to give the whole design additional charm.
While on the backside, it has a decent metallic backplate.
My Findings:
In conclusion, this card is a strong contender for any advanced AMD CPU like the Ryzen 7 2700x. It can beat AMD's previous-gen Vega 56 without any complications.
While when compared to the renowned 1070, there isn't much of a difference. At 1440p, it can give you decent fame rates, and if you want those glossy raytracing visuals, you can incorporate them without a hassle.
It can run under 80degree during max loads, which is not that extraordinary; for getting this sort of performance and boost clock speeds, bringing some additional temperatures isn't a real deal-breaker.
If you're in the market for Ryzen 7 2700x, then you can't go wrong buying this GPU.
Things To Consider Before Buying The Best GPU For Ryzen 7 2700x
Choosing the Best GPU For Ryzen 7 2700x is one thing, but getting optimal firsthand results is another thing.
Before you get your preferred card, make sure to go through a detailed buying guide and consider things like clock speeds, type of cooling, overall length, aesthetics, and even budget.
Here are some benchmarks and a brief buyer's guide, which will help you decide on a prime GPU for a CPU like Ryzen 7.
More guides:
Best Graphics Cards Under 200 In 2023
Best GPUs For Ryzen 5 2600 Processors In 2023
Benchmarks:
So, it all boils down to the firsthand performance that you will be getting off these cards once you incorporate them with a top-rated CPU like Ryzen 7 2700x.
The best way to test any graphic card value is by using it in a bunch of benchmarks. Following are some of the games tested with RTX 2060.
For setup, we will be using the MSI B450 TOMAHAWK motherboard, connected by 32GB DDR4-3200 RAM, and using 1TB NVMe SSD in terms of storage.
While for the power supply, we will be integrating EVGA 450-500w. So, let's get into it!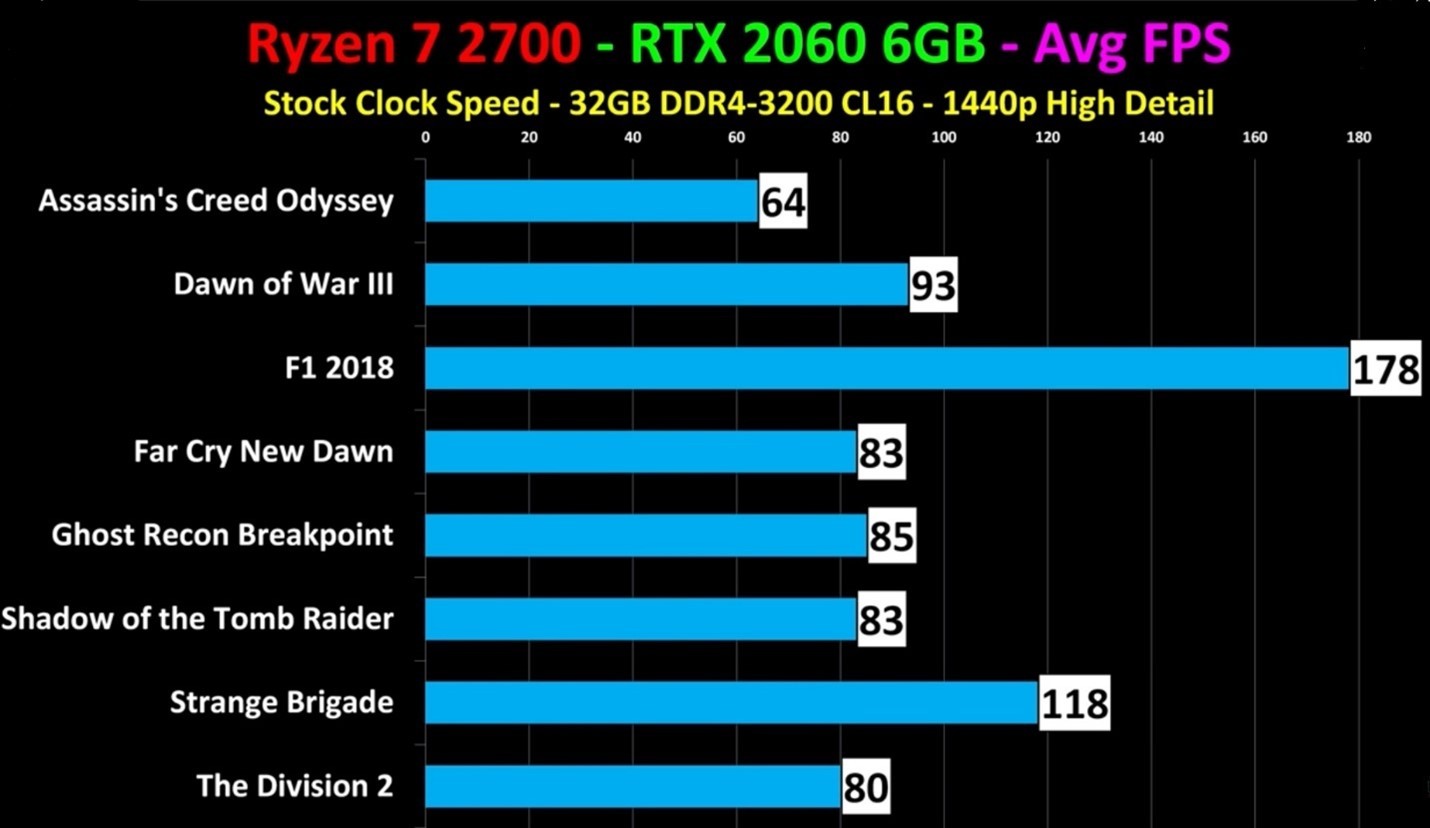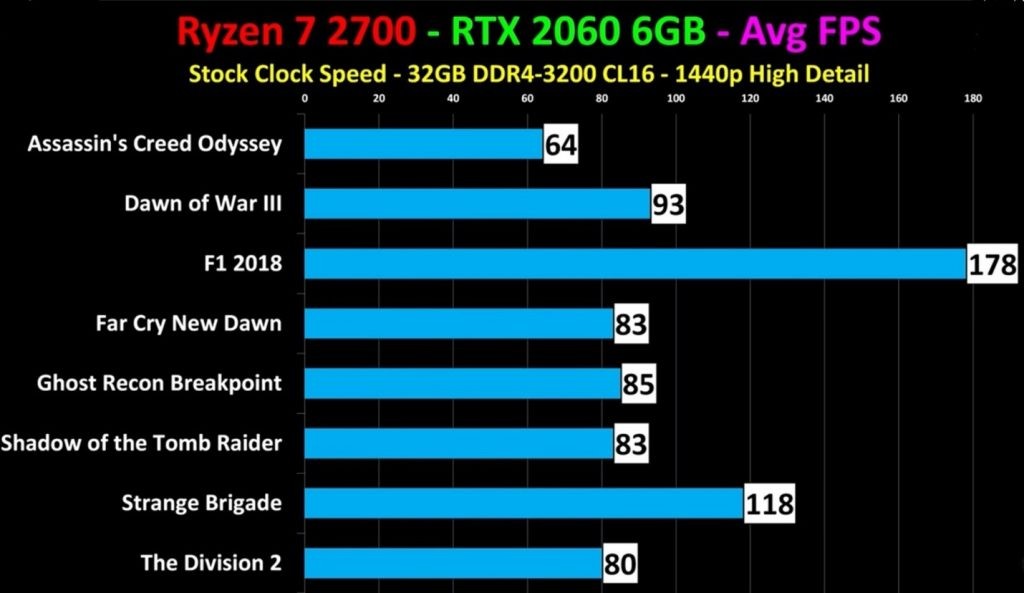 At 1440p with max settings, we could see a 64FPS average in Assassin's Creed Odyssey, which is, of course, the lowest performer so far because it's a recent game with poor optimization.
If you want to play titles like these at 1440p, I would recommend that you turn down the details at medium or turn off the specific settings such as Shadows for a smooth performance.
In contrast to that, the rest of the games, including Far Cry; New Dawn, are in the 80FPS range, which is reasonable considering the hardware.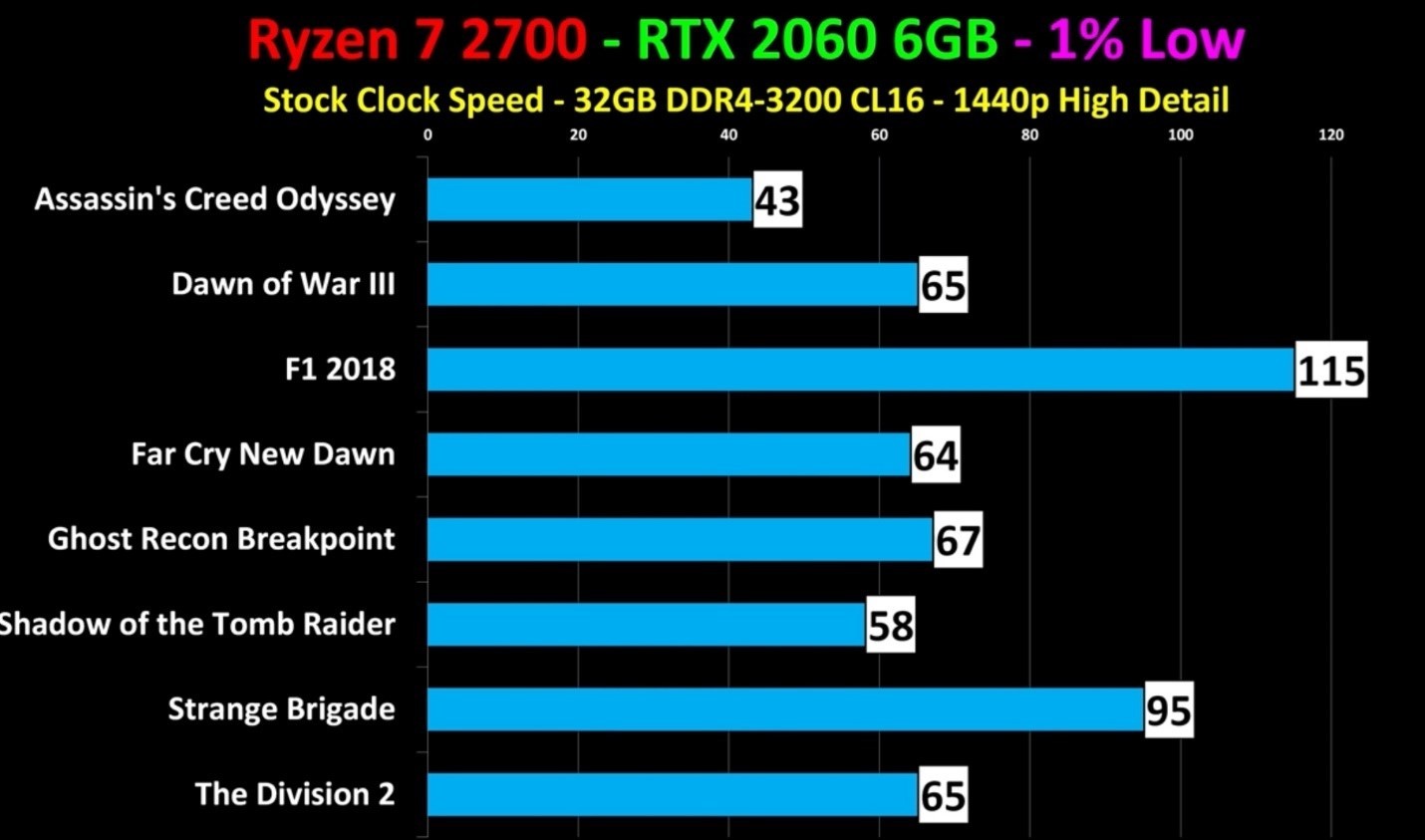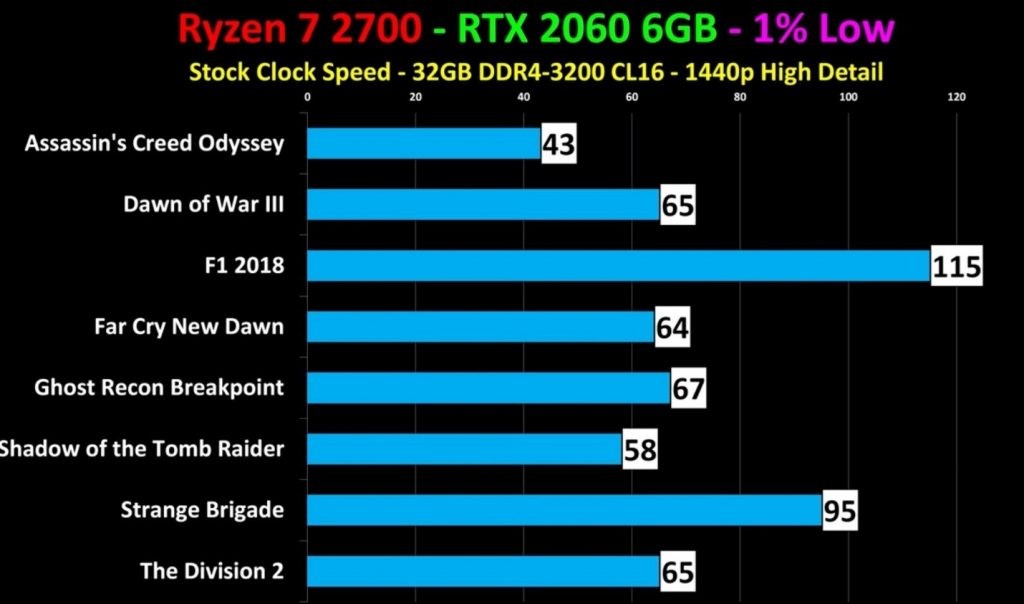 As for 1% lows, you can see that again, Assassin's Creed Odyssey fell right off the corner at 43FPS, but the rest of the games held pretty close to 60 frames per second.
This means that the vast majority of the time, you will easily average above 60FPS landmarks in today's AAA titles. Keep in mind that your results may vary a bit, but the general notion is the same.
V-Ram & Clock Speeds
One of the integral components of any graphic adaptor is the built-in memory or widely renowned as V-RAM.
The higher your VRAM is, the greater can you adjust the graphical textures to the max details leading to premium immersion.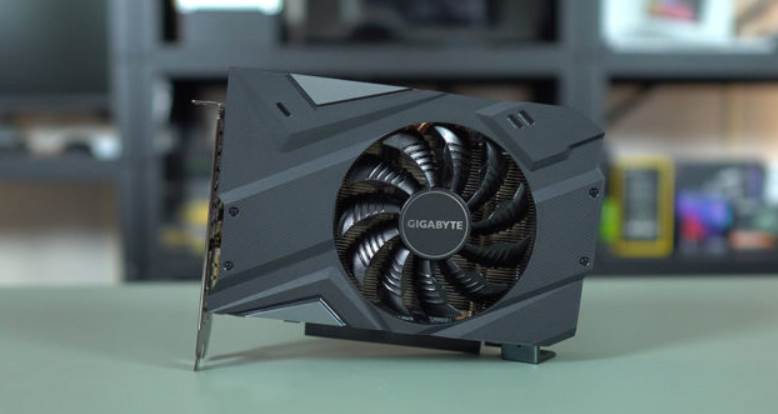 Back in the days, any system with a card bosting up to 2GB VRAM was enough for optimal performance at even max settings.
But as the games as their concurrent engines advanced, there is a need for greater memory capacity in the respective GPUs.
This is the reason why manufacturers are releasing cards that are integrated with 8GB and more VRAM.
However, if your goal is to play games at 1080p at max settings, any card with 6GB of memory will be just enough.
However, if you have the budget, go for the 8GB model without any doubt. Similarly, clock speeds are another thing to consider when shopping for a brand-new graphics adaptor.
Some GPUs come factory overclocked, so if you want convenience, go for these variants.
Performance
I am sure most gamers are considerate with this aspect of a GPU or even a CPU. The price to performance ratio should be the primary concern when you're getting a graphics card.
There is no doubt that the best way to measure the performance level is by taking some benchmark tests. They will, of course, vary with the built-in architecture.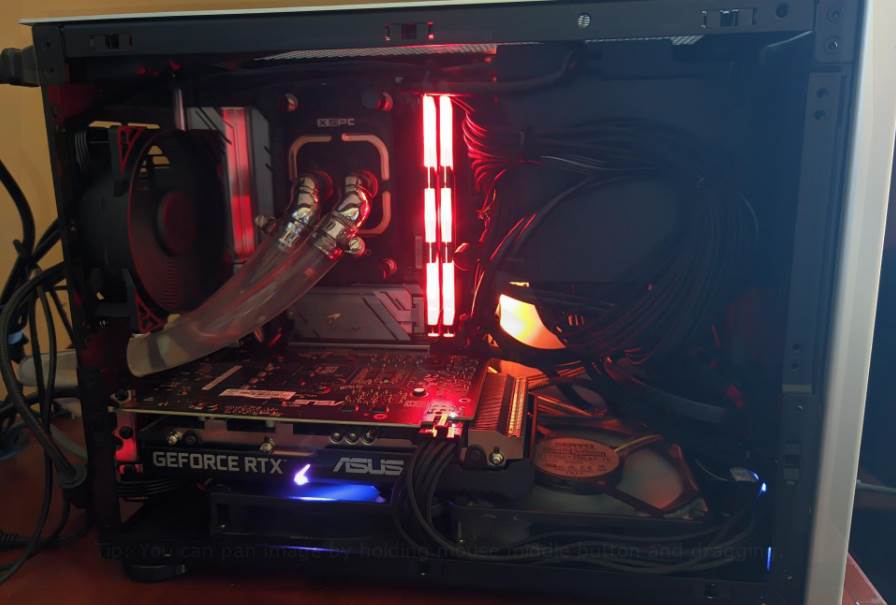 For example, there is a considerable boost in Nvidia's GPUs from pascal to Turing architecture results in enhanced frame rates in almost any title.
So, make sure to analyze different benchmarks over the internet before you make your decision. If you are gaming at 4K, you will need to consider a high-end card such as the newest RTX 3000 series.
While for 1440p gaming at mid to high settings, any RTX 2060 or 2070 will do just fine. They won't be utterly future-proof, but other than that, they are good to go.
Design & The Size
It can be easily said that the card's overall aesthetics and design are subjective, so it will mostly depend upon your preferences.
If you want a high-performance GPU with decent cooling, then you can leave this aspect, no questions asked.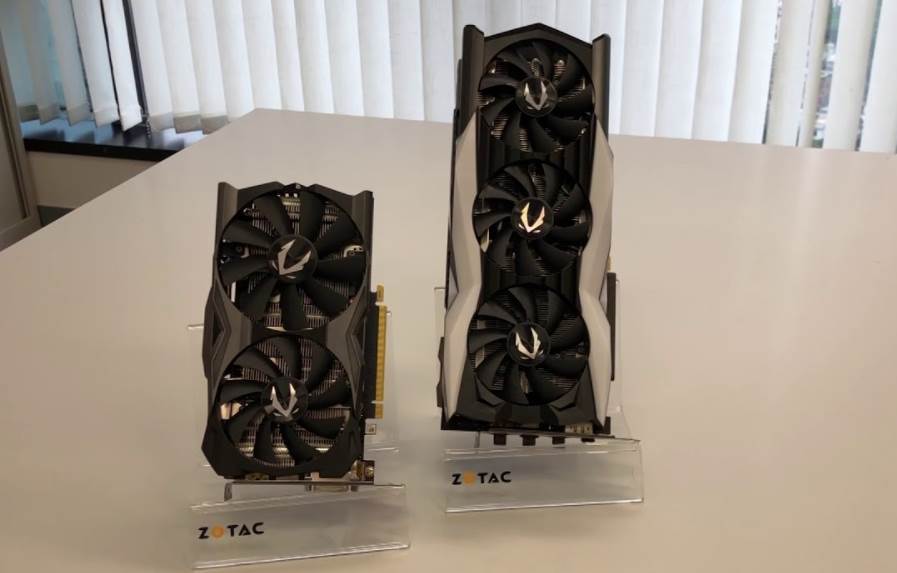 However, if you're the type of guy who is into those flashy RGB, you should opt for add and board partners such as EVGA or MSI.
Their cards have a decent setup of RGB LEDs, along with reasonable and easy-to-use utilities that can get you going within no time.
Some of them even incorporate a sleek-looking metallic backplate to make the card look more pleasing. However, it might not be harmful to go for a classical design with minimal gloss.
Similarly, size matters, especially in terms of GPUs. Any dual-slot video card can be instantly installed in any mini-ITX case without any trouble.
However, if your preferred display adaptor is in 2.7slot ergonomics, then you should consider sizing it within your case.
Your Budget
Whether you go for a video card's performance or aesthetic aspect, you should need to reconsider your budget.
How much you are willing to spend on a PC accessory will represent the overall value you will get within games.
If you are among the 3% of gamers who want the best visual experience possible, the newest RTX 3000 series and a high-refresh-rate monitor should be pretty reasonable.
In contrast to that, if you are ok with playable framerates at 1080p within mid-range settings, then any latest GTX GPU should be your priority.
Cooling & No of Ports Available
Cooling performance is a characteristic that is specific to the GPU design that should not be overlooked.
The reference models by top manufacturers like AMD and Nvidia are not well known for top-of-the-line cooling aspects and decent aesthetics.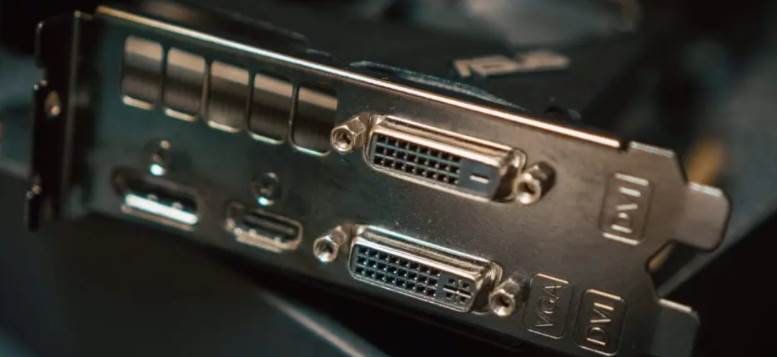 That's why partners like ZOTAC come in place to cover these perks with the addition of some extra cost. Generally speaking, MSI is clearly the winner when we compare video cards based on cooling.
Their ZERO FROZR technology is renowned for regulating temperatures at max loads without any significant noise emissions.
In comparison to that, others like ASUS and Gigabyte are also fully functional in both ergonomics and overall cooling.
In comparison, the port selection falls into additional characteristics that won't generally improve your gaming experience but can be beneficial for those looking to enjoy their VR headsets.
If you're into VR, make sure that your GPU has a decent port selection, including a Type-C output.
Thermal Design Power
No doubt that thermal design and cooling can go well on well, so make sure to cover this aspect.
If your video card has an optimal amount of copper pipes running across the construction, along with sleek fins, you won't have to worry much about high temperatures.
Similarly, a compact shroud can help you out with airflow so that your games can run as smoothly as possible.
Make sure to spend some extra cash on the power supply and try to manage the PSU rating of your dedicated display adaptor.
A 500W power supply is more than enough but make sure always to check twice the required amount.
End of The Line:
These were some of the products that provide an ideal combination for the Ryzen 7 2700x. If you are still confused, then let me summarize it quickly.
This CPU is an absolute powerhouse when paired with any of the cards mentioned in the list. These are 1440p cards today and 1080p cards for the next three or so years until the new games arrive on the market.
For every dollar your spending on them, you will get great value. Besides, the fact that you can get a 4K video editing workstation for under $1000 is phenomenal.
Additionally, it's worth mentioning that each of these cards has specific cooling and design onto it, so if you want to go for the preferred option, you should do so.
Frequently Asked Questions (FAQs)