GraphicsReport is supported by its audience. When you buy through links on our site, we may earn an affiliate commission. Learn More
6 Best Graphics Card For VR (Improve Your VR Experience)

It can be wise to say that,
VR or virtual reality is, for most of the part is GPU bound, meaning you will require a premium graphic card for a decent experience
It's a known fact that Virtual reality is not compatible with almost any PC system, and at the end of the day, you will need to spend a bit on your hardware to prevent yourself from getting motion sickness.
That's why, before opting for the latest and greatest headsets such as HTC Vive, Oculus Rift, or Windows mixed reality, you will need to go through the developer specs and other input display requirements.
However, when it comes to playing games within the virtual realm, one of the often overlooked components is the graphic card itself. Sure, a powerful CPU and sufficient RAM are needed to handle all those background calculations.
Still, VR needs far higher resolutions across two screens at a higher bitrate, which needs to be controlled by the graphic cards themselves. This means you should incorporate a high-end card, and you'll be fine? Right?
Well, running VR is much more complicated than that. That's why today, we will be going through some of the Best Graphics Card for VR that you should opt for in 2023.
Each of them has its own price tag set, so no matter what your budget is, I got you covered. So, let's look into it!
Best VR Ready Graphics Cards – Comparison
image
name
price
specs
ASUS TUF Gaming
AMD Radeon RX
6900 XT OC 

RAM: 16GB GDDR6
Stream Processors: 5120
Dimensions: 12 x 5.5 x 2.2 Inches
Boost Clock: 2340 MHz

MSI Gaming X RTX 3080

RAM: 10GB GDDR6X
Cuda Cores: 8704
Dimensions: 12.7 x 5.5 x 2.2 Inches
Boost Clock: 1815 MHz

 XFX RX 5700 Xt
Thicc III Ultra

RAM: 8GB GDDR6
Stream Processors: 2560
Dimensions: 12.4 x 5.1 x 2.2 Inches
Boost Clock: 2025 MHz

Asus GeForce RTX
2070 Super
Overclocked 

RAM: 8GB GDDR6
Cuda Cores: 2560
Dimensions: 10.5 x 4.7 x 2.2 Inches
Boost Clock: 1845 MHz

ZOTAC GeForce GTX
1660 Ti 

RAM: 6GB GDDR6
Cuda Cores: 1536
Dimensions: 6.8 x 4.3 x 1.3 Inches
Boost Clock: 1770 MHz

MSI Gaming
GeForce GTX 1650 

RAM: 4GB GDDR6
Cuda Cores: 896
Dimensions: 9.6 x 5 x 1.5 Inches
Boost Clock: 1710 MHz
Best VR Ready Graphics Cards
Graphic cards are available with a wide range of performance features, but not every one of them is suitable for VR gaming.
Some of the cards may lack the necessary display output, while others may include lower video memory, which can lead to poor image quality and frame time.
To help you pick the best, I have compiled the following list based on first-hand customer reviews, professional inputs, and popularity. So, no matter which one you choose for your rig, you won't be disappointed in the long run.
#1- ASUS TUF Gaming RX 6900 XT OC
Specifications
Boost Clock: 2340 MHz
CUDA Cores/Stream Processors: 5120 Units
Video Memory: 16GB GDDR6
Power Draw: 300W
Recommended PSU: 850W
Power Connectors: 2x 8-pin
Ports: 1x HDMI 2.1 / 3x DisplayPort 1.4a
Dimensions: 12 x 5.5 x 2.2 Inches
Highlights:
Operates under Axial Tri-fan cooling setup.
Its equipped with GPU Bracket as well as DUAL BIOS so you can tweak between different performance levels.
Fully compatible with AMD's Anti-Lag feature.
Overall cooling and noise levels are regulated pretty effectively so you can enjoy seamless VR.
Its MaxContact technology improves thermal transfer, so the frames remain constant throughout the load
Equipped with the latest HDMI 2.1 output, which makes it a VR ready graphics card.
Robust ergonomics and vivid visuals
Drawbacks:
Lack of USB Type-C connection makes it less price to performance VR card as compared to competition.
Even being top of the line, it is not practical in many parallel creative workflows
At number one spot, we have the TUF Gaming AMD Radeon RX 6900 XT OC from ASUS, which is our pick for the Best Graphics Card for VR in the market. It's a high-end GPU from AMD Navi that comes factory overclocked to give you premium support in the VR realm.
On top of that, compared to Nvidia's flagship 3000 series, its MSRP stands a bit lower, so you won't have to break the bank while availing it. Inclusively, the TUF Gaming AMD Radeon RX 6900 XT is a gigantic graphic card, covering up to 2.9slot of the PCB.
Its monstrosity not only applies to length but thickness and height as well. The overall dimensions stand at 12 x 5.5 x 2.2 inches, which is kind of worrying for those with compact setups. So, if you have something like a mini ITX casing, you're better off with the likes of other RTX variants.
In contrast to that, spec-wise, it demolishes the competition. With the aid of 16GB DDR6 based VRAM, it will lead you to smooth details no matter which type of VR headset you're using.
Similarly, the build quality on this piece of hardware is on an extreme level. Except for the fan blades, the whole body is covered by top-end aluminum. Besides that, implementing a thick shroud and a solid backplate gives it a slight bit of versatility and a premium look.
It's also a 3X fan GPU based upon axial tech fan blades that incorporate reverse rotation for better air ventilation. At the same time, the addition of a fan stop feature will allow you to maintain the card's longevity without any hindrance.
At the rear end, behind the memory modules, there are some indentations as well, which further enhance the cooling. Furthermore, the RGB LEDs are kept minimal on the design to make it look classic in any build.
My Findings:
When it comes to price to performance ratio in VR, the RTX 3070 might be top of the pack at the base MSRP, but the 6900XT, especially this particular model, is not entirely out of the competition.
It works wonders in any 1440p or 4K gaming benchmarks, which means you won't be facing any complications even in the most demanding VR titles.
Play popular titles such as Half-Life Alyx or enjoy a pleasant time in The Cliff House without any stutters or added fluctuations. In contrast to that, it shares a robust cooling solution with a hefty shroud, so managing high temperatures won't be a big deal.
If you have the dedicated spacing in your casing and the budget, then I highly recommend going for it. It's undoubtedly one of the Best Graphics Card For VR.
#2- MSI Gaming GeForce RTX 3080
Specifications
Boost Clock: 1815 MHz
CUDA Cores/Stream Processors: 8704 Units
Video Memory: 10GB GDDR6X
Power Draw: 340W
Recommended PSU: 750W
Power Connectors: 3x 8-pin
Ports: 1x HDMI 2.1 / 3x DisplayPort 1.4a
Dimensions: 12.7 x 5.5 x 2.2 Inches
Highlights:
Equipped with a custom PCB and a bulky shroud to greatly enhance the heat dissipation.
A wide array of nickel-plated heat pipes in the heatsink makes it a stable yet robust unit in the 3080 lineup.
It features TORX 4.0 fans which focuses on increasing airflow with low noise levels.
Multiple RGB throughout the body that are fully customizable with MSI's Dragon Center software.
It supports an HDMI 2.0 in the IO department, which is effective in displaying 4K at proper FPS.
Fully reinforced graphene-based backplate for added durability.
Adaptable with Nvidia's G-sync technology.
Drawbacks:
This card is mainly targeted toward premium gamers, so for some VR lovers, it might be an overkill.
Its quite a large graphics card with a bulky shroud, so you will be susceptible to GPU sag.
The RTX 3080 GPUs are presently considered Apex predators of high-end cards as they surely know how to provide convenience at an additional cost.
If you're a premium gamer or a VR enthusiast and want the best of the best, I can't recommend you in getting this beast of a GPU. This particular 3080 model is from MSI, which doesn't joke around when it comes to thermals and added accessories.
It has more than enough specs for a VR-ready graphics card, which won't fluctuate your experience—Design-wise, it certainly shares some of the characteristics from other MSI top-tier GPUs.
The shroud is mainly angular physically and has a black and grey color scheme. This means if you have a color-neutral setup, you won't face any issues in adjusting it.
Although, it is worth mentioning that the MSI Gaming GeForce RTX 3080 is a pretty big graphic card, measuring 12.7 x 5.5 x 2.2 inches.
On top of that, it weighs just under 5 pounds, so VR gamers with smaller casings should not utilize it properly. Due to its large stature, MSI has included a support bracket in the packaging so you can prop it up a bit and eliminate any GPU sag.
It also shares a triple fan design, with each fan blade measuring 90mm. The cooling setup uses Tri-Frozr 2 technology, which effectively stabilizes the load without raising the acoustic levels.
At the rear end, it is not surprising to see that MSI has included a full-length backplate, but the fact that it is made from graphene instead of the aluminum plates is quite unusual.
This integration, they say, makes the overall ergonomics 4X more substantial than a standard plastic backup. Additionally, to run this monstrosity, you will require a recommended PSU of 750W to be incorporated by 3×8-pin power connectors.
My Findings:
In conclusion, there might be dozens of premium Graphics Cards for VR, but what separates this model from the competition is its quality performance, decent visuals, and cooling solid setup.
Whether you're using Oculus Rift S or HTC Vive, you won't face any hurdles because it has a wide range of output support.
It's also worth noting that this video adaptor is designed for 4K graphics, so you're free to use it for ultra-high-resolution gaming.
The only significant disadvantage of this piece of technology is its large size and rugged appearance. But if you have a decent-sized tower, you won't face any complications.
#3- XFX RX 5700 XT Thicc III Ultra
Specifications
Boost Clock: 2025 MHz
CUDA Cores/Stream Processors: 2560 Units
Video Memory: 8GB GDDR6
Power Draw: 200W
Recommended PSU: 600W
Power Connectors: 2x 8-pin
Ports: 3x DisplayPort 1.4 / 1x HDMI 2.0b
Dimensions: 12.4 x 5.1 x 2.2 Inches
Highlights:
One of the best GPU for Elite Dangerous VR on the market because of its seamless and ergonomically feasible shroud.
It has a strong heatsink with a well-designed internal memory to improve cooling efficiency.
Designed to work for both 1440p and 4K displays while still supporting the architecture for 8K resolutions.
Based on XFX's dynamic cooling technology to maintain ideal temps at high load.
It has AMD VR Ready Premium compatibility.
Equipped with the latest VR display connections
XFX includes a 3-year limited warranty with this card.
Drawbacks:
The exclusion of raytracing support is a drawback of this XFX card.
Its current drivers are pretty unstable, which results in constant crashes and Direct X errors.
It can be rightfully said that AMD's rDNA-based graphics cards could be an excellent choice for those looking for the best value-for-money GPUs in 2023.
This specific RDNA model is a rebranded version from XFX, which allows the user to archive even better clocks, so your frames remain stable even in tiresome VR sessions. Similarly, its premium nature and inclusion of additional features make it suitable for mid-range gamers.
Out of the box, it features an innovative cooling system, which fits in perfectly with the triple fan design to keep temperatures low even during the most intense gaming sessions. The RX 5700Xt models are renowned for their depraved noise levels; however, this isn't the case with the XFX RX 5700 Xt Thicc III Ultra.
It supports 0db auto load sensors, allowing your card to run at high RPMs while reducing noise output. Additionally, this card is simply stunning in terms of aesthetics.
You'll be introducing it into every kind of construct thanks to its intuitive but straightforward nature. At the same time, those of you who are weary of the RGB impact will be pretty pleased to learn that the XFX RX 5700 Xt Thicc III Ultra is devoid of RGB headers.
This also means that now you can keep your rig's traditional style without any problems. It even implements a Dual BIOS switch to adjust your performance levels according to the given condition.
Unlike the MSI RTX 3080, it boasts two 8-pin power connectors that regulate a minimal 300W of TDP while requiring a 650W of recommended PSU.
While, the IO department is quite similar to the rest of the RTX lineup, with three DisplayPort and a single HDMI output. While for display, it has HDR support, so you can enjoy next-gen visuals right off the bat.
My Findings:
All in all, if you're searching for the ideal price to performance card in 2023 and don't want to overspend on RTX models, then I exceedingly recommend buying the RX 5700 Xt Thicc III Ultra from XFX. Its main selling point lies in the cooling department, as the name implies.
So, even when running at boost clock frequency, it can significantly lower temperatures thanks to a bulky but reliable shroud and additional copper heat pipes throughout the design.
With that said, it can be a power hog most of the time, so keep in mind to buy a solid 650-800W power supply if you want the optimal results. Other than that, whether you use it for next-gen VR or 1440p gaming, you won't be disappointed.
#4- ASUS RTX 2070 Super OC EVO Dual-Fan Edition
Specifications
Boost Clock: 1845 MHz
CUDA Cores/Stream Processors: 2560 Units
Video Memory: 8GN GDDR6
Power Draw: 200W
Recommended PSU: 650W
Power Connectors: 1x 6-pin, 1x 8-pin
Ports: 3x DisplayPort 1.4 / 1x HDMI 2.0b
Dimensions: 10.5 x 4.7 x 2.2 Inches
Highlights:
It is the sweet spot among RTX GPUs for 1440p and 4K in some games.
Lined-up with DLLs support for delivering a high-quality VR experience.
Monitor your gaming performance through utilities like GPU Tweak II and XSplit Gamecaster.
A robust backplate at the rear end ensures the longevity of the design.
Compatible with DirectX 12 for delivering vivid visuals in your VR realm.
Reliable hardware and well-designed setup.
Cutting-edge Auto-Extreme Technology for providing additional support to the thermals.
Drawbacks:
It might not be utterly silent at full load, however as long as you use headsets, you will be good to go
Some users are complaining about its coil whine issue, but other than that, it's absolutely worth the price
Moving onto another top-rated ASUS card, we have the GeForce RTX 2070 Super EVO, which comes with all the bells and whistles you need for stable VR performance in 2023.
RTX video cards have already been featured in much VR-ready hardware, and this particular model is no exception. It's a solid GPU that shares a dual-fan design and comes factory overclocked for extra convenience.
In general, it has the same configuration as the Pallet RTX 2070 but with a much better shroud and overall coverage. The majority of the construction will be plastic-based.
Still, you will also get a large metal plate integrated directly on the shroud to give it a bit more aesthetically appealing look. Its fans rely on Triple Axial Technology, which significantly enhances the airflow through the heatsink.
While the 0db feature ensures that your card stays silent most of the time, it currently lacks the fan stop feature, which is needed nowadays to keep the card running at optimum speeds and ensure its longevity.
But other than that, it's a complete unit. Although it is a 2.7-Slot card, the overall dimensions aren't that wide, so that it will fit into most ATX cases without any issue.
At the rear side, the Asus GeForce RTX 2070 Super Overclocked features a full-length metallic backplate complemented by a brushed finish to give it a nice touch. Sadly, there aren't any RGB headers on the base, but you can't complain much about the price tag.
While for the IO, you will be receiving the standard 1x HDMI 2. 0 port and 3x DisplayPort 1. 4, which are more than enough for most VR headsets in the market. The PCB section is lined up with 10+2 phase VRM, which is nice to have in a 2070 GPU.
My Findings:
If your looking to move from team red to team green, then the Asus GeForce RTX 2070 Super Overclocked is the ideal card to start with.
It comes equipped with all the features that you want to see in a premium card but without the addition of that hefty price tag. Sure, it might not be a cheap alternative, but considering the current GPU market, it's the best bet.
The great thing about it is that it comes factory overclocked while remaining very calm and quiet. Besides that, you will get the implementation of the RTX features, leading you to a better experience, whether in VR or regular gaming.
#5- ZOTAC Gaming GTX 1660 Ti
Specifications
Boost Clock: 1770 MHz
CUDA Cores/Stream Processors: 1536 Units
Video Memory: 6GB GDDR6
Power Draw: 120W
Recommended PSU: 450W
Power Connectors: 1x 8-pin
Ports: 3x DisplayPort 1.4 / 1x HDMI 2.0b
Dimensions: 6.8 x 4.3 x 1.3 Inches
Highlights:
A wide array of overclocking makes it one of the fastest 1660Ti on the market.
You will get a decent selection of video outputs.
It is PCI express 3.0 complaint as well as Direct X12 ready.
4K at 60Hz is possible in some games due to its premium hardware setup.
It will undoubtedly fit in most if not all cases due to the compact setup.
To power this mini-monster, you will only require a 450W of power supply.
Multiple copper heat pipes running across the heatsink gives it better cooling.
Drawbacks:
There is no backplate; thus, the PCB is exposed to scratches or any damage.
It lacks the SLI functionality so that you won't get the most out of your buck.
Nowadays, not everyone has the budget and hardware to enjoy a premium VR experience; if that's the case with you too, then you will defiantly praise the ZOTAC Gaming GeForce GTX 1660 Ti. ZOTAC hardware is already renowned in the gaming community as they have been producing some of the best quality gadgets. Their products are regulative, performance-driven, and, best of all, cheap for general consumers.
This particular variant acts as an entry-level card for VR enthusiasts, professional video editors, and graphic designers. So, if you want to use it for content creation as a side hustle, you can rightfully do so. Unlike the AMP Edition from ZOTAC, this standalone version arrives without some prime features, such as a proper backplate and a factory OC.
However, it does have one significant benefit under its sleeve, and that is its compact nature. The overall design is super minor and, therefore, will be ideal for small form-factor builds. Besides that, it weighs just under 1.5 pounds so that you won't face any sag. In this 1660Ti, the shroud itself is plastic and partly conceals the heatsink; however, that is expected from a budget perspective.
Similarly, it features a Twin fan configuration at the top section, which works wonders for maintaining the temps. Like the ASUS 2070 Super, this card lacks RGB LEDs, but the overall design isn't bad, though, and can fit right into any color-neutral build.
It's worth considering that this GPU is compatible with FIRESTORM software, which you can use to nudge up the boost frequencies. In contrast to that, it is equipped with 6GB DDR6 video memory to get pretty decent performance. However, if you're playing anything like Half-Life Alyx, you should think about the corresponding resolutions.
My Findings:
Non-RTX cards aren't actually fancy in the current VR market; however, that's not the case with this particular model. It's a standard, all-in-one unit from ZOTAC that can get you running in no time.
The main benefit of this card over the others is that it will come at the base MSRP while still offering better value for money.
Similarly, it has a decent array of outputs that are necessary for any modern VR headset. If you don't want the absolute best in the market and are reasonable enough to leave some of the prime features, then the ZOTAC Gaming GeForce GTX 1660 Ti might be the ideal option for you.
#6- MSI Gaming GeForce GTX 1650
Specifications
Boost Clock: 1710 MHz
CUDA Cores/Stream Processors: 896 Units
Video Memory: 4GB GDDR6
Power Draw: 85W
Recommended PSU: 300W
Power Connectors: 1x 6-pin
Ports: 2x DisplayPort v1.4a / 1x HDMI 2.0b
Dimensions: 9.6 x 5 x 1.5 Inches
Highlights:
TORX 3.0 Fan dispersion technology can elegantly reduce the high temperatures.
Its Zero Frozr mechanism ensures that the noise levels remain all-time low during intense performance sessions.
Its latest Turing architecture makes it 50% more powerful than the previous-gen GTX 1050.
There are both display ports as well as an HDMI output for delivering solid VR visuals
Intuitive design with robust metallic construction for added durability.
One of the best budget graphics cards for VR that will lead you to optimal results.
Easy to install and use with the help of a single 8-pin power connector.
Drawbacks:
As its more of a budget-oriented card, you won't get any flashy RGB LEDs on it, however overall design-wise, its solid.
At the back of the design, it lacks a proper backplate which is frustrating, given the rest of the competition is better equipped.
Finally, we have the MSI Gaming GeForce GTX 1650, another minimum graphics card for VR that can get you set while remaining within the budget range.
It may not be as fast as some of the RTX models on our list, but it is undoubtedly one of the best in price-to-performance capability. On top of the features, it has decent visuals and an efficient cooling system that is hard to find, even in premium GPUs.
Looks-wise, it is pretty similar to previous-gen MSI GPUs. Although, it changes the red and black color scheme for a grey and black finish.
The official MSI logo has also been updated, and although there is no backplate, it has added various angular cuts throughout the base. Overall, the card looks great and can be adjusted in any color-neutral build.
As discussed earlier, the MSI Gaming GeForce GTX 1650 is a dual-fan card with a plastic shroud but a powerful cooling setup.
Approximately three copper heat pipes are running across the length of the PCB to give it better thermals out of the box. At the same time, the video memory has a thin metal plate attached directly on, which further increases the ventilation.
Many of you who enjoy the fan stop feature will be pleased to learn that this card includes Zero Frozr technology.
Thus, by utilizing it, you can archive even better noise levels even in high-stress conditions. Furthermore, this video adaptor allows you to customize the MSI logo using the intuitive Dragon Center; however, the illumination is limited as there is no RGB.
Furthermore, it is well-equipped in terms of IO. Not only does it have 3xDP like RTX versions, but it also has an HDMI performance for greater flexibility.
My Findings:
To be honest, a GTX 1650 model like this particular MSI variant will be more than enough for decent VR performance.
Now, it may not have all those latest and greatest functionalities under its sleeve, but if you're not concerned about them either, then the MSI Gaming GeForce GTX 1650 will be more than get the job done.
It's a 100W TDP card, after all, so there is decent potential in the power department. Its equipped with Twin Frozr 7 Thermal configuration, which is decent enough to uphold high temperatures while still keeping the noise levels as low as possible.
Some users complain that it fluctuates a bit while rendering in After effects, but other than that, it clearly maintains the price to performance premium.
How To Choose The Best VR Graphics Card For You?
Finding the right graphic card is often confusing rather than fun, and when it comes to VR, things become further complicated.
Stuff like port selection, resolution compatibility, and overall dimension significantly impact the buying decision.
To help you choose the Best Graphics Card For VR, I have compiled the following list of primary aspects that you should defiantly consider in any GPU.
After going through it, I believe that you will decide better and optimize your VR experience.
Related readings:
Discussing The Benchmarks – (Not All Cards)
Benchmarks can be ideal selection criteria for choosing the best bang for the buck hardware, and Graphics cards are no exception to that.
You must make sure that the video adaptor you choose outperforms the competition in first-hand tests. Typically speaking, there are different types of benchmarks themselves, one of the most common gaming ones.
Now, we know that virtual reality programs work somewhat differently than traditional games, even though they use the same setup, so you'll get a general idea.
For the tests, I will be using Ryzen 5 2600, which is a six-core CPU, running at stock speeds with MSI's 450i motherboard. In contrast to that, we will be having 16GB of Corsair's IPX 3000MHz memory and a 256GB Western Digital black NVme drive.
Starting with Shadow of the Tomb Raider, we can see that the RTX 2060 beats out the previous-gen pascal cards but not with much margin. Both the 1660Ti and AMD's RX 590 thoroughly trumps the other cards in the tests, giving a decent amount of 0.1 and 1% lows.
Now keep in mind that this benchmark is taken under high preset, so you can expect better performance on budget models as you go down the settings a bit.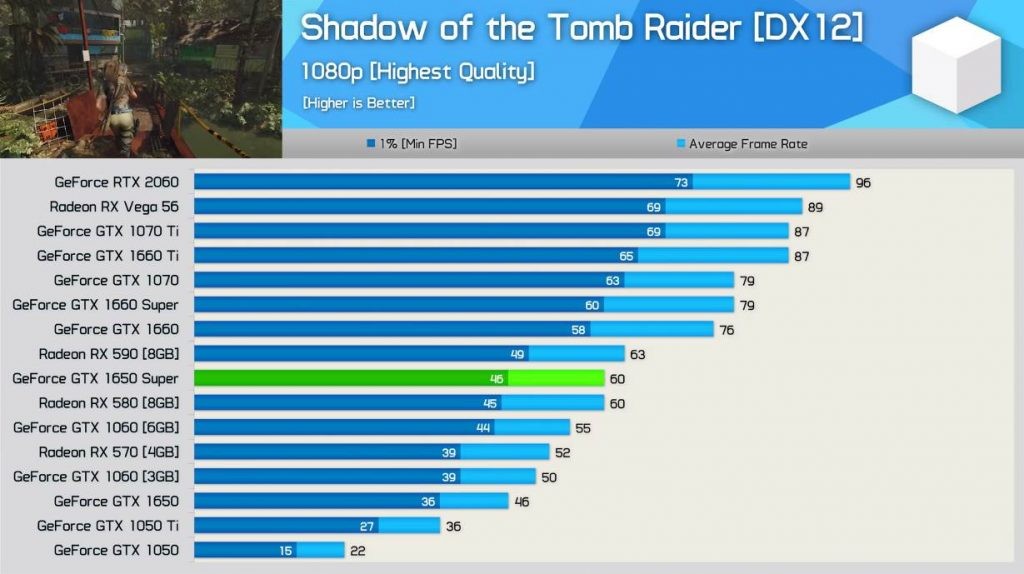 Next, we have Just Cause 4, which was another popular title back in the day. Here, 1650 is on average 39% faster than the 1050Ti, but still a complete 48% shorter than the new-gen RTX GPU.
While the 1660Ti tumbles down to number 6 on the list, getting edged out by the GTX 1070 by 8-9%. The 0.1% lows were significant here across the board, given that it is not a recent title.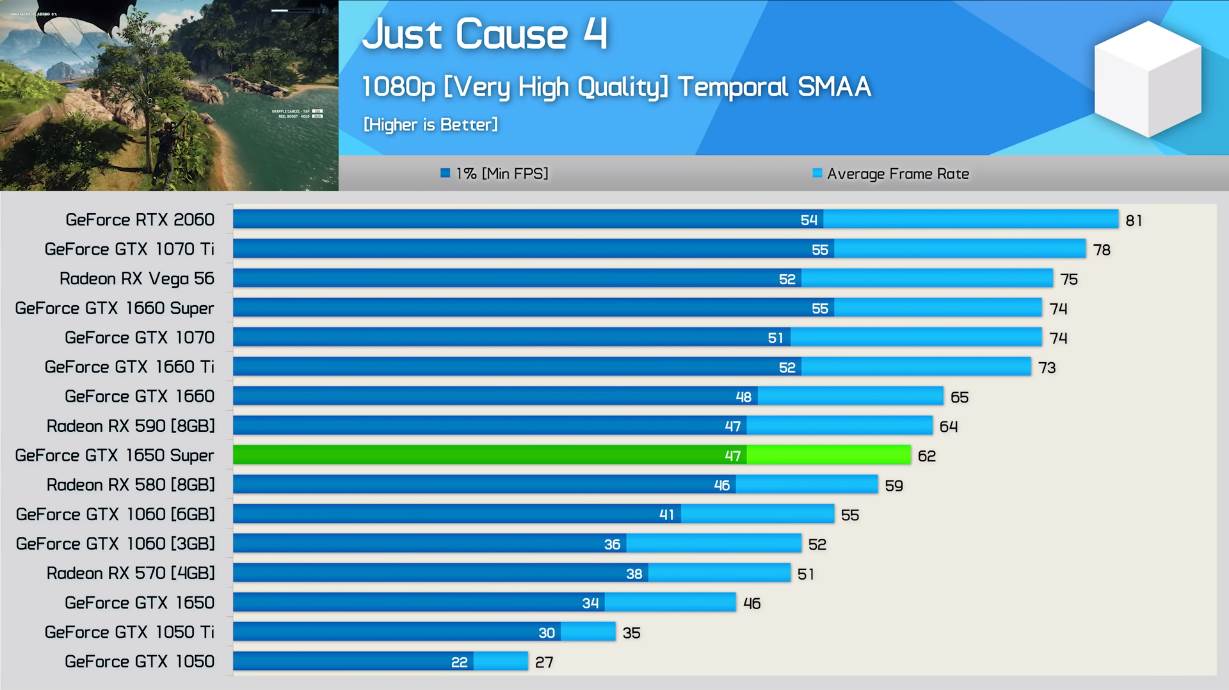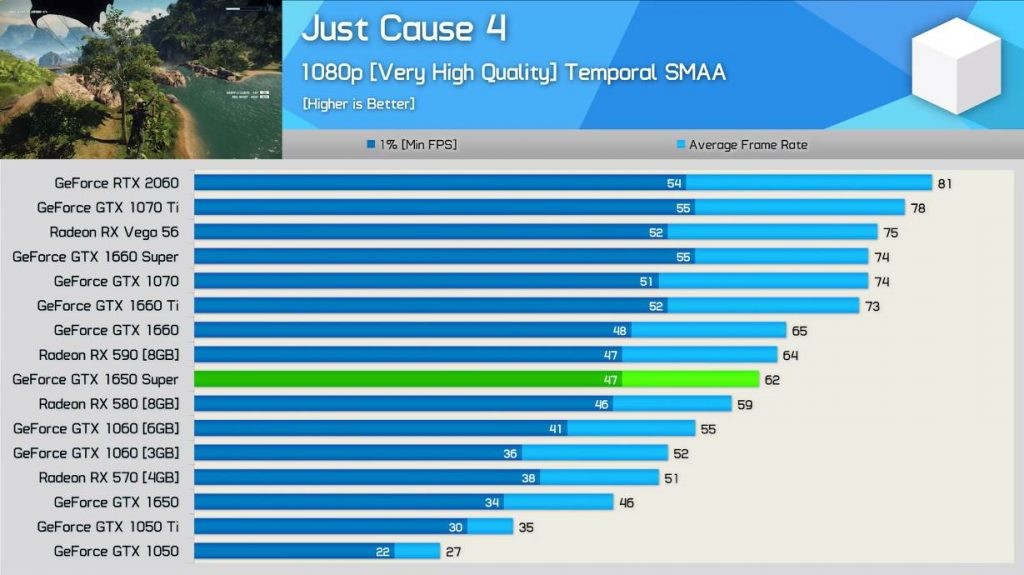 VR Specs & PC Specs
Before you get into the VR frenzy, worth checking the recommended specs of your particular VR headset directly from the manufacturer's official site, the reason for this is to ensure that your current hardware (especially your GPU) meets industry standards.
Although, you will most likely find out that the listed specs aren't that high-end. For example, in their Oculus Quest 2, leading headset manufacturer Oculus only recommends an i5 CPU for optimal performance.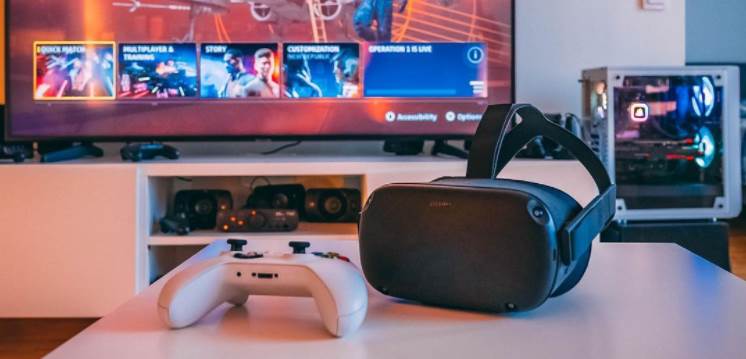 Unfortunately, only the recommended specification doesn't mean you will get a decent experience out of your setup.
VR setups are hardware-intensive because, as compared to a standalone gaming rig, they need to process a more significant number of pixels at any given time.
Even headsets such as Rift S have a staggering 1440p display running at 70-80Hz. Although these setups can be considered a premium in traditional games, they are more of a standard in virtual reality.
These intense configurations help out the existing system from receiving lower resolutions, as low frames in VR mean susceptibility to motion sickness, which on par can ruin the immersion.
So, all in all, there is more to consider than making sure that your GPU and CPU meet the minimum VR or PC specs. Choose hardware that will boost your efficiency without putting too much strain on your wallet.
Your Budget?
No matter which Graphics Card for VR you choose, it will ultimately come down to your current budget.
You need to make sure that your pick gives you the premium price to performance edge compared to other models.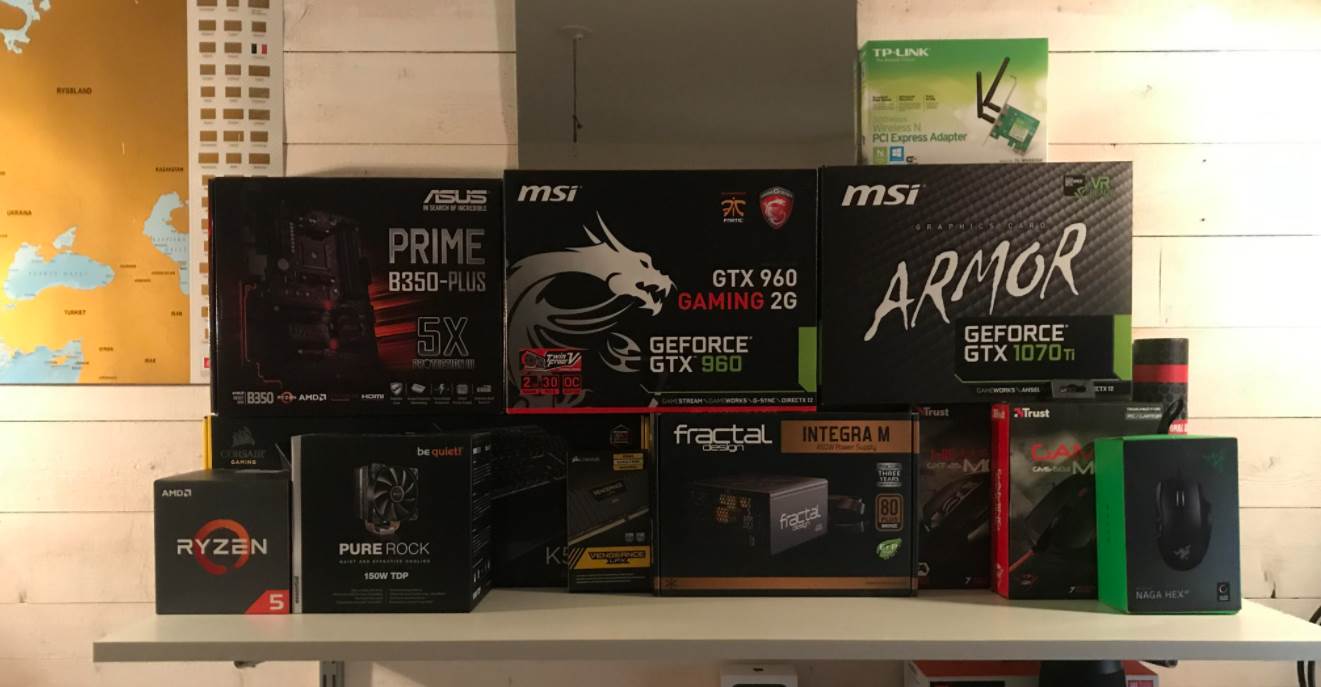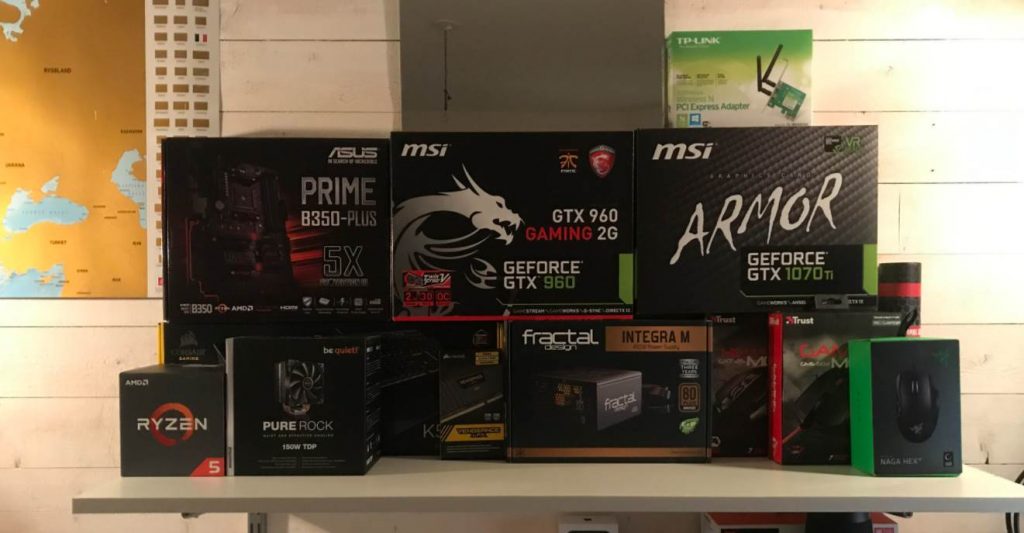 Of course, high-end cards will come with quality features out of the box, but that doesn't mean that you can't go for budget alternatives.
Bear in mind that, due to recent market price shifts, finding good cards at a lower price is not as simple as it might seem. Even GPUs like 1650 are going well above their respective MSRP on Newegg, which is frustrating.
That's why I would recommend you venture into the second-hand market to get the best bang for your buck.
Choosing High-End VR Vs. Mid-Range VR cards?
As mentioned earlier, choosing a piece of hardware (graphic card) based on a budget can be a bit of a hustle. It's true that the more you pay, the more features you will avail yourself of.
Overall, your VR experience on $300 mid-range cards will be great. Beginning at 1650 will be perfectly fine if you're on a budget when creating your next gaming PC.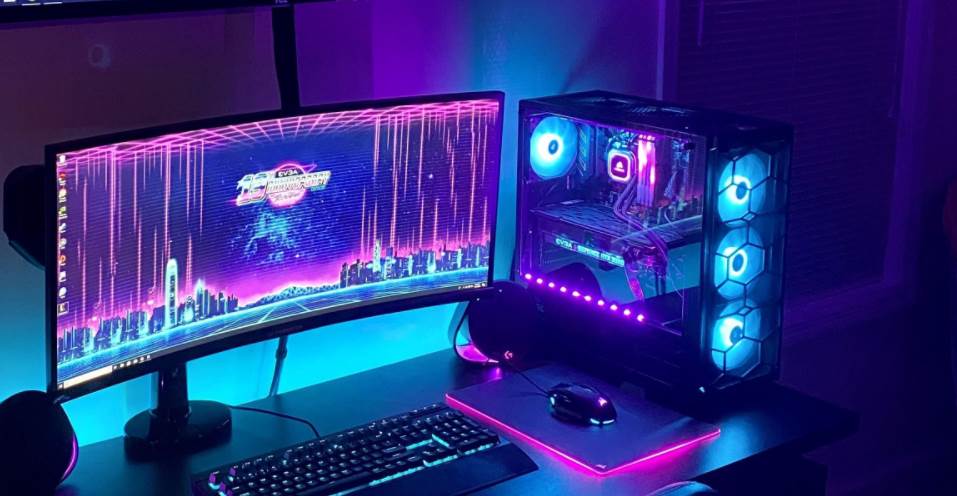 However, keep in mind that you have to tweak your graphical settings a bit to get that optimal performance out of your titles.
This is especially true for games like Robo Recall, where the anti-aliasing should be set to low, and those sudden fluctuations will mess up your long-distance aiming as you play the game.
But again, unless you're a graphics card enthusiast and need the best of the best to play those graphical-intense VR titles, you should be good to go with mid-range GPUs.
They will let you enjoy those VR classics such as Super-Hot or Rick and Morty VR without any additional complications.
Performance & Compatibility
The overall performance that you will be getting in VR is majorly dependent on the type of hardware you use and the software that you incorporate with it.
Both CPU and GPU can determine factors, although it's true that you will require a solid card to run the latest and greatest titles without any input lag.
When we talk about GPU, choose a particular model with a decent cooling solution and a wide array of outputs. Similarly, it is advisable not to buy a bulky 3slot video adaptor if you have a mini-ITX casing.
At the same time, additional functionalities such as enhanced clock speed are also essential, but they sure aren't a necessity.
Furthermore, make sure that additional components of your system, like the motherboard and power supply, are also fully compatible with your VR headset.
Always check the manufacturer's official website for reference before making your next buying decision.
End of The Line:
In conclusion, these were our views on the top-rated VR graphic cards that you should defiantly get in 2023. If you're still on the fence or have some doubts about your decision, let me quickly summarize it for you.
So, if you're looking for a premium card that can run all current VR titles at much greater speeds, then both MSI Gaming GeForce RTX 3080 and AMD Radeon RX 6900 XT OC are far the best options in the market.
Not only will they be able to record, render and stream almost all games without much hustle, but they also enjoy VR content on the go.
In contrast to that, if your someone who doesn't own a VR headset such as Valve Index capable of delivering 144Hz or has a high-res display, these GPUs are certainly an overkill than ok with something like a GTX 1650 or 1660Ti.
Although, whatever card you pick makes sure that it is made for longevity, so you won't have to face any complications in the long run.
Frequently Asked Questions (FAQs)