GraphicsReport is supported by its audience. When you buy through links on our site, we may earn an affiliate commission. Learn More
Best GTX 1660 Ti Graphics Cards For 1080p Gaming!

As a gamer, I can rightfully say that,
When it comes to power and performance, there is nothing better than the Nvidia's RTX series; however, due to the recent pandemic, it's hard to get your hands on one of these today
Building a perfect gaming rig has always been a dream for most PC users. This is the reason why Nvidia's RTX 3000 series was launched, which got quite a bit of praise from gamers worldwide on its launch.
But the fact that there are extreme shortages for this GPU has shifted their attention to more alternate options. One of which is the GTX 1660 Ti By Nvidia.
It's the slightly modified version of the original 1660 but a few additional perks under its belt.
For the people who want to game at 1080p, it's a decent option. But the real question remains, is it still recommended for gaming?
To answer this question, here is a brief review of the best 1660 Ti on the market. Each of them is known for its construction, cooling, clock speeds, and much more.
Whatever option you choose, you won't be disappointed. Also, if you want additional information, make sure to follow us till the end!
Best Nvidia GTX 1660 TI GPUs In 2022 – Comparison Table
image
name
price
SPECS
MSI GeForce GTX 1660 Ti Ventus XS

RAM: 6GB GDDR6
Cuda Cores: 1536
Dimensions: 8 x 5 x 1.6 Inches
Boost Clock: 1830 MHz

EVGA GTX 1660
Ti SC Ultra

RAM: 6GB GDDR6
Cuda Cores: 1536
Dimensions: 7.9 x 4.3 x 1.5 Inches
Boost Clock: 1845 MHz

GIGABYTE GeForce
GTX 1660 Ti OC

RAM: 6GB GDDR6
Cuda Cores: 1536
Dimensions: 8.8 x 4.8 x 1.59 Inches
Boost Clock: 1800 MHz

ZOTAC Gaming
GeForce GTX 1660 Ti

RAM: 6GB GDDR6
Cuda Cores: 1536
Dimensions: 6.8 x 4.3 x 1.3 Inches
Boost Clock: 1770 MHz

MSI Gaming GTX
1660 TI GAMING X

RAM: 6GB GDDR6
Cuda Cores: 1536
Dimensions: 9.7 x 5 x 1.8 Inches
Boost Clock: 1875 MHz

ASUS ROG Strix
GeForce GTX 1660 Ti

RAM: 6GB GDDR6
Cuda Cores: 1536
Dimensions: 9.6 x 5.1 x 1.9 Inches
Boost Clock: 1880 MHz
Best GTX 1660 Ti GPUs
Released back in 2019, it's based on the Turing architecture and the lack of both Tensor and RT cores.
You will be getting VRS functionality that is quite useful in allowing different parts of the images to be rendered at different quality levels, increasing the performance.
Similarly, there is a 15% increase in memory bandwidth than the original 1660 and a 1.5x boost in instructions per clock. And if you're a streamer, then you will love the incorporation of the Turing NVENC encoder.
But there are different 1660 Ti models available right now, which makes choosing the right one a bit difficult.
That's why I have compiled the list through hours of research. So, without taking more of your time, let's get straight into it!
#1- MSI GTX 1660 Ti Ventus XC
Specs:
Well equipped with 1770 MHz core clock speed that up to 1830 MHz
120W of power consumption, while the recommended PSU is around 450W
The IO outputs are based on 3 DisplayPort 1.4 and a single HDMI 2.0
Dual fan setup with cooling based on advanced TORX Fan 2.0
It comes with Nvidia's G-SYNC and HDR technology
Stocked with 6GB GDDR6 memory in a 192-bit interference
GeForce GTX chipset, which is based on a 2-Slot design
Highlights:
Comes with curved fan blades to increase fan efficiency.
Incorporated with an ideal heatsink for maximum performance.
Built-in HDR and extremely potent 240GHz refresh rate deliver smoother gameplay.
DirectX12 compatible Afterburner software so that you can get more out of this GPU.
Top-notch VR experience with next-gen performance and low latency.
It can be featured on multiple monitors with the help of advanced Pascal architecture.
Highly portable construction to meet the needs of most users.
Works on 6GB GDDR6 memory.
Drawbacks
It may be one of the powerful and compact GTX 1660 Ti cards, but its factory OC isn't that astonishing.
There is no proper warranty on this GPU.
If you think that Gaming X is the only available GPU by MSI, you need to think again as the VENTUS XS clearly wins the race. Unlike Gaming X, this time, MSI has gone with a more straightforward approach.
You will find a black and white color scheme in the construction, backed by two intuitive dual-channel fans.
Size-wise, it has a similarity to the official Gaming X and comes in 5 x 1.7 x 8 inches of dimensions. Additionally, the PCB length is the same to accommodate your rig needs.
You will find that its backplate is ergonomically suitable and tailored toward the general consumer on the backside. Its quality won't be as high as other Nvidia best 1660 Ti cards, but it's a give or take for the budget price.
The implementation of TORX Fan 2.0 in the VENTUS XS 6G OC removes the extra bulk and, at the same time, enhances the overall cooling.
In contrast to that, there is less copper piping in the heat sink to cope with the size. The heatsink itself is made from mediocre materials but for general cooling at 1080p gaming, it won't be much of an issue.
Moving on to the IO section, there's nothing to be surprised about. Just like MSI gaming X and Armor OC series, it consists of one standard HDMI 2.0, with three DisplayPort 1.4, which are versatile with the motherboard.
Furthermore, you will be glad to know that it is provided decent VR support for all virtual gamers.
If that's not enough, you will definitely love the implementation of 360-degree image mode to capture your precious in-game moments.
My Findings:
MSI has known for providing top-of-the-line monitors, laptops, and other accessories, and their GPUs are no exception. No matter which one of them you pick, you don't be disappointed.
Its temperature regulation is acceptable according to modern standards due to TORX Fan 2.0.
In everyday usage, the temperatures won't go above 60 degrees, while even at extreme gaming sessions, you won't get above 70 degrees.
On the other hand, it comes with the ideal 8-pin power connector to provide more efficiency and, at the same time, minimize power usage.
If you need a budget model for casual gaming on your rig, I highly recommend the MSI GeForce GTX 1660 Ti Ventus XC.
#2- EVGA 1660 Ti SC Ultra
Specs:
Operates under extremely potent 1845 MegaHertz to tackle any gamer's needs
It comes in a dual-fan design that remains quiet even in stressful conditions
The built-in EVGA Precision x1 utility helps you in drastically increasing performance
The incorporation of Dual DVI-Link and Vulkan API makes it a pro
6GB GDDR6 memory, along with 288GB/s memory bandwidth
Full metal black plate with thermally efficient heat sink
Equipped with VR ready software for all virtual gaming enthusiast
Highlights:
It's one of a 2.71 slot model with a dual-fan design to fit in any system.
Advanced cooling with bulky heatsink and further minimizes heat draw.
The addition of multi-GPU fan control, as well as an OC scanner, gives you extra versatility in your choice.
Bang for buck choice for those looking for a decent 1080 and 1440p gaming
Solid built-in quality that is put together with top-notch materials
Keeps overall efficiency at maximum while at the same time maintains the loudness levels
Game-ready drivers let you enjoy games on the go
3-year warranty through online purchase is an added benefit
Drawbacks:
As compared to competitors, the fans of EVGA GTX 1660 Ti SC Ultra are a bit loud.
The lack of RGB effects is a major con for this performance-driven card.
Just like MSI, EVGA has always been a strong contender for developing top-of-the-line GPUs, and the GTX 1660 Ti SC Ultra is no exception.
It's one of the best 1660 Ti due to its compact design. It comes in a dual fan setup that can be avail pre-factory overclocked for supreme performance.
Although it may lack the traditional RGB effects, which gamers praise these days, the classic sleek design that the EVGA GTX 1660 Ti SC Ultra consists of is better off the shiny effects.
The incorporation of a plastic shroud in this beast is a plus point from EVGA. The shroud itself has tiny pores in it for proper heat dissipation.
Also, the shroud may lack the classic black aesthetics, but if you are concerned about it, you should install it vertically inside your setup to minimize the effect.
It gives you ease of mind with aesthetically pleasing 2x fans that are 20mm across the board.
This size is reasonable according to modern-day standards, as other than that, it will make the process of cooling complicated.
In contrast to that, it's equipped with a fan stop feature so you can instantly regulate fan speeds, especially in idle conditions.
As it's a highly portable card, so you won't be surprised that it comes 2.1 millimeters lengthwise and around 100meters in height.
This way, it's best preferred for those gamers that are constantly running out of rig space. It will fit in instantly in almost any case without any complication.
My Findings:
In the end, I could rightfully say that for the price, the EVGA GTX 1660 Ti SC Ultra is fast and efficient.
It maintains the overall quality of a regular 1660 and, at the same time, implements some additional features that will give you a boost from other gamers, especially in multiplayer games.
However, critics believe that there is roughly a 3-4% performance difference between this GPU and the Gigabytes Gaming OC. But the minimal footprint that you will get with this card is non-comparable.
On top of that, it is efficient and maintains ideal temperatures due to lower power consumption, keeping your system as stable as it gets.
#3- GIGABYTE GTX 1660 Ti OC
Specs:
Delivers functional 1536 stream processors in Turing based architecture
Supports base clock speeds of 1500MHz, which can be boosted to 1845MHz
Incorporates one HDMI 2.0 port and three Display ports 1.4 in IO
Effectively regulates total power draw with 1 x 8-pin power connector
12Gbps of memory speeds and 288 GB/s of memory bandwidth
Dual fan cooling, along with dozens of RGB effects
Equipped with 6GB of GDDR6 VRAM
Highlights:
Powered by WINDFORCE 2x cooling, that will draw less power and manage to provide top of the line temperature maintenance.
Operates under PCI Express 3.0 x16, which can be seen in most of high-end Nvidia's graphic cards.
You can customize its settings with the help of provided AORUS engine.
It comes factory overclocked, so you won't need to spend extra time in the hustle.
Provides buttery smooth gameplay and effectively maintains 70+ FPS at max settings in 1080p.
Available in a robust design.
Drawbacks:
The incorporation of plastic in both the shroud and the backplate gradually decrease the premium feel of it.
The RGB effects at the front of this graphic card are missing.
Mediocre cooling.
If you're searching for a mid-range best 1660 Ti graphic card worth recommending to your pals, then I will take the name of the GIGABYTE GeForce GTX 1660 Ti OC.
With that said, it is equipped with 6GB of GDDR6 ram, 192-Bus width, and 1536 shader units.
Unlike Nvidia's 2060 FE, it has increased boost and core clock speeds, which will show its strength once you start gaming on this beast. When it comes to design choice, Gigabyte has set the bar high.
Judging from each side, you will love the polished aluminum framing incorporated with plastic sides to enhance the visuals further.
The PCB of GIGABYTE GeForce GTX 1660 Ti OC is also short, so you won't have any trouble placing it in your setup.
The name 2x WINDFORCE suggests that you will get two 90mm cooling fans here, unlike the regular WINDFORCE 3x solution.
On top of that, both of these fans spin in different directions to avoid turbulent airflow. They are regulated by a semi-passive cooling system, meaning at idle light GPU loads, the fans will ultimately stop spinning.
This feature has a profound impact on the overall performance and long-term durability of this machine.
While its shroud is based on plastic, the backplate is made from premium materials to complement the solid construction. When it comes to IO, you will be getting the same HDMI 2.0 port and three Display ports 1.4.
My Findings:
In general, I would say that the GIGABYTE GeForce GTX 1660 Ti OC is not that performance-driven as compared to its RTX counterpart.
However, given the price tag, it will deliver the level of efficacy that you desire in a mid-range GPU.
One of the things to keep in mind is that it can run games smoothly at both 1080p and 1440p, at maxed-out settings so that you won't be disappointed with your purchase.
Besides, the temperatures are of no concern, as they are quite a bit lower than you would typically expect from a mid-range GPU.
It's one of the more affordable graphics cards based on Turing architecture, which lacks those RTX features. However, it is still worth getting.
#4- ZOTAC Gaming GTX 1660 Ti
Specs:
1536 GPU cores based on Turing architecture for decent performance
Works on dual channel system with ice storm 2.0 cooling
Highly compact ergonomics that easily fits in most of the casing
Minimal 130W power consumption that is integrated with 1 x 8-pin connector
3 x DisplayPort as well as a single HDMI port for proper operation
1860 MHz boost clock speeds along with 1500 MHz memory speed
Multiple RGB settings, which drastically increases overall aesthetics
Highlights:
Regulates the temperatures around 70 degrees through the incorporation of the aluminum heat sink and wide fan design.
Tune your gaming experience according to your preferences with the help of the Firestorm application.
Just like Nvidia's RTX 20 series, you will get an enhanced OC scanner to manage overclock settings of the processor without complication.
Performance-wise, it will manage to score around 70-80FPS in most of the titles at 1080p.
Its installation is easy as it gets, and everything comes pre-packaged.
VR ready experience for all modern gamers out there.
Overall, it has the smoothest experience with game-ready drivers.
Drawbacks:
There is a lack of metal backplate in this GPU, which makes it susceptible to wear and tear.
RGB effects are not included in the design so that you won't get more out of the visual aspect.
In today's saturated marketplace, it's tough to find a decent GPU tailored toward all budget-based gamers out there.
If you're one of them, you will be pleased to know that the ZOTAC Gaming GeForce GTX 1660 Ti supports your needs. This Nvidia's third-party card is based on 12nm Turing architecture and holds around 1,536 CUDA cores.
On top of that, its clock speed runs at 1830MHz, so you won't be disappointed by overall performance. The reason why millions praise this card is due to its compact nature.
With 6.83 x 4.38 x 1.39 inches of case dimension and 1.54 pounds of total weight, ZOTAC promises that it can fit almost 99% of systems without any complications.
If you're skeptical about the cooling of ZOTAC Gaming GeForce GTX 1660 Ti due to its compact size, you need to reconsider your assumption.
It is provided with ice storm 2.0 cooling with dual-slot construction to dissipate heat without overburdening the system effectively.
Similarly, this GTX 1660 Ti has ideal copper piping and widen blades to maximize the airflow.
We know how tedious the process of overclocking is, either in a GPU or a CPU. However, you will be glad to see that it is equipped with Firestorm utility to overclocking safe and secure.
Ergonomically speaking, it's quite robust. It boasts a straightforward design that is incorporated with a black matte shroud for enhanced visuals. No matter what's your rig settings are, this device will make sure that it's pleasing to look at.
My Findings:
Considering all the facts, there is no denying that the ZOTAC Gaming GeForce GTX 1660 Ti is one of the best 1660 Ti available to date.
It comes with all the bells and whistles that you can expect from a mid-range GPU at a budget price. Through overclocked boost speeds, it performs way better than some of its competitors.
Besides, most of the benchmark tests quickly overthrow the previous GTX 1070 line-up while still maintaining the core temperatures.
And when we talk about its size, you won't need to buy any additional accessories to adjust it in your gaming setup.
The only major downside to this card is the lack of RGB, but if you can somehow tackle this difficulty, it's good to go!
#5- MSI Gaming GTX 1660 Ti GAMING X
Specs:
Boasts a powerful 1500 MHz core clock speed, which can be boosted to 1875 MHz
It incorporates Twin Frozr 7 Thermal Design for proper ventilation
Operates on 6GB GDDR6 memory with 12Gbps memory speed
Overall, 1,536 stream processors for an effecting gaming
120W ideal power consumption requirement
With 3 x DisplayPort and a single HDMI port
Supports both DirectX: 12 and OpenGL: 4.5
Highlights:
Based on dual fan design with the TWIN FROZR 7 to regulate the temperatures at even tiresome conditions.
Ergonomically suitable shroud with a thick black metal plate to give the additional design durability.
It is equipped with Nvidia's Turing architecture, which can also be found in its high-end RTX line-up.
Overclock the MSI Gaming X in seconds through Afterburner featured with a specific OC scanner.
One of the largest factories overclock in the current GTX 1660 series.
High-speed 6 GB GDDR6 memory for getting more out of your titles.
Dynamic RGB effects.
Drawbacks:
It's in a two-slot format and around 247mm lengthwise, which is not suitable for most setups.
The lack of DLSS support is a significant setback for most gamers but the price tag; it's not an issue.
At number five, we have the MSI GTX 1660 TI GAMING X, which is one of the best GTX 1660 Ti ever produced esthetically speaking.
Right off the backend, It features a highly effective 1875MHz boost clock speed, which is around 100MHz more performance-driven than Nvidia's reference card.
To accommodate these speeds, MSI also introduced a max TDP of 130W, which is more than enough to tailor one's needs. If that's not enough, then you will defiantly love its design.
This card is looking extremely well-put-together with quality materials that have a premium feel to it. It's ergonomically suitable, unlike any other models, which are built from stacking cheap materials.
The cooling system incorporated with this device is also mighty effective. With the exact Twin Frozr 7 Thermal Design that we have seen in the original MSI 1660, this card remains stable even at the highest temperatures.
The GPU is reasonably thick, with a high-end heat sink and an additional close-quarter heatsink linked with the memory module.
You will absolutely adore the sharp Gray and silver color scheme that this card has to offer, as well as the refined metal backplate incorporated with subtle aesthetics.
And if you're into RGB, then you will be pleased with what this GPU has to offer. With the help of 5 RGB lighting zones, it stands out from the rest.
On top of that, these RGB zones are perfectly diffused together to last longer with intuitive effects. They can be fully customized according to one's preferences.
My Findings:
Overall, it is evident that the GTX 1660 ti is more than enough mid to high range GPU, which will be more than capable of running pretty much every title at 1080p and maximum settings.
Even if you want to try 1440p gameplay on this monster, it won't let you down. Its over-powered cooler can also maintain decent temperatures irrespective of the overall cooling conditions.
Although some users also complain about its noise scale, if you try to adjust the side panels on the system itself, it won't matter much. The GTX 1660 ti is a worthy candidate in the best 1660 Ti marketplace.
#6- ASUS ROG Strix GTX 1660 Ti

Specs:
Compatible up to 4 monitors and supports a maximum 7680×4320 resolution
It's a 2.5 slot card with an 1890 MHz boost clock and 1536 CUDA cores
Synchronize RGB effects with the aid of Aura Sync software by ASUS
12Gbps of memory bandwidth along with 6GB GDDR6 memory
Based on 1 x 8-pin to regulate the overall power consumption
Axial tech fans with supportive heatsink for steadier heat flow
Monitor your gaming performance through GPU tweak II
Highlights:
A fully functional cooling system based on PWM fan headers that are linked with advanced heatsink for top-notch performance.
Driven by two adjustable modes so you can get more out of your device while spending less.
It can effectively manage thermal transfer due to the incorporation of MaxContact technology.
It prevents natural bending of PC through FTW architecture.
Customize your RGB settings and enhance your system's visuals with the aid of the AURA Sync utility.
You will receive a full metal backplate with a bulky shroud with this GPU, which makes it more durable.
One of the fastest 1660 Ti currently on the market due to enhanced boost clock speeds.
Drawbacks:
Can be a bit noisey under extreme sessions.
The triple fan design might be a bit longer, resulting in a bit of difficulty in adjusting it.
Finally, we have one of the featured ASUS models, i.e., the ASUS ROG Strix GeForce GTX 1660 Ti. With this high-tech, beautifully crafted card and innovative RGB lighting, you will definitely take your gaming experience to the next level.
It uses the same Turing architecture that the new RTX 20 series use. However, it stores additional perks under its belt.
It features around 1890MHz boost clock speeds, which makes this card one of the fastest 1660 Ti models in the market.
ROG Strix models have always stuck to their tried and tested design, and this GPU is no exception. It boasts a three-fan design that mimics the aesthetics of almost any case.
You will get a promising metal backplate with this GPU to make it durable. It has a premium feel to it that its competitors generally lack.
If you want further versatility, then you can always use the Dual-BIOS functionality. Now you can switch between silent and gaming mode without any hustle.
It requires an 8-pin power connector to maintain the power usage and at the same time provide premium performance.
While moving to the IO section, two HDMI connectors and two display ports can easily connect to your monitor. We all know how hard it is to maintain constant temperatures during intense gaming sessions.
This is why ASUS incorporated two different fan connectors to adjust the fan speeds according to your preferences.
Due to high-end architecture, it can match and even surpass the overclocked GTX 1070 in most cases. At even ultra-settings, the ASUS ROG Strix GeForce GTX 1660 Ti won't disappoint you.
My Findings:
In conclusion, the ASUS ROG Strix GeForce GTX 1660 Ti is a great 1080p card that can tackle almost any modern AAA title with ease.
In performance mode, it's quieter and cooling compared to other OC models at the same price tag.
Furthermore, considering that it only draws around 180-250W of power for the complete system while gaming, it is worth the people searching for a graphic card for the long run.
The only downside to this GPU is its long length and inability to cope with 1440p gameplay. But if you're serious about 1440p gaming, then I recommend considering the RTX-2070 at least.
Things To Consider Before Buying The Best 1660 Ti
We all know buying the right GPU might not be accessible at sounds. There are various aspects that anyone needs to consider, including size, cooling system, boost clock speeds, number of IO ports, and benchmark results.
That's why I bring you the following Things to Consider Before Buying the 1660 Ti, so in the end, you can choose the best while spending less. Also, no matter what your gaming goals are, I got you covered!
Benchmarks:
If you're planning to pick a new 1660Ti, but you're not sure which one to go for, then the best bet you can opt for is the on-spot benchmark results.
The overall score may depend on many interchangeable factors like the type of CPU that you are incorporating and the overall ram. However, it will give you a general idea.
Also, it's worth noting that the gaming result you will be getting on a reference 1660Ti, will be quite impressive.
At 1080p, you will see equivalent or better performance than the GTX 1070 across the board, and the titles that are more GPU dependant, like Shadow of The Tomb Raider, will see a pretty big performance boost.
Even with the incorporation of 378 more CUDA cores in GTX 1070 compared to the 1660Ti, it can easily overpower the predecessor.
Most of these results can also be seen in the 1440p sections, so you will get more performance while paying less.
Moving on to third-party cards in games like Apex Legends, we can see an adequate margin of error here. The Strix card is the lowest on the list, although this does depend on which type of map you are currently playing.
When it comes to Battlefield 5, the results are typically what you will expect. The Strix 1660Ti ever so slightly ahead of Gaming X, and there is a somewhat noticeable difference with the ZOTAC Twin Froze. Although, you won't notice much of a difference.
Cooling & Size
When it comes to size, especially in graphic processors, I know gamers are mostly skeptical. We know the pain when the brought GPU doesn't fit the casing.
It seriously is quite frustrating. To compensate for this pain in advance, try to go for an ideal card for your rig.
If it's too long, it can have issues in the cooling process. Similarly, if it's too short, you might have a complication in adjusting it.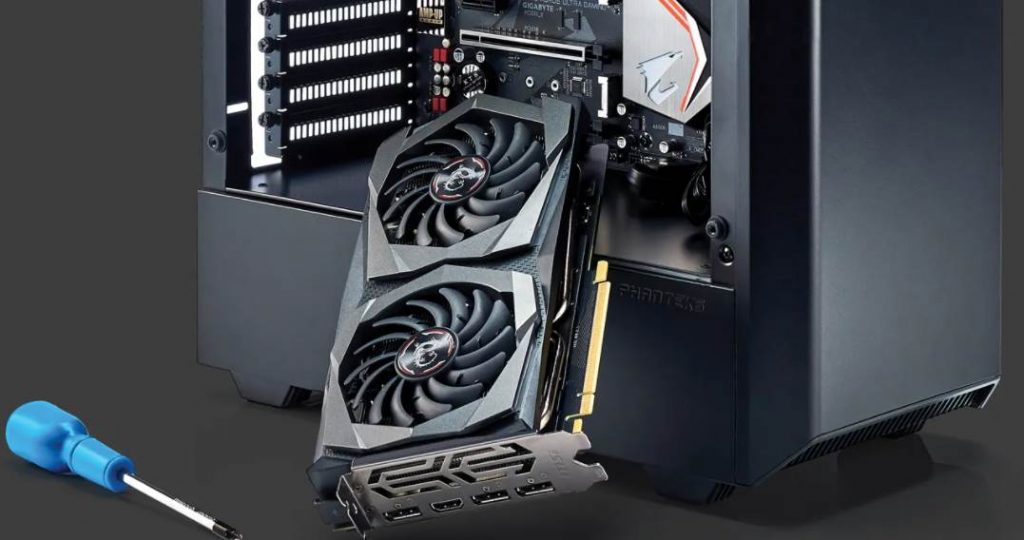 That's why you need to be careful in choosing GPUs like the ASUS ROG Strix GeForce GTX 1660 Ti as well as MSI Gaming GeForce GTX 1660 Ti.
We can easily place the ZOTAC Gaming GeForce GTX 1660 Ti as one of the leading contenders on the card's temperature side.
Being one of the smallest, it typically hits a maximum of 75 degrees Celsius, which is decent for a mid-range GPU.
In contrast to that, cards like MSI Gaming score around 66 degrees Celsius. These cooling differences aren't that much so that you won't have any issues.
Related reading: How To Remove A Graphics Card Like A Professional!
V-Ram, Overclocking & Clock Speed
To be honest, the performance scores that a GPU shows is majorly dependent on the clock speeds. The clock speed can be defined as the amount of computation that a GPU does, relative to the time.
A card that boasts higher clock speeds generally performs better in multiple spectrums.
The majority of the card comes pre-overclocked and are termed as factory overclocked or OC. This means that the user doesn't have to tackle the tedious process of boosting the performance.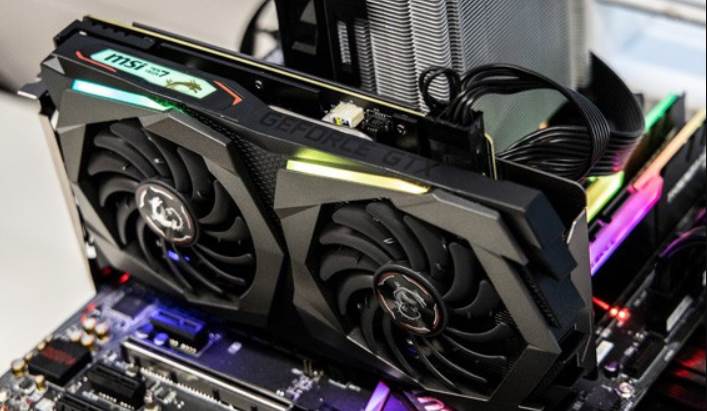 In contrast to that, others are provided by the specific utility to clock them according to their preferences.
The ASUS Strix card acts as one of the strongest contenders when it comes to overclocking. Its clock speeds fall under 2000MHz vs. MSI Gaming one, which is approximately 1990-1995MHz.
On the other hand, GPUs like the ZOTAC Gaming GeForce GTX 1660 Ti can be clocked up to 1890MHz.
Although generally speaking, in games, you won't see a significant difference with the extra MHz. So, no matter which GPU you choose from the 1660Ti series, you won't be disappointed.
While the V-Ram throughout the 1660Ti remains the same, you will get 6GB GDDR6 V-RAM in a 192-bit memory interference, which will be more than enough to tackle most AAA titles without any complication.
Length And Width
As we discussed earlier, size can be a significant concern for gamers opting for Micro ATX or Mini ITX tower-based rigs.
Additionally, the size of a GPU is dependant on the width and length of the casing. The more expansion slot that your GPU has, the more will be the width. At the same time, the length is based on the longest side.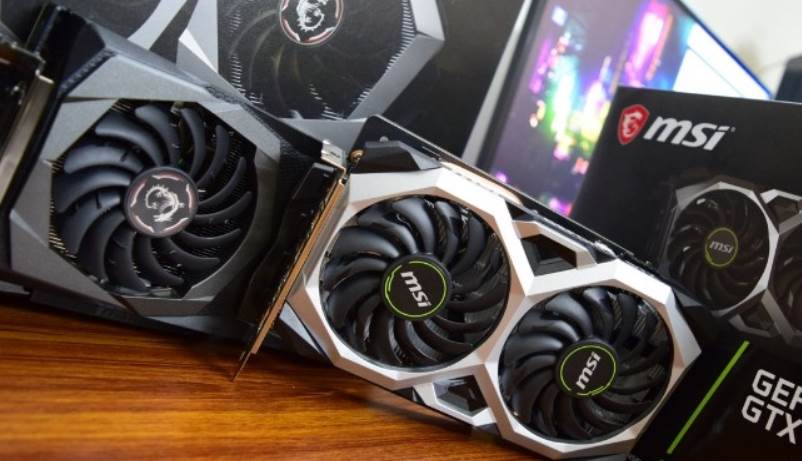 So, make sure to take accurate measurements or rough assumptions of your casing and then go for the card that supports the respectable adjustments.
But if your system is compatible with even the bulkiest GPU, then you shouldn't worry much. Besides, the extra bulk can be beneficial in the cooling process.
Ports & Overall Appearance
Now card appearances are based on the choice of the user. For some, it might be a game-changer, while others tend to rely on physical features when choosing the best.
Typically, MSI Gaming X is the best looking as it got excellent RGB elements. They aren't too flashy, which is perfect, and besides, you also get a very appealing cooler.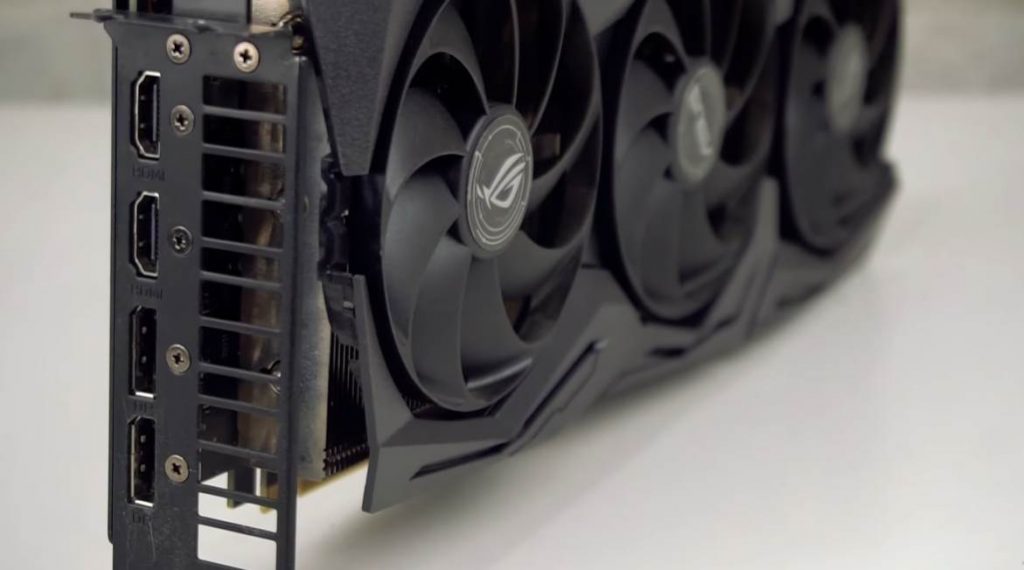 On the other hand, GPUs like ASUS ROG Strix GeForce GTX 1660 Ti have a modern outlook backed by incorporating a triple-phase cooler.
You will also get some rough RGB lightning on it. While ZOTAC Gaming GeForce GTX 1660 Ti being the smallest and the cheapest on the list, is certainly not an ugly card.
But with no backplate and lacking RGB customization, there isn't much room to make it elegant. Speaking of the IO, almost all the 1660Ti contain some standard DisplayPorts, HDMI ports as well as a DVI Port.
Reasons To Buy
No matter how much you review a GPU, it ultimately boils down to whether it is still worth it?
Well, the answer is definitely yes! It's quite apparent that the 1660Ti is a more than capable mid-range beast that should be able to handle pretty much any title you throw at it at 1080, with maxed settings.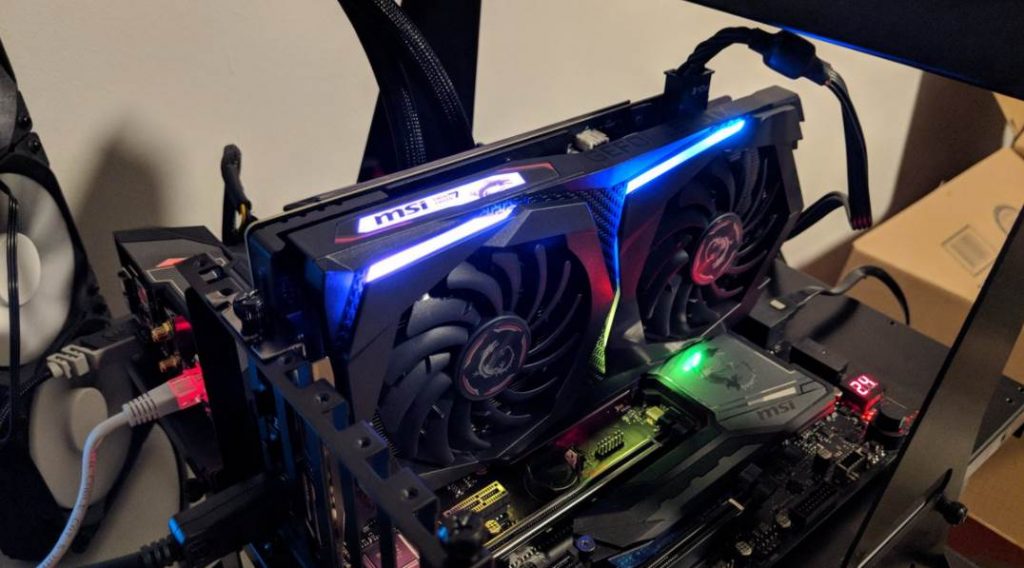 Besides, even though it's not built for it, the card is still a pretty decent 1440p performer. Although you definitely have to turn down and optimize your quality settings based on the type of game.
Additionally, except for the incorporation of the RT and the tensor cores, it matches the functionality of the RTX 2060.
Whether you talk about cooling, clock speeds, VRAM, or overall aesthetics, this thing is truly a beast and won't let you down in the long run.
Reasons To Avoid
The GTX 1660Ti is undoubtedly one of the best bangs for the buck GPUs currently in the market. Its cooler actively held its place in regulating the temperatures between 70 degrees Celsius.
However, some user complains that the card does tend to tip toward the annoying end of noise scale at higher speeds.
But if you had all the side panels on the system on itself, it wouldn't have been nearly as bad. Similarly, unlike its strongest opponent, i.e., the RTX 2060, it lacks the addition of the super cool ray tracing feature.
However, you can't complain much about the price tag, as it wasn't meant for that purpose.
End of The Line:
So, this was my detailed guide on the best 1660 ti on the market. If you are still not sure, then let me brief you again.
The MSI GeForce GTX 1660 Ti Ventus XC is undoubtedly the finest 1660 Ti GPU, which I am glad to recommend to gamers worldwide.
Of course, there are plenty of other 1660Ti that we could analyze to check out other reviews before you go and buy one.
Also, make sure to incorporate a full HD monitor with a high refresh rate if you want a smoother experience with this card.
All in all, if you're going to game at 1080p and have a decent monitor, then the Ti 1660 is a great choice.
Furthermore, do keep in mind that this beast can also tackle few AAA titles at even 1440p if you can manage to play with the quality settings to some extent.
Frequently Asked Questions (FAQs)