GraphicsReport is supported by its audience. When you buy through links on our site, we may earn an affiliate commission. Learn More
Best Nvidia RTX 2060 Super Graphics Cards Reviewed

The Nvidia's ray-tracing functionality revolutionized gaming forever, making the RTX 2000 lineup one of the best options to go for!
Graphics cards come in different sizes and shapes, but one thing that truly defines their price is their value to the general consumer. This is true in the case of Nvidia's RTX lineup.
This series will give you dozens of additional features, but the most important are RT and Tensor cores, which enable many RTX effects.
It will provide you out-of-the-world visuals without really taxing your system. But the question is, which one of the RTX cards to go for this perk? Well, one of the strongest candidates is the RTX 2060 Super.
This GPU is built on Nvidia's new Turing architecture, just like the original 2060. But as you expect, it features some "super" upgraded over its predecessor.
It comes equipped with more than 2000 CUDA cores which will effectively handle most of the graphical processing.
Similarly, you will get 34 dedicated ray-tracing cores, 272 Tensor cores that power the DLSS, and anti-aliasing tech: Memory-wise, the 2060 super ups the bar with 8GB of GDDR6 ram, running at 14Gb/s.
To give you a detailed insight into this card, we bring you the best 2060 Super GPUs that you can avail of today and change your gaming experience once in for all!
Best RTX 2060 Super Comparison Table
image
name
price
SPECS
MSI RTX 2060 Super Ventus GP OC

RAM: 8GB GDDR6
Cuda Cores: 2176
Dimensions: 9.7 x 5 x 2 Inch
Boost Clock: 1665 MHz

ASUS ROG Strix RTX 2060 Super 

RAM: 8GB GDDR6
Cuda Cores: 2176
Dimensions: 11.8 x 5.1 x 1.9 Inch
Boost Clock: 1710 MHz

ZOTAC GAMING RTX 2060 SUPER MINI 

RAM: 8GB GDDR6
Cuda Cores: 2176
Dimensions: 8.3 x 4.7 x 1.6 Inch
Boost Clock: 1650 MHz

EVGA RTX 2060 Super SC Ultra Gaming 

RAM: 8GB GDDR6
Cuda Cores: 2176
Dimensions: 10.6 x 4.3 x 1.5 Inch
Boost Clock: 1680 MHz

Gigabyte RTX 2060 SUPER WINDFORCE OC 

RAM: 8GB GDDR6
Cuda Cores: 2176
Dimensions: 10.4 x 4.7 x 1.5 Inch
Boost Clock: 1680 MHz

Nvidia RTX 2060 Super Founders Edition

RAM: 8GB GDDR6
Cuda Cores: 2176
Dimensions: 9 x 4.4 x 1.5 Inch
Boost Clock: 1650 MHz
Best 2060 Super Graphics Cards
So, which high-end RTX 2060 super should you buy for 1440p and even 4K?
Well, I have compiled this detailed list just for you, so in the end, you can get the most acceptable card without any hustle.
Each of them comes with its own set of bells and whistles, so make sure to follow us till the end.
Besides, if you want additional, make sure to check out the following benchmarks and comparisons located below. With that said, let's get straight into the reviews!
#1- MSI RTX 2060 Super Ventus GP OC
Specifications
Boost Clock: 1665 MHz
CUDA Cores: 2176
Video Memory: 8GB GDRR6
PCIe Version: 4.0
Recommended PSU: 550W
Power Draw: 184W
Power Connectors: 1x 8-pin
Ports: 3x DP 1.4 / 1x HDMI 2.0b
Dimensions: 9.1 x 5 x 1.6 Inches
Highlights:
Aesthetically pleasing design, coupled with neutral colors to match the ergonomics of most of the systems.
Customize your overlocking needs with its extremely potent MSI Afterburner utility.
The cooling system of MSI Gaming GeForce is based on direct contact copper pipes that are known for temperature regulation.
Most of the titles will run at perfect 1% and 0.1% lows even in 1440p resolution.
Decent connectivity coupled with durable architecture.
It remains tranquil at even maximum level of stress.
Incorporation of ideal ray-tracing cores to give you the ultimate RTX experience.
Drawbacks
Lack of metal backplate minimizes the cooling effect; however, it won't be an issue in term of open case conditions.
No RGB customization.
If you're in the market for a high-end RTX-based GPU, I highly recommend the MSI Gaming GeForce. It is well equipped with most of the performance-driven features that are extremely hard to find these days.
This card comes with 8GB GDDR6 memory which is the main selling point as we will see a lot of games that will be needing the extra VRAM.
Compared to the original 2060, it provides an excellent bang for the buck performance. You can use this beast for full HD gaming with absolute max settings, and it won't cause any issues.
Output-wise, the MSI GeForce Ventus GP OC boasts an HDMI 2.0 port as well as 3x display ports.
When we move to the cooling department, we can see that MSI this time went with their Twin Frozer design which features two Torque 2.0 fans with alternating dispersion and traditional blades.
On top of that, you will get a beefy redesigned heatsink. All these features should translate into some decent temperatures, even if you're in mild locations.
Also, these fans only kick in whenever the GPU needs it to. This means that you will be provided with a longer lifespan for the fans and a quieter system overall.
Taking a quick look, we can find that this graphics card is remarkably gorgeous. The lush plastic backplate looks and feels fantastic.
Although the primary purpose of this is to reinforce durability and heat dissipation, you can't go wrong by visualizing it. Furthermore, the front of this GPU is also one of a kind.
The silver and black aesthetics are something you won't get tired of praising. And even though the majority of the shroud is plastic, it still feels premium.
My Findings:
The bottom line is that if you want stutter-free 1080p performance at max settings and rock-solid gameplay at 1440p with tweaked backgrounds, this card is a must-have product.
Similarly, it provides an excellent platform for the dire need of RTX functionality without consulting other temperature fluctuations.
Although it may not be the cheapest and the highest performing RTX 2060 Super in the market, it is somewhat ergonomically suitable.
The overall design of this monster is top-notch, along with the additional visibility at the backplate. It maximizes the FPS and will change your gaming experience!
#2- ASUS ROG Strix RTX 2060 Super EVO
Specifications
Boost Clock: 1680 MHz (OC Mode)
CUDA Cores: 2176
Video Memory: 8GB GDDR6
PCIe Version: 3.0
Recommended PSU: 550W
Power Draw: 100W to 199W
Power Connectors: 1 x 6-pin + 1 x 8-pin
Ports: 2x DP 1.4 / 2x HDMI 2.0b / 1x USB Type-C
Dimensions: 11.8 x 5.1 x 1.9 Inch
Highlights:
The incorporation of a USB Type C port makes it more suitable for all VR enthusiasts out there.
Most of its parts are made from high-quality Superalloy.
This card lets you stream in real-time thanks to the inclusion of GPU Tweak II utility.
Auto-Extreme technology makes it relatively stable, especially for long term use.
Get an endless spectrum of effects and colors with its highly regulative RGB setup.
It's compatible with DirectX 12 Ultimate to integrate game-changing features in many titles.
Easy to optimize and clock.
Drawbacks
The ergonomics are entirely unsuitable as it's based on triple fan design and weighs around a staggering 3.89 pounds.
Mediocre FPS as compared to the popularity.
At the second spot on my list, we have the ROG Strix GeForce RTX 2060 Super by Asus.
By far, it is the best RTX 2060 card released by any third-party vendor up to date, resulting in tons of positive reviews on multiple platforms.
This GPU is based on a triple fan design, which is based on entirely new technology. These triple wing-blade fans have a maximum airflow that is 100% more efficient than competitors.
Many aluminum fins feature MaxTech technology underneath the fan array, which will aid better GPU heat dissipation. It also makes two times more contact with the card resulting in improved thermal transfer.
At the top end of the ASUS ROG Strix GeForce RTX 2060 Super, you will get the classic GeForce Logo. Although, sadly, it's not RGB integrated.
To power this beast, you should need to acquire a high-end power supply (around 500W) as it's based on both 6 and 8 pin PCI connectors.
Furthermore, unlike traditional 2060 models, this card is equipped with FanConnect II, which allows you to hook up to two separate connectors on your motherboard so that you can control the fan rotation.
This graphic card clearly up the stakes by incorporating a metal backplate instead of a regular plastic one. This way, you will get better cooling and, at the same time, maximize your gaming performance.
It is also effortless to remove the screw patterns, so if you want to remove them and further upgrade your rig, you won't face any difficulty.
Lastly, the ASUS ROG Strix GeForce RTX 2060 Super is fully RGB supportive and comes with AuraSync software so that you can customize it according to your needs.
My Findings:
All in all, it's a pretty flashy, over-the-edge 2060 super graphic card that will suit the needs of almost all gamers. It gives you complete control over the RGB settings, and even the backplate can be illuminated.
In contrast to that, if you don't want any lighting, you can use the instant control button present at the backend.
Besides, having a dual BIOS on your GPU is a must these days; that's when this card truly shines.
With the help of its dual BIOS, all you can do is switch over to the other BIOS, and your up and running again. I definitely recommend it for those who want the absolute best!
#3- ZOTAC GAMING RTX 2060 SUPER MINI
Specifications
Boost Clock: 1650 MHz
CUDA Cores: 2176
Video Memory: 8GB GDDR6
PCIe Version: 3.0
Recommended PSU: 550W
Power Draw: 175W
Power Connectors: 1x 8-pin
Ports: 3x DP 1.4 / 1x HDMI 2 0b
Dimensions: 8.3 x 4.7 x 1.6 Inches
Highlights:
Top of the line cooling with ICESTORM 2.0 that provide sustained performance in minimal noise.
Aluminum-based heatsink which can effectively dissipate heat without any adverse effect on overall gameplay.
Highly compact RTX 2060 Super that fit almost 99% system without any complication.
Compatible with four monitors at once due to superior IO.
4K ready construction for an ultimate gaming experience.
Its metal plate is wrapped around to provide extra protection, even in extreme conditions.
One of the best 2060 Super in terms of affordability.
Ideal clock and boost clock speeds.
Drawbacks
Being compact, it comes in a bit of difficulty for those with Mini ITX builds; other than that, it's good to go.
The lack of beef in the heatsink stops the cooling system from being perfect.
Sometimes happiness in life comes in small sizes; if you agree with my sentiment, you will love the ZOTAC GAMING GeForce RTX 2060 SUPER MINI.
It is by far the smallest RTX 2060 Super on the market. Although, don't get confused by its size as the performance it delivers might surprise you.
In addition to being the smallest, it's also the least expensive, ultimately saving you some extra cash. It also clocked at reference spec, with a target boost clock of 1650 MHz.
If not identical, the shroud of this GPU is at least similar to the RTX 2070 Mini, which is the main reason for its recommendation.
It measures only 8.3 Inches lengthwise, meaning that it should fit in almost any build and any chassis. It's also a standard two-slot card, so even with Mini ITX builds, no room below the motherboard won't have issues.
The Gray backplate of this GPU wraps around nicely to the rear and front end, matching the overall aesthetics. As the name implies, it's based on two twin 90mm fans providing the cooling.
On top of that, unlike the ASUS 2060 Supermodels, this ZOTAC card only needs a single 8-pin PCIe power connector, so depending upon the rest of your system configuration, a 500W power supply will be likely sufficient.
I am most impressed with the ZOTAC GAMING GeForce RTX 2060 SUPER MINI because the manufacturer carefully implemented the design without contradicting the performance.
In most heavy AAA titles, this card truly shines and gives better results as compared to competitors. You won't see significant drops or other fluctuations once you have this installed in your rig!
My Findings:
Whenever there's a new lineup of GPU in the market, the big question that arises in most minds' is, should I upgrade? Or should I buy it now?
In the case of ZOTAC GAMING GeForce RTX 2060 SUPER MINI, if you like to game on a budget and want the best value per dollar, then I recommend this model.
With this graphic processor, you will get better performance and RT cores for ray tracing and highly compact ergonomics.
At 1080p, you won't notice a significant difference between this card and the classic 1070, but if you go higher resolution and want the ultimate experience, this GPU is your one-stop-shop.
#4- EVGA RTX 2060 Super SC Ultra Gaming
Specifications
Boost Clock: 1680 MHz
CUDA Cores: 2176
Video Memory: 8GB GDDR6
PCIe Version: 3.0
Recommended PSU: 550W
Power Draw: 150W to 170W
Power Connectors: 1x 8-pin
Ports: 2x DP 1.4 / 1x HDMI 2.0b / 1x DVI-D
Dimensions: 10.6 x 4.3 x 1.9 Inches
Highlights:
It comes with Dual slot HDB fans for top-of-the-line cooling and ultimately boosted performance.
Minimal 175 Watts power draw, through the incorporation of a single 8-pin PCIe slot.
It supports an intuitive backplate that aids in increasing the longevity as well as aesthetics.
Turing based architecture with RTX functionality for all gaming enthusiasts out there.
The cross-drilled heatsink features L-shaped fins for added cooling.
Equipped with the new Precision X1 utility to regulate both fan rotations and clock speeds.
It brings a new experience with Game ready software and G-Sync technology.
Drawbacks
The SC Ultra Gaming by EVGA is a bit bulky, which results in space-related issues in some cases.
It gives out ideal noise levels but not anything out of the box.
For those searching for a really thick graphic card for some awesome cooling, then the SC Ultra Gaming by EVGA is possibly the best bet.
Generally speaking, it's a two and a half slot GPU, which means you better have a lot of room in your PCIe.
This also leads to some thermal issues for those with more minor cases, but you could always mitigate by choosing a more robust setup.
Based on aesthetics, it is more similar to the original RTX 2060 version by EVGA. And if you're not concerned much about the flashy RBG effects, then the EVGA RTX 2060 Super SC Ultra is made just for you.
In contrast to that, you will get specifically designed dynamic bearing fans, giving your setup a classical charm.
Most of the users are concerned about its incorporation of a plastic shroud. However, it does give a metallic vibe, so you will be good to go.
Also, there is a single 8-pin power connector, so you don't have to be concerned about the power draw. One of the reasons it's preferred by many is that it performs very well in the acoustic department.
Its fan blades integrate smooth motion and remain quiet at even max load. The cooling mechanism of the EVGA RTX 2060 Super SC Ultra is an upgrade from Founders Edition.
You may be getting around 65 to 66 degrees, which will ultimately benefit your clocks' performance.
Furthermore, just like every 2060 super on the list, it comes equipped with Ray-tracing functionality so that you will get hyper-realistic visuals.
My Findings:
In conclusion, this 2060 super from EVGA is a fantastic graphics card for the value it provides. It does well at 1080p high-refresh-rate gaming, while the 1440p genre is the sweet spot for this beast.
However, it can do 4K, but it's not primarily a 4K card. I mean, even the 2080 Ti struggles at this display, so you can't complain much.
But if you are still convinced for 4K ultra-high gaming, I would recommend getting a 1440 or 1080p high refresh rate monitor.
Furthermore, there is an upgrade from blower-style coolers to Twin style fans in this card so that you get the maximum performance.
#5- Gigabyte RTX 2060 SUPER WINDFORCE OC
Specifications
Boost Clock: 1680 MHz
CUDA Cores: 2176
Video Memory: 8GB GDDR6
PCIe Version: 3.0
Recommended PSU: 550W
Power Draw: 160W to 180W
Power Connectors: 1x 8-pin
Ports: 2x DP 1.4 / 1x HDMI 2.0b
Dimensions: 10 x 4.7 x 1.5 Inches
Highlights:
It provides more immersion and smoother gameplay with Nvidia's G-Sync mechanics.
The inclusion of the AORUS Engine gives you greater ease of mind during RGB customization.
WINDFORCE 2x cooling aids in increased fan functionality, resulting in low Temperatures throughout.
Built-in copper heat pipes, as well as a robust heat sink, improves the overall heat dissipation.
PCI Express 3.0 x16 included reserving power outage, saving you bucks in the long run.
14000 MHz memory speed in 8GB GDDR6 is ideal for smooth gaming.
Additional 4-year warranty on online purchase.
Drawbacks
The exposed heat pipes reduce the overall aesthetics. However, it's not much of an issue.
It gets quite noisy most of the times due to WINDFORCE cooling.
At number 5, we have the ever-lasting WINDFORCE by Gigabyte GeForce, which is my choice for the best RTX 2060 super in terms of custom cooling.
From a design perspective, nothing has changed this time. Gigabyte has refurbished the ergonomics for the previous generations, which is not bad at all.
On top of that, its three-fan design looks very decent, and the color scheme is easy to match with most of the setups. Similarly, the inclusion of a metal backplate is a bonus with this gear.
Unlike some competitors, the Gigabyte GeForce RTX 2060 SUPER WINDFORCE OC is not much deeper than the expansion slot, useful for those where bulkier models simply don't fit.
It is also worth noting that the RTX 2060 super, especially this model, is slightly better in performance than the Founder's Edition. It's clocked at 1680 MHz, which means you will get an increase in FPS in most of the older and some current titles.
Thus, it can be easily said that the WINDFORCE OC is an excellent card for AAA games at maxed-out settings with Quad HD monitors.
When it comes to thermals, it is not surprising to see that the significantly larger 2060 Super WINDFORCE OC does look a bit efficient.
It can remain quiet even in most tedious gaming sessions, making it the best bang for the buck GPU.
Additionally, you will get a 3-year warranty with this graphics processor, so if your card misbehaves for some reason, you can always find its replacement.
But be warned that the quality you will get with this device won't be available anywhere else.
My Findings:
Overall, these cards overclock them quite nicely. They stay cool enough and are going to look very pleasant in most of the system cases.
They might not be RGB crazy compared to most of the RTX 2060 out there, but they aim at a lower price tag, so you can't argue that much.
Furthermore, they are relatively faster than their predecessors and some competing AMD cards so that you will get absolute value out of them.
These GPUs' ray-tracing experience should not be overlooked, especially nowadays when AAA titles now start using this technology.
#6- Nvidia RTX 2060 Super Founders Edition
Specifications
Boost Clock:
CUDA Cores: 2176
Video Memory: 8GB GDDR6
PCIe Version: 3.0
Recommended PSU: 55W
Power Draw: 175W
Power Connectors: 1x 8-pin
Ports:
Dimensions: 9 x 4.4 x 1.6 Inches
Highlights:
Great for overall 1440p gaming at ultra max settings without overburdening the system.
Sleek card with an aluminum body that can easily match a wide variety of color schemes.
Available in cutting edge Turing architecture that reinforces most of the high-end RTX features.
Integrates DVI, HDMI as well as DisplayPort for extra ease of mind.
One of the affordable 2060 Super currently on the market.
Equipped with the highly praised ray tracing hardware.
Proper power output.
Drawbacks
It performs substantially well in both 1080p and 1440p gaming, however not that great in 4K resolution.
For most users, it randomly crashes, which makes it a bit skeptical choice.
Finally, we have one of Nvidia's official cards, known as GeForce RTX 2060 Super Founders Edition.
As compared to the reference 2060, this card doesn't much bring on to the table but is still the crown of the RTX lineup. Additionally, they do improve average FPS across the board at the exact price tag.
In terms of design, there isn't much change here. The GeForce Founder Edition is equipped with the classical dual-fan cooler that performs exceptionally well compared to the blower-style models.
Also, keep in mind that it would be a bit heavier than most Founder Edition cards. At the GPU sides, you will find the original GeForce badging, which does light up to be illuminated by classical Nvidia's green lighting.
However, it leaves some gaps in aesthetics when we compare it to gamer-friendly models like the one from Asus, but if you're not much into aesthetics, it won't be much of an issue.
In contrast to that, we see the official RTX super logo on each card's back and a shiny finish to the front, but otherwise, it's classical as usual.
Based on IO, you will get an additional USB-Type C connection, which is quite helpful if your PC confronts the extra one for VR linking.
There is also around a 15Watt increase in power usage, in contrast to the original RTX 2060 model.
My Findings:
In my findings, it is clear that the Nvidia GeForce RTX 2060 Super Founders Edition might not be a beast of a GPU; however, it won't let you down for decent mid-range gaming.
So, the real question is, is it still worth it?
Well, absolutely! In terms of performance, you're getting more than you had before, and according to the price tag, you won't have to break your wallet to afford it.
Although it might not be full RGB proof and lacks a robust cooling system compared to competitors, if you can somehow manage that, it can work wonders.
Benchmarks:
Moving on to the benchmark section, let's see how these 2060 super graphic cards perform in real-time.
But before we get straight on to the individual tests, let's analyze how well this GPU performs in regards to other high and low-end cards on the market so you can have a clear idea of its functionality.
When you compare it to the non-super cards, you will see a decent step-up, which puts these GPUs into a class above.
The 2060 super can't quite match the 2080, but across the board, it looks to be 7-8% faster than the predecessor.
Additionally, it will provide you a noticeable boost performance at every single resolution except 4K. Also, keep in mind that all these games were tested at ultra-settings, so you can always tone them down slightly to get some extra FPS.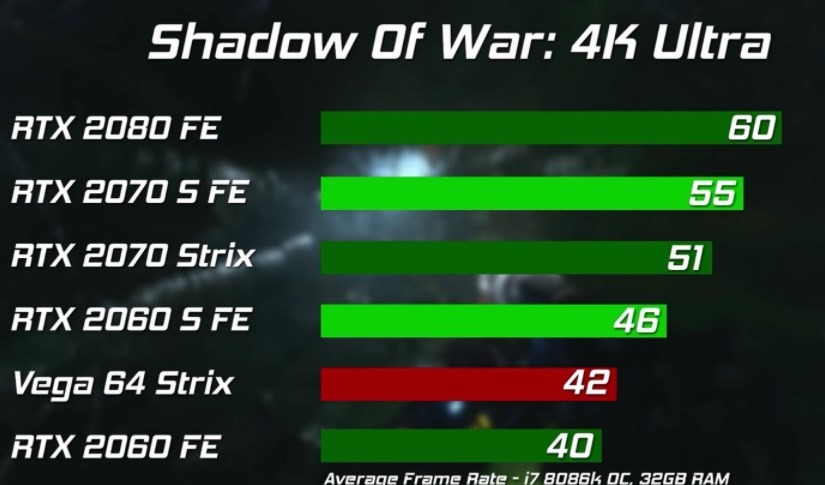 Now on to the individual 2060 super benchmarks, we will be taking an Intel i9-9900K, running at fixed 5GHz clock speed and 16GB of DDR4, 32MHz ram.
While the boot drive is Samsung 970 pro SSD and a 2TB SATA SDD on which the games are to be loaded.
Also, consider an open-air test bench, so the results for you might vary, especially if you have a small cramped case with poor airflow.
Next up in Shadow of the Tomb Raider with these cards, we can see almost similar results in the FPS spectrum. This proves that performance-wise, it generally doesn't matter which one you buy when it comes to Nvidia cards.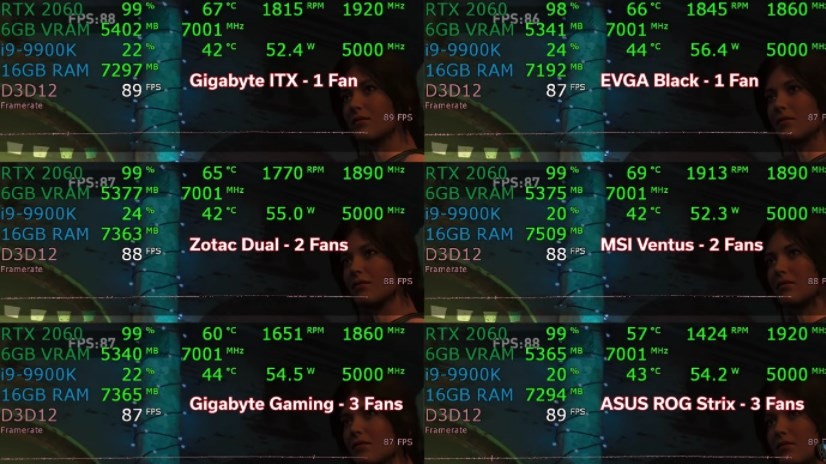 Most of the Nvidia cards, regardless of manufactures, generally give almost the same frame rates. The only thing that they will differ is based on the cooling, fan speed, aesthetics, and of course, quietness levels.
How To Select The Right Card For Your Needs?
So now that you have probably decided to go for Nvidia's 2060 super series, the next logical step is to know how to choose the right card according to your preferences.
There are dozens of RTX super 2060 in the market, each with its own set of clock speeds, coolers, length, widths, and aesthetics, making card buying complicated.
Lucky for you, I have come with the correct information to guide you in this regard, so at the end of the day, you can choose the absolute best of the best!
Open-Air, Blower, Or Liquid: The Cooling
The type of coolers or cooling solution is what differentiates various cards. The implementation of cooling types makes them look different and regulates different acoustic levels throughout the builds.
Generally speaking, there are three major types of coolers out in the market.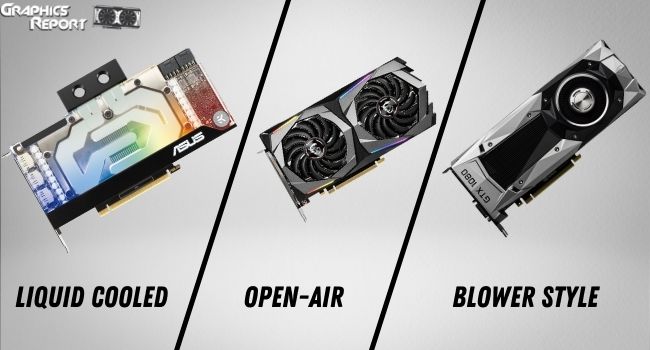 They might be blower style, open-air or liquid-based, depending upon the price tag. Open-air coolers are one of the most frequently used mechanics used by card makers.
They are also more simplistic in design and are based on single to multiple fan units. Although, in the case of RTX Super 2060, you will mostly find dual or triple fan-based open-air coolers.
Moving on to the blower-style, these were quite popular back in the days when the GTX cards were praised by gamers worldwide. They dissipate heat from the back of the card while containing an embedded heatsink.
The major drawback of these GPUs is that they usually are louder in many small builds. Lastly, we have the Liquid-based coolers, which are incorporated for all extreme gamers out there.
They operate under minimal temperatures, thus significantly increase the overall performance of the rig.
RGB Lighting & Design
You might also want to consider the design and overall aesthetics when buying a mid to high-tier graphic card.
On the other hand, the colors should be the most important thing on your list or the most important depending on how much you praise the visuals.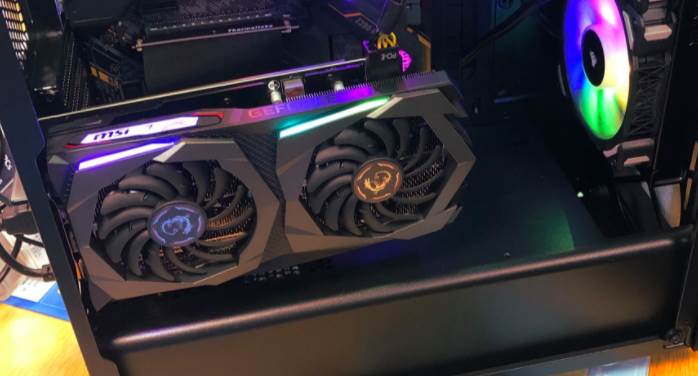 For example, the entire black matte color on MSI Gaming GeForce RTX 2060 Super is a make-or-break aesthetic choice, which would work wonders for all gamers with the black-accented build but will look horrible in other color schemes.
Similarly, RGB lightning is the new norm among most PC gaming enthusiasts out there. Companies like ZOTAC have RGB LED on most of the design, which can sometimes be integrated into the side logo.
Additionally, you can customize these lightning according to your preferences through the aid of many manufacturer's provided software such as FIRESTORM, Aura Sync, etc.
So, if design and aesthetics are important to you, consider this in your GPU buying decision. Otherwise, you are better off without it.
Build Quality & Performance
Graphical processors differentiate from each other based on the price tag, which eventually results in changes in overall build quality.
Like the Strix GeForce RTX 2060 Super, GPUs integrate a solid metal backplate under the design, making it aesthetically pleasing and aids in increased durability.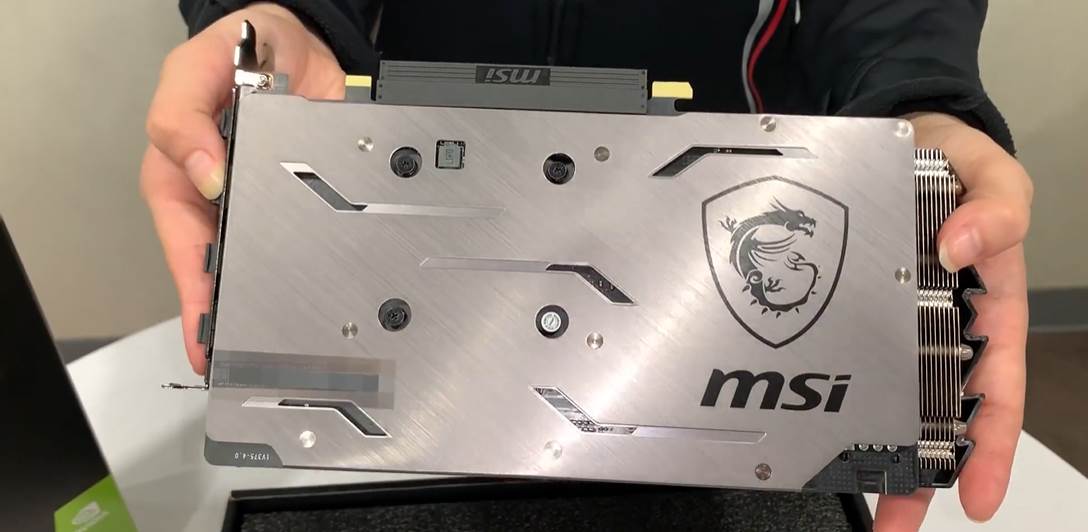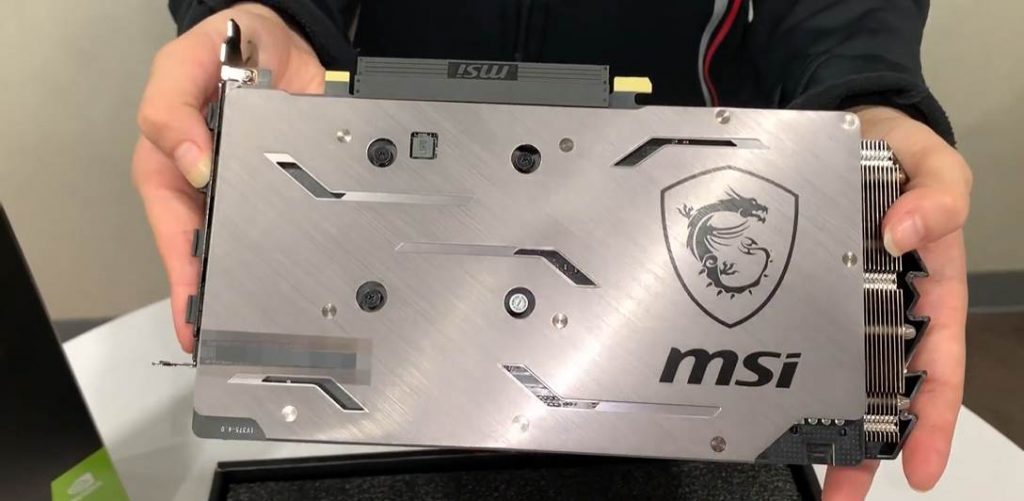 Others are based on the plastic shroud, which negatively affects the heat flow and minimizes the cooling.
On the other hand, an adaptor's performance depends upon many factors itself, one of which is the desired resolution. Some cards like the GTX 1000 series are great for mid-range gaming in 1080p resolution.
While others like ones from RTX 2000 lineup and are generally suited for 1440p gaming. But if you want the absolute best, you should opt for 4K gaming cards like the RTX 3000 series, which are often overpriced.
Budget & Dimensions
Like many other things, the price to performance ratio should be one of the primary considerations as you want to get the most considerable FPS amount for your bucks.
When we look into the 2060 super series, we can find that these graphical processors may vary slightly on the price tag. However, the price change is often compensated for the RGB effects.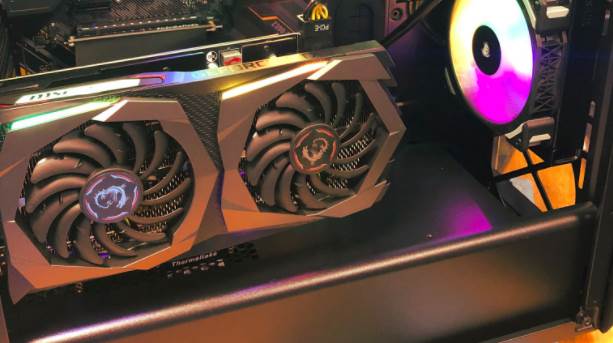 Also, remember that one card may be cheaper than the other, but it may be worth upgrading for a few extra bucks to get a better cooler or maybe some other premium features that otherwise you weren't able to get.
Furthermore, if you currently have a small mini-tower case or pre-built, make sure to check the overall dimensions of the card before you make the purchase.
Overclocked Or Not?
Any GPU frequency over the reference clock numbers is generally termed as overclocked speeds. Most third-party GPU manufacturers have software to let you overclock the architecture.
In the case of ZOTAC, it's known as FIRESTORM. The ideal overclock speeds for your cards should be under 10%, which can account for 100-150MHz.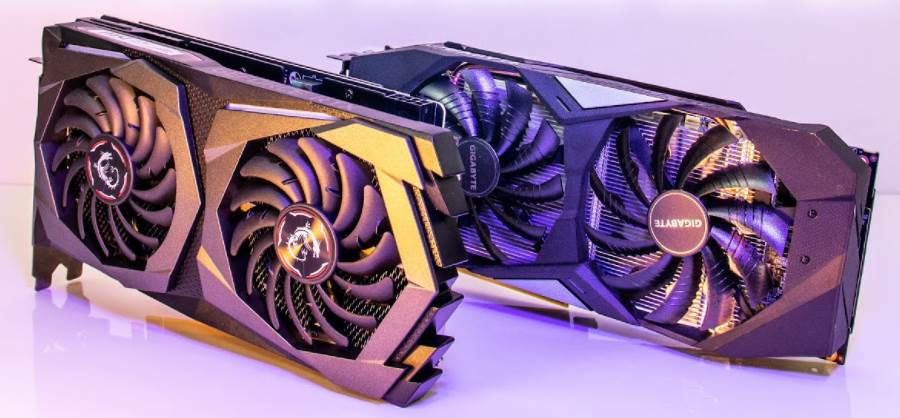 Anywhere above this number is harmful and can result in serious complications. Also, keep that in mind that more incredible overclock speeds won't be your graphics card's main determining factor.
So, try to focus on other factors and get an adaptor instead of relying on frequency alone.
In contrast to that, if you don't want to overclock through, then make sure to check the default speeds out of the box. This will let you increase your graphical potential without manually controlling any software.
End of The Line:
If you're currently building a new PC that's all about battle royal or any other competitive Genre and want to maximize the price to performance ratio, then getting a 2060 super is where all the action is.
The addition of some high-end features in this GPU puts it neck to neck with many competitors like the RTX 2070.
Almost all the 2060 Super cards mentioned above can trade blow resolutions but are designed for high-refresh-rate 1080p gaming or 60FPS at 1440p.
Furthermore, I am not a huge fan myself recommending anything below these cards to mid-range gamers out there.
This type of architecture is the bare minimum for playing titles at absolute max settings.
Additionally, no matter which type of graphical processor you will choose from the list, you won't be disappointed. But keep in mind the dimensions if you are going for a mini build.
Frequently Asked Questions (FAQs)