GraphicsReport is supported by its audience. When you buy through links on our site, we may earn an affiliate commission. Learn More
Best Graphics Card For Video Editing Without Any Lags!

I hope you won't disagree with me when I say that
Graphic cards are by far the most integral piece of hardware component when it comes to content creation or any format of video editing
If you are going for a pre-built setup or making a machine for yourself regarding video editing, you may require some fully functional system hardware, one of which is the CPU and ram.
Now we all know that a better CPU with multi-core processing units can lead to faster editing as well as an increased ram. But have you ever wondered about the role of GPU in video editing and rendering?
Well, to be precise, the graphic card in a system handles all the graphical rendering. It is responsible for smoothly analyzing high-definition pixels that are to be displayed on your screen or played back within the particular timeline.
If you edit any 4K footage on Premiere Pro, you have video files with a massive pixel ratio (496×2160).
These files take a lot of power to be produced on your rig, and most CPUs quickly become overloaded, which is why GPU assists them in this procedure.
When we specifically talk about graphic cards, both AMD and Nvidia are leading contenders. Both of them boast dozens of models, which makes the purchase a bit complicated.
That's why today, we will discuss the best graphics card for video editing that you can get in 2023.
Best Graphics Card For Video Editing – Comparison Table
image
name
price
SPECS
MSI GeForce RTX 3090 SUPRIM X 

RAM: 24GB GDDR6X
Cuda Cores: 10496
Dimensions: 13.2 x 5.5 x 2.4 Inches
Boost Clock: 1875 MHz

MSI Gaming X GeForce
RTX 3080 10GB 

RAM: 10GB GDDR6X
Cuda Cores: 8704
Dimensions: 12.7 x 5.5 x 2.2 Inches
Boost Clock: 1815 MHz

ZOTAC GAMING GeForce
RTX 3070 Twin Edge OC 

RAM: 8GB GDDR6
Cuda Cores: 5888
Dimensions: 9.1 x 5.6 x 1.6 Inches
Boost Clock: 1725 MHz

ZOTAC Gaming GeForce RTX
3060 Ti Twin Edge 

RAM: 8GB GDDR6
Cuda Cores: 4864
Dimensions: 8.7 x 4.5 x 1.5 Inches
Boost Clock: 1695 MHz

ASUS ROG Strix GeForce
GTX 1660 Super 

RAM: 6GB GDRR6
Cuda Cores: 1408
Dimensions: 9.6 x 5.1 x 1.9 Inches
Boost Clock: 1845 MHz

ASUS TUF RX
6900 XT OC Edition 

RAM: 16GB GDDR6
Stream Processor: 5120
Dimensions: 13 x 5.5 x 2.2 Inches
Boost Clock: 2340 MHz
Best Graphics Card For Video Editing
If you are constantly annoyed by getting crappy image quality in your edited video or experience delay in rendering, then no doubt you need a quality graphic card.
However, due to the sudden chip shortages and other market fluctuations, getting the best bank for the buck GPU is not easy. You need to take into consideration different facts before you make your mind for purchase.
That's why I brought you the following list of the six best graphics cards for premiere pro that can get you the desired results within no time.
No matter if you are tight on budget or require a performance-driven card, I will have a pick for you. So, without further due, let's get into it!
#1- MSI RTX 3090 RTX 3090 SUPRIM X
Specifications
Boost Clock: 1875 MHz
CUDA Cores/Stream Processors: 10496 Units
Video Memory: 24GB GDDR6X
Power Draw: 420W
Recommended PSU: 850W
Power Connectors: 3x 8-pin
Ports: 1x HDMI 2.1 / 3x DisplayPort v1.4a
Dimensions: 13.2 x 5.5 x 2.4 Inches
Highlights:
It comes in one of the best RTX 3000 packagings on the market.
Aesthetic-wise, it's a complete unit with tons of RGB headroom and a quality backplate.
MSI's newest edition TORX Fan 3.0 in this card work wonders most of the time in regulating hefty temperatures.
Fully compatible with MSI's exclusive Dragon Center utility so you can tweak it according to preferences.
A decent shroud with several heat pipes running across the base for ensuring better cooling.
The 24GB GDDR6X video memory is more than enough for prime video editing on any tool.
Aluminium brushed metal in the design ensures longevity.
Drawbacks:
It's a top of the line RTX 3000 series graphic adaptor, so the price range will be a bit more as compared to the competition.
It's a beefy GPU covering more than 2-slot space, so you need to be cautious about the adjustability.
You might now be familiar with the current graphic card situation in the market, in which the newer RTX cards are hard to find even for content creators.
However, if you are optimistic about the price drops, this beast of a GPU can get you the desired video editing results within no time.
The MSI RTX 3090 SUPRIM X is my pick for overall best graphics card for video Editing, which is also MSI's prestige RTX model currently on sale.
If you're a hardcore gamer or professional Adobe user, you should definitely get your hands on this hardware. Straight off the bat, design-wise, it looks premium, as you can expect.
The build quality is rock solid for an RTX chip with decent visuals at the backend. It features MSI's new TORX Fan 3.0 cooling solution that effectively lowers the fluctuation in temperature.
Besides that, its fan blades contain several pores over the design, which further enhance the airflow. There are MSI dragon logos over the fan blades, which practically look way cooler in any build.
In addition to that, you will be getting several RGB strips next to the base fan, which will give your content creation a premium add-on. While at the backend, you will be able to see another glowing logo.
Speaking of which, the backplate is known for its durability since it is made from brushed steel. Although, this is to be expected from a high-end GPU with additional MSRP.
This GeForce RTX 3090 SUPRIM X is also fully customizable through MSI's Dragon Center. You can tailor your work experience and even disable those glossy RGB effects if you want a professional outlook.
Taking a look at the IO section, we can find that it features 3 x DisplayPort 1.4a and a single HDMI 2.1 for additional support.
My Findings:
All in all, the RTX 3090 SUPRIM X is the best bang for the buck card for any video editor or high-end gamer alike.
It's engineered with Nvidia's current-gen architecture so that you will get prime technologies such as G-sync for your ease of mind.
Its max resolution is locked at 7680 x 4320, so you don't need to worry about display-related issues. It features massive 24GB of VRAM, which is highly effective in modern-day setups.
After incorporating it into your system, you won't be disappointed with the performance. If you could afford it, then I highly recommend getting it.
#2- MSI Gaming X TRIO RTX 3080 10GB
Specifications
Boost Clock: 1815 MHz
CUDA Cores/Stream Processors: 8704 Units
Video Memory: 10GB GDDR6X
Power Draw: 340W
Recommended PSU: 750W
Power Connectors: 3x 8-pin
Ports: 1x HDMI 2.1 / 3x DisplayPort v1.4a
Dimensions: 12.7 x 5.5 x 2.2 Inches
Highlights:
Unlike previous editions, it has a fan stop feature that will keep the fan idle when the GPU doesn't have much load onto it.
Overall build quality is superb for the price tag, with fans that won't quickly wear out in the long run.
For extreme overclocking scenarios, MSI has incorporated 3×8-pin connectors for powering this beast.
In terms of connectivity, it is equipped with all the latest and greatest outputs so that you can incorporate it with 4K monitors.
Great for premium gaming and video editing likewise since it relies on RTX functionalities.
It is even equipped with DLSS support for maximizing performance without hindering image quality.
2X ballbearing design can get you to whisper-quiet experience.
Drawbacks:
The power draw is relatively high with 750W of PSU and a TDP of 340W so that you will require a prime power supply: however, more horsepower means more performance.
The cooling system lacks a vapour chamber which is a bumper.
RTX 3080 cards from Nvidia are always prestigious PC hardware that falls under the high-end category. You can either use them to game at 4K or utilize them for Adobe Premiere Pro related tasks such as video editing.
The best thing about them is that they are 10% faster than their 3070 counterparts in GPU acceleration, while some of them even give you the functionality of the premium design.
If you're looking for such models, then the MSI Gaming RTX 3080 10GB might be your best bet. It's a big and bulky three fan three slot card with tons of RGB to look aesthetically pleasing in your build.
The shroud of this video adaptor is full plastic, but the overall design of this card is quite sturdy, so you can't complain much.
Besides being top of the line ergonomic-wise, this GPU is exceptionally reliable at heavy load so that you won't be bothered in your next project.
The dimensions cover 32cm length, 14cm depth, and around 6cm width, which means that it is clearly made for a larger tower casing with ample room for adjustability.
The backplate of this model feels like the typical grey gunmetal: however, it is actually made from graphene, which makes the design lighter and durable.
If you are familiar with the 10 or 20 series Trio cards, you won't find any significant differences in RGB in this variant.
Although keep in mind that you will get additional RGB strips at both the front and back, which are, of course, fully customizable with MSI's Mystic utility.
While in terms of additional cooling features, MSI again didn't disappoint its customers. It boasts the new and improved X Trio fan design, with extra heat pipes and subtle airflow deflectors, all of which will keep the card stable while maintaining decent performance.
My Findings:
In conclusion, the MSI RTX 3080 is one of the best graphics cards for video editing and rendering for those searching for the sweet spot in price to performance ratio.
On 4K resolution, you can expect almost every player title to be completely playable at 60FPS high settings.
This also means that it will operate on intense editing software such as Adobe Premiere Pro or Filmora without any complications.
You will be able to encode projects with YouTube 1080P Preset within no time. As compared to the RTX Founder edition variant, it is ergonomically pleasing and acoustically quiet.
You won't run into issues like GPU sag as long as you take in considering your build's dimensions before the purchase.
#3- ZOTAC GAMING RTX 3070 Twin Edge OC
Specifications
Boost Clock: 1755 MHz
CUDA Cores/Stream Processors: 5888 Units
Video Memory: 6GB GDDR6
Power Draw: 220W
Recommended PSU: 650W
Power Connectors: 2x Dual 6-pin to 8-pin
Ports: 1x HDMI 2.1 / 3x DisplayPort v1.4a
Dimensions: 9.1 x 5.6 x 1.6 Inches
Highlights:
Just like the RTX 3080, its DLSS enabled to give you additional peace of mind whenever your high-quality editing videos.
It operates under IceStorm 2.0 cooling system that efficiently regulates the thermals while keeping the acoustic levels low.
The addition of active fan control and freeze stop technologies allows you to adjust your fan functionality with ease.
Improved cooling with the aid of solid heat pipe layout and a wide array of an aluminium heat sink.
Made for longevity thanks to complete metal backplate design.
As the name suggests, it comes overclocked out of the box, giving you added versatility.
This card is also VR Ready so you can take your visual experience to the next level.
Drawbacks:
Due to the recent fluctuations in the marketplace, it is being sold widely above the MSRP.
It's not that RGB flashy as compared to most of the competitors.
Not everyone has the budget to support a mainstream RTX 3090. If that's the case for you as well then, an RTX 3070 or particularly the Twin Edge OC from ZOTAC is your ideal bet.
These cards are cheap compared to their predecessors and beneficial for users with limited power consumption.
While when it comes to computing and rendering images in utilities like Adobe Premiere, this thing is built like a tank.
So right out of the box, the card looks a little bigger as you may expect, not in terms of length but terms of height. ZOTAC does this to keep the card just under two-slot dimensions.
With that said, the overall dimensions are 15x 10 x 4 inches, and the GPU itself weighs just under 2.5 pounds, so you will be able to incorporate it into your build without any issues.
Looking at the ZOTAC RTX 3070 Twin Edge OC from the rear end, we can see that it has a full gunmetal backplate complemented by pretty neat power cables.
There actually a few cut-outs over the backplate, which helps in overall ventilation. The GPU may share a dual-fan design but don't underestimate its cooling performance.
At idle, it stabilizes around 49°C, while at even max stress, you won't see it fluctuating above 80°C.
It has the official ZOTAC Gaming logo at the top corner, which further enhances the visuals and gives the overall construction a bit of styling.
Moving onto the IO section, it shares 3 DisplayPort 1.4s and an HDMI output, which will be helpful at 4K 120Hz but keep in mind that you will require a modern screen setup.
My Findings:
Our findings suggest that this is a graphic card that can outperform the Founder's edition quite comfortably while costing roughly about the same.
It's one of the top-end cards from the 3070 series since it runs so cool, quiet with typically no coil whine whatsoever. Besides, that it actually looks pretty decent as an effectively built product.
There is no doubt that it gives you great value to core performance without costing you a fortune. Although, one of the significant downsides to it is the lack of VRAM.
Sure, it has 8GB DDR6 memory, which is well under the range for prime gaming, but if your goal is content creation, you're better off with something like the RTX 3080.
#4- ZOTAC RTX 3060 Ti Twin Edge
Specifications
Boost Clock: 1665 MHz
CUDA Cores/Stream Processors: 4864 Units
Video Memory: 8GB GDDR6
Power Draw: 200W
Recommended PSU: 650W
Power Connectors: 1x 8-pin
Ports: 3x DisplayPort 1.4a / 1x HDMI 2.1
Dimensions: 8.7 x 4.5 x 1.5 Inches
Highlights:
One of the things to note about this GPU is that it uses the newest PCIe express four standards, which will get you additional versatility.
It's a mid-range RTX GPU, so the power consumption is kept constant at 200W, attached with only a single 8-Pin connector.
Solid metal backplate protects the rear end of PCB and provides a bit of firmness as well.
Features IceStorm 2.0 Advanced Cooling with various pockets of ventilation.
A reasonable amount of IO will provide you 8K at 60Hz as well as 4K at 120Hz without any issue.
This is a double slot GPU, so you won't need to worry about fitting it in your casing.
It has the Direct X12 ultimate support, along with Falcon 1.2 and Open GL 4.6 compatibility.
Drawbacks:
The fan shroud fits ineffectively on this GPU, causing the temperatures to sometimes fluctuate at max load.
The acoustic levels are moderate on this card, so nothing extraordinary.
Moving on to Nvidia's, another high-end second generation of cards, we have the ZOTAC GeForce RTX 3060 Ti.
From the looks of it, this might be your standard 3000 series GPU: however, with substantial overclocks, faster export times, and decent budget price, it might be just the right option for any video editors out there.
It might not be as powerful as 3090 within Adobe Premiere, but you can't get a more effective deal for a mid-range, cost-effective option.
This particular model from ZOTAC takes the 3060Ti architecture and provides us with a modest overclock to the GPU clock boost.
It also features a brand-new cooler design, although a lot similar design-wise to its 3070 predecessors that I have reviewed earlier. There is a single heat sink in the construction complemented by ZOTAC's two intuitive cooling fans.
Like previous RTX models, both the shroud and the cooler are merged right into it, which enhances the cooling and makes it aesthetically pleasing.
Overall, it's a pretty-looking card with somehow minimalistic dimensions. This means that it will fit right into most ITX cases without any complications.
Speaking of the shroud may be plastic, but it has a gunmetal finish onto it, so you can't complain much.
In contrast to that, its shape is quite unconventional with sharp edges, but regardless of the odd look, it is still a complete unit.
The RGB lightings on this GPU are kept minimum, with just the ZOTAC gaming logo illuminating the white theme at the top.
As the name suggests, it's an OC model from ZOTAC means it comes factory overclocked with decent boost potential.
While the memory overclocks sits at the reference settings of 14Gps. On top of that, you will get 8GB DDR6 lighting fast VRAM that has 256-bit bandwidth.
This number seems a bit disappointing for any video editor out there, but if you're not taking it professionally, you don't need to worry much.
My Findings:
At the end of the day, if you are searching for the best graphics card for video editing 4k videos without breaking the bank, then I highly recommend getting the ZOTAC Gaming 3060 Ti Twin Edge.
The biggest selling point of this product is its high-end cooling department. It features a dual 11inch fan blade design that utilizes the 0DB technology, meaning they will stop spinning at idle.
This perk is a game-changer for content creation as it gives them peace of mind while doing intense graphical rendering. It is majorly designed for 1440p; however, you can incorporate it for 4K whatsoever.
#5- ASUS ROG Strix GTX 1660 Super
Specifications
Boost Clock: 1875 MHz
CUDA Cores/Stream Processors: 1408 Units
Video Memory: 6GB GDDR6
Power Draw: 125W
Recommended PSU: 500W
Power Connectors: 1x 8-pin
Ports: 2x HDMI 2.0b / 2x DisplayPort 1.4
Dimensions: 9.6 x 5.1 x 1.9 Inches
Highlights:
Its patented Wing-Blade design with DirectCU II cooling control will regulate the temperature and keep the power consumption at a bare minimum.
Compatibility with GPU Tweak II software allows you to monitor your performance levels on the go.
Relatively silenced functionality, thanks to the incorporated 0dB Technology.
This GPU protects itself from degradation in the long run with the aid of IP5X dust resistance.
Ergonomically solid card with decent aesthetics on the backend.
The onboard dual-BIOS switch will allow you to adjust your performance levels instantly.
The limited RB lightings are fully customizable through ASUS Aura Sync utility.
A rigid metal backplate is present to protect its components further.
Drawbacks:
Unfortunately, it comes packaged with only 6GB of DDR6 memory, so that the video exports will be limited as compared to concurrent RTX models.
It might be a 2.4slot GPU, but the recommended power supply is still around 450W landmark.
Nvidia's GTX lineup might not suit most of the professionals out there, and the GTX 1660 Super is no exception to that statement.
However, this doesn't mean that this card can't perform well during any light to mid-range content-creation tasks. In fact, with its video exports speeds, it easily surpasses its predecessors by a margin.
On top of that, its price well under the hood, so you won't need to break the bank as you edit 4K videos.
This particular 1660 super variant is from ASUS, which are among industry leaders in the graphic card realm. Their tech is known for longevity, aesthetics, and functionality, which you can't find anywhere else.
Speaking particularly about this model, what separates it from the rest is its dual-BIOS feature, full-metallic backplate, and an additional onboard fan header.
While design-wise, the ASUS GTX 1660 Super is a complete unit. Ergonomically, it shares a matt black finish that is regulated by a plastic shroud.
Its aggressiveness in construction is under the spot, so you don't need to worry about the typical gamer-premium aesthetic that most third-party cards boast.
Surprisingly enough, there are limited RGB on this GPU, but it's not that much of an issue, considering you won't be using it much for gaming.
In addition to that, the matt black design will complement any color-coordinated builds. You will find ASUS's two axial fans at the front of the card, which is pretty hefty for a 1660 model.
Although they do provide the necessary cooling while still retaining the noise levels as you edit high-quality 4K videos. One thing to note is that it's not a typical dual slot but a 2.4slot GPU due to increase thickness.
This means that if you have an HTCP chassis, you should be considerate about the dimensions. Other than that, spec-wise, it can lead you to enhanced performance.
My Findings:
The ASUS ROG GTX 1660 Super truly shines in the industry with an impressive price-to-performance giveaway when it comes to the graphics card for photo editing.
It might not be as powerful as the high-end RTX models discussed in the list, but it's still not the least. On top of that, it is aimed toward budget consumers who are either into 1080p gaming or general 4k video editing.
On top of that, it can even edit raw footage without any inconvenience. However, I would recommend using a fast-paced SSD if you want to get the most out of the functionality.
The only drawback with this graphical adaptor is its mediocre power consumption and limited video memory. But if you can tackle these shortcomings, you are good to go!
#6- ASUS TUF AMD Radeon RX 6900 XT OC Edition
Specifications
Boost Clock: 2340 MHz
CUDA Cores/Stream Processors: 5120 Units
Video Memory: 16GB GDDR6
Power Draw: 300W
Recommended PSU: 850W
Power Connectors: 2x 8-pin
Ports: 1x HDMI 2.1 / 3x DisplayPort 1.4a
Dimensions: 13 x 5.5 x 2.2 Inches
Highlights:
Massive heatsink with a bulky cooler increase your performance levels during professional 4K video editing.
Its triple 90mm Axial-tech fans incorporate reverse rotation to maximize airflow and reduce temperatures.
Reinforced fins, copper heat piping, and all-aluminium shroud separates it from the rest of the competition.
Intuitive backplate with MaxContact Technology further improves thermal transfer throughout the usage.
Adaptable with ASUS's GPU Tweak software so you can customize its settings according to your preferences.
It features both Gaming and OC mode, which gives you a bit of versatility.
Dual BIOS and the addition of stainless IO is a bonus.
Drawbacks:
It is a 2.9 slot card in a triple fan blade design, so that the overall dimensions will be pretty significant for a high-end card.
Lack of power efficiency is a significant drawback in its construction, leading to several complications.
And finally, we have the RX 6900 XT OC Edition, another one of AMD's top-of-the-line Ray tracing GPU competing directly with Nvidia's RTX 3000 series.
Released in early 2020, this beast of a card is perfect for video editing. It will deliver you seamless visualization effects and more significant encoding and decoding video scripts performance at the aid of added cost.
If you have the budget and want to use utilities such as Adobe pro effectively, then the RX 6900 XT is your one-stop shop. This current variant from ASUS is a hefty card, covering 2.9 PCIe slots and weighing around 4pounds.
Besides that, the integration of a bulky heatsink further increases its dimensions, so make sure that you have a case compatible with its adjustments. Ergonomic-wise, it shares a similarity with the 3080 model from ASUS.
However, there are subtle tweaks in its design, which make it more genuine. Except for the fans, the overall body is fully metallic (aluminum-based), enhancing its longevity and making it aesthetically pleasing in most of the builds.
This ASUS TUF OC Edition is also utilizing triple fan construction that runs of axial tech to give you maximum support in maintaining constant temperatures. On top of that, they incorporate reverse rotating to maximize turbulence.
Like any other high-end RTX 3000 card, it contains fan stop functionality which further aids in maintaining its triple 90mm fans stability.
Moving on to the rear side, we can find that the backplate is covered with full aluminum complemented by several indentations to regulate thermal pad thickness in the long run.
Overall, the design is very clean, and the integration of minimal RGB effects further increases its charm.
My Findings:
All in all, being a relatively new card in the market, the ASUS TUF RX 6900 XT has tons of potential and horsepower to become one of the leading choices for content creation all over the globe.
While it's primarily targeted toward high-end gamers who are into raytracing, you can use it for your following Adobe projects whatsoever.
Additionally, the implementation of 16GB DDR6 memory separates it from most of the cards in my list is as it will lead to faster video file exports and rendering.
As compared to the original 3090, it still falls behind a certain extent. However, keep in mind that these AMD variants are cheaper, so you will save few bucks in the long term.
Do I Need A Graphics Card For Video Editing?
A graphics card or a GPU is highly beneficial to any system. It assists the CPU or, in many cases, minimizes the overall load so your setup can operate adequately.
When it comes to video editing, most tech professionals might say that it is not an ultimate requirement, which is true in most cases. You can edit your images and videos without the incorporation of a discrete card.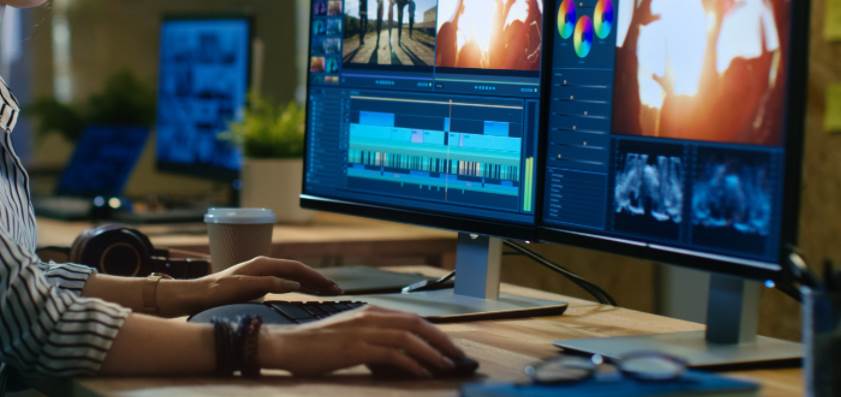 However, if you're a professional video designer or graphic designer or even a motion designer and using the latest and greatest utilities, you definitely need a decent GPU.
The graphic card supports the CPU in rendering the footage of a 3D animation or editing project. It not only makes the overall process efficient but also faster at the cost of added core count.
Other functionalities of GPU in content creation include the playback timeline and smoothening of 3D images of your footage or animation, which are ineffective by utilizing only a CPU.
If you want transitions and different effects in your project, then a graphic card is worth opting for.
Heavy-duty graphic cards such as the RTX 3000 series are typically utilized in programs such as Blender, CAD, DaVinci Resolve, After Effects, and Adobe Pro.
Although, you can also incorporate mid-range cards if your budget is currently tight.
Related readings:
Best 1660 Ti Graphics Cards For 1080p Gaming – (2023 Updated)
Best RTX 2080 Ti Graphics Cards In 2023 – (Performance Tested)
Best RTX 2080 Graphics Cards For 2023 – (Buyer's Guide)
Best RTX 2070 Super Graphics Cards – (The Ultimate Guide)
Best RX 580 Graphics Cards In 2023 – (Budget Gaming GPUs)
Best GPUs For Ryzen 5 2600 Processors In 2023 – (Updated)
Best AMD RX 5700 XT Graphics Cards In 2023 – (Reliable Options)
Which Factors To Consider While Choosing A Graphics Card For Video Editing?
Before you choose the best graphics card for video editing and rendering for your system, there are a couple of things you need to take into consideration.
Things like the amount of VRAM, motherboard compatibility, power supply limit, and overall spacing can either lead you to better performance or various complications throughout your video encoding journey.
Some of them are represented as,
Nvidia Vs AMD: Which Is Better For Video Editing?
So, there is no doubt that graphics or video cards are suitable for almost everything. They have the necessary hardware to enhance playback in real-time.
They are integral to modern games. They are essential components of any system that needs to output video on an external display. But what about video editing?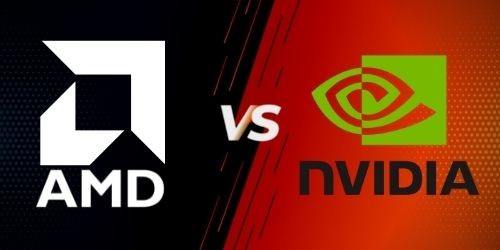 Do content creators should stick to Nvidia, or they should opt AMD based GPUs?
Well, the long and short answer is Nvidia. If you're a content creator, especially a video editor, on applications such as Adobe Pro or Davinci Resolve, you should go with Nvidia cards.
They might be slightly expensive than their AMD counterparts, but they offer intuitive technologies such as CUDA acceleration, which is better suited for 4K video editing and rendering.
Although looking a few years back, it could've easily been said that whether you go with AMD (OpenCL acceleration) or Nvidia (CUDA acceleration) for the workstation, you will be getting a very similar result.
However, due to the advancement in modern utilities, that's not the case anymore.
How Much VRAM Do I Need?
VRAM or video memory is a type of onboard ram which is specific to graphic cards. Just like your system's ram, they assist your GPU in feeding up the necessary data, which is then used to render images at a particular resolution.
It is also a type of high-speed memory that holds textures, frame buffer, and lightning information for a short amount of time.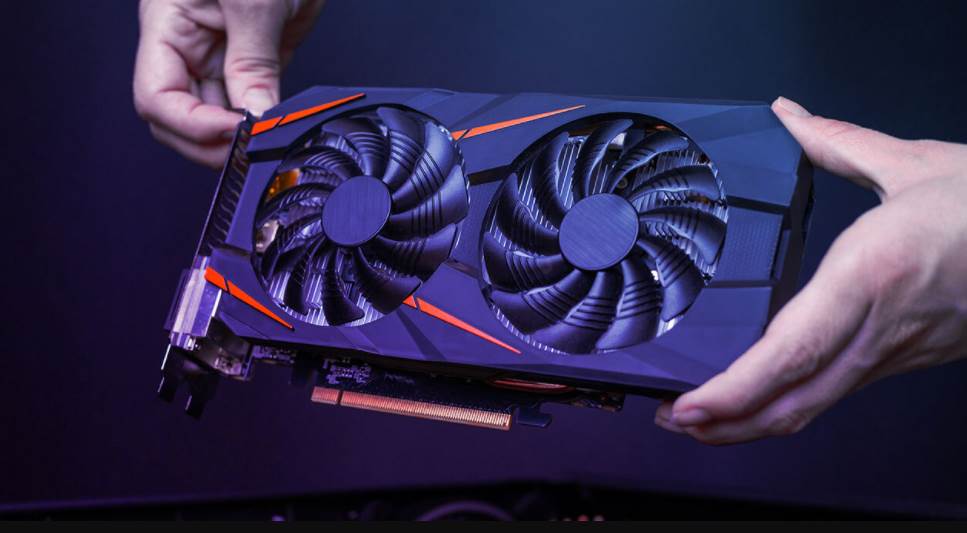 If you're a gamer, lower VRAM can lead to sudden bumps in performance, leading to poor performance, but too much video memory is nonfunctional.
The same is true for video editing, which requires certain VRAM to handle higher resolution files. Most of the current GPUs in the market have anywhere between 4-6GB of dedicated video memory, which is more than enough for content creators.
But if you're a professional and utilize top-of-the-line software, I will advise you to get a card with 8GB VRAM as it will allow you to encode 4K images and videos with precise bitrate and audio settings.
Multi-Card Scaling
For those who don't know, multi-card scaling is a functionality through which users are inserted more than one graphics card in their system without any troubleshot.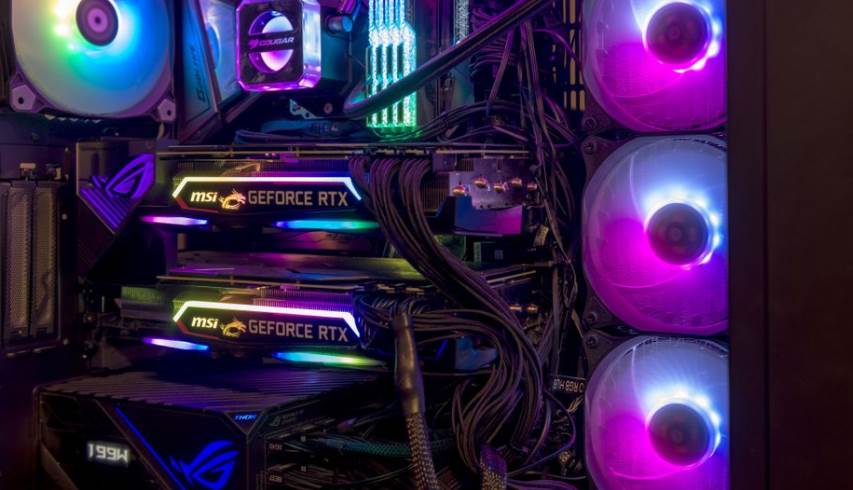 With video games, you can use those multiple graphic cards to improve your performance and sometimes double it if the concurrent title is well-optimized for it. Now for video editing, things start to become complicated.
There won't be any notable difference in editing and playback performance even if you incorporate dual GPUs using intuitive technologies such as NVLink or Crossfire X.
Sure, rendering a five-minute 1080p clip with film grain enabled will make the multi-GPU setup 4% difference. But if you can convert those numbers in real-time, you will only be saving a few seconds.
Size, Cooling Systems, & Performance
All these above factors that we just discussed are indeed integral to a graphic cards' functionality during content creation.
Still, you should never overlook things like adjustability and overall cooling when it comes to raw performance.
First and foremost, you need to make sure that the graphic card your buying for editing purpose is even compatible with your casing and motherboard.
If you have something like a mini-ITX chassis with an outdated onboard motherboard, then there is a high probability that you won't be able to integrate the modern RTX GPUs into your system.
Even the 3000 series consist of more than 2-slot spacing which leads to frustration for most users. Similarly, you need to make sure that your preferred card has a powerful cooling solution so that it won't thermally throttle in the long run.
End of The Line:
So, these 6 were the Best Graphics Card for Video Editing that you should defiantly pick.
If you are still confused or unsure about your decision, then let me summarize it quickly. Choosing the ideal hardware for video editing can be confusing as hell.
Some tech Gurus over the internet might be suggesting that you don't need the best bang for buck card to render 3D animation and videos, while others may be implying that you opt for the latest and greatest model in the market.
Anyhow, if you're a hobbyist or beginner in content creation, then I will advise you to pick any budget-oriented card such as the ASUS ROG GTX 1660 Super.
It might not have the latest features, but it's the option to go for typical use. In contrast to that, if you're a professional editor with high-volume projects, then the current-gen RTX cards could be your optimal fit.
Also, no matter which model you choose, make sure not to overpay the MSRP. Even if you couldn't find a good offer, make sure to wait for the prices to go down a bit. Trust me; the extra bucks could be spent on something else.
Frequently Asked Questions (FAQs)