When a graphics card renders an image, it does not filter it perfectly. Noise and poor sharpness of image are some things that lie beyond its scope of expertise.
For the solution to such issues, after installing the GPU, you must download the required software to run it. For AMD and NVIDIA, this software can be found on their official websites.
Even these software's are not completely optimized for solving these issues. Around 3 to 4 years ago, NVIDIA released software named NVIDIA's DLSS technology.
This technology was great for image sharpening and reducing noise after the image rendering. There was one big issue with this technology, it was only available for NVIDIA GPUs.
In early 2021, AMD released its technology named AMD FidelityFX Super Resolution. Even though it is still in the process of development, it is available for most AMD and NVIDIA GPUs. Let's take a deeper insight into this technology.
What Exactly Is AMD's FidelityFX Super Resolution?
After NVIDIA released its Deep Learning Super Sampling (DLSS) technology, NVIDIA users were quite happy. This technology was a great addition to the gaming experience of gamers.
Using the deep learning approach to improve your performance and graphics was a new addition to the gaming market. There were some flaws in their approach to this software.
This technology was specifically designed for NVIDIA users only. AMD and other GPU users were left out because of this.
Also, it was only available for the RTX 6000 series cards, which are the top-of-the-line cards.
Both limitations made a specific set of GPU users disappointed. Seeing this, AMD decided to create their technology.
In early 2021 AMD's FidelityFX Super Resolution hit the market. This was liked by all users. For this to be an open-source application was a potential possibility for developers.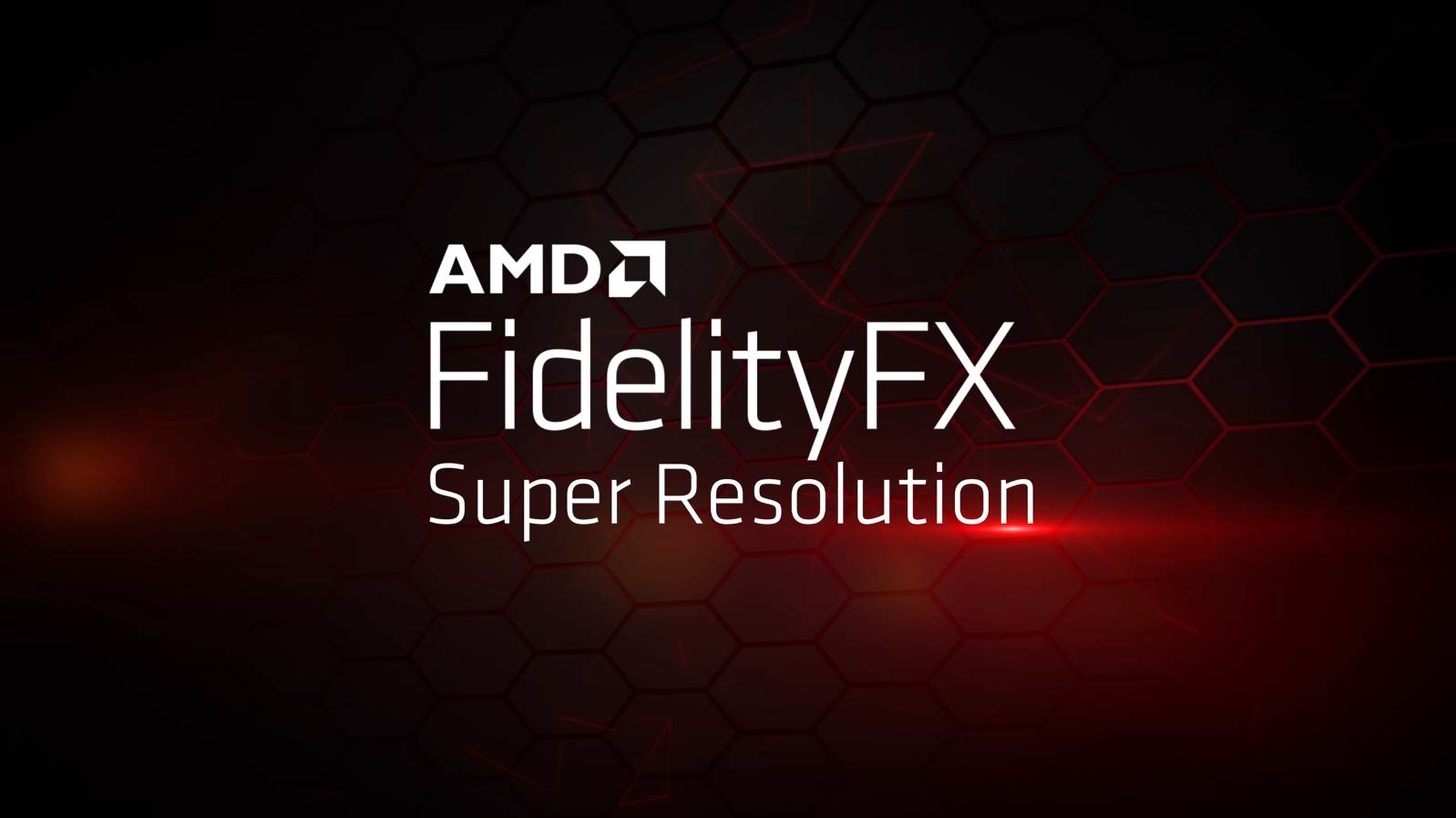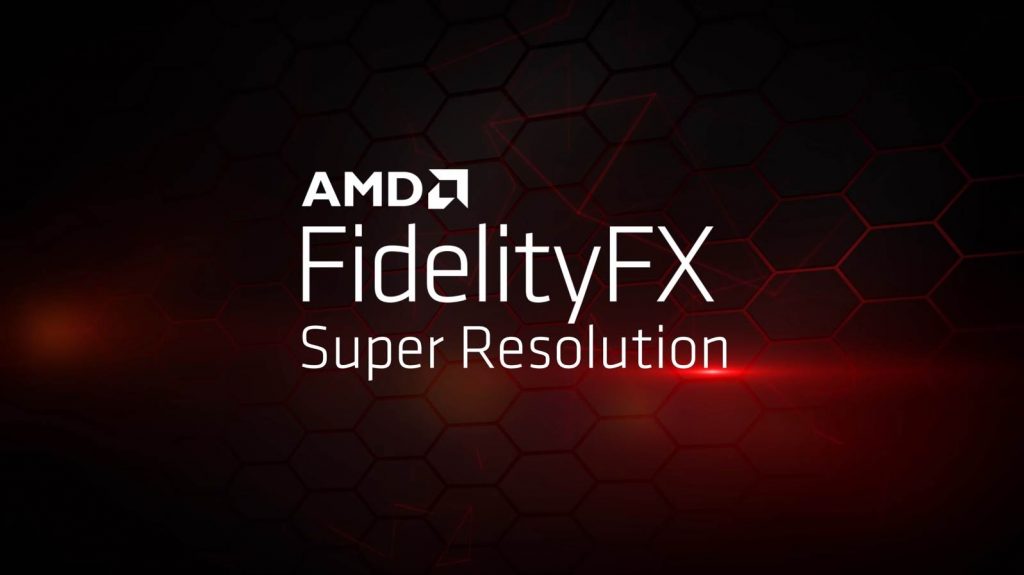 The community support was great towards this software. More clarity in images with boosted performance is the dream of every gamer.
AMD FidelityFX Super Resolution is a cutting-edge algorithm that improves image clarity and boosts your FPS. These two things do not increase the workload of your GPU.
We will see later in the article how this algorithm achieves this milestone. Now let us have a look at some of the advantages of this algorithm.
It is open-source, which means developers can easily integrate it into their games. The algorithm can be downloaded from GPU Open under an MIT license.
If you are a developer, then the integration of FSR in games is easy. It comes with a full shader source code which helps in handy integration of FSR in your games.
It supports many API versions, including DirectX 12 and 11 with Vulkan. This makes it one of the widely spread graphics optimizers.
The biggest advantage of FSR is its cross-platforming feature. This feature is not only limited to AMD users but also available for NVIDIA users.
The cross-platforming does not stop there. It has also been integrated with development tools like Unity and Unreal Engine 4.
Xbox GDK is a development tool for Xbox games. Most Xbox games are developed on this platform, and FSR is also easily integrated on Xbox GDK.
It also works for Intel pre-installed graphic cards. The AMD team is working hard on making it compatible with all the market GPUs.
It is hand-optimized for the best performance possible and supports a wide variety of games and GPUs.
The FSR is best known for its boost in framerate and improvement in graphic quality. You can choose different modes of graphics improvements.
Each one has its level of performance boost. We will have a deeper dive into these performance levels later in the article.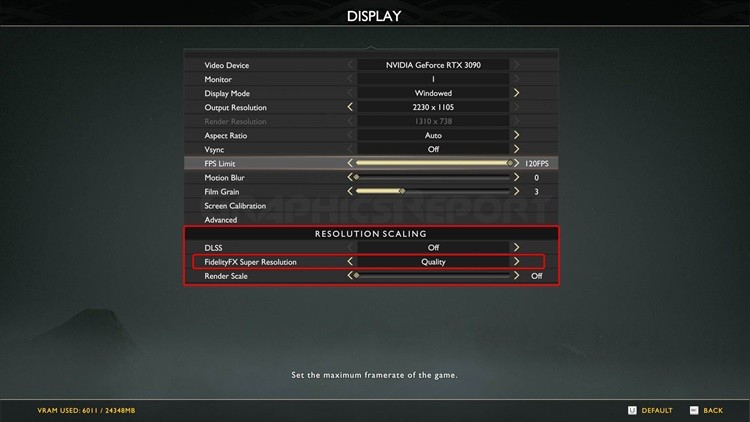 This is not an official use, but after seeing the success of AMD FidelityFX Super Resolution. A rumor has been going around.
It is said that NVIDIA has decided to turn DLSS into an open-source application. This can be seen as a competitor to the AMD FidelityFX Super Resolution.
How Does FidelityFX Super Resolution Work?
FidelityFX Super Resolution is based on an algorithm that works on boosting your FPS. It also improves your image rendering quality.
Later, on June 22, 2021, during the Computex 2021 keynote, AMD showed a glimpse of the working of AMD FidelityFX. The full name of this technology is AMD FidelityFX Super Resolution.
This is an algorithm that improves the image by tweaking a few things. Let us look at how this algorithm performs these tasks.
It takes an anti-aliased image as input. Then it scales it to the resolution of your display. There is one high-end algorithm in the middle of FidelityFX Super Resolution.
This algorithm takes the native resolution image and recreates it. It recreates the image in such a way that the GPU usage remains the same but the FPS increase.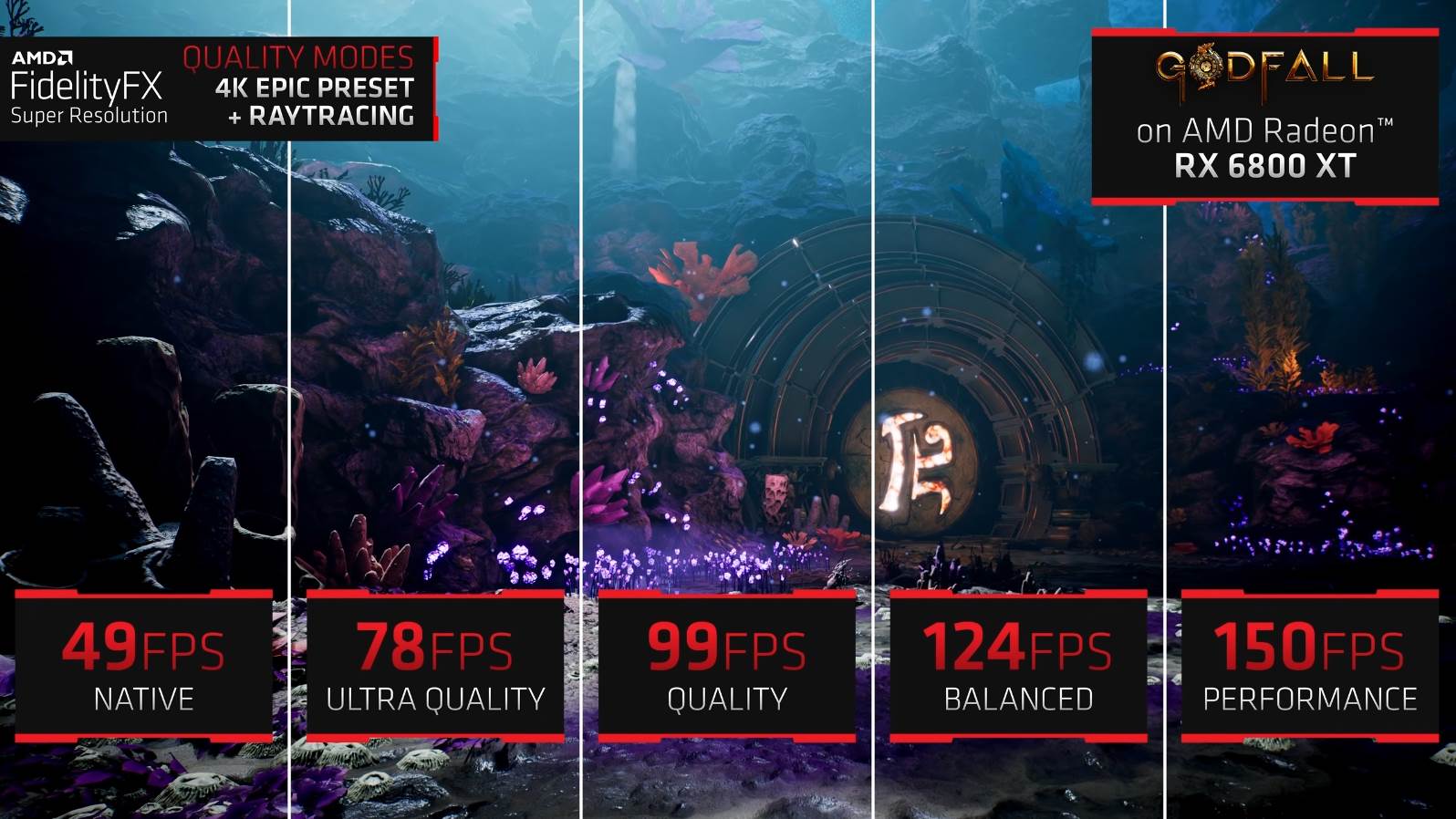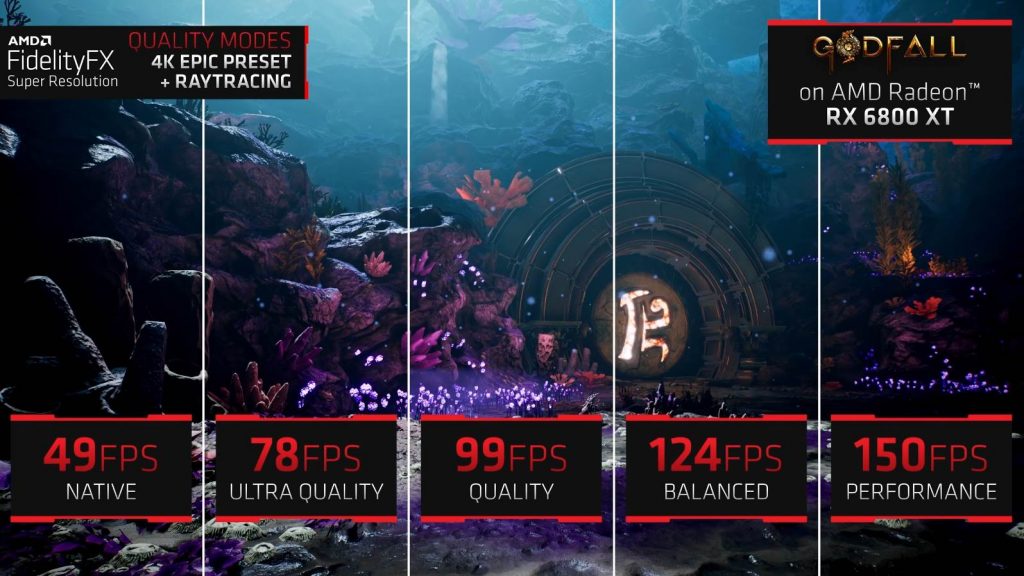 FidelityFX Super Resolution (FSR) has two types of passes. You can consider the two passes as the two parts of this algorithm.
One is the upscaling pass, also known as Edge-Adaptive Spatial up-scaling (EASS). This mainly works on scaling your image to your display resolution.
Upscaling in normal cases can cause images to blur out. This is where the second part of the algorithm comes into action.
The second pass is the RCAS (Robust Contrast-Adaptive Sharpening). This works on the edge sharpening of your upscaled images.
Using all the above algorithmic passes, the AMD FidelityFX Super Resolution provides users with a lot of advantages. Let's talk about these in succession.
The higher the resolution of the image that the GPU must generate, the more work it must perform. This means that GPU usage increases.
But FSR is a smart algorithm. It works after the image has been rendered by the GPU. It takes the rendered image and clarifies it.
Reducing the noise from the image and setting it according to your resolution is the work done by FSR. The best part about FSR is that it does not overwork your GPU. It is irrelative to your GPU usage.
How to use FSR on your GPU?
Is there something to download for it to work?
No. FSR is a self-integrating setting.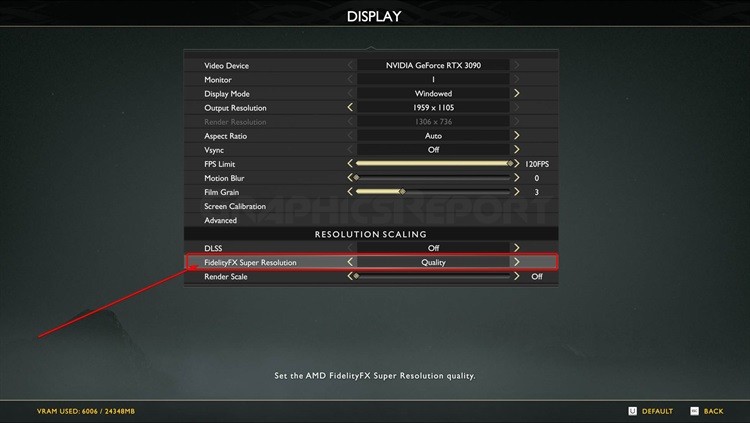 If you want to use it, you need to have a GPU that can support it. There is a wide variety of GPUs that support this setting.
Not only that, but it is being modified so that it can be used through the remaining GPUs. Having a compatible GPU is not the only thing.
AMD FidelityFX Super Resolution works on some games. It is still being worked on so that the technology can be provided to the remaining games.
In games like Resident Evil: Village and Far Cry 6, you will find the FSR setting in the settings. Mostly in the General or video tab, you will find this setting.
If you do not use this setting in your games, then you are lacking a huge chunk. Who doesn't like a boost in FPS or better graphic quality?
AMD aims on making this setting available to all types of users. We will soon see it compatible with many games.
AMD FSR Vs Nvidia DLSS: What's The difference?
NVIDIA's Deep Learning Super Sampling is a feature added to the NVIDIA graphics software. Like AMD, NVIDIA GPUs also require software to be downloaded.
DLSS has been added as a feature in this software. NVIDIA's DLSS is very similar to AMD's FidelityFX Super Resolution.
The DLSS is more of an FPS booster. To achieve this goal, it sacrifices your image resolution.
It reduces your image resolution a bit. Then using the power of AI, specifically, the neural networks, increases your FPS.
Deep Learning is a field of Artificial Intelligence that works by training different models. A dataset is taken, and the model is trained to provide the correct results.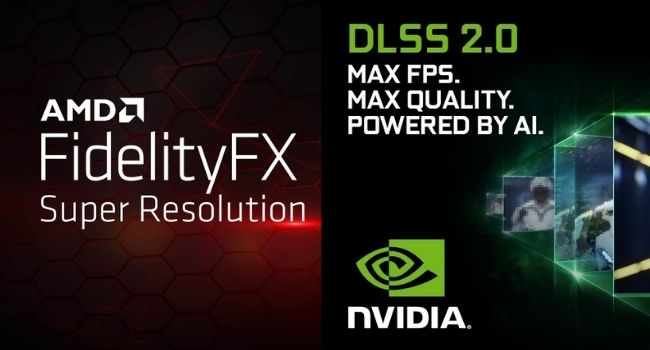 The model tries to achieve the result by trying again and again. The dataset, in this case, is the downscaled image.
This AI model improves your FPS drastically. This feature works the best with ray tracing. Using the tensor core improved FPS are generated.
A few limitations make it inaccessible to many users. The first one is that it is GPU-agnostic. Only NVIDIA GPUs can run this setting on them.
Among NVIDIA GPUs, only the RTX series can run DLSS. In this sense, AMD FidelityFX Super Resolution is better.
It is an open-source setting available for developers to integrate into their games. Even NVIDIA GPUs can run this setting.
Like AMD FidelityFX Super Resolution, NVIDIA's DLSS also has a few modes in which it can run.
There is a total of 4 DLSS modes. The first one is the NVIDIA DLSS Quality mode.
This mode has the lowest impact on your resolution, giving you a slight boost in FPS. If you have a good setup and need a slight boost in FPS, then this mode is for you.
Next up is NVIDIA DLSS Balanced mode. This is the point at which you will start to feel your image rendering quality dropping.
By slightly tweaking your image resolution, it produces an average boost in FPS. Moving on to the next one.
Next up, we have the NVIDIA DLSS Performance mode. This mode provides a high FPS boost but blurs out your visuals a bit. Moving on to the last mode.
The last one is the NVIDIA DLSS Ultra Performance mode. This mode was not released with the previous three modes.
This mode provides the highest FPS boost of all but getting blurry images is a side effect of this image. Let's now talk about the games supported by FSR.
What Games Support Fidelityfx Super Resolution?
When AMD released the FidelityFX Super Resolution in early 2021, there were only a handful of games.
But the time has changed now. It has almost been a year since the release of AMD FSR. At this time, the AMD FidelityFX Super Resolution has been added to a lot of games.
Following is the list of games that support AMD's FidelityFX Super Resolution:
Resident Evil Village
Resident Evil 2
Resident Evil 3
Terminator: Resistance
Far Cry 6
Deathloop
Dirt 5
GODFALL
The Riftbreaker
World War Z: Aftermath
World War Z
God of War
Amid Evil
Anno 1800
Arcadegeddon (A PS5 game)
Assetto Corsa Competizione
BACK 4 BLOOD
Baldur's Gate 3
Dota 2
Ghostrunner
Grounded
Microsoft Flight Simulator 2020
Shadow of the Tomb Raider Definitive Edition
Death Stranding
F1 2021
F1 2020
F1 2019
Mortal Kombat II
Hitman 2
Borderlands 3
Black Desert
Elite Dangerous: Odyssey
Chernobylite
Cyberpunk 2077
Detroit: Become Human
The Medium
GPUs That Support AMD FSR (As of Today)
To run AMD FidelityFX Super Resolution, you not only need a game that is capable to run this setting. You also need a compatible GPU.
As of today, AMD FidelityFX Super Resolution is available on a set number of GPUs and processors. AMD has asked its fan to wait as they will be making it compatible with older GPU versions as well.
Soon we will get an updated list of GPUs that can support this setting. Following is the list of GPUs that AMD supports nowadays:
AMD Radeon 6000 series
AMD Radeon 6000M series
AMD Radeon 5000M series
AMD Radeon VII Graphics
AMD Radeon RX Vega Series
AMD Radeon 600 series
AMD Radeon RX 480/470/460 Graphics
AMD Ryzen Desktop processors with AMD Radeon Graphics card
AMD Ryzen Mobile Processors with Radeon Graphics
NVIDIA GeForce RTX 30 series
FidelityFX Super Resolution Quality Levels?
AMD FidelityFX Super Resolution provides four different quality levels. Let us discuss each one briefly.
Ultra Quality Mode
The first one is the Ultra Quality mode. This mode, while keeping your graphics constant, works on boosting your FPS.
In this mode, you will get the best graphics upgrade, but the FPS boost will be the least. According to AMD, the Ultra Quality mode will upscale your resolution 1.3x in terms of dimension.
Quality Mode
The next one is the Quality mode. This mode provides a great quality image with a good boost in FPS.
This mode provides a 1.5x increase per dimension of scaling. Resolutions like 1280 x 720 are rendered as 1920 x 1080. The scaling factor in terms of the area increases 2.25x.
Balanced Mode
The third one is the Balanced mode. This mode is more focused on providing a sizeable gain in FPS. The resolution remains approximately the same as the Native resolution.
The Balanced mode provides an upscaling of 1.7x in terms of dimensions and 2.25x in terms of area scale.
Did Someone Mention Performance?
The last one is the Performance mode. This mode impacts your visuals a bit but, in return, provides a great boost in FPS. It scales 2x in terms of dimensions and 4x in terms of area scale.
Performance Gains Using The AMD FSR
To understand the above quality presets, I will be looking into three games. The three games are Godfall, Terminator, and The Riftbreaker.
Let us have a look at the changes made by these FSR modes. I will be using the AMDs best GPU yet, the AMD Radeon RX 6800 XT. With all settings set to Ultra and RT on.
1- Godfall
Godfall is a game developed by the Counterplay games. It was first released for PC, PS5, and later PS4 as well.
Godfall gives a native FPS of 59 with all the in-game settings set to ultra-quality and ray tracing set On.
On ultra-quality mode, it gives 87 FPS and 106 FPS on Quality mode, which is a huge buff.
On balanced mode, Godfall generates a stunning FPS of 123 FPS. In Performance mode, 145 FPS is generated, which is a huge jump from 59 FPS.
2- Terminator
Terminator Resistance is a first-person shooter game based on the story of the movies Terminator and Terminator 2. This game is available on PS4, PS5, Xbox One, and PC.
Without FSR, on Native resolution, Terminator runs on 89FPS. After applying the FSR's Ultra Quality Mode, I got 128 FPS.
Changing the mode to Quality, I get 154 FPS. On changing FSR to balanced and Performance mode, I get 183 and 227 FPS, respectively.
3- The Riftbreaker
Developed by Exor Studios, Riftbreaker is a decent strategy game. It is available on PS4, PS5, Xbox X and S series, Xbox One, PC, and Android devices.
On Native resolution, I get 92 FPS from The Riftbreaker. On the ultra-quality mode of FSR, I get 138 FPS.
Changing the FSR setting to the Quality mode, I get 169 FPS. On balanced mode, the FPS touch 200. For maximum FPS, you need performance mode, which provides a stunning 243 FPS.
My Final Thoughts On It!
From all the information above, one thing is clear. If you are not using FSR, then you are lacking an important piece.
Without FSR, you will get gameplay full of lag and bad FPS. Who wants such gameplay?
It is free to use settings that can change the way you play your games. You even do not need to install it. It is an automatic integration.
The only requirement is that you have updated graphics software on your device. If your GPU is FSR compatible and you are playing a game that supports FSR, then you are in luck.
Just go to your settings. In video or general, you will find this setting. Turn it on and pick one quality preset you want.
You can see the difference yourself. This setting will be made available for more games soon, and those waiting will be able to enjoy it too.
Frequently Asked Questions (FAQs)