The importance of Nvidia display settings is something that we can never really overlook. However, a lot of the time, people do run into issues with such things, and you can easily find yourself in more issues than you might think the best part is that you can easily take care of these things, and that is what you want to do.
However, if you are running into issues such as Nvidia display settings are not available, then it is important that you sort that out because not taking care of that is only going to create more issues than you might think, and we do not want to go through that.
Now, for those wondering how to fix this, I'm going to help you get everything in order, so you do not find yourself in a rut as far as the issues are concerned. Trust me, it is a lot easier than one might think.
How To Fix Nvidia Display Settings Are Not Available?
In this guide, I'm going to focus on how you can go ahead and fix Nvidia display settings, and while it might seem like something that is not possible or is going to be difficult, I'm going to make it a lot easier for everyone who is stuck in this rut.
#1- Updating/Rolling Back Graphics Drivers
There are times when the Nvidia display settings simply stop working or become not available because of the drivers that you have installed.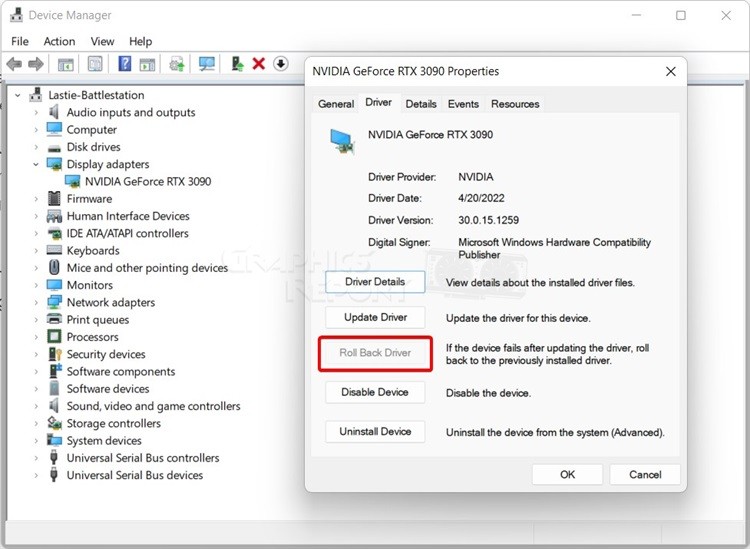 Now, there could be countless reasons behind that; the driver package could be corrupted, the installation may have run into some issues, or something else almost entirely. However, the best thing that you can do in such a situation is going for update the drivers or rolling them back.
I do understand that this might not sound like something that is going to fix the issue, but once your PC does go through a number of reboots, it will fix itself, and you will be out of the woods in no time.
#2- Changing The Adapter Output
Another issue that can happen is that changing the adapter output can help you go ahead and fix the issue where their Nvidia display settings are not showing up.
However, I cannot say that this is something that is always going to work, as I have heard numerous reports in the past that if you do switch the adapter output and then go back, this seemingly fixes the Nvidia display settings not working.
Sure, it does sound dubious but hey, if you are looking to bring back a crucial setting, why not try something and fix that in the first place, right. It always works and works really well.
#3- Check Your Display Connection
There are times when I have run into the issue where the Nvidia display settings were not working, and the issue was related to a faulty cable.
I know it sounds a lot like something that does not work, but I also once encountered an issue where my PC would run into issues such as completely freezing because of a faulty DisplayPort cable and, as weird as it might sound, shifting over to HDMI fixed the issue and everything was working just fine.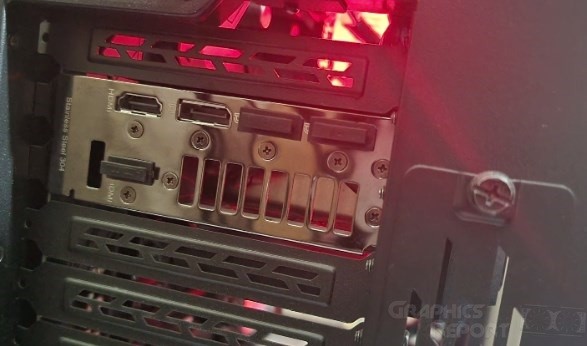 Therefore, if you do think that your Nvidia display settings are not available or are not working properly, I would highly suggest that you check your display connection.
If the connection is lost or there is something else that you think is wrong with the connection, I would highly suggest that you are replacing the cable or at least reconnecting it properly, and that should fix the issue.
#4- Repair And Reset Nvidia Control Panel
Coming to an actual issue that is a lot more common than one might think. Most of the time, the Nvidia control panel is the culprit behind the Nvidia display settings not showing up, and yes, it does sound like something of a nuisance, and it does actually come across as one, too.
Thankfully, fixing it is not something that you will need to worry about because in no time, you will be able to get things in order, and you will be good to go. Thankfully, you can go ahead, repair, and reset the Nvidia control panel, and that should solve most of your issues.
In case you are wondering how to do that, "right-click on the Start menu."
Now select "Apps and Features" from there, scroll down and look for "Nvidia Control Panel," and select it.
Now choose "Advanced Options," then find the "Reset section," and then click "Repair."
This process will take some time and once the repairing is done, restart your computer (just to be on the safe side), and once the computer is back on, you can go ahead and check to see if the Nvidia display settings have made a return.
#5- Restart Several Nvidia Services
A lot of the time, the main reason why the Nvidia display settings disappear or stop working altogether is simply because you run into issues with the Nvidia Services.
Now, it should not come as a surprise, but these services are behind a lot of functionality of the drives and other similar services, and making sure that everything is working correctly in tandem is extremely important, to say the least.
With that said, if you do want to be sure that you are able to fix all the things, then the simplest way to sort this out is by restarting several Nvidia Services. In order to do that, I would just suggest that you press the "Win + R" key and then search for "services.msc." Once that is done, look for all the "Nvidia titled services," right-click on them, and restart them.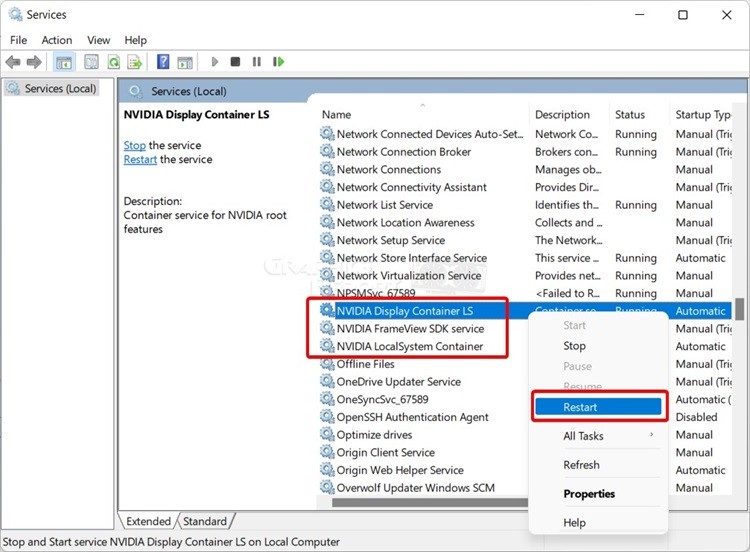 Once they are all restarted, I would also suggest that you restart your PC as a safety measure, and once it powers back on, try to see if the display settings are working or displaying.
#6- Update Your Intel Integrated GPU Drivers
This is one of the rarer instances that a lot of people run into, but hey, I'm here to talk about the issues that generally come in the way.
The issue is simple to understand and what happens is that the Nvidia graphic drivers end up clashing with the Intel integrated GPU drivers, and because of this, the whole aspect of your display settings either disappears or stops working altogether.
Sure, I do understand that this is not what most people would be looking for, but hey, if you want the right way of handling things, you would be all good to go.
Just update your Intel or AMD integrated graphics drivers and then go ahead and restart your computer. Once it boots up, this should fix your issue, and everything will be good to go.
How Do I Switch From Intel HD Graphics To Nvidia?
This is for people who are running both integrated graphics as well as dedicated graphics, and this most commonly happens with laptops.
However, if you are still trying to figure out how do I switch from Intel HD graphics to Nvidia, the process is not that difficult at all. As a matter of fact, switching is rather easy than you might think, and I'm going to guide you on how you can make that happen here.
You can start by launching "Nvidia Control Panel," and once you are there, navigate to "3D settings" and then "Manage 3D settings."
Open the "Program settings" tab and then choose the game/program from the drop-down menu.
Now look for a "Preferred graphics processor" for this program.
The Nvidia GPU that you have installed should show up as a High-performance Nvidia processor. Make sure you select that and save your changes.
There is a chance that you might need to restart your computer for the changes to work, but that is about it.
Related errors:

How to fix the Geforce experience not working?
How to fix unable to connect to Nvidia?
How to fix Nvidia control panel not opening"?
How to fix the Geforce experience something went wrong?
How to solve Nvidia control panel missing in windows?
How to fix you are not currently using a display attached to an Nvidia GPU?
How to fix minecraft not using GPU?
My Final Thoughts On It!
I am fully aware of just how crucial the Nvidia display settings are for a lot of people, but every now and then, the settings can break for one reason or another, and there is no proper way of understanding what is messing with the settings.
However, the troubleshooting is going to help you fix the issue, as I have listed down a number of fixes that can help you solve the issue. Needless to say, if you are facing problems with the Nvidia control panel or display settings, this should go ahead and fix it.