There is no denying that the Nvidia control panel is one of the best things that Nvidia has created, and while it has not changed much over the years, everyone can agree to the usability that comes out of it and it works really, really for the most part. Regardless of what you are planning on doing with GPU, the control panel allows you to handle most of the things.
However, I have often run into a point where the system just throws Nvidia Control Panel Missing all the time, and that too when the drivers are installed. I do understand that it looks like a simple error that can easily get fixed, but it does end up annoying a lot of people.
That is why in this guide, I am going to explore what causes this error and see if it can be prevented, so you do not have to worry about going through it all over again.
What Causes The NVIDIA Control Panel Missing Error?
I know it might be frustrating, but a lot of you might be wondering just what exactly is the reason behind this error and I do understand the weirdness about it, but hey, this error does exist and can be an annoying one at that, too.
That is why I am going to start exploring all the possible fixes to this otherwise annoying error that you will not have to deal with. I can assure you that you will not regret it.
How To Fix NVIDIA Control Panel Missing?
Now, it is important to know that there are a lot of reasons why the issue can come to begin with. Sadly, it is one of those errors that just does not have a single fix, and you will need to jump through a few hoops to get it sorted.
Related guides:

How to fix unable to connect to Nvidia?
How to fix "Nvidia control panel not opening."
Fixed: GeForce experience something went wrong
Minecraft not using GPU?
#1- Restart NVIDIA Services
The first thing that I'm going to look into is restarting the Nvidia services. For those wondering, the process might sound complicated at first, but it is among the easiest way of getting things sorted. So, if you have been looking to how to sort this out, this is the way to go.
Press "Win + R" together, enter "services.msc" and then press OK.
When new windows open, look for "Nvidia Display Container LS" from the list, right-click on it, and choose "Restart."
You will have to repeat the step with "NVIDIA LocalSystem Container," "NVIDIA NetworkService Container," and "NVIDIA Telemetry Container."
Once you are done restarting all these, check if the control panel is available.
#2- Manually Launch NVIDIA Control Panel
If the above method does not work, the next part is simple, you just have to go ahead and launch the Nvidia Control Panel manually, and it is a lot easier than you might think. Simply go ahead and open Task Manager on your computer.
Make sure that the task manager is opened in an expanded view, click on the "Processes tab," and scroll down to a process called "NVIDIA Container."
If you see multiple processes by the same name, do not worry. Right-click on any one of them and choose "Open file location" from the menu that appears.
Once you are in the location, click on the "Up" arrow in the file explorer's address bar or just go to the C:\Program Files\NVIDIA Corporation folder.
Open the "Control Panel Client" folder and then right-click on the "nvcplui.exe" file and run it as an administrator. You might be asked for a password, enter that, and you are good to go.
#3- Unhide Your NVIDIA Control Panel
I understand that this might be a strange thing that most people go through, but sometimes, the Nvidia control panel can simply be hidden.
You can open up your search on the Windows and go to "Control Panel." Make sure the view is set to classic and change the view to large icons.
Then click on "Nvidia Control Panel" from the items. Once that is open, you have to click the "Desktop" menu on the top and look for a checkmark that says "Add Desktop Context Menu" and "Show Notification Tray icon." Simply click on them.
You can now go back, and the Nvidia control panel will be back.
#4- Update NVIDIA Graphics Driver
This one might be a bit of a hit and miss, but there are times that a lot of people run into issues with their graphic drives. After all, these drivers tend to mess up all the time, and if you are looking to fix the missing control panel, I would highly suggest that you are updating your display drivers.
There is a high chance that the control panel will come back the moment you are done updating your graphic drivers because that is what always happens.
#5- Reinstall NVIDIA Graphics Driver
Moving further, another thing that can cause the infamous error where your control panel just goes missing is a bugged GPU driver that is causing the issues. In such a case, I would always advise everyone to just reinstall the Nvidia driver.
However, uninstalling and reinstalling it is not going to cut it. You will need to be sure that it is completely removed from your system. The best way to with that is to use a tool called DDU or Display Driver Uninstaller that cleanly removes the GPU driver from your system.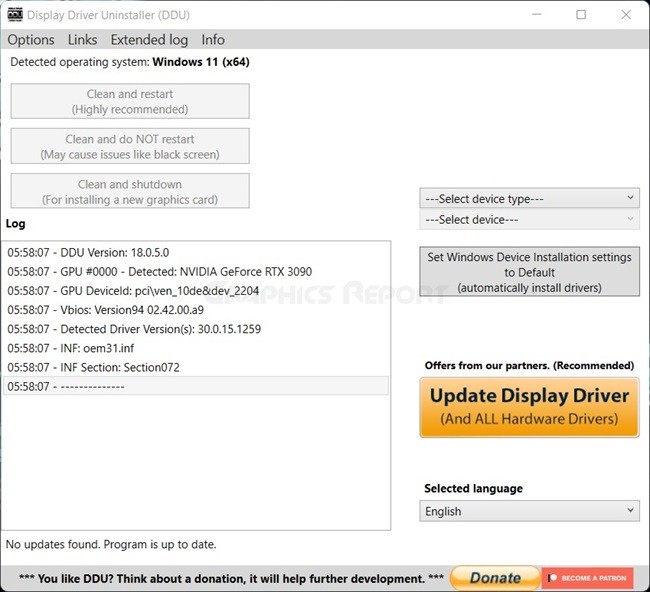 Once that is done, you can go ahead and reinstall the driver, and you are going to be good to go. Once you are done installing the driver again, I would highly suggest that you restart your computer. The next time you boot up, the Nvidia control panel should be back.
#6- Don't Overclock your GPU
I know this is something that sounds very, very strange, but this actually happens all the time. Sure, overclocking is going to give you a better performance in games and some of the other apps, but it never really is something that is worthy because you might end up running into computer-breaking bugs, and that is not what we are looking to go for.
If you are dealing with such issues, the best thing that you can look into is getting things sorted through returning your GPU to stock clocks. Overclocking the GPU to unstable clocks can break the software experience, too.
So, it is better that you are looking at it, as well. It might not be the reason, but when you are troubleshooting, it would be better to look into this.
#7- Copy The NVDisplayContainer File To The Startup Folder
This is mostly for users who are running into issues with the control panel on Windows 10 or 11.
So, you can start by going to the File Explorer and then navigate to this directory "C:\Program Files(x86)\NVIDIA Corporation\Display.NvContainer".
Alternatively, you can look for it in the "C:\Program Files\NVIDIA Corporation\Display.NvContainer".
Once you are there, look for the NVDisplay.Container file and copy it.
Now you have to open the "Startup Folder," and once you are there, just paste the file there.
Now, right-click the file and set the file to run as administrator. Then restart your computer.
The next time your computer boots up, the control panel will be back.
#8- Reinstall It From The Microsoft Store
For this step to work, you will first need to go ahead and uninstall the Nvidia control panel first, and once that is done, the next step is just to go ahead and reinstall it from the Microsoft Store.
I do understand that this is not something that might be causing the issue to begin with, but for the most part, going this direction will work just fine, and that too, without any complications.
Once that is done, just for a precaution, restart your computer, and the control panel should be there.
#9- Using Nvidia Support
This is the last straw, to be honest. Although I am very certain that the steps mentioned above will fix your missing control panel, in case it fails to do so, the simplest thing that you can do is just go ahead and contact Nvidia support, and they should help you get things in order. If you are running into issues like this, it would be better to just talk to them about the issue.
How Often Should I Update Nvidia drivers?
I will be honest, I get this question all the time, and to be honest, this is something that is a no-brainer, to be honest. If you are wondering about just how often you should be updating the Nvidia drivers, then I would suggest that the moment you get a notification that a new driver is available, you should go ahead and update it.
I know, it sounds surely strange, but it actually works just fine and does not really cause any issues, either. Having the latest updates are going to make things much, much better, and you will not have to deal with all the issues that might come in the way with outdated drivers.
My Final Thoughts On It!
I fully understand the frustration that might come with the fact that you are not able to update your graphics driver, or the control panel has gone missing.
These are among the most common issues, but one must also know that they are rather easy to take care of. Sure, it does take time, but you are looking at a much better overall experience knowing all the factors are working just fine.
It can surely be a complicated mess for the first-timers who are just trying to figure out how to move forward but a few minutes of your time fixing this issue is not a bad thing.