If you're the proud owner of an Nvidia graphic card, you must be familiar with the Nvidia control panel. Nvidia control panel serves as a control center for all your graphics-related settings.
For graphics enthusiasts or someone who regularly keeps checks on their graphic card, this utility software is a necessity. You can pretty much adjust all settings of the graphic card.
If you want to adjust the size and scale orientation of your desktop, you go for the Nvidia control panel, gamers can control their fps and in-game graphic settings from this software, but what happens if you cannot access this utility tool? Nvidia control panel doesn't open when you click on it.
It feels like the end of the world, but it's not. It's a simple problem for many reasons. And in this guide, I will troubleshoot every possible reason why Nvidia control won't open.
Why Nvidia Control Panel Not Opening?
There is a chance that your computer is not responding to Nvidia drivers. This can indicate that your drivers are faulty, or there is some kind of virus that is causing this bug.
But as I said, there could be several reasons why the Nvidia control panel is not responding, and there are several solutions that will fix the Nvidia control panel.
Related articles:

What is crossfire, and is it worth it in 2023?
What is hardware accelerated GPU scheduling?
How to limit fps in games? (tips and tricks)
How to choose a graphics card in 2023?
How to fix unable to connect to Nvidia?
#1- Ensure That The Control Panel Is Not Hidden
This is a normal occurrence that can happen during the installation or upgrade of new drivers. What happens is that when you install new drivers, your previous settings reset, which in result reboot of Nvidia drivers and related software. You have to check that this is not the case before proceeding to a different solution. It's all trial by error.
The first thing you are doing is opening a run dialog box. "Press Windows logo + R," and you will be greeted with a small dialog box. "Type Control" and then enter the command.
This will not take you to the Nvidia control panel; "this is the Windows Control Panel." You will see small icons that you can enlarge by selecting the large icon in the top right corner.
If your drivers are installed, you will see the Nvidia control panel logo, among other programs. Launch the program and look for the "Desktop" or view tab on top.
There you will check the option for the "Add Desktop Context Menu." Go to your desktop and right-click anywhere. You will see the Nvidia control panel option in the drop-down menu.
#2- Restart NVIDIA Control Panel
You can try using the oldest trick in the book. If something is not working, just restart it. I mean, why not? You can try if it's going to guarantee a fix.
For this, you will again open the dialog box by pressing "Windows + R." This time, you are typing "services.msc" before launching the command. This is the command for the services window where you can monitor every activity and install services in windows.
Now you have to find some Nvidia-related services and reboot them. Look for "Nvidia Display Container LS," right-click on it, and then "restart it" from the drop-down menu.
Do the same for the following services I am mentioning: "NVIDIA LocalSystem Container," "NVIDIA NetworkService Container," and "NVIDIA telemetry container."
After you are done rebooting these services, go back to your desktop and right-click on the drop-down menu. You will see the Nvidia control panel among the options.
#3- Disable Fast Boot Option (Windows 10)
This is a fix for windows 10 users. In windows 10, there is this feature called fast to boot which, as the name suggests, boots your PC comparatively quicker than previous windows versions.
This can be a handy feature in some cases, but the downside is some applications may not open correctly. If you have an issue finding Nvidia control panel, you can troubleshoot this in a few steps.
Hold "Windows and press X" and select the "Power Options" from this menu to access power settings, or you can also find this option via the windows control panel.
Go to "Power and Sleep Settings" and look at the right-side panel; you will see additional power settings in blue highlight.
Now click it and go for "Choose What The Power Button Does" on the left panel.
Now you will see a subheading "Define Power Buttons And Turn On Password Protection." Under that heading, click on "Change Settings That Are Currently Unavailable," and there, you will find the option to check or uncheck the "Fast Boot" option.
"You will disable the fast boot option", and next time to boot your PC, you might find it slower and sluggish, but hopefully, this solves your Nvidia control panel issue.
#4- Set Highest Display Resolution
This is a very rare occurrence, and this could happen to some users depending on the circumstance.
For example, you bought a new GPU and installed your drivers, and updated everything on the go. You may have an issue finding "Nvidia Control Panel," the first thing you have to do is to check what resolution you are running your display on.
This could also happen if you upgrade your monitor to a higher resolution. You need to set the resolution at the highest setting possible or the one that your display supports.
To fix this, right-click on the desktop area and click display settings from the drop-down menu. You can select the highest resolution that is listed.
If you have your GPU drivers installed, you will see the correct resolution that your display supports after that click applies and restarts your PC.
#5- Update NVIDIA Display Driver Or Graphics Driver
Nvidia releases updates for their GPU drivers nearly every month, whether it's an optimization patch or when a game launches on the PC platform. The updates are necessary for the better performance of your graphic card.
You might miss some updates if you are not checking them regularly. This could also cause issues where your Nvidia control panel stops working or doesn't open up. All you have to do is update your drivers.
Open the start menu and go to "Device Manager." Look for display adapters, and you will find the GPU you are using listed under the heading.
Right-click on your GPU name and "Select Update Drivers" from the drop-down menu.
If your driver is up to date, then you are good to go; otherwise, your drivers will automatically download and reinstall.
You can also visit Nvidia's official website and search for your GPU manually by filling in all the details of your GPU.
#6- Quit The NVIDIA Display Container Process
This is another one of the Nvidia services that can cause the Nvidia control panel to bug out completely.
For the fix, you can just access and see the active Nvidia process from the task manager.
At the bottom of your screen, there is a taskbar, and you can right-click on it and choose task manager, or just press "CNTL + SHIFT + ESC" all three at once.
Task manager is another Windows utility that lets you monitor all the active processes. Active processes on your system at the moment.
The task manager will open a new window where you will see hundreds of applications. Scroll down to locate the "Nvidia Container Display process."
You can "Right-Click and End The Task" from the drop-down menu. If there are multiple processes by the same name, make sure to end them one by one before attempting to open the Nvidia control panel.
#7- Updating .NET Framework And VC++ Redistributable
.NET framework and VC++ redistributable are necessary parts of windows security. Many apps depend on these services, and they play a large role in making applications compatible with Windows.
Most Nvidia applications are dependent on these, and if you are having issues regarding the Nvidia control panel. You can try updating them to their latest versions which will hopefully fix this bug.
You can simply go to the system updates and check for any updates that are yet to be installed. Click on the update button, and Windows will do the rest for you.
#8- Fix The Registry
Windows registry stores all settings and data of every software, application, or service in windows. There may be a reason why the Nvidia control panel is not responding; normally, you can change any settings in the registry unless you are well aware of what you are doing.
There might be some missing entries in the registry that is causing the issue. There is a fix for this. You need to fill in the missing entries by using the registry editor.
Open the Run dialog box by pressing "Windows + R" and type in "Regedit." Press enter, and you will see the registry on your screen.
Now here, find the registry key named "HKEY_CLASSES_ROOT." now, look for the folder named "Directory" folder and click on it.
There you will navigate to another "folder named Background" and then click on "ContextMenuHandler." From the drop-down list of folders right, click on "NvCplDesktopContext" and delete it.
Now go to the "Background folder" and select new after clicking right on it. "Select new, then go to key." Write Nvidia Control Panel in the name.
And now you have to make another key in this registry. Select the new, go-to key and name it a command. When you click on a command, you will notice on the right side, a default value will appear. Double click and write this command C:\Windows\System32\nvcplui.exe.
Now click ok and restart your PC. this will hopefully fix the issue of missing registry keys
#9- Rebuild Files Of NVIDIA Control Panel
If you are experiencing frequent Nvidia control panel crashes, then this could be the case of corrupted files. Nvidia control panel is a software, so it's not invulnerable to viruses.
The only fix is to rebuild those corrupted from the Nvidia control panel. For this, we have to access the internal folder where these files are usually kept
Press "Windows + R" to open the run dialog box and paste the following command "C:\ProgramData\NVIDIA Corporation\Drs" Press enter, and you will have access to the Nvidia control panel folders.
You will see two unfamiliar files with simple paper as their icon. "nvdrsdb0.bin and nvdrsdb1.bin," you have to delete these files before restarting your PC.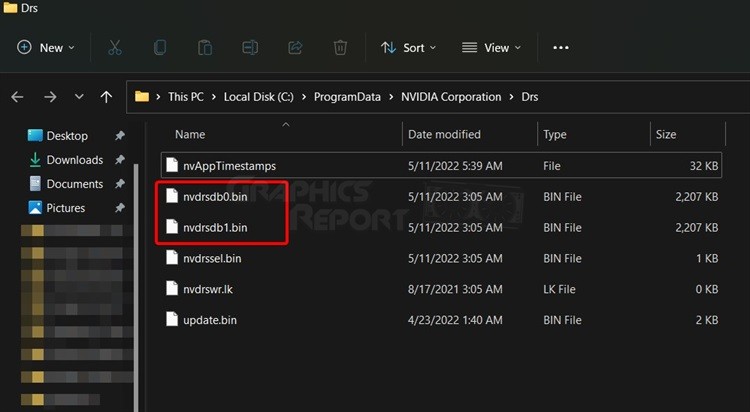 Chances are, if these files were corrupt, upon rebooting your PC, the Nvidia control panel will automatically download and fill the space of these missing files with new ones.
After your PC boots up, check if your Nvidia control panel is showing or not.
#10- Run As Administrator
Runs as administrator is the command you can use to open software and various applications. You can open them directly, but using this as an option to launch a software will give you access to any hidden folders, edit the registry, and let you change files.
In other words, you are getting premium access. Search for the Nvidia control panel and right-click on it. Select "Run as administrator" from the drop-down list and hope for the best.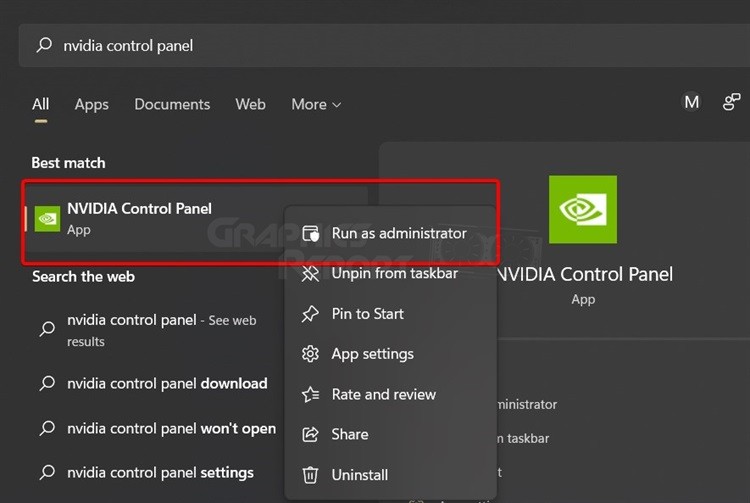 This method usually works better than launching the app directly because some programs might conflict with the Nvidia control panel.
#11- Check For System Updates
Every now and then, windows release updates and system fixes which are sometimes necessary for some apps to run. You can check for system updates by going into Settings and clicking on updates & security.
There you can click on check for updates, and if any update is available, Windows will start downloading and then install.
Make sure you have your connection is not on the metered setting, which restricts windows from downloading any updates. Security updates like .NET frameworks and VC++ redistributable are necessary for some apps to work, especially Nvidia's software.
#12- Remove Conflicting Programs
Some programs that require 3D processing can cause issues with Nvidia drivers. Or maybe you downloaded something recently, after which you started experiencing crashes and bugs.
Start "task manager" and click on the "startup tab." You can see programs that can cause issues or some programs that you don't recognize, but they automatically launch in the background on startup.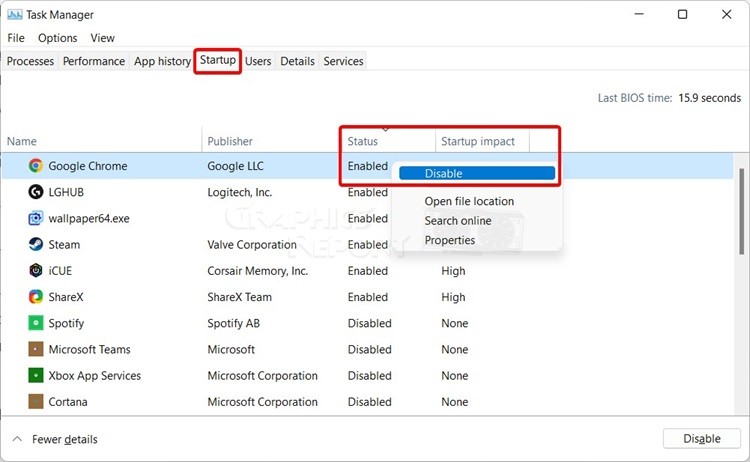 Right-click on them and disable them from launching when your PC boots. Restart your PC and then check if the issue is solved or not.
#13- Using DISM++ To Remove Bad Entries (Advanced Users)
For this solution, we are taking help from the software DISM++. This is a utility tool for advanced users that can help back up, clean, delete or recover files. You can use this utility to recover invalid entries or missing files.
Assuming you have downloaded DISM++, install it and then go to APPXs, where you can easily find and remove the entry of the Nvidia control panel.
Then delete provisioned APPX, too after this, you are going to select your main drive where windows is installed.
Select it and steer through program files into the windows app.

Here you are going to delete

an entry named NVIDIACorp.NVIDIAControlPanel_8.1.956.0_x64__56jybvy8sckqj.

The numbers after x64 will be different for every PC

. Now restart your PC and reinstall the Nvidia Control Panel.
This will solve major issues with Nvidia Control Panel
#14- Running The App From The Installation Directory
If you are having trouble finding the app, you can always locate and launch applications from their installation directory. For the Nvidia control panel, if you installed it in your main drive, which also happens to be the default location, you can navigate to the main drive and open program files.
Here you will find the Nvidia Corporation folder, which contains the installation directory for the Nvidia Control Panel.
Open the Nvidia control panel client to find the launcher. The launcher will be named nvcplui.exe. Right-click on the icon and add a shortcut to your desktop for quick access.
Launching the app directly from its location will have no problems further.
#15- Temporarily Disable Your Antivirus
Antivirus somehow restricts or bans access to some apps depending on their behavior. Although the Nvidia control panel is licensed and certified software, this is a chance that antivirus might cause some issues.
This is normal when you install third-party antivirus software. The first thing you can do is to try disabling some features of antivirus and check if the Nvidia control panel responds or not.
If it's still causing issues, uninstall the antivirus from the root. And then check if the Nvidia control panel is launching without any issues.
Also, make sure you buy official antivirus software instead of downloading from third-party sources. Keeping your windows unprotected is harmful.
My Final Thoughts On It!
Our lengthy guide now comes to a close. Every possible solution I have mentioned with a definitive fix that will help solve your issues. If you are having problems with your Nvidia control panel, you can take your time and troubleshoot these solutions at your own pace without any hurry.
These kinds of issues are common, and hopefully, some of the solutions may work in your favor. But even after trying everything, you face failure.
Unplug your GPU from your PC and have it checked by some professional, or if it's in warranty, send it back to the manufacturer for a check-up. There is a chance that this is a hardware problem.
Contact a professional before making any decisions of your own. Let's hope that things don't go this worse, and you get your fix sooner than later