If you are a gamer, then surely you are always looking for ways to improve the performance of your computer. For this purpose, you can try enabling the windows 10 hardware-accelerated GPU scheduling.
Hardware-accelerated GPU scheduling is a new, smart feature from Microsoft. Enabling hardware accelerated GPU scheduling gives your visual content, especially games, an FPS boost. 
Microsoft released this update in May 2020, and since then, it was popular among gamers. As a result, people worldwide are trying this upgrade to check if it will help them make their gaming experience more enjoyable. 
But, the problem is that some computers' GPU might not allow this upgrade to work properly, and this is where hardware-accelerated GPU scheduling in Windows 10 comes in. GPU scheduling is what will help your PC to run this upgrade smoothly. But how? Let's take a look.
What Is Hardware Accelerated GPU Scheduling?
Now, you already know that your PC uses the CPU to offload the graphics and intensive visual content to the GPU for processing so that the visual content games and apps work smoothly.
The CPU is constantly gathering frame data to prioritize them one by one and assign various commands to them so that GPU can reduce the frame. 
So, while all this is happening, the windows hardware-accelerated GPU scheduling feature and the VRAM helps the PC take over some of its load and run them in batches to reduce the frames. 
This leads your CPU to relax a bit with the help of the GPU and reduces the latency to improve your PC's performance.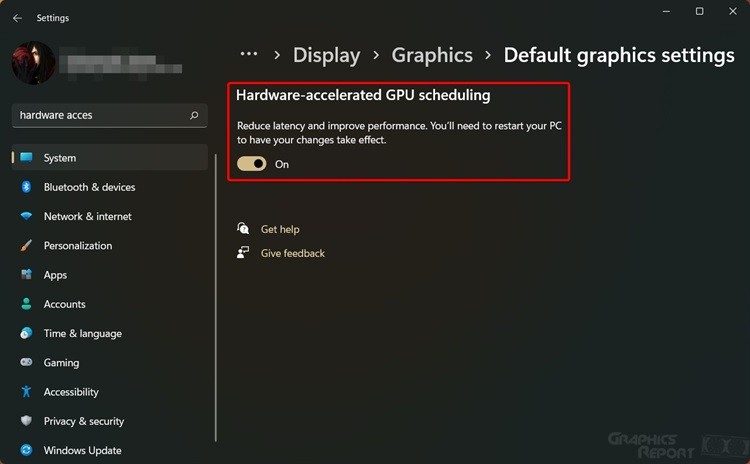 Even though this feature came out with the Windows 10 update but it is still not fully functional on all Windows 11. Suppose your Windows 11 PC has NVIDIA GTX 1000 or more. Or maybe if it has AMD 5600 series or more, the graphics card with a better graphics driver will work properly.
Windows continue to control and prioritize to decide which application has to be on the top among other contexts. The CPU offloads the high-frequency task to the GPU scheduling processor to handle most GPU engines' context switching and quanta management.
How Does GPU Hardware Scheduling Work?
Mostly, when the WDDM (Windows Display Driver Model GPU controls the scheduler managing the multiple functions which bring the task towards graphics cards. Since the graphics card are accountable for lessening the frames, the central processor is also accountable for preparing and conveying those responsibilities to the graphics cards.
But, what makes this whole process more effectual?
CPU does this by submitting commands to the GPU in small parts instead of sending them all together and burdening the GPUs.
When the CPU sends commands to the GPU, it is called frame buffering, and it increases the performance of the CPU by producing better frame rates. But, there is a catch, and it is that the whole process comes at a cost.
When the CPU sends commands to the GPU, it is known as frame buffering, and it improves the performance of your CPU by manufacturing improved frame rates.
But, there is a catch, and it is that the whole process will cost you your input latency. First, it increases the input latency. Whenever you push the button, there won't be any effect unless the CPU sends a new consignment of requests to the GPU.
The hardware-accelerated GPU scheduling feature will take some top-priority tasks, which the PC generally merges and sends to the dedicated graphics card-based scheduling processor. And this is a great thing because, logically, it will take off some of the CPU's load and reduce lag.
A similar read: How to fix "this effect requires GPU acceleration?"
Should You Enable GPU Hardware Scheduling?
If you find yourself asking whether or not you should enable GPU hardware scheduling, this section is for you. The decision ultimately depends on you because you know the condition of your PC's performance. 
If your PC has a mid or low-tier CPU, enabling the hardware GPU scheduling is a good idea (especially if your CPU takes on 100% load during specific games).
However, if for some reason you can't get this feature or if it isn't available, then there are some methods that you can try to improve your computer's performance. For instance, you may restrict the frame from buffering either through the in-game option or the control panel.
Once you choose hardware scheduling, run a few games and don't see any difference, then don't be alarmed that the feature didn't work because, according to Microsoft; there won't be any changes in the game; instead, the CPU will be less burdened, and won't get extreme temperatures. But, ultimately, the decision depends on you to enable or not the GPU scheduling windows 10.
More reading: What is GPU scaling? is it useful?
What Do You Need to Enable GPU Hardware Scheduling?
GPU scheduling windows 10 came out in 2020, and that is why this feature works well only on relatively new PCs. You must have at least a 2004 version of Windows 10 or a newer version of Windows for GPU hardware schedule to work on your computer.
Of course, you must already know what Windows version you are using, but if you want to confirm, look for build 19041 in 'Settings,' click on 'System,' and finally on 'About.' In 'About,' you will find every detail about your PC that you want.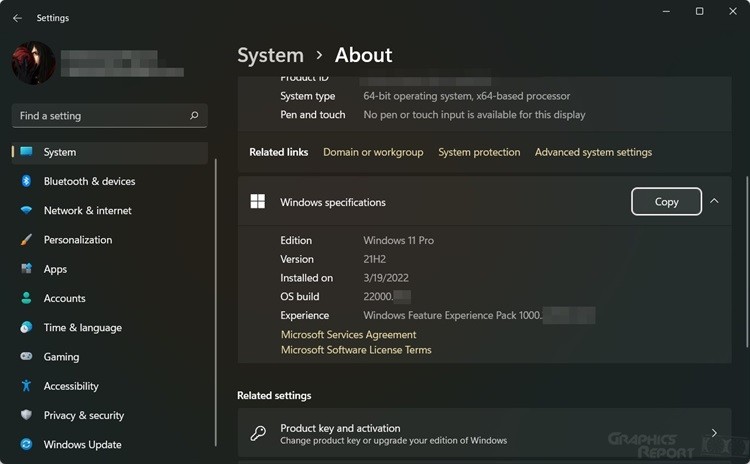 Once you install this feature on your PC and ensure that it is working while fully compatible with the GPU, double-check the drivers to your GPU to confirm that you aren't missing anything.
If you see everything is in place and there is no issue with any configurations, then it is time for you to enable the hardware acceleration GPU scheduling on your PC.
Now, I will tell you two ways of enabling the hardware acceleration GPU scheduling on your PC. So, sit tight and read on carefully.
#1- How to Turn On Hardware Scheduling Via Windows Settings?
To enable GPU hardware scheduling on Windows via settings; follow the following steps:
Open the start menu, go inside the settings, click on system, Look at the menu on the left side, and select display from it.
Reach multiple displays and then click on graphic settings
Toggle on for the hardware-accelerated GPU scheduling
Finally, restart your computer to finalize the settings.
#2- How To Enable Hardware-accelerated GPU Scheduling In Windows Via The Registry?
Another way to enable GPU hardware acceleration is via registry. You can use this method if you cant enable the feature using settings. To enable GPU hardware scheduling on Windows via registry; follow the following steps:
Open the start menu and go to its search bar, search for registry editor, and then select the option of run as administrator once the result loads.
Navigate towards the HKEY_LOCAL_MACHINE and move towards the system, then to the "currentcontrolset" find the controls, and finally select the Graphics Drivers
Find the option of HwSvhMode and open it.
Ensure that your base value is on Hexadecimal. Set its value date on 2.
Click on OK to save your new settings.
Restart your PC to finalize the settings.
These two ways are the easiest and the quickest ways to ensure that your PC is going to schedule the GPU acceleration.
Even though this feature is not available on all versions of Windows, you can still try to install it via the steps I have provided you. You never know; it might work! And if it doesn't, you can always uninstall it.
Is Hardware Acceleration Good For Chrome?
Like many applications, Google Chrome also has a hardware acceleration option. You can turn this feature on and off as you please. Hardware acceleration can make Chrome load faster by taking off some of its load and giving it to GPU.  
So, instead of getting processed in the software, the CPU takes care of them by sending them to the hardware where the GPU runs them more effectively without getting burdened.
In some cases, the hardware performs these functions better than the CPU, so not trying to accelerate for Chrome or any other process is like wasting potential. As a result, the hardware can work way better and under less stress than the software.
You might even face a few issues while accelerating GPU hardware. But, at the same time, it also has a lot of advantages, the main one being that Chrome starts to work very smoothly. 
Choosing hardware acceleration for Chrome is definitely a good option because it transforms your experience from average to the best.
However, if you have reservations about whether or not it is a good option to hardware accelerate Chrome, the best way to determine is to try it out. Of course, you can always revert back to the way things were if you don't enjoy hardware-accelerated GPU on Chrome.
Is Hardware Acceleration Good For Gaming?
Yes, it is. If you have a powerful and stable GPU, then hardware-accelerated GPU scheduling supported GPU will help you utilize your GPU to its fullest and support all the programs.
Games are supported the best because they have more graphics and colors to output, and running games can tire the CPU. By using the hardware acceleration feature, you can run your daily routine programs much smoother.  
And as you already know that when you enable hardware-accelerated GPU scheduling, the burden of processing transfers from the CPU to other hardware devices so that the programs may run more smoothly without heating the CPU and without burdening it too much.
My Final Thoughts On It!
When you transition from running everything on CPU to accelerated GPU scheduling, then you will see a small change in the performance of your PC. Of course, you won't notice any big changes in the program's running, but behind the screen, the PC would be thanking you. 
The new scheduler reduces the burden of the CPU by giving half its load to the GPU, which leads to reduced overheating of the processor. 
So, I recommend that you try your hands on Windows 10 graphics settings hardware-accelerated GPU scheduling. So see what positivity it brings to your PC and the whole gaming experience. No, go and enjoy your fast-functioning PC with GPU hardware acceleration scheduling.