You may have seen Dragon ball Z, where they use devices called "Scouters," which measure the power a character has with them, and the readings are shown in terms of numbers. GPU benchmarking software is the same as used to calculate your graphics cards' performance.
One thing that differentiates enthusiasts from the normies is wanting to know how much power they have in their rig. They use various benchmarking tools and usually only stick to one or two synthetic benchmarking software.
However, there are many such software available in the market. In this article, I will write about some of the best GPU benchmarking software available in the market.
Best GPU Benchmark Software
Suppose I go through every benchmarking software available. In that case, it will take a lot of time, so to simplify it, I will mention the eleven best GPU benchmarking software available on the market. You can go with any of them, and they will do the job perfectly for you.
#1- Heaven UNIGINE
If you are someone that wants to not only test your GPU but also test out its stability after the fact that you have overclocked it, then Heaven Unigine is the benchmarking tool for you.
This software allows you not only to check the graphical prowess but also heats your GPU enough to stress the cooling system and draws enough power to check the stability of your power supply.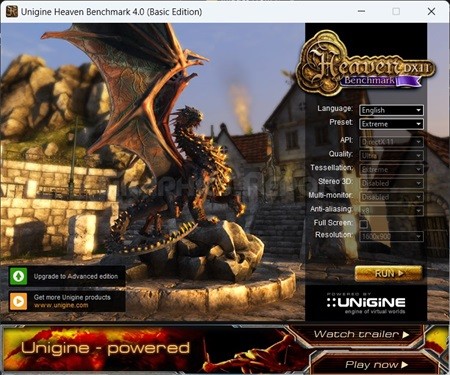 Heaven Unigine gives you a detailed report on all the metrics you want after you have run it. This report shows whether your system is stable with the overclock.
The best thing about this software is that it is free to download. The only drawback I have encountered with this is that it does not support the latest DirectX API.
#2- 3DMark
3DMark is an enthusiast-grade synthetic benchmarking tool which is used by millions around the world. It has many benchmarks and stress tests, including Time Spy, Night Raid, and Fire Strike, which gauge the performance of your GPU and give you a number representing your PC.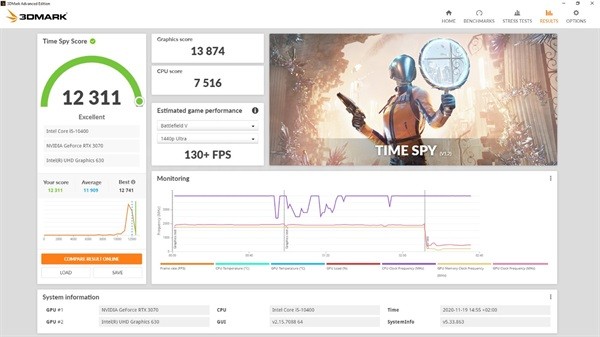 The basic version of 3DMark is free and has three benchmarks; however, if you want to test the Ray Tracing performance of the latest GPUs, you may need to shell out some money as that test is only available in the advanced version, which costs $30. 3DMark also has a professional version apart from the advanced version, which has a monthly subscription of $125.
#3- PassMark
Passmark is a free benchmarking tool that runs a stress test to gauge your PC's capabilities fully. The software tests your GPU and combines the CPU processing power with the memory read and write speeds.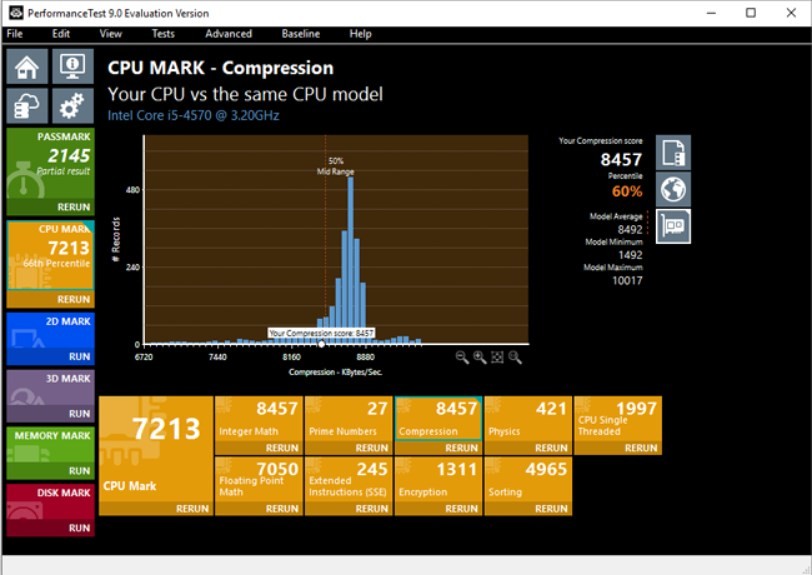 Passmark is very intuitive and easy to use. Besides testing the capabilities of your computer, you can also use this software to test the performance of your mobile phone to compare it with other phones.
#4- Novabench
The following tool on my list is Novabench which has two versions available. There is the basic free version, while another is the premium one which costs $19. The advanced version gives you some extra features, which include troubleshooting functionalities.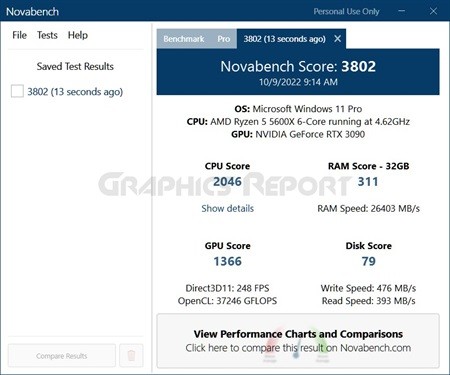 The Novabench suite of tools allows you to thoroughly test your computer's capabilities, including the processor, graphics card, and even the read and write speed of your memory.
The tests can also be compared with other users of Novabench online, giving you a window to whether or not your computer is functioning as it should or not.
#5- HWMonitor
HWMonitor or Hardware Monitor is an excellent benchmarking software that analyses your CPU and GPU performance. Apart from the performance, it also analyzes the temperatures of your components and gives you an accurate reading. You can also monitor other components of your PC, including fan voltages, hard drive speeds, and temperatures.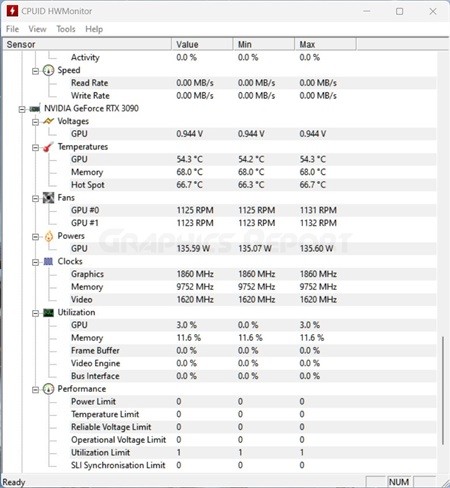 The basic version of the hardware monitor is free; however, it comes with certain limitations like wait times and limited testing durations. The paid monthly and yearly subscription versions do not come with these limitations.
If you want to use this software professionally, then you also have the option to go for the Pro or enterprise version, which has some extra features.
#6- GeekBench
Geekbench is another benchmarking software, and what sets it apart is its support of a wide range of hardware. It supports Windows, Linux, macOS, iOS, and Android, and this whole software suite is free for users to download and use.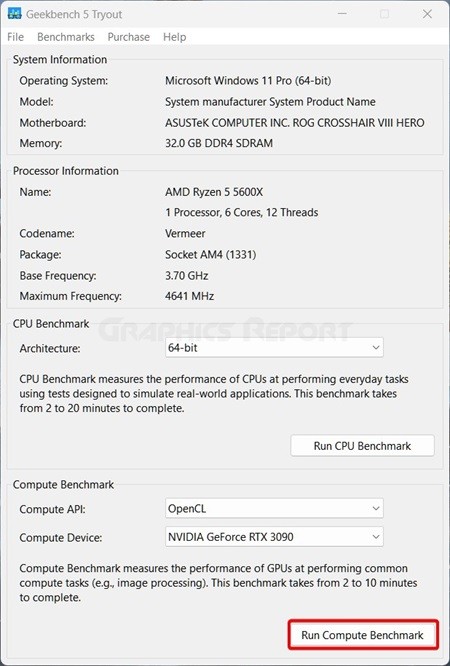 Geekbench gives you many results, including your CPU and GPU performance in terms of gaming performance. You can also see what your hardware can do in image processing tests. Once done, the tests can also be compared online with those performed by others.
#7- MSI AfterBurner
MSI Afterburner is a benchmarking software from MSI, a PC hardware company. This neat little tool paired with "RivaTuner statistics", which is extremely space friendly, allows you to benchmark your PC and gives you accurate framerates in your games with 1% low, 0.1% low, frame time, memory usage, CPU Usage, GPU usage and many more.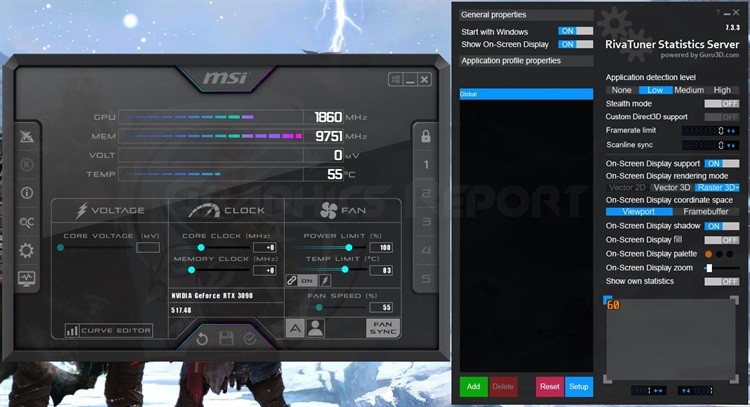 With MSI Afterburner, you can also overclock your GPU using very intuitive sliders, which let you tweak the core voltages of your GPU. If you need a stress test to go along with this software, you can install the MSI Kombuster Stress test, and the MSI afterburner is free to install and use.
#8- FurMark
FurMark is an extremely powerful GPU stress test known to bring many GPUs to their knees during testing. This Stress test is beneficial for overclockers looking for the most stable overclocks on their GPUs, and FurMark is the definitive test to ensure it.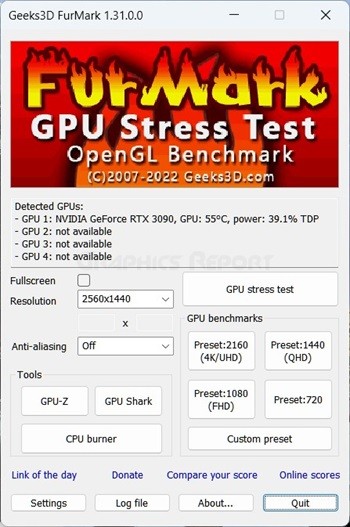 This benchmarking tool checks and displays certain metrics, including the frame rate on the stress test and the temperature of the GPU.
Unlike the other benchmarking tools, FurMark is solely a GPU benchmarking tool which makes it very popular. This software is free to download and use.
#9- GFXBench
GFXBench is an excellent and easy-to-use benchmarking tool that is very intuitive. As the name suggests, this tool primarily caters to your system's graphical performance, and it accurately evaluates your GPU and gives you a fully representative score.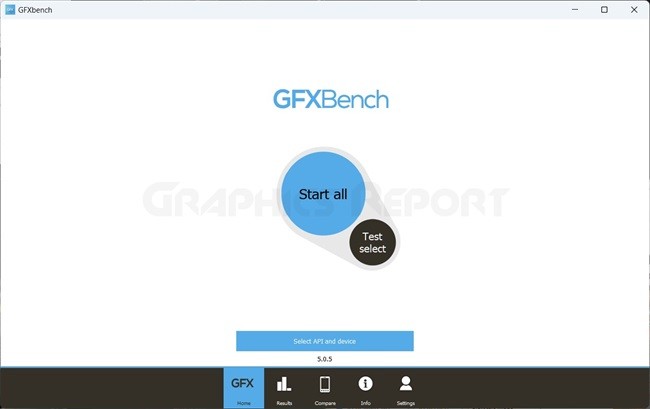 GFXbench, apart from being available on PCs, is also available for mobile, especially when mobile gaming is taking over. GFXBench is free to download and install.
#10- Superposition
Superposition is the final benchmarking tool on my list, which caters to VR users. This software benchmarks your GPU's VR capability to determine whether your PC is VR-ready. This test was created by Heaven in their Unigine 2 and is free to download.
There is, however, a paid version of Superposition that allows you to get more stress tests and the capability to loops tests one after the other.
Related articles:
What Is A Good GPU Benchmark Software?
There are many tell-tale signs of a good GPU benchmarking software, including the accurate representation of the performance of your GPU performance. With its stress test, the benchmarking tool should fully utilize your GPU's graphical prowess and do a reading accordingly.
FurMark, in my opinion, is an excellent benchmarking software as it fully utilizes the GPU by pushing it to its limits which not only checks the performance of the GPU but also the stability of the system as a whole and whether or not the power supply is enough for the system to run optimally.
Is Unigine Benchmark Free?
Yes, the base version of the Unigine benchmark is free and available to download. There are several stress tests available to you in this base version which gives you a detailed report on the graphical prowess of your PC.
However, Superposition, a Heaven subsidiary, has a premium or advanced version available for purchase, giving you additional stress tests and the ability to loop them.
Does Nvidia Have A Benchmark Tool?
Nvidia has a benchmarking tool that is built into GeForce Experience. It has all the bells and whistles you need in benchmarking tools, including CPU and GPU usage, framerates, and frame timing.
Geforce experience also has some additional features available to you, including optimizing your games to run well on the hardware you have and automatically downloading and installing the latest drivers for your Nvidia GPU.
Is MSI Afterburner Safe?
MSI Afterburner is entirely safe to use if you are going to use it as benchmarking software; however, if you are going to use it for its intended purpose of overclocking your GPU, then you are going to need a lot of knowledge about your graphics card before you get into it.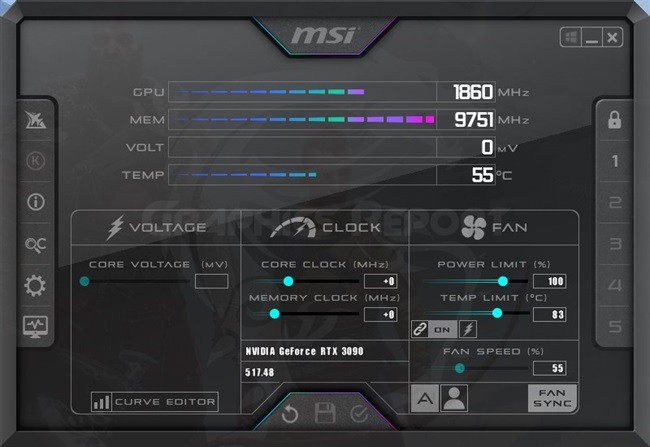 There have been many instances where GPUs have failed after being overclocked using MSI afterburner, so do your due diligence before tampering with your GPU's clock speeds and voltages.
Is PassMark A Good Benchmark?
Yes, Passmark is an excellent benchmarking tool, as it has all the tools available for you to use to gauge the capability of your PC thoroughly.
This software allows you to stress your GPU and CPU and gives you a reliable reading to measure its performance. You can also test your memory and the read-and-write capability of your hard drive and solid-state drive.
My Final Thoughts On It!
This sums up my list of some of the best GPU benchmarking software available on the market. There are also much other software available apart from these; however, you can choose between the ones I have mentioned, and you will have a great experience with them.
There are a few software that also offers a free version along with a paid one. If you are a home user, you do not need to shell out any money, as the base versions are more than enough to gauge the performance of your PC.