There are several settings where AMD graphics cards are more prevalent than others. I'm referring to video games like Fortnite, where AMD graphics cards are often praised for their excellent performance when used with this game.
One of three new, exclusive performance tuning presets for the RX 6800 XT and RX 6900 XT GPUs included in Radeon Software Adrenalin 2020 Edition is "Rage Mode," "Quiet," and "Balanced" modes will be available on the Radeon RX 6800 GPU.
Have you ever wondered how AMD uses its Rage Mode? Does it genuinely affect the game, or is it just a simple exploitation trick? How valuable is it to the player, and what does it do exactly?
Let's look at this manual and determine just that. The best part of this tutorial is that I updated it after I published it with all the most recent information, so you can be confident that nothing is out of the current.
What is AMD Rage Mode? How Does Rage Mode Works?
With the Rage 3D graphics chip, ATI Technologies (acquired by AMD in 2006) launched the first 3D graphics accelerator series, ushering in a new era of PC gaming that is still developing today.
For the AMD Radeon RX 6800 XT and RX 6900 XT GPU, they are launching a new "Rage Mode" to celebrate this great accomplishment and predecessor of AMD Radeon graphics.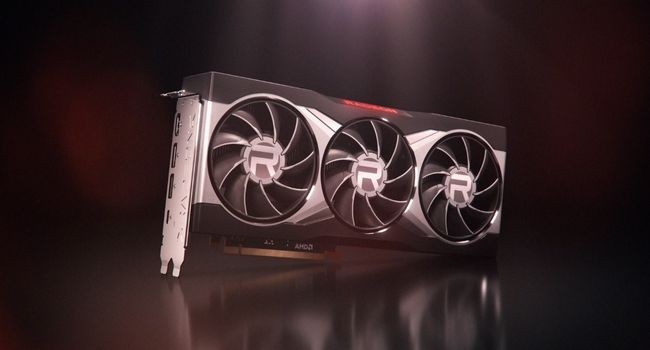 At the unveiling of the AMD RX 6000 series, AMD's most cutting-edge GPU portfolio, Lisa Su demonstrated two new capabilities that increased performance advantages over rivals. These two features were Rage Mode and Smart Access Memory (SAM).
Rage Mode is specific to the RX 6800 XT and RX 6900 XT, while SAM is associated with RX 6000 GPUs and Ryzen 5000 CPUs. An automatic GPU overclocking profile called Rage Mode raises the fan curve and overclocks the GPU.
Even a 3% boost in performance can be helpful. This may not seem like much, but NVIDIA doesn't even have built-in automated overclocking, let alone manual.
AMD Rage Mode System Requirements
Only the Radeon RX 6800 XT and Radeon RX 6900 XT GPUs now support AMD Rage Mode. You must download and install the Radeon Software Adrenalin 2020 Edition if you have one of these two GPUs. Additionally, make sure the AMD Radeon drivers are current/updated.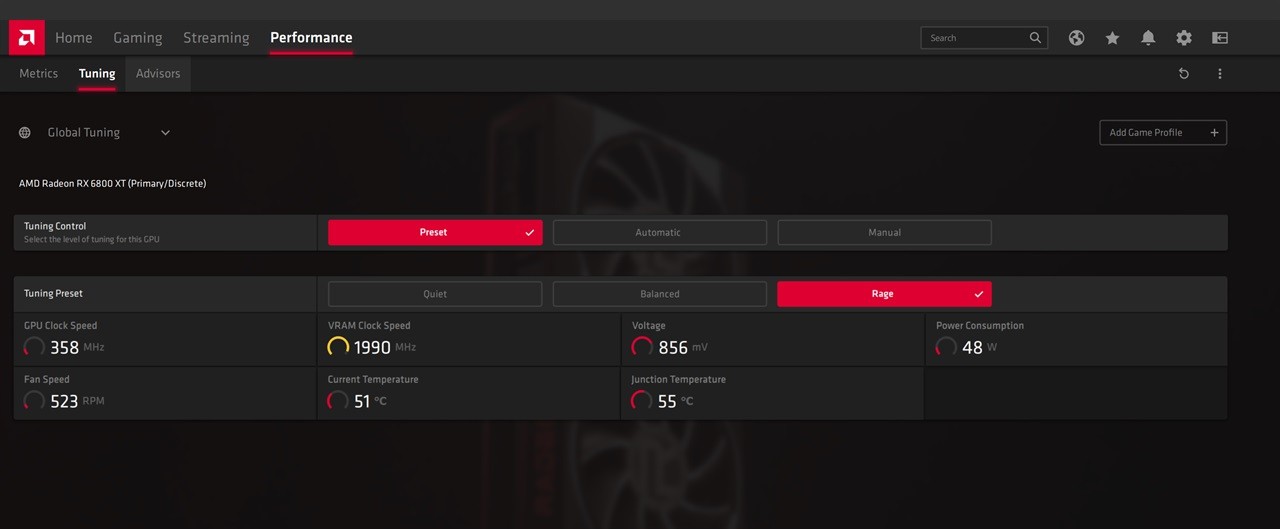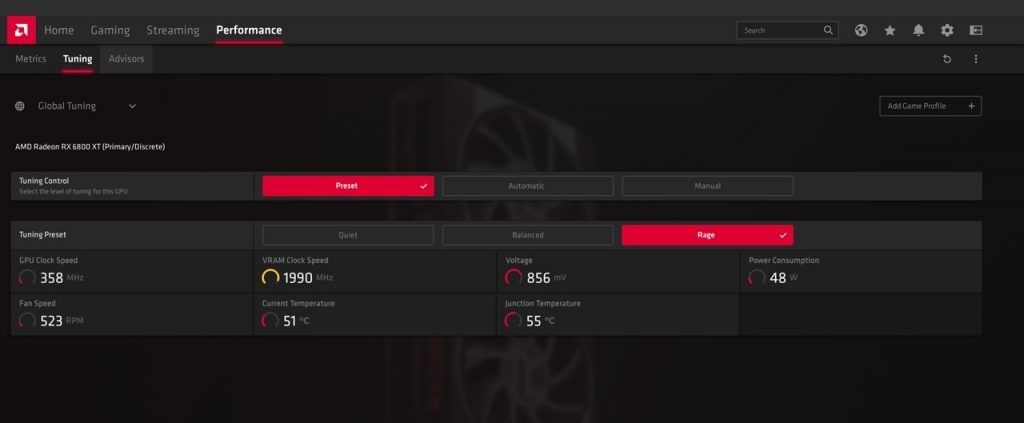 Launch the Radeon Software after finishing. Select the "Tuning" sub-tab by clicking on the "Performance" tab. The Tuning Preset option will appear, as shown in the image below. After clicking "Rage," you can proceed.
Remember that your PC will use more power while AMD Rage Mode is activated. Additionally, operating a graphics card at high power when the fans are running at higher speeds is terrible for the graphics card's longevity. Therefore you should turn it off when not in use.
How To Enable AMD Rage Mode?
The primary driver interface that enables users to change different graphics driver settings is AMD Radeon Settings. For rapid access to AMD Radeon Settings and Graphics and Video profiles after the driver has been installed, the AMD Radeon Settings icon is added to the system tray.
The Radeon Settings icon occasionally may not show up in the system tray. The latest system changes might be to blame for this. How to restore the Radeon Settings icon to your system tray is explained in detail in this article.
Activate the AMD Radeon Settings program. You can accomplish this in one of the following ways:
To access AMD Radeon Settings, right-click your desktop.
From the Programs menu, choose AMD Radeon Settings.
Select Preferences from the menu.
To enable the System Tray, select the Enable option.
To save the changes and quit AMD Radeon Settings, click Done.
The System Tray will now display the Radeon Settings icon.
Is AMD Rage Mode Worth The Money?
Some AMD Radeon graphics cards have the power-saving AMD Rage Mode. On, GPU clock speeds are lowered to reduce noise and save power. Lower system voltages reduce heat output during inactivity by reducing workload. The reduced fan speed also reduces noise.
This reduces power consumption and allows you to play video games without bothering your sleeping partner with loud fans. It helps gamers save money when they desire more excellent graphics than Intel HD Graphics 3000 on many Ivy Bridge processors.
Rage Mode uses AMD PowerTune to save electricity. SD cards improve camera performance. There isn't much difference in frame rate (FPS), but it saves battery life. Keeping fans at lower speeds during idle times reduces noise levels.
Does AMD Rage Mode Make Gaming Better?
AMD's entry back into the high-end graphics card market with the AMD Radeon RX 6800 XT is a premium ace without the premium price. Thanks to its VRAM, this GPU outperforms its immediate opponent, the RTX 3070, in terms of 4K gaming performance as well as 1440p ray tracing.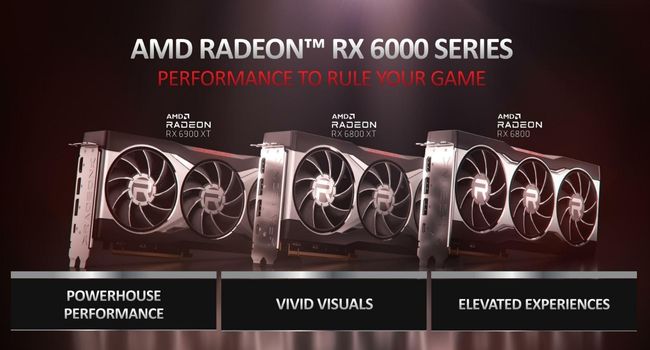 The AMD Radeon RX 6800 XT is a strong graphics card for players looking to game at 4K/1440p; it was created with 4K gaming in mind. Even though it isn't the strongest graphics card available, it is adequate for its price range and a clear winner compared to the Nvidia GeForce RTX 3080 for MSRP.
Does AMD Rage Mode Void Warranty?
AMD warrants that processors sold through the AMD Processor in a Box Program with a "qualifying" serial number will be free from material and artistry flaws and essentially adhere to AMD's public specifications for three (3) years after purchase.
However, there is no genuine overclocking because AMD Rage Mode is a performance tweak that modifies the power and fan levels. Additionally, AMD clarified the confusion surrounding this matter by stating that performance presets, including Rage Mode, would not void the warranty on your graphics card.
My Final Thoughts On It!
For the RX 6800 XT and RX 6900 XT models of the Radeon RX 6000 series, AMD created the AMD Rage Mode performance tweaking preset. It is a mode designed to increase the new Radeon XT cards. Since Rage Mode barely modifies the clock speeds, it isn't an overclocking preset.
An automatic GPU overclocking profile called Rage Mode raises the fan curve and overclocks the GPU. However, there won't be much of an improvement. As a result, even a 3% gain in performance can be helpful.
Use the potent AMD Rage Mode function to maximize the performance of your Radeon graphics card. The comprehensive AMD Rage Mode Guide has all the information you need to get the most from this well-liked gaming hack.